When Markus "Notch" Persson created Minecraft in May 2009, he never intended it to become what it is today: one of the most popular games worldwide. He finished it in just six days and couldn't have imagined he just started a blip that would grow into a world of planetary proportions.
And unlike best-selling games like Angry Birds or Tetris, Minecraft has endured through the years. It is still a popular game today, ready to give new games a run for their money. In an industry with a high attrition rate and consumers with short attention spans, the game's popularity that spans more than 10 years now makes Minecraft a world all its own, literally and figuratively.
How popular and big is Minecraft? Let the numbers speak for themselves.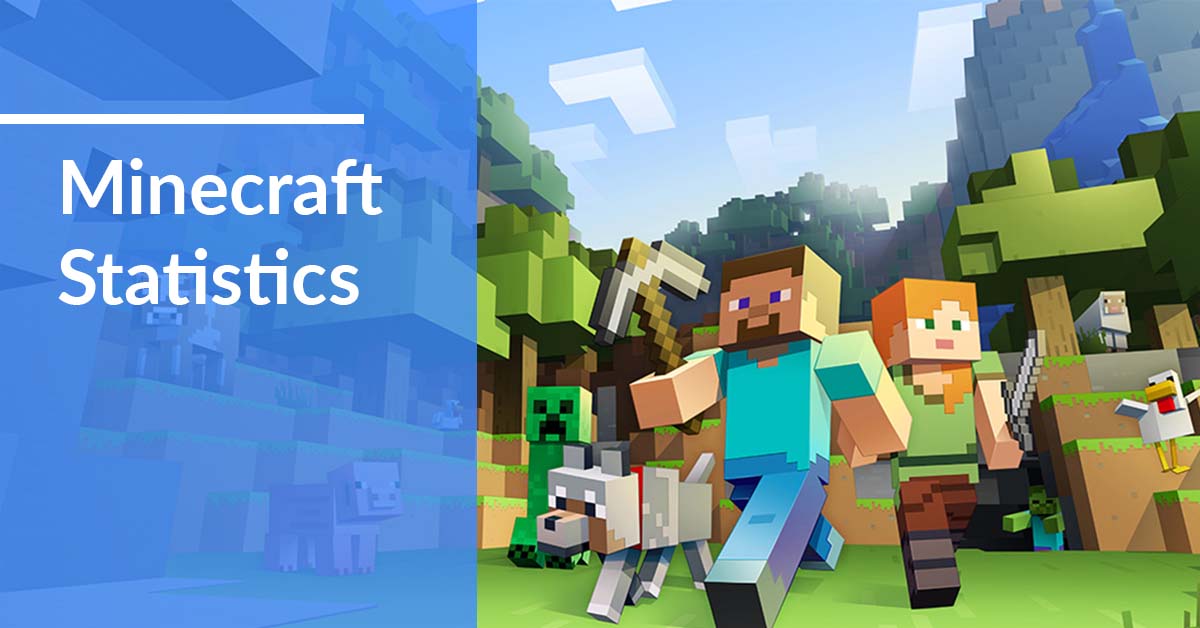 Minecraft Statistics Table of Contents
Minecraft Popularity Statistics
Minecraft is, no doubt, popular. But how popular is it? The following numbers provide us with a glimpse of its magnitude. Keep in mind that the total number of Minecraft users consists of paid users, free users, direct purchases, and subscribers to Microsoft's Game Pass.
It has 480 million players worldwide, combining paid and free players.

Around 60% of the total no. of players are from China. The country alone added 300 million players since it launched the game in 2017.

Within one year after its China launching, Minecraft added 100 million downloads then another 100 million a year after.

Active players accounted for 112 million users as of September in 2019. That's roughly an 18% jump from the previous year.

180 million – copies of paid versions sold worldwide.

If Minecraft were a country, it is the third biggest after China and India in terms of population.

Among the active players, 91 million are playing together in groups.

In just two years–from January 2018 to April 2020–Minecraft saw its Twitch views jump from 3.99 million to 41 million. That's roughly a 90% increase.

In terms of watching video content, Minecraft is viewed more on YouTube Gaming than Twitch at 59.8% vs. 40.2%, respectively.
Source: PCGamesn, US Census Bureau, May 2020
How popular Minecraft compared with others?
In terms of unit sales, Minecraft is second among the best-selling games ever: 1) Tetris (495 million); 2) Minecraft (180 million); 3) Grand Theft Auto V (120 million); 4) Wii Sports (82.88 million). Minecraft sales include console, PC, and mobile sales.

But compared with other best-selling games, Minecraft is enduring. In 2019, it is still the 13th best in terms of sales. At no. 1 is Call of Duty, followed by Modern Warfare 2019 and NBA 2K20.

Minecraft is the third most popular video game among American preteens as of September 2019: 1) Roblox (33%); 2) Fortnite (26%); 3) Minecraft (24%).

As of last quarter 2018, Minecraft is fourth in the share of fans among selected best-selling games worldwide: 1) Plants vs. Zombies (18%); 2) FIFA (17%); 3) Mario (17%); 4) Minecraft (12%).

At nearly the same time, Minecraft is the top paid app on Google Play worldwide in terms of the number of days: 1) Minecraft (1,944); 2) Poweramp (1,275); 3) Swiftkey (734).

Outside of gaming, Minecraft proves popular as well. Among the top YouTube channel views of all time, a channel dedicated to the game came fifth in billion views: 1) Ryan's World (35.18); 2) PewDiePie (24.44); 3) Like Natasya Vlog (22.68); 4) Kids Diana Show (17.01); 5) DanTDM's TheDiamondMinecraft (16.01).
Source: DigitalTrends.com
Minecraft Game Statistics
Minecraft isn't only popular but huge, literally. Comparable to an actual planetary size, how it started is quite an understatement of its soon-to-be vastness.
Did you know Minecraft's first version was created in just six days?

However, it took two more years for the version to be completed.

In terms of surface area, Minecraft is bigger than Earth at over 4 billion vs. 510 million square kilometers, respectively. The Minecraft world is roughly nine times bigger than Earth. That also means it is wider than Neptune!

Meanwhile, the quest to build earth inside Minecraft on a 1:1 scale is underway spearheaded by the PippenFTS YouTube channel.

Minecraft is so big that gamers have to walk the equivalent of roughly 7,500 miles before encountering a gaming glitch.

Another coding meltdown happens–like a misspelling of the game's title, interchanging E with C–every 1 in 10,000 times you play Minecraft.
Minecraft Business Statistics
Minecraft was sold to Microsoft to the tune of $2.5 billion, making it the sixth biggest acquisition by the tech giant: 1) LinkedIn ($26.2B, 2016); 2) Skype ($8.5B, 2011); 3) Github ($7.5B, 2018); 4) Nokia's Devices & Services Business ($7.2B, 2014); 5) aQuantive ($6.3B, 2007); 6) Mojang ($2.5B, 2014).

The purchase is a great marriage. Minecraft benefits from Microsoft's cloud and mobile tech investments, allowing developers to introduce more powerful tools, a richer environment, faster worlds, and connect gamers worldwide.

North America is the top region in terms of unit sales of Minecraft Xbox One version: 1) North America (3.23); 2) Europe (1.71); 3) Rest of the world (0.49).

This makes the game the fifth all-time best-selling Xbox One video game title and unit sales in millions as of the same period: 1) Grand Theft Auto V (8.72); 2) Call of Duty: Black Ops (7.37); 3) Call of Duty: WWII (6.23); 4) Red Dead Redemption 2 (5.77); 5) Minecraft (5.43).

Minecraft mobile also brings in substantial in-app purchases for Microsoft. Worldwide, in-app sales reached 103 million in 2017 vs. 110 million in 2018, a nearly 7% increase.

Among US children, the most popular games in terms of in-app purchases as of February 2020 are: 1) Fortnite 31%; 2) Candy Crush Saga 25.7%; 3) Pokemon GO 20.5%… 9) Minecraft 7.9%.
Minecraft Social Impact Statistics
A hugely popular game as Minecraft is sure to carry with it social influence for better or worse. Here are some numbers that show how this game impacts children and young adults.
Harassment is the ugly side of gaming, and Minecraft is not without its share. Although harassment isn't as pronounced as in other popular games (mostly action-oriented), Minecraft placed at 15th in terms of harassment rate as of April 2019 among select popular games: 1) Dota 2 (79%); 2) Counter-Strike: Global Offensive (75%); 3) Overwatch (75%); 4) PlayerUnknown's Battlegrounds (75%); 5) League of Legends (75%); …15) Minecraft (51%).
However, Minecraft has a positive impact, mainly on education. Schools in different countries use it as an educational tool for kids.
98% of teachers who used Minecraft in their class reported that the number one skill the game teaches students is problem-solving.

Other top skills nurtured by Minecraft include collaboration, communication and decision-making skills, soft skills that 40% of jobs in growth industries require.

80% of Minecraft students used coding to advance their education.

71% of schools are using digital games as a learning tool reported improvement in student numeracy and computational thinking.
Minecraft as Educational Tool
Source: Minecraft
Created by CompareCamp.com
Will Minecraft Stay with Us Forever?
If we go by the numbers, the answer is yes. Minecraft is a rare video game that has outgrown the industry and crossed over to another niche: education. Comparing Minecraft to other best-selling games isn't giving us the complete picture. The reason being it is more comparable to another kid stuff: Lego.
Both are initially games for kids that transformed into educational tools. It is this other dimension that gives both enduring attention from users. Parents and educators have also jumped into the bandwagon. Instead of looking at a video game with a disapproving eye, they, in fact, have seen its educational potential.
That's a hard-to-beat deal that other games can only dream of: parents egging their kids to play a video game.
---
References:
'Minecraft' has been quietly dominating for over 10 years, and now has 112 million players every month

Number of hours watched of Minecraft on Twitch worldwide from January 2018 to April 2020

Distribution of time spent watching video content related to selected games worldwide in 1st quarter 2018, by platform

Most popular video games among preteens in the United States as of September 2019

Number of days spent as the top paid app on Google Play worldwide from January 2012 to October 2018

Most viewed YouTube channel owners of all time as of January 2020, by views

The bestselling games of all time

NPD: The 20 best-selling games of 2019 in the U.S.

15 Fun Facts About Minecraft

IS THE MINECRAFT WORLD BIGGER THAN EARTH?

Microsoft Confirms It Will Buy The Company Behind Minecraft For $US2.5 Billion

Infographic: Microsoft's Biggest Acquisitions

All time best-selling Xbox One video game titles worldwide as of January 2020, by unit sales

Player spending on Minecraft mobile worldwide in 2017 and 2018

Most popular mobile games for in-app purchases among children in the United States as of February 2020

How Frequently Do Online Gamers Experience Harassment?

HOW MINECRAFT IMPACTS CLASSROOMS