When it was released in September 2003, Steam offered variety at a time when gamers were accustomed to purchasing just one or a few titles at physical video game stores. It didn't take long for the video game distribution service to corner the PC gaming market and revolutionize the digital gaming landscape. Now it stands as the world's biggest PC gaming distribution platform and has been a cornerstone for independent game creators all across the globe.  
Steam is also a preferred platform for multiplayer games like Counter-Strike and DOTA 2, attracting around 20 million gamers each day. The software's market domination might have influenced a slew of competitors. Still, it has bucked every attempt to dislodge it from its pedestal, given its massive gamer base and the unparalleled value it affords gamers.
We will take a look at some of the critical Steam statistics here, such as its most notable users, its revenues, and why it continues to be at the top of the PC gaming scene.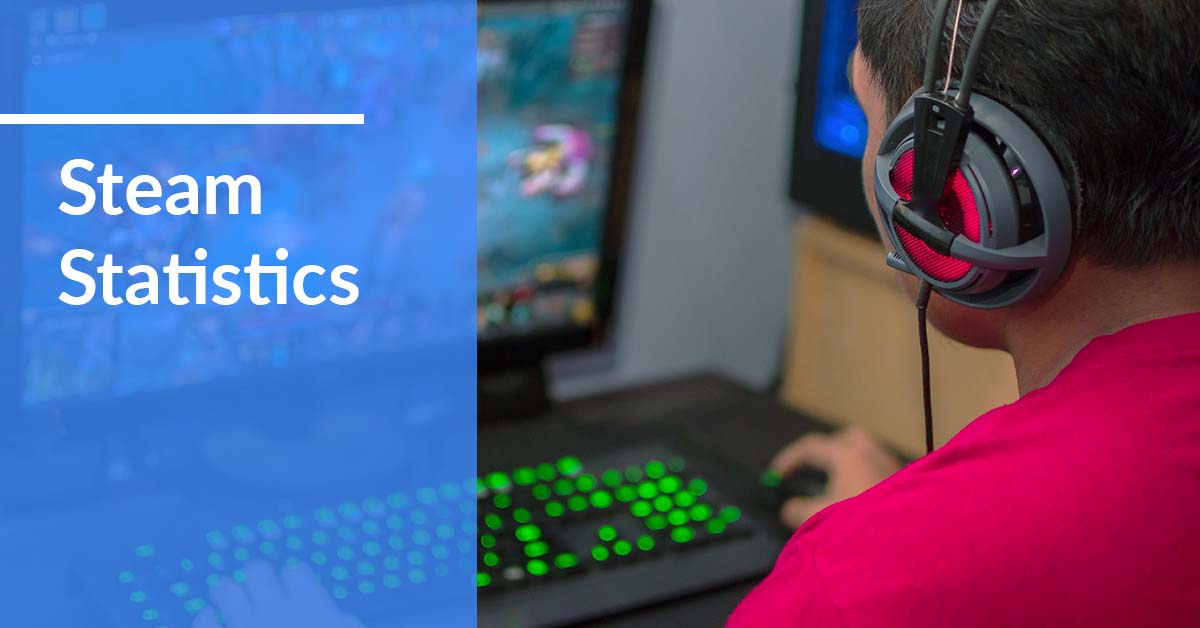 Steam Statistics Table of Contents
Gaming Library Statistics
One of Steam's foremost attractions is the number of games in its library. Gamers get to choose from tens of thousands of titles spanning all genres, from legacy games to those released by indie creators. The platform also accounts for wearables, thus offering hundreds of virtual reality games to players. And the same is extended to a relatively obscure operating system like Linux.
Steam rivals any of the world's biggest videogame stores in the number of PC titles it offers, and the best part is, it only takes a few clicks to purchase and play them. 
Steam has over 30,000 games in its library. 

Steam is the world's largest distributor of PC games, taking up 75% of the global market share. 

50 -70% of the world's PC game downloads take place on Steam. 

Steam released 8,290 games in 2019, the most it has released in one year ever since its inception. 

In 2019, the games on the Steam library received 70,000 reviews daily, which is a 300% increase from 2018. 

6,500 games are compatible with Linux. 

Steam has over 600 virtual reality games in its library. 

Steam has 400 million pieces of user-generated content. 
Gaming Community Facts
Steam has a staggering number of players coming from every corner of the globe. That number progressively grows as the platform has smashed its previous record of concurrent users in April 2020. Moreover, the coronavirus lockdown has left gamers stuck at home with their gaming laptops for months. This means that the high user rate will be maintained or even exceeded until the quarantine is lifted.  
Steam's highest number of concurrent users is 24,535,923, which was set in April 2020.  

Steam has amassed over a billion accounts. It reached 1 billion on April 28, 2019. 

"amusedsilentdragonfly" is Steam's one-billionth user. 

In 2019, there were around 95 million active users on Steam. 

The average number of games per user is 55.04. 
Steam in China Statistics
China is one of Steam's biggest markets, underscored by the fact that Simplified Chinese is the platform's second most-used language. With this, Valve, Steam's developer, is looking to tap into the Chinese market further with a new portal. This appears to be a feasible strategy, considering that China's locale amounts to nearly 1.4 billion.   
Launching a smaller country-specific platform, however, might put China's independent creators at risk since the market they're catering to will be significantly smaller. But Valve assures that the Chinese market will still have access to the main Steam platform.
More than 30 million of Steam's active user base (95 million) comes from China. 

As China is one of Steam's biggest markets, Valve partnered with Perfect World to create a Chinese iteration of Steam that's nearly independent of the main platform. 

China accounts for 57% of Steam Link installs, followed by Japan at 14%, and the US at 6%. 

Even though a majority of Steam's users are from China, the platform is not officially approved to operate in the country. 

Steam has remained unrestricted by China's nationwide firewall. 

Steam China is set to launch with 40 games. 
Platform Statistics
Steam's global approach to its business has paid dividends, with a large number of gamers patronizing the platform's set of added features. These include a chat application, a tool for game creators, and an app that turns mobile devices into remote gaming stations. In return, Valve has rewarded Steam's user base with regular improvements to its notification system, as reflected in its 2019 annual report. 
The Steam platform has over 121 million visits to its downloadable content pages. 

Steam supports 29 languages. 

Steam Link, which allows users to play games on their mobile devices, has been installed 2 million times. 

On average, Steam Link is downloaded at around 52,000 times daily. 

The Steam Chat mobile app was installed more than a million times in 2019. 

On average, a million push notifications were sent daily in 2019.  

In 2019, 4.3 million items were uploaded to Steam Workshop. 

Steam's events and announcements have been shown over 8 billion times to players. 

Steam Remote, which allows players to play remotely, has been used 3.7 million times. 

Remote Play Together, which allows users to play with friends remotely, has been used 2,342,580 times since its release in November 2019. 

With the release of Remote Play, more than 300 games have been optimized for mobile phone touchscreen controls. 

SteamVR supports almost two dozen headsets. 

Steam Workshop, the platform's community content marketplace, has over 1,500 creators. 

Steam Workshop hosts creators from 75 countries. 

Creators have earned over $57 million from Steam Workshop.

 

 
Gameplay Statistics
Playing video games has gone from being a pleasurable way to kill time to an actual productive endeavor with the rise of eSports. And the competitiveness involved leads to long hours of team play and the application of carefully formed strategies. Casual gamers, on the other hand, get to test their mettle against players from all over the world. They can also make in-game purchases to beef up the characters they control. 
With this, it comes as no surprise that multiplayer games dominate Steam's gaming landscape. It contributed largely to the platform's current popularity since there is never a shortage of players to compete against for many of the popular titles.
As far as 2019's top-selling games are concerned, Steam elected to keep mum on the figures and the actual top performer. Rather, it grouped the best-selling games into different tiers in its 2019 Year in Review report.  
PLAYERUNKNOWN'S BATTLEGROUNDS has the all-time highest number of concurrent users at 3,257,248. 

In 2019, the total hours played by users amounted to 20,789,726,718 years. This is nearly equivalent to a one-way trip to the Andromeda galaxy.  

Sekiro: Shadows Die Twice was voted by users as the Game of the Year in the 2019 Steam Awards. 

Beat Saber won the VR Game of the Year in the 2019 Steam Awards. 

DOTA 2 is the first game to reach 1 million concurrent users, which occurred in February 2015. 

 

Steam's bestselling games of 2019 are Destiny 2, DOTA 2, PLAYERUNKNOWN'S BATTLEGROUNDS, The Elder Scrolls Online, Counter-Strike: Global Offensive, Rainbow Six Siege, Total War: Three Kingdoms, Warframe, Grand Theft Auto V, Sekiro: Shadows Die Twice, Civilization VI, and Monster Hunter: World. 

The bestselling new releases in 2019 are Halo: The Master Chief Collection, Resident Evil 2, Red Dead Redemption 2, Devil May Cry 5, Remnant: From the Ashes, Sekiro: Shadows Die Twice, StarWars Jedi: Fallen Order, Mordhau, Code Vein, Destiny 2, Total Way: Three Kingdoms, and Planet Zoo.  
Source: Steam Charts 2020
Games with the highest number of concurrent players
Among all the games in Steam's line-up, five stand out as the most played titles. These games not only offer impressive graphics and fluid gameplay, but they also afford gamers a wide range of modalities, weapons, and equipment. As a result, the multiplayer gaming experience is further enhanced.    
PLAYERUNKNOWN'S BATTLEGROUNDS (3,257,248)

. This intense shooter pits 100 players against each other in various rich-textured environments. Simulating a real-life warzone, players parachute onto a map to find weapons and equipment. When ready, their mission is to annihilate anything that moves. 

Counter-Strike: Global Offensive (1,308,963).

The most popular Steam game in the first half of 2020, CS:GO features pulse-pounding battles between terrorists and counter-terrorists across a multitude of maps. Players can use various weapons, from semi-automatic handguns to sniper rifles, to crush the opposing team. 

Dota 2 (1,295,114)

. An expansive roster of heroes and villains do battle while defending their respective bases in this addictive game. To win, a sound strategy and a powerful set of equipment are necessary, so players need to communicate with their teammates throughout each round. 

Fallout 4 (472,962)

. Players are treated to a vast, open world where they can freely interact with structures, characters, and tons of equipment. They can participate in quests to gain rewards or team up to blast hordes of baddies.  

Postal (412,063)

. This survival shooter features fast-paced action in a wide variety of environments. Players can shoot their way through 22 levels in single-player mode, while those who have an appetite for destruction can engage in a dizzying 16-player deathmatch.   
User Achievement Statistics
Not all gamers are created equal, which is why some go on to receive praises worldwide along with a hefty cash prize while others are probably better off studying for their prelims. In this section, we took note of the gamers whose records are likely to withstand the test of time. Their achievements don't necessarily pertain to gameplay, but they sure spent a significant amount of time on Steam to reach such milestones. 
The player with the highest level on Steam is "St4ck" at level 5000. 

The player with the most number of games owned on Steam is "Sonix" with 25,674 games. On top of that, he also owns 10,411 DLC content. 

"Tuong" has logged in the most hours on Steam with 1,639,988 total hours of playtime. 

"Abacus Avenger" has the earliest Steam account in the world. 

"4yBak*" has the highest number of Steam badges with 15,634. 

In the US, the user with the most Steam games owned is "Kongzoola" with 25,531. He is also second in the world in terms of Steam games owned. 

In the US, the user with the longest amount of playtime is "Cramik" with a total of 1,065,828 hours. He is also 10

th

in the world in that regard.     
Steam Sales and Revenues
As the world's largest PC gaming distribution platform, Steam rakes in billions of dollars in sales annually. This is spread through game sales as well as downloadable content and game applications. Following the platform's success, a lot of developers have devoted their creations to satisfy Steam's built-in market, which has worked well for legacy titles. 
However, indie developers have found themselves in a quagmire as the sales of smaller games have significantly dropped in 2019. This points to the crowded space in which their games are hosted, coupled with the revenue share taken by Steam, and the possible flawed approach to pricing. A brunt of Steam's revenue comes from only a handful of titles.
Steam earned a total of $4.3 billion in sales in 2017, exclusive of sales from DLCs and apps. 

Steam already accounts for more than 18% of PC game sales worldwide without taking in-game purchases into account. 

50% of Steam's revenue is from only 100 games. 

On average, a Steam game sells 1,500 copies on Steam and earns around $16,000 in net revenue. 

On average, games priced at $10 sold 1,000 copies with net revenues of $6,000. 

On average, games priced at $11-15 sold 2,000 copies with net revenues of $35,000. 

On average, games priced at $16-20 sold 2,500 copies with net revenues of $55,000. 

On average, games priced at +$21 sold 5,000 copies with net revenues of $200,000. 

 

Indie game sales on Steam dropped by 70% in 2019 while the average revenues on games decreased by 47%. 

 

Valve, Steam's developer, takes a 30% cut from game sales. 

 

Valve's cut is lowered to 25% should a game earn $10 million and then 20% if it surpasses $50 million. 

72% of Steam's game sales are from the platform, while the remaining 28% are from third parties. 
Source: No More Robots 2019
System and Connectivity Statistics
For gamers looking to invest in software for their gaming, they would need insights on which operating systems are most used by Steam players as a benchmark. Furthermore, some internet service providers are clearly superior to others in regard to download speed. After all, a slow connection sends a game to a grinding halt, which doesn't bode well for one's kill count on multiplayer games.
Windows users dominate the Steam community at 95.06%, followed by Mac OSX (4.05%) and Linux (0.89%). 

Steam's peak bandwidth used is 7.4 Tbps. 

Europe accounts for the largest share of Steam's peak bandwidth at 3.1 Tbps, followed by Asia at 2.7 Tbps and North America at 2.1 Tbps. 

The average Steam download rate in the US is 53.9 Mbps. 
Reading into Steam's Statistics
For gamers, Steam comes as a digital haven where they can play any type of game with thousands, or even millions, of other players from around the world. With over 30,000 games in its library and its 95-million-strong player base, the platform assures that every triumph or defeat is a shared experience. This feels rewarding and could result in an improvement in gameplay, especially for competitive gamers.  
Steam will be sticking around for a long time and will continue to make waves in the US and China, considering its huge annual revenue. It has also added a number of functionalities to its already feature-rich platform to boost the gaming experience even further. This leads to a potentially larger market share since it successfully streamlines the process of buying and playing games.  
On the other hand, independent game creators could migrate to a different platform, given the sharp decline in profits they incurred in 2019. However, with better pricing and in leveraging the popular free-to-play model, they still have a shot at reaping significant returns on Steam. At the end fo the day, the platform attracts around 20 million gamers at any given time.  
---
Sources