The digital games industry is booming. So much that in March 2019, the retail revenue of the US video game industry reached $119 billion. What's more, between April 2019 and March 2020, the monthly retail revenue of the market averaged $1.2 billion. This is expected to grow further as more people stay at home due to the COVID-19 pandemic. That said, we can expect new gaming trends to change the face of the industry.
With this article, we hope to give you an idea of the trajectory of these trends and the impact they will have on the market. It doesn't matter whether you are in the video game industry or not as the sector itself is expanding. Its technology pervades almost every sector and household. Gaming is now as effervescent as ever. You wouldn't want to miss out on its next wave. Gamer or not, it is here to stay.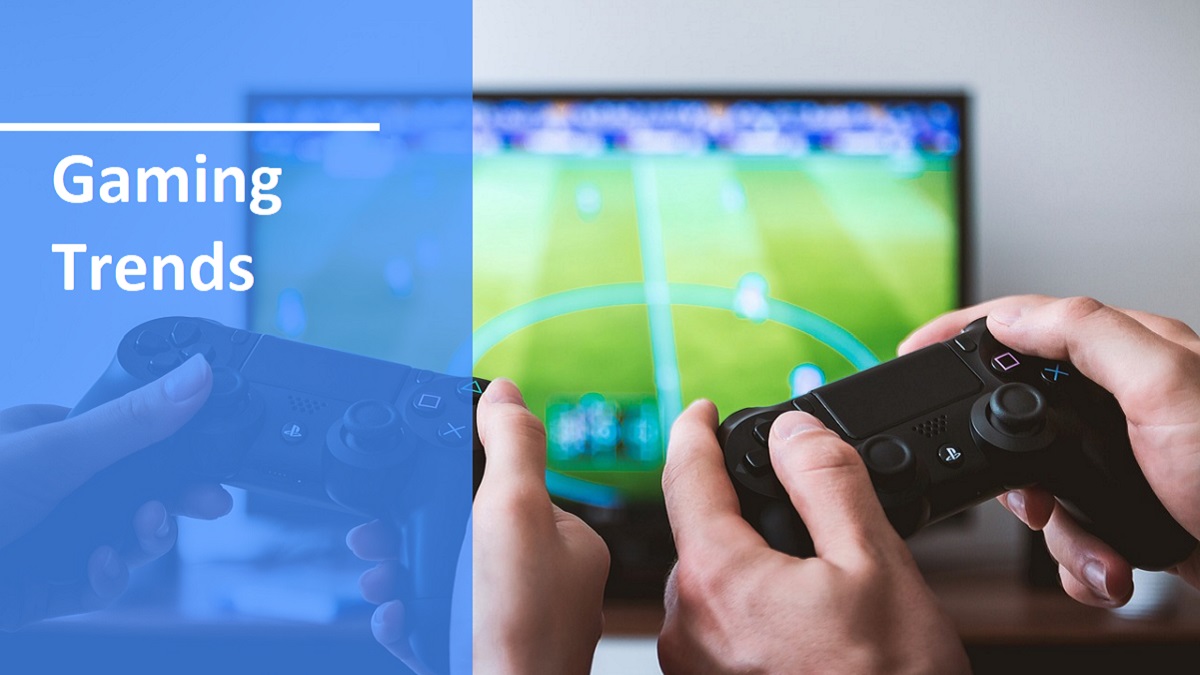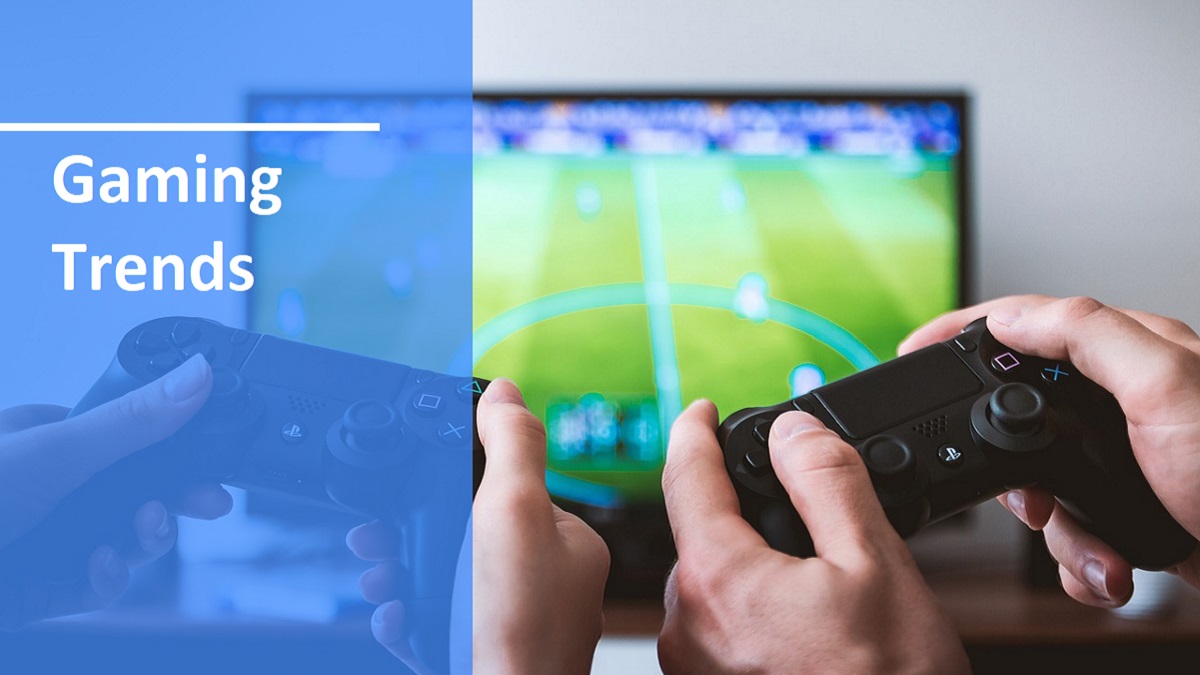 Gaming Trends Table of Contents
In the past decades, we have witnessed the professionalization of gaming. Gaming events are now held in big stadiums with mass audiences complete with live broadcasts and analysts. Millions of fans worldwide watch their favorite players on YouTube or Twitch. Moreover, professional gamers are now considered athletes in their own right. In fact, millions go through rigorous training in state-of-the-art facilities and even use gaming analytics to improve their performance.
For younger generations, this is normal. However, it is not that glorious when everything started out.
The first official video game competition recorded was on October 19, 1972. It was held at Stanford University. The game was "Spacewar!" The prize? It's a free one-year subscription to Rolling Stone magazine. The winner? One Bruce Baumgart, the first esports champion and still undefeated today. Yes, that's for 48 years.
Today, the prize of some one-year subscription to a magazine is negligible. In fact, the largest prize pool ever is at $34.3 million for DOTA 2's The International 2019. That's $23.4 million more than what the prize was in 2014.
On the consumer side of the market, digital game spending reached $10.5 billion as people are turning to games as entertainment because of the pandemic. Premium console revenue increased by 64% from February to March (from $883 million to $1.5 billion). On the other hand, premium PC revenue increased by 56% (from $363 million to $567 million).
A Growing Industry with Far Reach
Experts see the gaming industry to reach revenues of more than $196 billion in 2022. Now, companies flock to get a piece of the pie. And, they make a long list. The list includes giants, such as Google and Apple. It also includes indirectly related companies that want to take advantage of the brand exposure they can get in the gaming market. These often include producers of computers, gadgets, and even drinks. The list of organizations having stakes on esports range from professional basketball teams to musicians.
Interest in video games isn't just for teens anymore. And, the players are not just tech companies. Everyone today seems to be involved in gaming somehow. Media crossovers happen all the time. Games converted into a book series or films and vice versa. Product placement in games is also very popular. And, because we bring gaming wherever we go, thanks to our smartphones, we ourselves have become targets for in-game advertising. Gaming has become a force. It has grown far beyond PC and consoles. The face of the gaming landscape has changed and will continue to do so.
Sources: Forbes 2019; Business Insider 2019
1. Video Game Streaming
The gaming industry doesn't rely solely on game sales anymore. In fact, job disciplines within the industry are not limited to creating games. Game journalism is also a part of it. Now, thanks to digital platforms, everyone can be a part of game journalism. And, Twitch and YouTube are the largest platforms for this.
In Q1 of 2018, esports viewers spent about 17.9 million hours watching esports matches on both channels. This rose after just a year. In the Q2 of 2019, Twitch viewers live-streamed more than 2.72 billion hours. That is 72.2% of all live hours compared to more than the 735.54 million hours on YouTube Live. Many streams are not by professional gamers per se but professional game streamers. Video streams don't only include live professional competitions. Game testing or walkthroughs are also very popular.
Gaming today has really challenged our traditional notions of work, play, and spectatorship. Back in its early days, people get antsy to get a chance to hold the controller. Now, many people enjoy watching others play more than playing a game themselves. Also, video game streaming doesn't just stop at games on consoles and PCs. Mobile game streaming is also rising. In June 2019, Streamlabs recorded 479,000 active mobile streamers that month. Facebook Gaming is also entering the live game streaming market.
Moreover, experts believe that China will dominate the game streaming market. With platforms such as YY Live (Huya) and Douyu, streamers can easily get donations from viewers. By December 2018, Huya's monthly active users (MAU) reached 100 million. If this trend continues, we may see China take one of the biggest shares in the video game streaming market.
Source: TwitchTracker, 2020
2. Mobile Gaming Boom
The global mobile gaming market in 2019 reached $151.9 billion. Experts predict that in 2020, it will reach $165.9 billion. Since 2017, the market share of mobile gaming revenue has continually increased and research shows that it can grow by 59% before the end of 2021.
However, in 2019 alone, mobile gaming accounted for 58.8% of the digital games market at $64.4 billion. Free-to-play PC games finished far second with only $21.1 billion in revenues. Premium console digital games revenue came in third with $13.8 billion. The total digital games market reached a revenue of $109.5 billion. Other digital game types include premium PC at $5.2 billion, pay-to-play PC at $3.3 billion, and free-to-play console at $1.6 billion.
Moreover, because of the global pandemic, the revenue of mobile games is seen to grow further. In March 2020 alone, mobile gaming witnessed a 15% year-over-year increase, reaching $5.7 billion. Top-grossing mobile games include Honor of Kings, Gardenscapes, Candy Crush Saga, Last Shelter: Survival, and Pokemon GO. Yes, even Pokemon GO made it to the list as its publisher Niantic, Inc. made changes to the game to make it easier to play without moving physically. In fact, its revenue rose to $111 million. This is up 18% month-over-month.
Source: Dot Com Infoway, 2020
3. Mainstream XR Usage
The year 2019 was a landmark growth year for XR or extended reality, which is basically just augmented reality and virtual reality (AR and VR) together. It didn't just mark the increase in the use of XR in games. It also witnessed the growth of its use outside gaming and entertainment. Design firms, marketing outfits, and even in people in medicine found many uses.
VR headsets shipment worldwide, in 2018, sold 5.8 million units. However, the momentum is really strong that in 2023, industry experts peg shipments to reach 68.6 million. Moreover, experts predict that by 2023, XR spending will reach $160 billion as well.
This includes investments in different uses cases. They expect around $8.9 billion will be spent investing in training-related activities, $4.3 billion for industrial maintenance, and $3.9 billion for retail showcasing. Of course, the biggest use case would be for XR gaming and feature viewing at $20.8 billion.
But in the gaming market per se, there are three drivers that would make XR and especially VR usage mainstream. Firstly, newer consoles are expected to be more powerful than ever so they can easily handle the requirements of XR. Secondly, 5G is coming and it makes VR streaming accessible via the cloud. Thirdly, XR devices are becoming cheaper. So, this is an exciting time for XR, whether you are a casual gamer or a business professional or both.
4. More Remastered Games and Remakes
The past decade was one of remakes when it comes to films and series. The list starts from Hawaii Five-O to Dumbo. It has been a decade of nostalgia and we can expect many more throwbacks to come in. In the gaming world, nostalgia is fueling remasted games. And, in 2020, there are remastered versions for major titles on their way. The list includes Final Fantasy VII Remake, XIII Remake, Resident Evil 3, and Warcraft 3 Reforged, among others.
These remastered games will not just be better in terms of graphics. Developers will also reinterpret them and bring nuances to the dynamics and features befitting the 2020 market. Of course, the primary target customers will be those that have grown up with these game titles. But, younger generations are also expected to try these games as a homage to their favorite modern titles.
Recently, The Remasters and Retro Sale was all the buzz for PS4 users as the PSN offered great game deals. The sale lasted until February 21 and included titles such as Mega Man 30th Anniversary Bundle, Sonic Mania, Street Fighter 30th Anniversary Collection, and Grand Theft Auto the Trilogy.
5. Gaming-as-a-Service
Cloud gaming or Gaming-as-a-Service (GaaS) is seen by experts to revolutionize the gaming industry. In fact, if successful in the market, it will be able to jump through the loops and over barriers that expensive gaming hardware set. GaaS or cloud gaming works by letting users outsource computational needs to remote hardware. All they need is a high-speed internet connection.
One such provider is Shadow and it is claimed that you can have a full gaming experience with as low as a 15 Mbps connection. You can even choose the low connections mode. Plus, it provides users with a mobile interface so you can access your content on other devices while you are on the go. What's more, when you subscribe, you get a dedicated PC instead of sharing from a pool of computational resources. Thus, it can be stabler than more popular platforms such as PlayStation Now.
In 2018, the value of the cloud gaming market worldwide was $1 million. Industry insiders predict that by 2025, it will grow to $8 million. Popular platforms include Apple Arcade, Microsoft xCloud, Tencent START, and PlayStation Now. Plus, more and more platforms like Shadow, are expected to pop up in the near future as well.
Source: Global Market Insights, 2019
6. Increasing Social Aspect of Gaming
Over the years, developers have increasingly incorporated the option to socialize within their games. It's especially helpful now during the novel coronavirus outbreak as people turn to video games to fulfill social needs. But we see this trend to continue well into the future. There are at least two reasons for this.
First, when players make friends within the game, they spend more time in-game. This can translate to longer subscriptions. And, from a free-to-play outlook, this translates to more monthly active users (MAU) that they can leverage for advertising. Second, developers also benefit from having a lively community of users as they can collaborate with them on improving gaming features and experiences.
The social aspect doesn't stop at in-game chats and clan interfaces. It encompasses the social interactions between end-users and developers. One example that has recently come to the fore is the NBA 2k franchise trying to look for a global community manager to do just that.
With COVID-19 not likely to go away anytime soon, we expect more games to incorporate and enhance more social aspects to their total gaming experience. Also, expect more gaming communities to crop up in the next few years. In fact, people have found improvement in well-being when playing collaborative or competitive games with others remotely. One of which is Animal Crossing. It is casual, light-hearted, and collaborative.
7. High-Fidelity Mobile Games
Realistic graphics are an integral part of realistic gaming experiences. So, more developers today are focusing on creating ultra-realistic graphics. This has always been a primary push for developers in the console and PC market. However, more recently, high-fidelity gaming has been making its way into the mobile gaming market. In 2016 alone, high-fidelity games made up about 5% to 10% of the top-grossing mobile games in western countries.
Broadly speaking, to be qualified as a high-fidelity game, a game has to have advanced 3D graphics. This includes high vertex counts (or, where two or more line segments or rays meet that makes an angle) and complex shading. It also has to involve gameplay with a heavy requirement for GPU. Today, China is the leader when it comes to high-fidelity mobile game creation.
It is also not a surprise that China-based Huawei and other phone brands are on a race to deliver ultra-high graphics performance. Recently, Huawei's P40 Pro showed it can deliver 90 fps performance in high-fidelity video games. From this point onward, it will be an arms race between software and hardware. This is not just good for business but also for gamers.
8. Comeback to Full-Motion Gaming
If you haven't heard of the full-motion video game (FMV) technique, it is quite akin to the "choose your own adventure" style of narrative. Only, it is on video. So, basically, it is just an interactive video technique. But of course, the process of creating it is not so basic at all. This is a popular narrative tool for game developers and storytellers. This allows audiences or players to interact with their environments in between story-moving narrations.
But, back in the 90s, games like Daryl F. Gates' Police Quest: SWAT used pre-recorded videos right in your gameplay. This back then was an avenue towards realistic experiences. Also, FMV was a tool to incorporate some talent crossovers for marketing. For instance, Hollywood bigshots were cast to play roles in FMV scenes like Mark Hammil in Wing Commander III and IV.
Today, many of these FMV sequences are created using CGI techniques. But crossover between Hollywood and gaming has never slowed down. Most recently, Death Stranding cast A-list actors, including Norman Reedus and Mads Mikkelsen. It even had a cameo from Conan O'Brien. Moreover, FMV seems to ride a strong trend wave, especially with crossovers between games and movies. Take Chris Pine featured in the Star Trek reboot series and also in the accompanying games.
With new video technology that allows for a more immersive experience and flexible game world design, FMV techniques will likely reemerge and with a stronger kick. And, FMV games just like almost inaccessible Supreme Warrior may get a reboot. But make no mistake, FMV is making a comeback.
9. Increased Involvement of Gamers in Creation
Game creation is no longer a one-way street. Just like anything in business, producers have to create a connection with consumers. And, developers today are taking this to heart. One of them is Traplight games that work with influencers to create user-generated content. As mentioned, bigger studios also do this like the NBA 2K team.
However, we feel that this needs to be taken to the next level. Just like most industries and businesses that we cover here, consumer input and user-generated content have been given tremendous value. This is especially for B2C businesses and games are primarily B2C. And, the great thing about the gaming industry is that audiences are very passionate. They quickly form online communities on social media like YouTube, Twitch, Reddit, Facebook, and Twitter. This makes it easy for game developers to be more proactive in building relationships with their audiences.
In the few years to come, we think that more user-generated content will be allowed by studios. They will realize that the titles they have created and unleashed have come to life across generations of users. And, one way to let it continue to live through the market is by fueling it with user-generated content and insights, a growing-together of developer and user. Commendable outfits in this aspect range from the developers of The Sims to those behind Ouya that afford their community a great range of freedom, from mods to game creation itself.
10. More Games Offering Cross-Play Options
Now, thanks to the popularity of cloud gaming, game platforms are now offering both full and partial cross-platforms support. For gamers, this is a boon as many have their loyalties to just one platform. And, let's face it, most don't get both the next Xbox or the next PS4 consoles under their Christmas tree. They have a pet console that they use. It may be for reasons as simple as controller size or as complex as the available games.
However, with the rise of multiplayer games like Battle Royale formats or MMORPGs, there are pressures to connect once siloed console A gamers to those on console B, C, and PC. Judging from the current trends, more and more software developers succumb to this pressure. And, this is a good thing as dev teams will have more people in their community. This means more possibilities for combination and innovation.
The pressure is there for cross-play support. But, there are platforms that want to maintain their current communities and own them, if you will. One major player that is slower to adapt is Sony. Despite some pushbacks, major games are now getting cross-platform support and the trend is likely to go upward. Think of battle royale games like Fortnite and Call of Duty: Modern Warfare. These games are best played with and against buddies, regardless of which platforms they use.
11. More Powerful Gaming Consoles
This has been a long-established trend for gaming in general. Just like the hardware-software arms race is happening for the PC and mobile, it has also been happening with good old consoles. New technologies offer new ways for developers to create novel experiences. And, the next-generation consoles are looking to do just that.
PS5 and Xbox Series X are looking to support native 4K and next-gen VR. Yes, this means better graphics quality. Also, they are also geared for a better audio experience. Xbox Series X will likely include its own dedicated audio chip. This will improve the sound quality when playing next-gen games. On the other hand, PS5 consoles are said to have 3D audio. And, Microsoft is highly likely to follow suit.
This 3D audio will allow users to experience sound to come from all around you relative to where you are. This is closest to our own "offline experience" and this is the next step after the local chats available on military simulation games. Moreover, this will be perfect for VR titles and upcoming triple-A VR games.
12. Increasing Inclusivity in Games
Inclusivity has been an issue with games and media in general since then. Most media franchises were once white-dominated and had a sprinkle of token characters of other races. However, these didn't really represent reality in most cases. The sampling is quite skewed. The barriers, though, have been challenged even in the days of Star Trek: The Orginal Series.
The main characters started to reflect the diversity and romance narratives began to be interracial like Nyota Uhura and Capt. James T. Kirk (and Spock). In games, minorities wanted to be represented in popular works of fiction as well as in public affairs. And, this struggle has been ongoing since time immemorial in the US.
Today, though, gaming is international. And, everybody deserves to be represented in terms of character design and having plots with culturally-diverse characters. We can see it in the movies from Star Wars to Star Trek. And, you can also see it in games. Moreover, it has also been a pressing issue for players with 56% of players feeling that it is important for gaming studios to be inclusive to a more diverse audience.
Only 13% feel that it is not important and 31% are neutral. Of course, this depends upon the type of game that you have and the storyline. You can't really justify an Indonesian Sherriff in the Wild West if it's not fiction (although a recent Indonesian Western is out). However, in most cases, its best for developers to really home in on actual diversity statistics and get that represented in their stories. In fact, 45% of players are more likely to play an inclusive game. Only 7% of players are less likely to do so.
Source: Jenny Shi, EA Global Analytics and Insights, 2019
13. Online Gambling
Not all gaming is strictly conventional video games. Before them, people enjoyed dice games, card games, and tabletop games of chance and skill. A little money at stake here and there would have been wagered. But today's technology allows gamblers to play remotely across the world. Experts predict that in 2022, the global gambling market will reach a revenue of $565.4 billion. And, the online gambling market, in general, will be worth $127.3 billion by 2027. This is with a CAGR of 11.5% from 2020 onwards.
Online gambling is the largest in Europe and The UK is its largest and most active market. Today, sports betting accounts for about 42.5% of gambling revenues in the continent. Also, 32.4% and 12.6% come from online casinos and lotteries. Only 5% come from online poker, 4.3% from Bingo, and 3.2% on other games.
Among different gambling types in different segments, such as casino gambling, lotteries, sports betting, and others, the VR gambling subsegment of these segments stay as the fastest growing with a CAGR of 14+%. And, the fastest growth when it comes to gambling size will be in China at $23 billion.
There are many factors that will result in online gambling seeing a boom onwards. One of which is the COVID-19 pandemic. Many people who gamble can't go to casinos anytime. But through digital technology, they can place bets on table games or on sports games. This isn't just limited to PCs. Mobile and social platforms also make online gambling very accessible.
Source: European Gaming and Betting Association
The Future of Online Games
If you take a serious look at these 13 online gaming trends, the face of gaming is likely to change. The overall trajectory that gaming technology and features evolve to become more immersive and realistic. And, social aspects such as communication and cooperative play are a part of the greater trend to develop more immersive experiences. Moreover, gaming has been embraced by mainstream culture already. We can argue that it is as mainstream as they come nowadays.
And, with this, interactions in games will likely conform to mainstream values and nothing is becoming more mainstream than inclusivity. People of different races and sexual preferences want to feel represented in media, from movies to games. And media creators obliged. Gaming (and the internet) has been our go-to hub for self-expression and entertainment. And, this will continue to intensify in years to come.
Play, in general, is now thought of by researchers as an integral part of the very fabric of our species (just like others). Whether games be physical or digital, they just have a pull. Whether we like it or not, all of us, at some different levels, do play. If this is true, the continuing development of games to play with whether by chance, skill, or both is inevitable.
---
References:
The International 2019 | Dota 2 Prize Pool Tracker

The $120 billion gaming industry is going through more change than it ever has before, and everyone is trying to cash in

Imagine Dragons Invests in Esports Company ReKTGlobal and Team Rogue

Philadelphia 76ers are the first U.S. pro team to get into eSports

Raising the Stakes: E-Sports and the Professionalization of Computer Gaming Summary

Global Game Streaming Market 2020 – Subscription Services Model is Expected to Register Significant Revenue

'China's Twitch' Huya surpasses 100 million monthly active users despite Beijing's content crackdown

Worldwide digital games market: March 2020

The 5 Biggest Virtual And Augmented Reality Trends In 2020 Everyone Should Know About

Top 4 Virtual Reality (VR) Breakthroughs in Medicine

Commercial and Public Sector Investments Will Drive Worldwide AR/VR Spending to $160 Billion in 2023

Augmented Reality and Virtual Reality Headsets Poised for Significant Growth

2020 Has Way Too Many Video Game Remakes (But They're Good)

Retro And Remastered PS4 Games Get Steep Discounts This Week

Cloud Gaming Market to exceed $8bn by 2025

The Best Cloud Gaming Services of 2020: Wave of the Future

Animal Crossing Offers Social Opportunity During Stay-Home Order

Using video games to foster community and social interaction

A Look At The 'GaaS' (Cloud Gaming, Streaming, Games As A Service) Sector And The Main Companies Involved

High Fidelity Mobile Gaming Is on the Rise, Putting Pressure on GPUs

Huawei P40 Pro Delivers Ultra 90FPS Performance in High-FidelityGames

Return of the Full Motion Video Game

User-Generated Content Games and Influencers Are a Great Match

10 Cross-Play Games to Play Across PS4, Xbox One, PC and Nintendo Switch

What Inclusion Means to Players

The Growing Gambling Industry: Forecasts, Technologies, and Trends

Europe Online Gambling Market Report 2019

European Online Gambling Key Figures 2018

Play May Be a Deeper Part of Human Nature Than We Thought