Are your posters not converting leads into customers? Is it getting harder to publish new materials in time for your customers to see them? Has it become expensive to create traditional signage for your expanding business? Fortunately, digital signage software provides new ways to market and sell your products and services without spending a lot.
These platforms provide a scalable and flexible solution to ensure that you can take advantage of revenue opportunities. Digital displays are much easier to manage while increasing your reach to your customers.
In fact, over 70% of Americans will see a digital display in a month, which shows its effectiveness. You can upsell to your existing customers in your place of business without much effort from your staff. Furthermore, they are also easy to manage even if you have a multi-location business.
In this article, we will explore what digital signage software is. We will also show what such a system can do for you and your business. Also, do not miss our list of leading digital signage software in the market.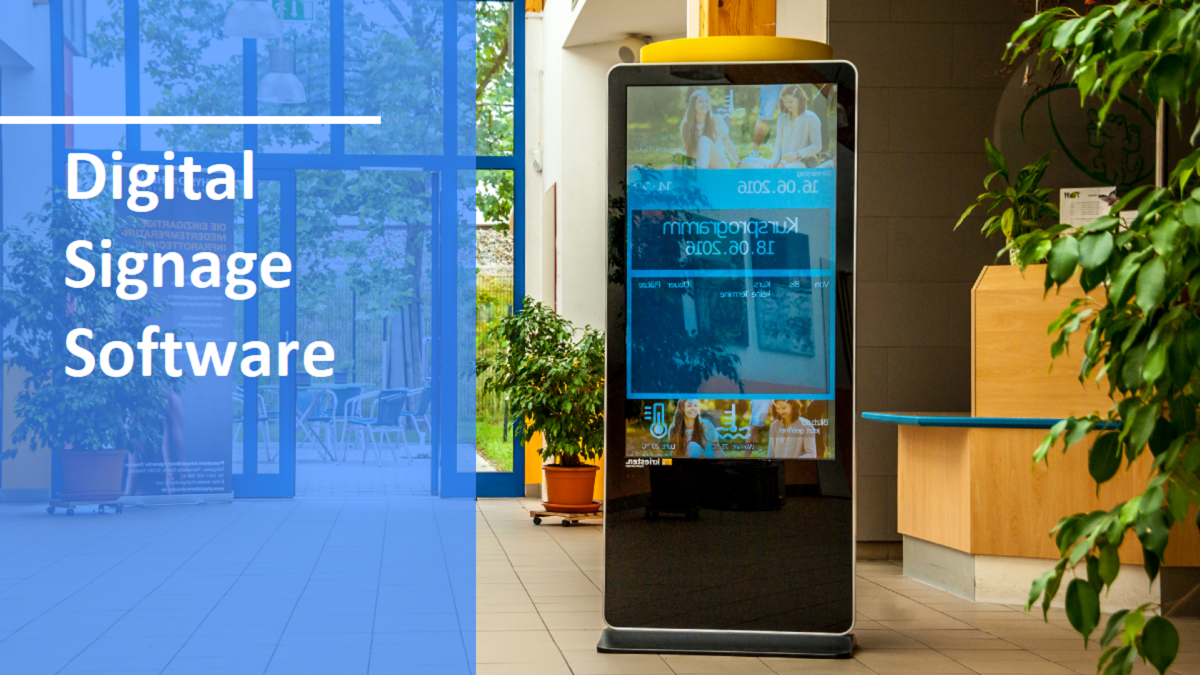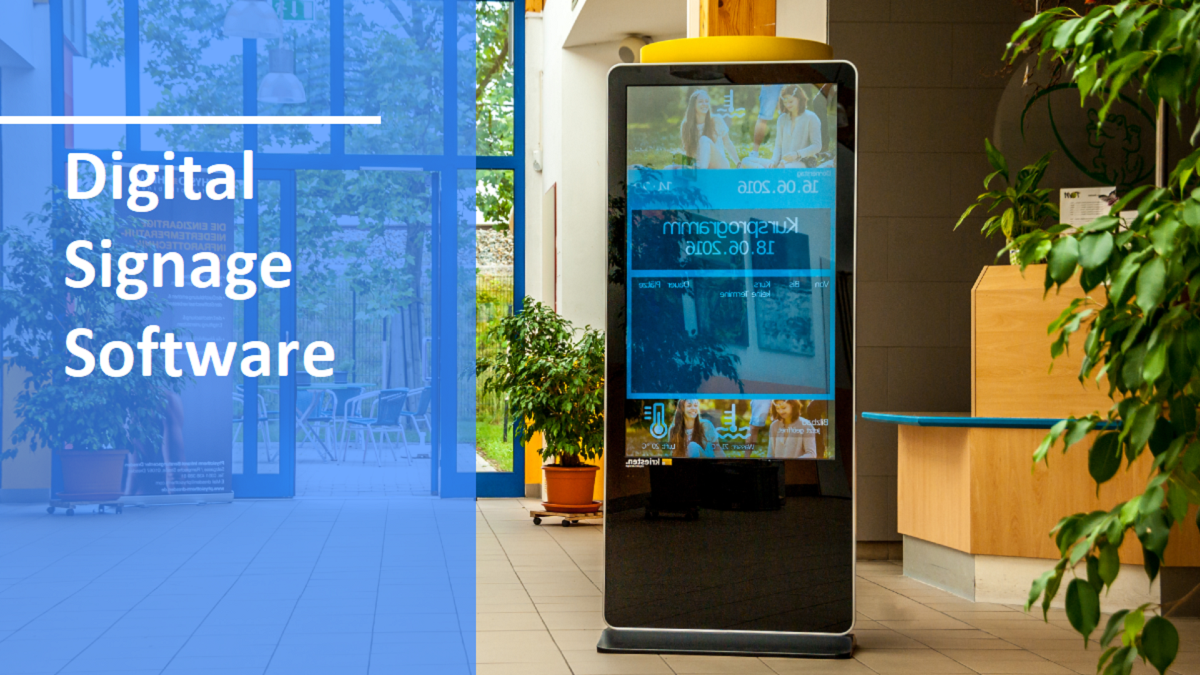 Digital Signage Software Table of Contents
What is a Digital Signage Software?
Digital signage software helps in the management of content, static and interactive, on digital displays. It allows you to create, schedule, and display various multimedia elements and custom branding to advertise on televisions, projectors, and other types of digital displays.
These systems enable organizations and companies to broadcast advertisements, signs, and informational content. Interactive displays with custom branding are usually found on places of business installed or mounted on walls, entryways, lobbies, and more. Additionally, digital signage is also used in airports, restaurants, hotels, malls, and more.
List of Best Digital Signage Software
Digital signage platforms come in various features and capabilities. Here are some of the best options on the market:
Core Parts of Digital Signage Software
While most digital signage applications serve as all-in-one systems, they are composed of three core parts:
Digital screen – This is the part that your customers and target audience see. It simply displays all your digital content through devices, such as flat-screen TVs. However, as display technology gets better, more custom displays are becoming available. Displays with touchscreen functionality are also available on the market for a more interactive experience.
Digital signage player – It can be a type of hardware or software solution. Players usually store the digital content and connect to your display for playback. Some of the most common examples are Amazon Fire Stick, Google Chromecast, or even a simple thumb drive. Additionally, the player and the content can be stored in the cloud or a local server connected to the display through a network.
Content management – The features of a content management system (CMS) vary per digital signage application. At its most basic functionality, it lets you upload images, audios, or videos. Some CMS even allows you to create your own content right in the system from scratch or using a template.
Other Features of Digital Signage Software
Aside from the three key parts, there are features that a robust digital signage application should have. Here are a few:
Media library – A digital signage software should allow you to manage and store all your media assets, such as texts, images, audios, videos, and more.
Content scheduling – Create and manage schedules for your digital content publications. It can also include a calendar view for easy scheduling.
Layout management – Depending on your display type, you should be able to create custom layouts to maximize the screen's real-estate where you can display different types of content at the same time.
Display management – You should be able to manage multiple display boards in one place. Other digital signage systems even include remote display management.
Key Advantages of Digital Signage Software
Digital signage platforms allow you to reach potential customers that you otherwise cannot. As such, it has become a great marketing software for businesses looking to engage their customers. Here are some of its key advantages:
Interactive content – Instead of relying on traditional printed materials, digital signage systems allow you to create interactive content that will surely catch the attention of your audience. You can display videos, slideshows, and more. Other apps can even show your social media newsfeed for enhanced engagement.
Flexibility – An entire digital signage system can be used on different types of marketing and sales campaigns. You can publish content at a fraction of the time used to create printed ads. Platforms that use the cloud as a store even allow you to change content remotely.
Scalability – If your business is expanding, all you have to do is add new displays, and the system should be able to accommodate them. Additionally, each display can show localized content. This is great if you have various branches in different locations with their customized content.
Common Issues When Using Digital Signage Software
Just like any system, digital signage platforms encounter various problems. Here are a few:
Hardware
Screen type – Your content should be compatible with the type of screen that you have. Aside from the usual LCD, new types of displays are now available such as OLED, indoor LED, and even ePaper. Your content should be consistent across various displays.
Screen size – Your content will also depend on the size of the display that you have. Most content should be able to adjust to minor size variations. However, if you are using different displays, such as TVs, smartphones, and more, you should create custom content for each to ensure that it is properly displayed.
Bandwidth
Many digital signage apps take advantage of the convenience that cloud technology offers. However, this comes with its own issues. For example, around 16% of major banks struggle to provide enough bandwidth to their digital displays. That means missed opportunities to provide information and market new products and services.
If you are using a lot of videos and other multimedia files, you will require a faster Internet connection. For instance, a high-resolution video (1080i) requires about 140 MB per minute. Aside from speed, stability is also necessary to display such content without affecting content delivery.
Furthermore, if you are using a virtual private network, then it may have bandwidth limitations. Ensure that you have tested your content with the connection that you have. Or create content that is optimized for the available bandwidth.
Localized Content
A popular trend in marketing nowadays is delivering personalized content. This creates a stronger connection with the customers. As such, localized content is very important.
However, it can be a challenge if your business has multiple branches, each with their individual marketing efforts. You can allow each branch to develop and publish their own digital signage. However, this can affect the overall consistency and branding of the content.
Another potential solution is to create targeted messaging within the content. This can be done by using the local language or featuring a popular product in the branch without changing the entire content. Experts say that 75% of customers prefer products and services in their local language.
A simple way to localize your digital signage is to take advantage of the local social media feeds. This can even improve your local business's interaction with the local customers. Furthermore, you can add small elements to the display, such as the local weather.
Future Trends of Digital Signage Software
The future is exciting for digital signage software, especially with the new ways through which you can advertise and market to the customers. Here are some of the future trends that you can expect to see on digital signage:
Input sensors – Aside from improvements in display quality, developers are creating technologies to collect information from its surroundings and audience. Built-in cameras and proximity sensors allow displays to know when a person is nearby. Microphones and touchscreen technologies allow digital signage apps to interact with customers directly.
Better customer interaction – The combination of the hardware technologies mentioned in the previous item means you can deploy better content. For example, chatbots are making their way to digital signage. Customers can "talk" to the signage if they need information, purchase recommendations, and support.
Enhanced analytics – As the ability of displays to collect input gets better, systems can provide better analytics and insights. You can determine which content is effective and what modifications are needed to improve your marketing performance.