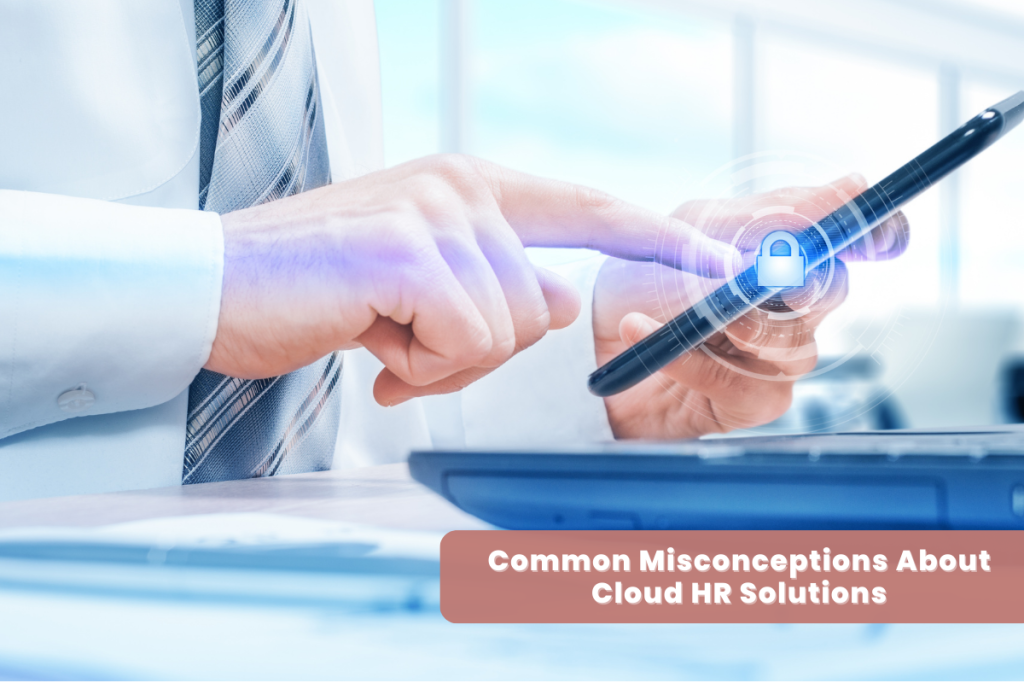 HR leaders have long struggled to juggle a heavy workload, ranging from hiring top talents to managing hectic payroll periods. Not until cloud HR solutions have revolutionised the way businesses operate by streamlining HR processes, allowing leaders to focus on more strategic initiatives.
As digital transformation takes an immense part in our daily work routines, many organisations have begun to deliberate whether cloud HR solutions are good for the business or not. 
Some might wonder about the true value of digital HR solutions, especially the non-tech-savvy people within the company. They're most likely to fall prey to the many false ideas surrounding HR technology.
For all the HR professionals out there, who are seeking to invest in cloud-based HR software, join us as we debunk the common misconceptions about cloud HR solutions to ensure smooth business workflow and efficient employee experience! 
Misconception #1 Cloud HR solutions are only for large companies 
From the viewpoint of most startup and SME owners, investing in cloud-based HR software can seem like an unwise decision when managing a small team. With the smaller budget and limited resources, they would prefer to keep a small workforce and maintain financial stability. 
Reality Check: 
However, many aren't aware of the fact that there are many viable cloud HR solutions mainly designed for startups and small businesses. It comes down to choosing the right one that'll bring the greatest value by meeting your business needs and working with you to grow your company. 
There are some HR solution providers that offer cost-effective monthly subscription plans featuring valuable HR tools with real-time access to the most up-to-date information. Some tools are even available for FREE, even with limitations. 
Moreover, cloud HR solutions come with maximised data storage, enabling easy access and tracking of the oldest records. As your company scales, these archives can help you gain key insights when managing an expanding team and addressing any potential problems that may arise.
Misconception #2 Cloud HR solutions cost a fortune. 
When people talk about investing in an HR software, they are often deterred by the perceived high costs, with some believing it to be a costly expenditure rather than an investment. 
But if you look at the big picture, you can see the actual worth of investing in an HR software. For instance, are you aware of the amount of time and money spent on managing daily low-level administrative tasks? How much can be saved and gained by using a cloud HR solution? 
Reality Check: 
If you deeply look into it, you can save a great deal of time and money with a cloud HR software. For instance, if you make $10 per hour and spend 4 hours a day on administrative tasks, that's roughly 960 hours and $9,600 of your yearly pay spent on activities that can easily be done within minutes.
Therefore, digital HR solutions can help cut down administrative costs by almost 60%. Besides, with a cloud-based system, costly upgrades are no longer a concern, as most HR software vendors provide all software updates at NO ADDITIONAL COST.
Using the saved time and budget for doing relevant tasks crucial for business growth can eventually lead to increased revenue. Hence, contrary to the well-known belief, it reduces your overall costs in the long term and increases the overall revenue. 
Most importantly, the estimated costs for cloud HR software depend on the specific modules you choose to use. There's no need to pay for the whole suite of HR solutions if you only require specific components. The installation and subscription costs are also relatively low.
Misconception #3 Setting up a cloud-based HR solution is too complex and time-consuming
When asking for employees' feedback about utilising a cloud HR software, majority of them would probably be apprehensive over the complexity of the process, saying that it might take a lot of time to learn the functionalities and adjust to the new workflow. 
Although automated processes may appear complex at first, there are many cloud HRMS platforms with a user-friendly interface, designed mainly for those who are inexperienced with HR operations.  
Reality Check: 
Cloud HR solutions are built around the concept of streamlining HR management to enable enhanced work efficiency for both managers and employees.  
In fact, a cloud-based HR software is way easier to implement. Migrating the data from the company's old system to the digital platform only takes a couple of days and after that, every employee can access it via mobile or desktop over the internet. There's no need for any hardware installation, so a major IT involvement will not be necessary. 
Almost all HR solutions come with tutorials and step-by-step guides to help users quickly learn how to use the platform and maximise their experience.
Furthermore, cloud HR software vendors offer excellent support before and after the purchase. This includes 24/7 email support and live chat assistance – making the process of implementing HR technology easier than ever. 
If you think that your team may not be enthusiastic about using a new software, you need to engage them from the start and involve them in the decision-making process. 
As an HR leader, make sure to ask for their opinion on which software they believe would best meet their needs. This way, they will be more likely to actively use it once it is implemented. 
Misconception #4 The company data will be at risk
As we all know, the security breach at Apple, one of the world's largest tech conglomerates, made headlines all over the world. Similarly, the data breach issues at Facebook were a major source of conversation and debate. These data security issues caused fear among organisations around the globe as they grapple with the possibility of cyber threats.
Reality Check: 
Despite various incidences of data breaches, cloud-based HR solutions remain one of the most secure and cost-effective methods for organizations to store and access data. Most cloud HR software vendors provide excellent security and encryption features to ensure strengthened data privacy protection. 
Cloud HR solutions are built with strong security protocols and regularly updated with the latest policies for enhanced safety measures. All employee and business records are stored in an encrypted format to ensure high level of security on its servers. 
In addition, they're also capable of implementing built-in access rules to permit or prevent access to certain types of employee information. 
There are cloud HR software solutions that also provide robust login processes where HR managers and employees can access the records via facial recognition or fingerprint scanning, instead of entering passwords or pins. This will make it harder for cybercriminals to gain access.
With reliable data privacy protection, organisations will be able to perform confidential operations in a secure system equipped with multi-level encryption technology that's accessible only to authorised personnel.
Conclusion 
Some organisations might be confronted with one misconception to other. Just always remember that a cloud HR solution isn't a fancy new tool or a luxury for a business. Instead, it's progressively becoming a necessity for organisations to automate low-level HR tasks and help their teams improve daily workflow.