"Earn while you sleep" is a popular saying often attached to the concept of affiliate marketing. And while this can be true in some cases, not everyone can bask in the experience of having a steady flow of commission even when they are basically doing nothing. 
Affiliate marketing takes a lot of hard work. For inexperienced affiliates, it can be both daunting and confusing, as well as discouraging. Different affiliate networks and programs exist, and although they have the same core purpose, they are not cut the same. Sometimes, knowing the differences help more in identifying the right affiliate platform that works for you and your business, and we will touch on this as well.
ClickBank is one of the leading affiliate networks, but despite its reputation, not everyone can be a successful affiliate in this platform. There, however, are ClickBank alternatives that affiliate marketers can choose from.
What Is ClickBank?
ClickBank is primarily an online retail platform that offers an extensive list of products and services from food and drinks, clothing and accessories, ecommerce, arts and entertainment, health and wellness, software and services, and others.
With such a variety of offers to choose from, ClickBank is an ideal network, especially for starters, to learn and grow as an affiliate. Professionals in the market consider it an additional tool when they compare marketing software. ClickBank, however, is not the only one that can provide affiliates with a competitive and promising platform. In this article, we will examine ten ClickBank alternatives that you may want to check out if you believe ClickBank is something that is not for you.
1. Amazon Associates
Amazon Associates is one of the leading affiliate networks. Amazon's affiliate program is widely popular not only because Amazon is a haven of products to promote and sell, but also because Amazon Associates has a low barrier for entry. You don't have to be a seasoned affiliate marketer to join the program; as long as you can meet the requirements to become an affiliate, you can be part of the program and be allowed to monetize your platform (website, blog page, social media, etc.)
Amazon Associate also provides its affiliate with easy-to-use tools, such as Site Stripe, banner creator, product links, and its product advertising API for more advanced users. Standard fees and rates are based on qualifying purchase products and can go as high as $10, depending on the product category. 
When it comes to monitoring your earnings, Amazon Associates delivers online reports daily. The reports also provide other important details, such as orders, revenue, conversion rates, link types, daily trends, referrals, payment history, and tracing ID summary. As the top ecommerce software on the market, you have access to advanced functionalities that can help you boost your revenue.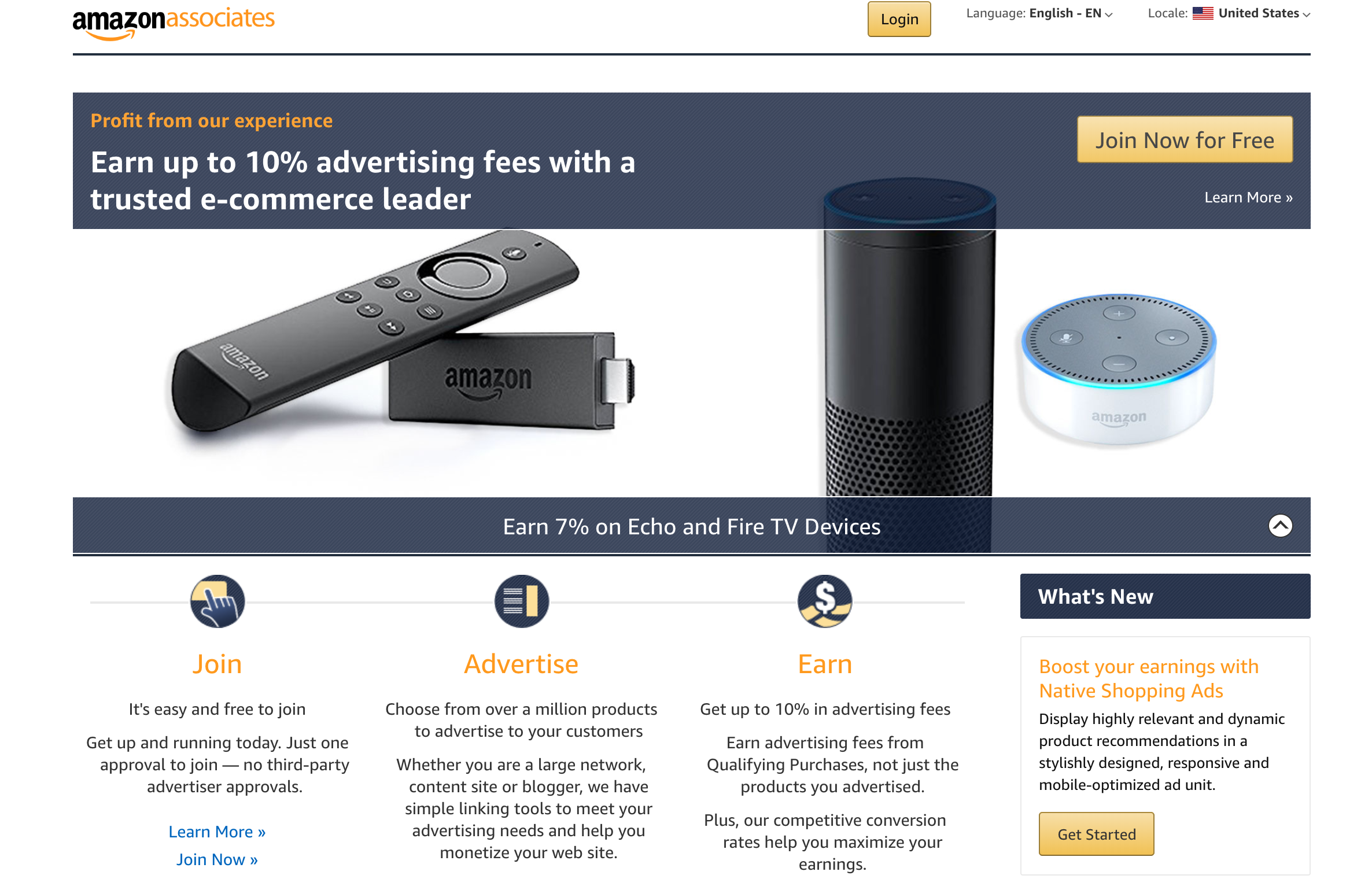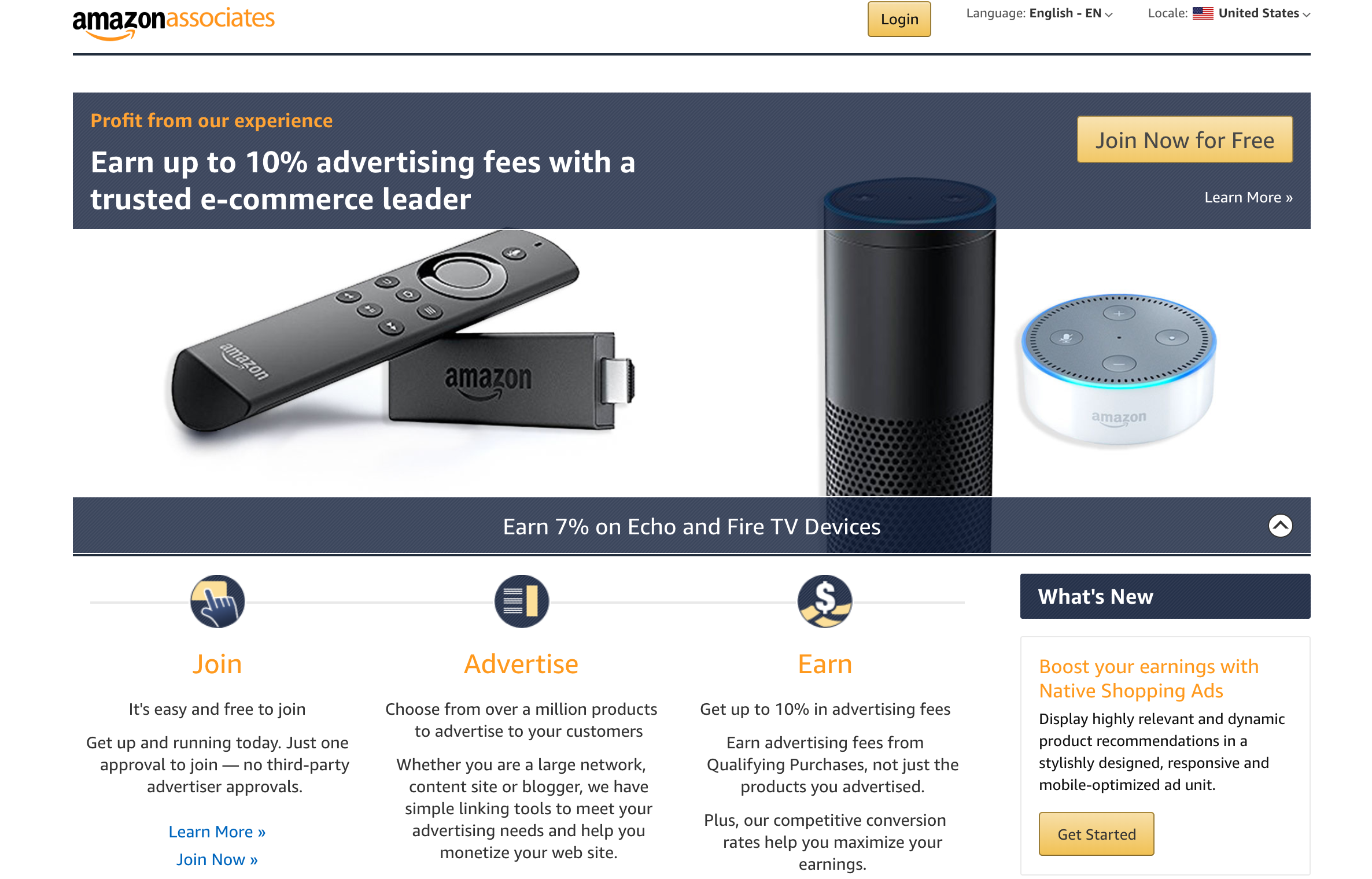 2. CJ Affiliate
CJ Affiliate offers a program that nurtures collaboration between advertisers and publishers across the globe. CJ Affiliate also provides consultancy with experts who offer specialized guidance on strategic product/service promotions. This specialized guidance also varies depending on the affiliate's region, distribution model, vertical market, and business size.
When it comes to content monetizing, CJ Affiliate provides complete automation using custom product widgets and deep-link tools. Other tools CJ Affiliate leverages are its proprietary AI-powered fraud detection, pre-payment validation, cookieless tracking, advanced and on-demand insights, and analytics, verticalized integrations, publisher indexing, affiliate personalization solution, and more. 
3. ClickFunnels Affiliate Program
Click Funnels offers an independent affiliate program for promoting and selling Click Funnels products. Earning with Click Funnels Affiliate Program is centered more on product or service subscriptions. This means that if you can get someone to subscribe to a product through your link, but the product has a trial period, you will not start earning commissions until the subscriber starts paying subscription. Moreover, you are entitled to commissions as long as they are using the product or service.  
The commission rates for Click Funnels Affiliate Program vary. You can earn as much as 40% recurring commission rates, depending on your account's status in the pipeline. The starting commission rate is 20% (Badge Commission) and 40% commission from promoting and selling front-end offers. Once you hit the threshold of $1000 worth of earnings in one calendar month, you can then apply to be an Open Affiliate, which allows you to promote both front-end offers and ClickFunnel SAAS products.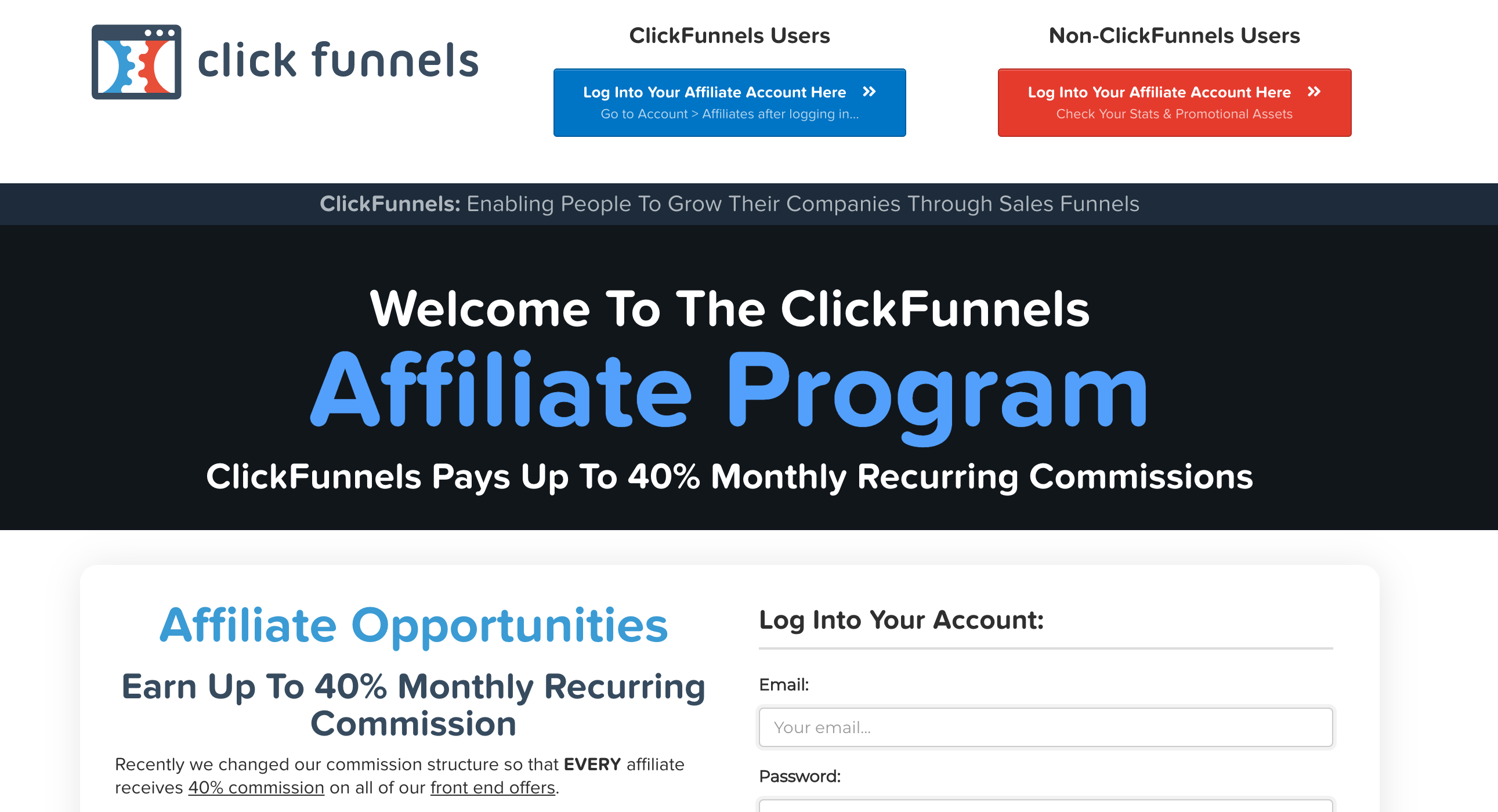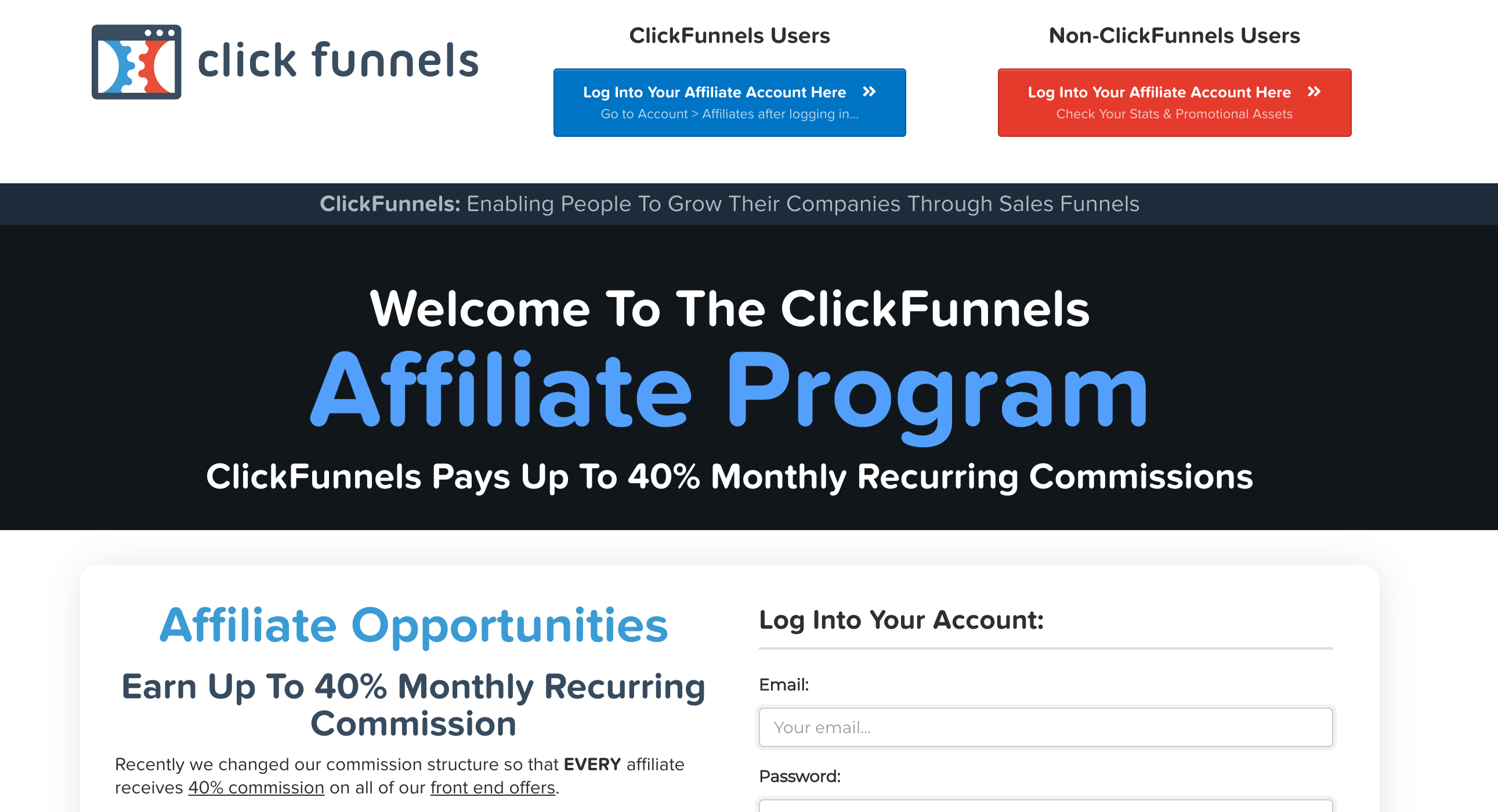 4. eBay Partners Network
eBay Partners Network is one of the popular ClickBank alternatives that provide you with a large selection of products. An affiliate earns a commission based on the percentage of an eBay product's selling price. Rates also vary depending on the category of products. For example, you can earn as much as 6% of the sale price of a health and beauty product, and 1% of the sale price of food and alcohol. 
Not all transactions made from using your link, however, earns you a commission. eBay Partners Network's terms and conditions state that transactions will only be considered qualified if a direct purchase is made within 24 hours after clicking on your affiliate link. When it comes to product bidding, you can only earn a commission if the customer bids within 24 hours after clicking your affiliate link and wins within a 10-day period.
5. JVZoo
JVZoo offers a completely free platform for affiliate marketers. JVZoo's network includes vendors from various industries, such as ecommerce, software, event providers, book publishing, agencies, and more. JVZoo also makes sure that all vendors in their platform are compliant with global security and data protection laws.
A JVZoo affiliate earns on a commission basis for every sale made; commission payments also automatically reflect on an affiliate's JVZooPay account after every transaction. 
6. MarketHealth
MarketHealh is an affiliate network dedicated to health and beauty products and services. Affiliates can choose from more than 100 offers to promote and sell online, and these offers include products and services from different countries being promoted in their own languages. MarketHealth also provides affiliates with advanced tracking software, as well as a resource of customizable landing pages, banners, etc., that they can use for free.
When it comes to earnings, affiliates get paid twice a month with a minimum payment of $20, whether the commission is a recurring income or from a one-time purchase. 
7. OfferVault
OfferVault is not a dedicated affiliate network, but a website where affiliates can find offers from its vast selection of products and services, as well as a list of affiliate networks. In OfferVault's website, you can search and compare offers by product category, type (lead, sale, etc.), network, by date, and by the amount of payout. The main categories include pay-per-call offers as well as mobile offers. 
Keep in mind, however, that the links indicated in OfferVault's website are not the actual affiliate links–these are preview links only. This means that OfferVault's links cannot be used to promote a product or service but can be used to connect with the network and join its affiliate team. After joining the actual network, only then can an affiliate promote and sell products and services and earn commissions. 
8. Peerfly
Peerfly is an affiliate platform that offers a unique cost-per-action-based ad network. It has more than 2,000 live offers for affiliate partners to choose from. Once approved to be a Peerfly affiliate, you can get access to tools and training materials for free, as well as its custom tracking platform, and rewards program and contests.
Being a Peerfly affiliate, however, also means being active in promoting and selling products offered and in a way that meets Peerfly's standards. This affiliate network closely monitors its affiliates' performance, which means a lack of regular and profitable activities can get your account suspended or terminated.
9. ShareASale
ShareASale is an affiliate marketing network that has been in existence and growing for the past 20 years. It provides affiliate marketers with tools and training to learn how to properly manage and profit from different affiliate programs. These include developing different affiliate tools, such as videos, data feeds, widgets, and more, creating and disseminating affiliate communication, how to utilize promotional and dynamic advertisement banners, etc. 
Other than continuous training, webinars, etc., ShareASale also provides affiliates with a detailed report that lets them know of an affiliate program's strength, as well as areas that need improvement.
10. WarriorPlus
WarriorPlus is a highly flexible affiliate network with dedicated tech support for affiliates, digital business operators, and online marketers. Equipped with robust features to keep affiliates focused on promoting products and services, WarriorPlus takes care of the backend process of automating sales and creating product alerts to keep affiliates up to date of new products offered, etc. 
When it comes to network tools, WarriorPlus provides limitless sales funnels, a multi-faceted tracking system, detailed customer records, and more. If you are managing affiliates, WarriorPlus allows you to customize the commission rates of your affiliates as well as easily track their status and activity.