What is church management software? That sounds like a total oxymoron, as churches have always been bailiwicks of tradition. But in recent years, church leaders have been seeing just how much impact the technology can make on their operations.
That said, there are still some holdouts where tradition for tradition's sake is king. For these churches and other places of worship, faith is intrinsically tied to their religion. However, it shouldn't be this way. In fact, technology expands your church's reach and equips your congregation with the tools they need to spread your mission.
In today's post, we'll analyze just how churches can use software to their advantage, what it can offer, and what the industry will look like in the next few years. This on top of featuring the 10 best church management software to date.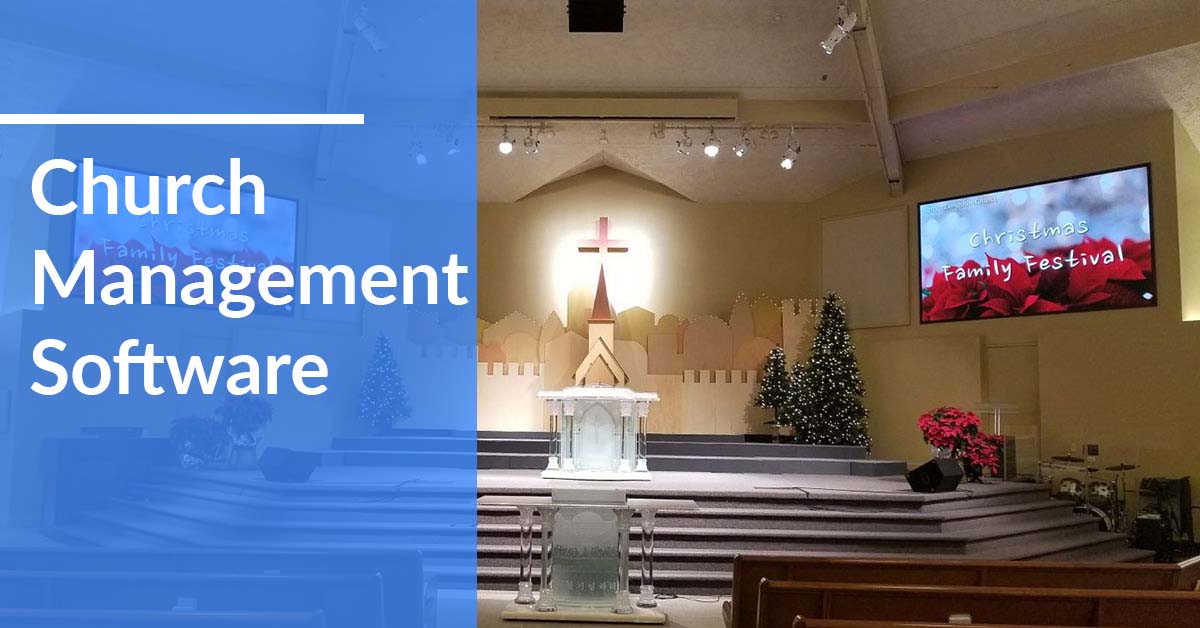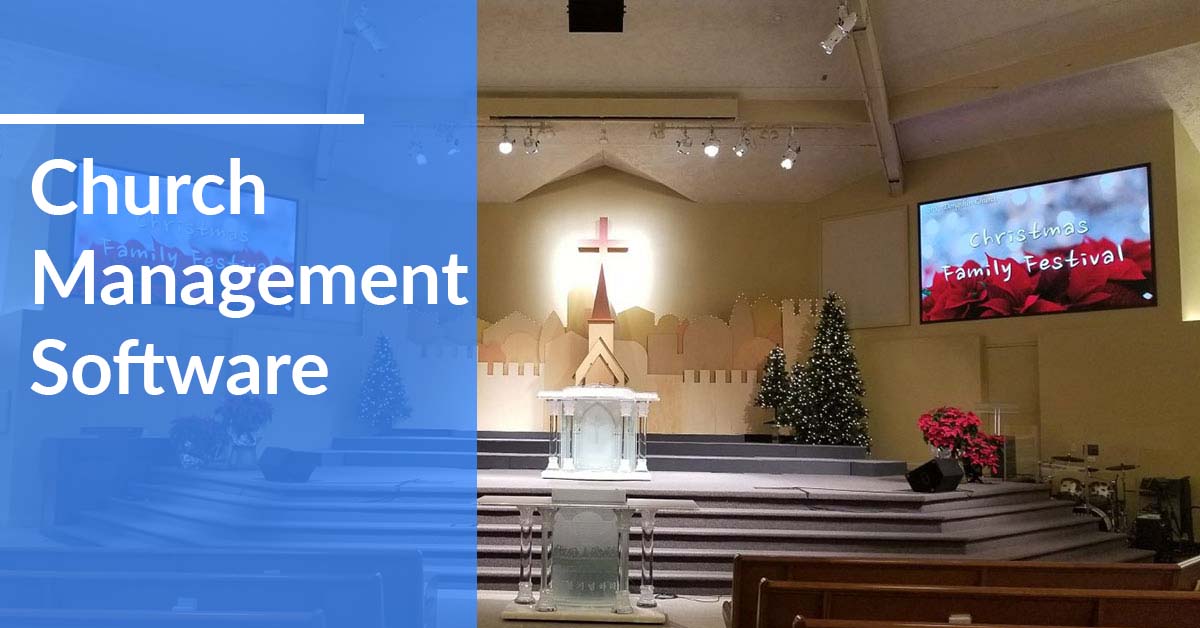 Church Management Software Table of Contents
What Is Church Management Software?
Managing a church and its day-to-day operations isn't easy. This is why a church management software exists, so it can automate, organize, and streamline the organization's tasks and activities. It can also manage membership, maintain databases, organize emails and communications, and manage schedules, like worship and presentations. Other software can also create events, track finances, and generate reports by integrating with third-party applications.
While there are similarities to running a church with that of a retail store, there are also a lot of differences between them. For one, a church is essentially a nonprofit, while a retail operation is geared toward maximizing revenue. This also brings us to the fact that a profit-driven business can earn their keep, while a church has to rely on donations and contributions. Therefore, managing a church means it's critical to handle limited resources while also engaging and expanding the member base.
Church management software can do all this and more.
Core Components of a Church Management Software
Church management software is practically a productivity solution. It can automate tasks so the human side of the operations is not burdened unnecessarily. But it also has useful features that address a church or religious organization's unique needs.
Any church management software has four core components:
Automation. This allows the software to expedite daily tasks like work coordination, communication, support, report generation, and dissemination of information. A church management software can automate recurring tasks, thus ensuring smooth, unfettered operation of the church and reducing overhead. It can also automatically schedule shifts for church workers similar to other scheduling software.
Membership. The software can also monitor the growth of the congregation. It does this by employing a kind of a member database, where contact details are stored. The software can also prospect for new members through several channels, including email and social media, but it can also create invitations using traditional methods.
Collaboration. A church is an organization, which means it has a lot of moving parts. By enhancing collaboration and communication among its key members and support staff, the church can initiate and implement successful community activities.
Reports. An organization is nothing without accountability, and that's another part of a church management software. It can generate reports and track every resource movement by using financial management modules. It can manage donations and contribution information and allow church leaders to use resources effectively.
List of Best Church Management Software
There are several fine examples of church management software, with varying feature sets and price points. Here's a snapshot of 10, in no order:
Church Community Builder. A well-designed church management software that can create effective systems for managing a religious organization. With check-in, contributions, and online giving features, it gives you a detailed insight into your church operations.
ChurchTrac. A user-friendly end-to-end church management application that's designed specifically for small and mid-sized churches. It's chock-full of tools to aid growing organizations to further expand their members and visitors, such as accounting, online giving, and child safety.
FellowshipOne Go Complete. A platform that simplifies church management by integrating common business productivity software. It has accounting, messaging, and online giving modules that you can each use as a standalone solution.
EasyWorship. A simple church media solution that helps church administrators to create multimedia presentations, which they can use for sermons and other activities. It supports music, video, and lyrics, among other media formats.
Planning Center. This application leverages the power of the cloud to equip church organizations with all that they need in the 21st century. Planning Center keeps you focused on the services of your church, including scheduling and accepting and processing donations.
Servant Keeper. A hybrid-deployed church management software (meaning it can be deployed on the cloud and locally). Like many church management software, it can manage members and events, generate reports for research and insight, and facilitate collaboration.
easyTithe. Primarily an online giving solution, it uses unique innovations to streamline donations. It sports a unified dashboard to make tracking and managing donations effortless and gives you insight into how best to use these limited resources.
Raklet. An event management software, churches use Raklet to create and manage community activities. It has comprehensive tools to manage members and expedite planning an event, with a broad selection of options for monetization.
Pushpay. A mobile engagement software that streamlines church efforts. It makes giving to churches seamless and easy so contributors and members don't need to jump through hoops.
ParishSOFT. Built for Catholic churches, it streamlines church office functions and services. With an integrated suite of applications for this purpose, it also has a common database for easy information dissemination and productivity.
Benefits of Church Management Software
Church management software optimizes functions that are traditionally handled by human agents. This is all well and good if the church has only a few members, but once it grows, these tasks become overwhelming and burdensome.
As your church grows, so do the tasks that accompany it. By the time you reach your 500th member and you're juggling schedules to keep worship and other activities in line for a week, you might find yourself checking for human error instead of actually managing your events. Church management software can then help you.
Apart from the automation, which is a big part of the software, it can also address the unique needs of your organization. Here are some benefits:
Manage events. The bigger the event, the more difficult it is to plan and coordinate. Church management software can make it easier for you to put together a great event, as these software solutions have tools that can book venues, monitor assets, and even contact and pay suppliers. Like any event management software, these applications also have a suite of communication integration to inform and update members while collaborating with all event stakeholders.
Check-in tools. Check-in features are essential when your church often has large gatherings or smaller, scheduled events, like seminars or studies. These tools can account for every member of the congregation, making sure those that need to attend a certain assembly are physically present.
Contributions tracker. As a church cannot engage in profit-driven practices, donations and contributions are its bread and butter. Church management software can track all your members' donations and contributions. It can also generate reports on collections on a period you specify and offer paper trail functionalities so your funds go where they're needed most.
Report generation. Guesswork is the bane of good leadership. Eliminate it by managing operations based on data and figures. Create financial reports and insights with a few clicks of a button. These allow you to spot bottlenecks and troublesome issues before they become bigger, thus guiding you in making informed decisions.
Church-specific functions. Most of all, church management software has features specifically made to address the unique requirements of a religious organization. A run-of-the-mill business productivity software just won't do when exploring the distinctive needs of a church.
Advantages of Using a Church Management Software
Running a church is like running a business, though the similarity ends there. Like any organization, however, the keyword is "organize." This means that the more organized and seamless the components of your organization, the better it will run, which translates to better outcomes for both its leaders (you) and members.
Here are a few advantages that a church management software can confer:
Centralizes your database. A church management software consolidates all member information in one place. This makes it accessible to church leaders at a moment's notice, especially during emergencies.
Prevents fraud. If you have a tool that has an objective view of your resources, you can enforce accountability. A church management software has several functions for this purpose, such as double-entry procedures and an audit trail. Other security features include single sign-on, encryption, and two-factor authentication.
Generates accurate reports. Alongside security, you can also enjoy accurate reports. You can set your software to automatically collect and parse data both from your finances and your attendance.
Enhances communication. Church management software has integrated communication tools. These can furnish your staff with the collaborative know-how to plan and execute your activities. It can also reach out to prospective members using tools similar to email marketing software.
Features of Church Management Software
Software, generally speaking, have different functions and features (and the degree and breadth they furnish them). It's simply impossible to list every feature of every church management software. However, some features are common to most, such as:
Member management. Maintains records of members in a secure database, and auto-updates their contact information. It can also keep profile information for each member, including their involvement with the church.
Event management. Facilitates the planning of events, such as supplier coordination, payment process, booking, tracking, and searching.
Donor management. Provides a secure portal for the collection and management of contributions from donors. It also tracks and monitors donor information.
Volunteer management. Organizes the contact information of volunteers and visitors, including their schedules, availability, and history.
Accounting. Manages, tracks, and reports on the organization's financial health, including expenses and revenue.
Collaboration. It offers community-wide communication channels, especially for church administrators and event suppliers.
Check-in management. Tracks member attendance for various activities. Newer church management software now also employs child tracking features, especially if the event is outside of the regular church facility.
Pricing of Church Management Software
Like many things, church management software solutions are not created equal. In general, applications of this kind are priced similarly to other business productivity software. Furthermore, the more features and integrations it has, it's likely going to be more expensive as well.
When looking at pricing, most modern software has switched to a software-as-a-service (SaaS) model. Instead of buying  software and installing it on your machine, you instead subscribe to an annual or monthly plan, and the software remains on the vendor's server. In turn, they deliver their services through the internet, usually through your web browser.
The advantage of a SaaS model is that you will need no further infrastructure to host your software nor need additional equipment. As long as your computer has an internet connection and a browser, you're all set. Plus, you can also access it anywhere you are, even with just a mobile phone, as long as it's connected to the internet.
The pricing structure of church management software generally falls under three categories: ChMS pricing structure generally have three models:
Recurring plan based on weekly attendance;
Recurring plan based on the total number of church members; and
One-time license fee, either for one user or one machine.
Tech Adoption in Churches
At first glance, churches and technology seem to be strange bedfellows. Most religious organizations, including churches, have traditionally been slow to adopt new technology, but that may yet change in the coming years. With technology's myriad benefits, particularly the internet and social media, there is absolutely no reason for any organization—religious or otherwise—not to use it.
As for churches themselves, Tyndale University College & Seminary surveyed 360 religious institutions on how they use technology. The salient points of the study include:
Almost all churches (99%) use various sound equipment
Nearly three in four (74%) of church members read the Bible using a mobile app
Over half (54%) of church leaders have a neutral stance regarding technology usage inside their premises
Meanwhile, churches are also employing social media to keep in touch with their members. Another survey also reveals the following:
99% of churches use Facebook
77% of churches use Twitter
46% of churches believe that social media is their favorite way of member engagement.
And it gets even better. As you can see in the chart below, church leaders (at least for Christian denominations) are increasingly using technology to diversify their services.
Key Technology-Based Changes in Some Church Practices
Source: LifeWay Research 2017-2020
Created by CompareCamp.com
Church Management Software Usage Trends
It's clear that the demand for church management software is growing. Though not exponentially, it's still a steady increase year after year. The foremost reason is that church leaders are seeing just how much time and manpower they can save by employing technology. The following trends are going to influence religious organizations even more in the coming years:
Increased social media presence. Everybody is on social media. And if churches want to capture the next generation and keep engagement with their current members, they need to leverage these platforms for their own benefit. Plus, social media also facilitates communication and information dissemination far easier than other platforms, both for members and guests. Furthermore, social media presence increases your church's visibility and can be linked with other channels to increase your reach.
Mainstream online giving. Studies show that tapping online giving technologies will net you twice as many donations. This will just spur your church's growth. This trend, apart from continuing, will also expand to more mainstream spaces, including crowdfunding, as a reliable and actionable means of receiving operational resources from contributors.
Cloud adoption. Nearly 8 in 10 churches are now using the power of the cloud to manage their operations. This makes churches of today so much unlike their predecessors that are characterized by a slow and plodding response. These days, cloud adoption makes churches more agile by allowing church administrators to manage their operations anytime, anywhere. And this trend will continue on for the next few years until virtually every church has migrated to the cloud.
Managing Your Church Using Software
The significant benefits and advantages of church management software make it clear that going on without it, in today's digital climate, works only to the detriment of your organization. As days turn to weeks, church leaders realize that they need help in spreading their faith, and newer solutions can help them achieve just that. Whether your goal is to grow your congregation or tend to your flock, the functions of a typical church management software can be of great use to you.
Technology and faith need not be mutually exclusive. The former can even help you keep up with the times. Using the same language as the people you want to invite, keep, and care for can only increase engagement and accelerate your growth.