Remote access software has been around since the early 2000s. With the advancements in network connectivity and reliability, tools needed to interconnect computers in your closed group became commonplace. One software, in particular, Teamviewer, has been in the block since 2005 and helped blaze the way for remote access. In addition to remote access, the program also offered collaboration and presentation features, allowing groups to converge and hold virtual meetings while accessing the object computer.
Issues with Teamviewer
While Teamviewer remains as one of the best remote support software, it had its fair share of detractors.  As its popularity rose in the middle 2010s, even the darker side of the Web became attracted to its potential. Some online scammers purportedly began using the software as a means to access personal information on victims, and this threatened to compromise its security. It was 2016 when the software was reportedly targeted and compromised by certain sectors, although the company did say the attacks were contained before they were able to inflict significant damage. Some users were upset that Teamviewer only informed them about the attack after.
Lately, there are grumblings of continuously-increasing costs to subscribe to Teamviewer. The company switched from licensing to annual subscription fees, alienating many veteran users. Newer version upgrades were discovered as not compatible with older versions (the latter covered by one-time perpetual licenses). This means that for older users, they will have to fork more money to continue the use of the program.
There will always be hacking threats to network-connected software, and subscription issues do happen for former licensed software that turned to SaaS. Unfortunately, for some users, these have warranted enough reason to seek Teamviewer alternatives for their needs. Some are cheaper or even free to use but have limited functionality. Some have increased security, but have higher costs.
List of top 10 Teamviewer alternatives
1. Splashtop
Splashtop offers a TLS and 256-bit AES encryption that's on par with top secure remote control software. Add additional measures, such as device authentication, two-step verification, and 2nd level passwords, and Splashtop is as secure a remote control software as they come.
Splashtop also does not require installation of any app or extension in the client computer, instead opting for a simple but secure 9-digit code authorization. This makes the software a very good option for service desks that need to troubleshoot computers on the double. Another particular handy feature is that the software works across devices, meaning you can use not only your desktop PCs or Macs but also your Android or iOS phones when connecting.
Splashtop offers a free 7-day trial for evaluation. Remote Support Plus starts at $25/month, while Remote Support Premium (with more customizable features) is at $40/month.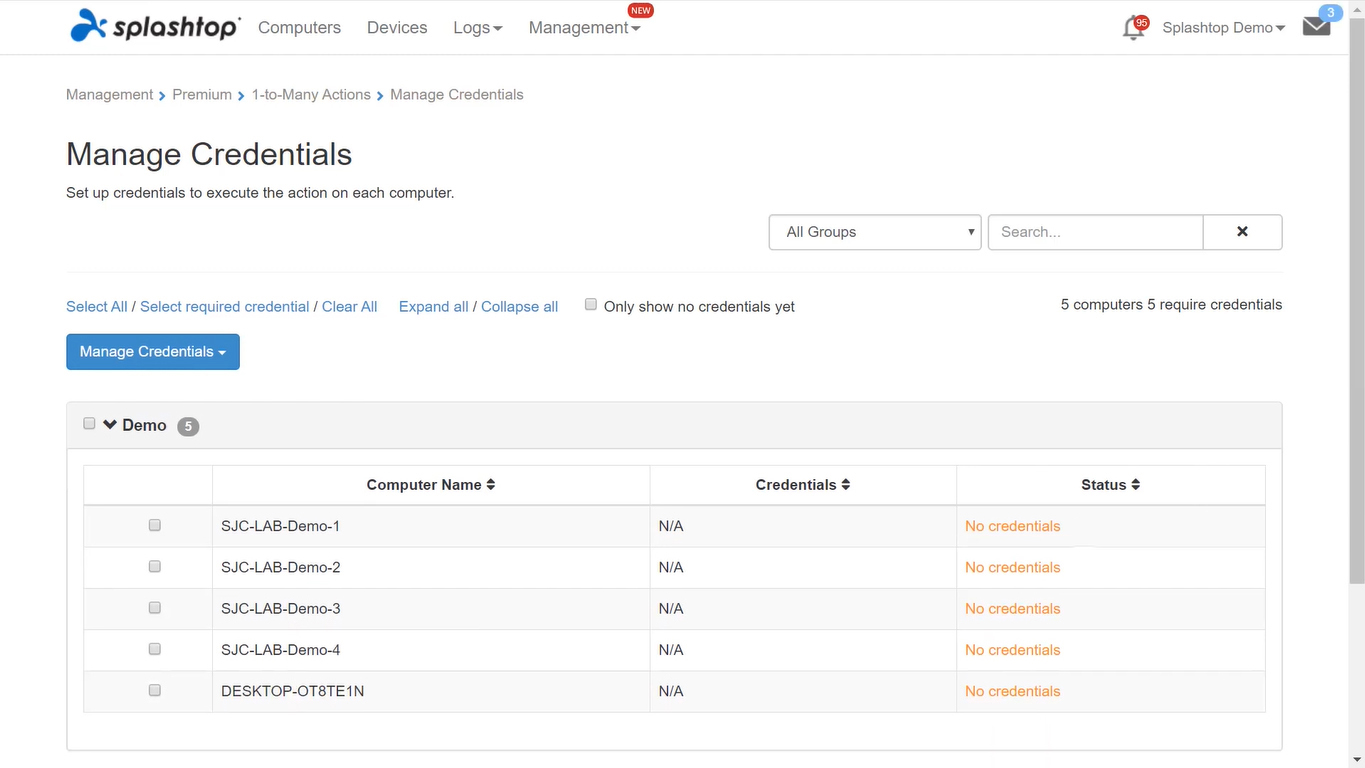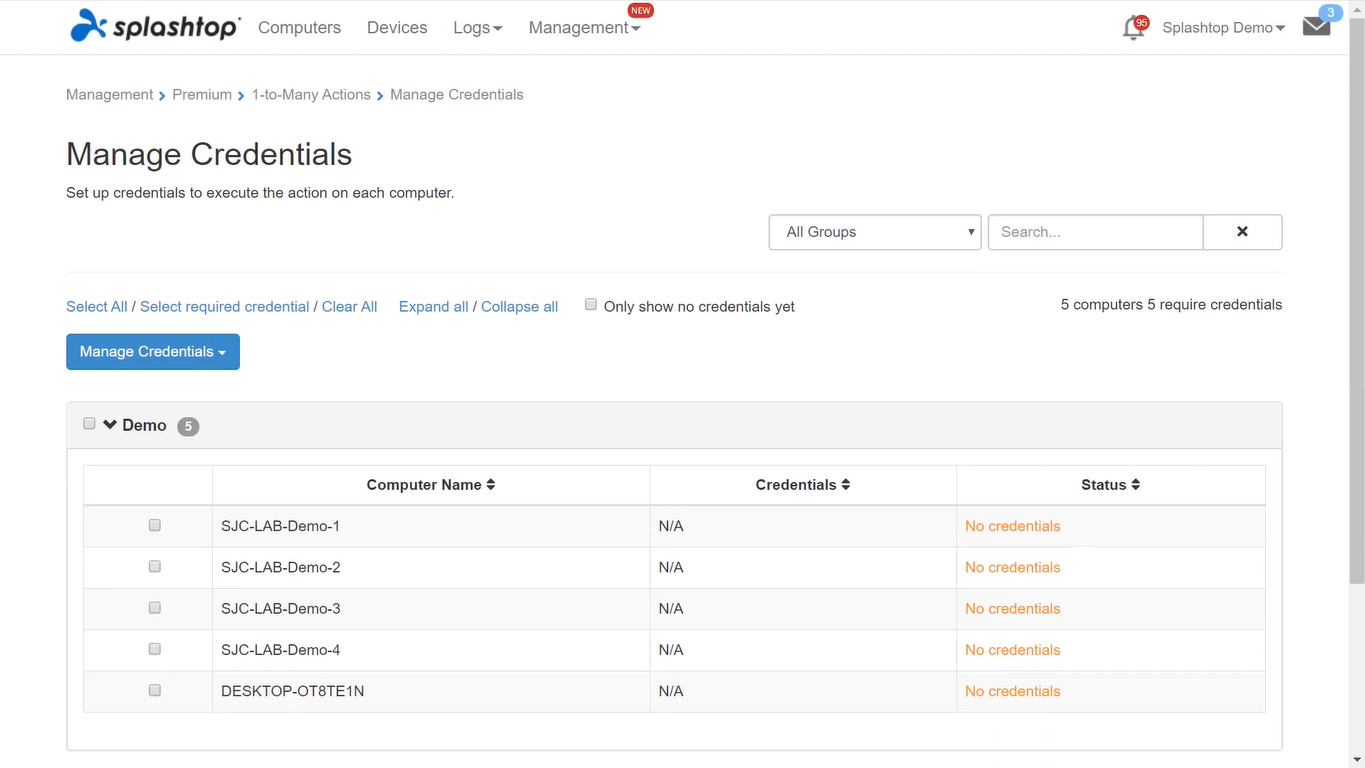 2. Chrome Remote Desktop
Chrome Remote desktop enables remote control support via any device that has Google Chrome installed. Chrome uses a proprietary protocol developed by Google that duplicates input from the host into the client computer and displays the output back to the host over a network.
As a simple, no-frills remote access tool, Chrome Remote Desktop works well, as it features end-to-end encryption and can be easily used by anybody with a Chrome browser installed. Copy-paste operations are available for use during remote access.
The best part of Chrome is that it's free for download and installation, tho again, the presence of a Chrome browser or the use of a Chromebook is required. However, remote connections are limited to 100 clients, and any additions above that can result in an error.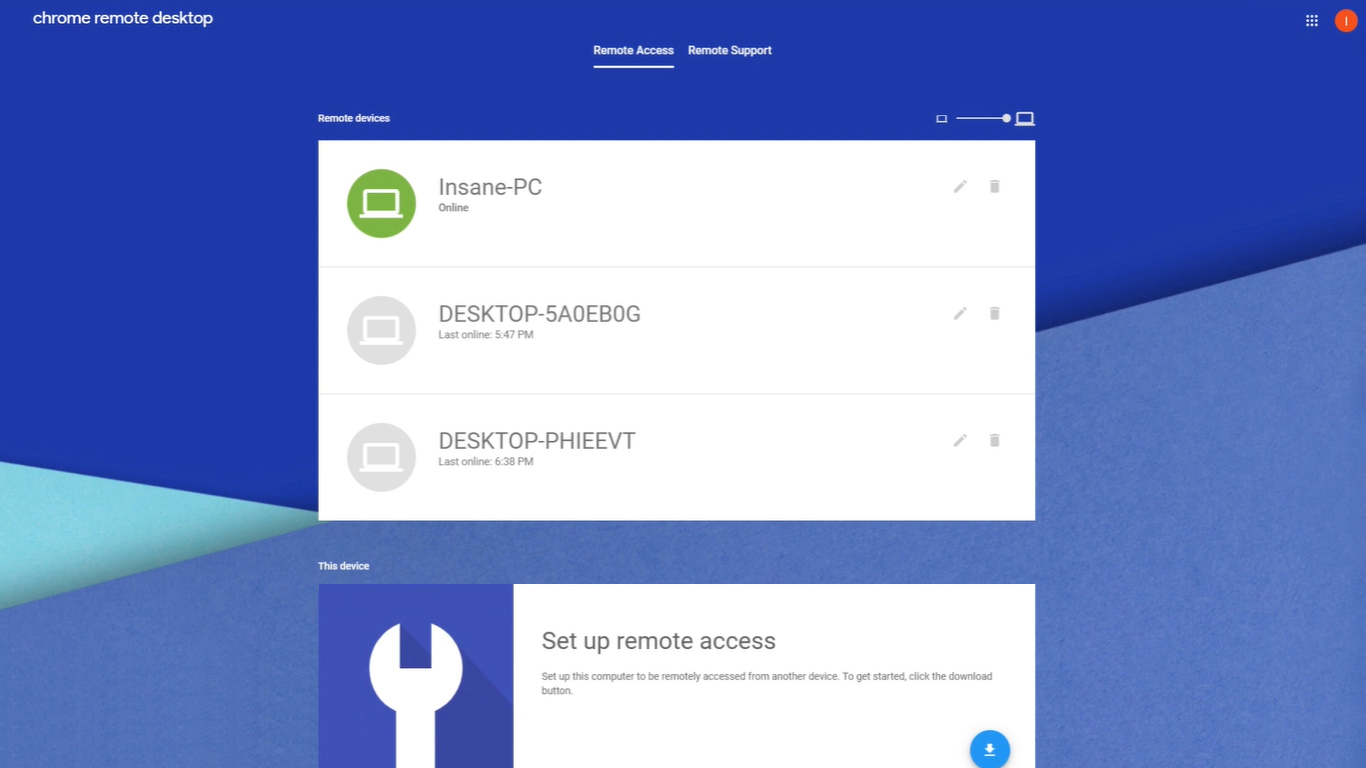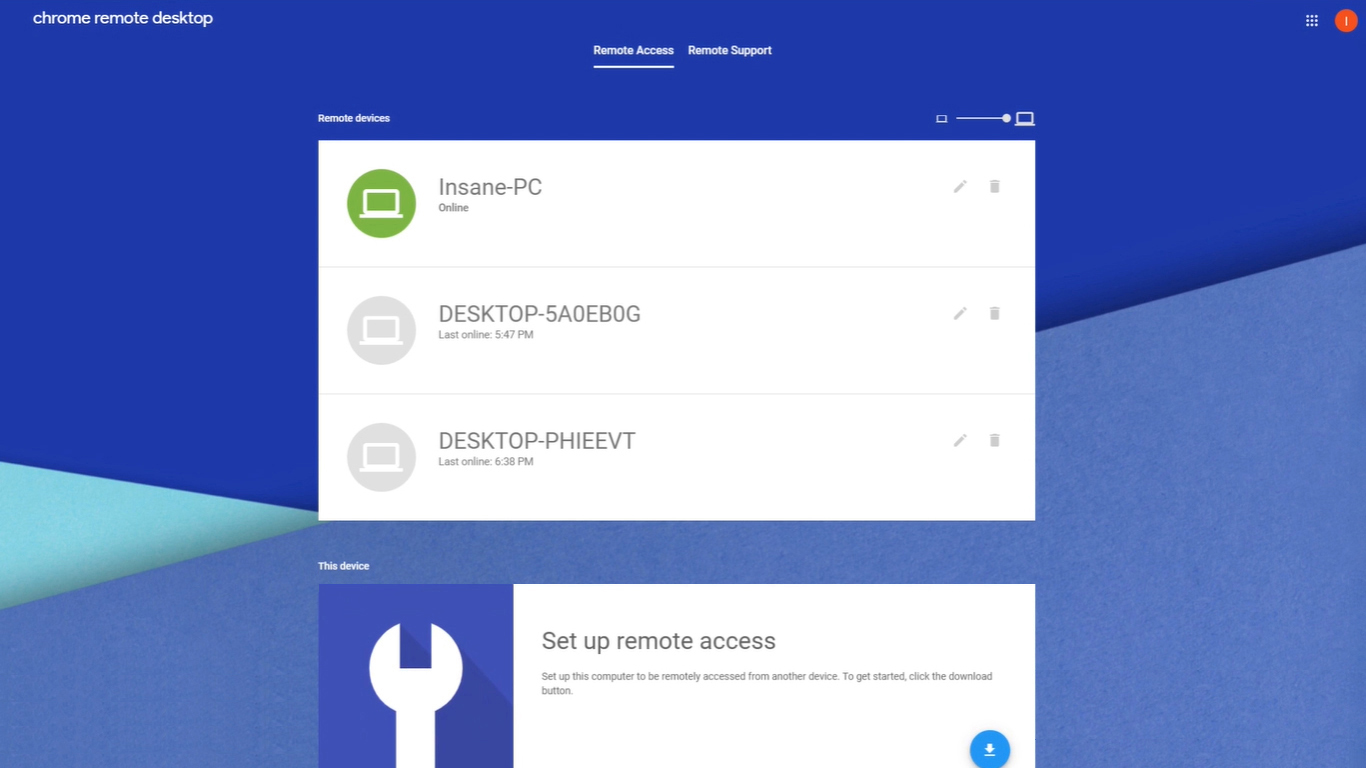 3. Connectwise Control
Connectwise Control features full remote control capabilities that's ideal for reinforcing some of the top help desk software on the market. This is because it can speed up the response rate for requests that require on-demand remote issue resolution. Like Teamviewer and Splashtop, the software can perform unattended access services as well.
Connectwise Control is more focused on group/team collaboration rather than individual access and contains a good number of tools that promote knowledge and resource-sharing during sessions.
The software also features industry-standard 256 AES encryption and two-factor authentication, which gives you a better sense of security during remote access. The Single tech license is free but is limited to remote support that can be shared by three agents using one session per tech. The One plan comes in at $19/ month and covers one session per tech for 10 agents. The Standard (Multiple Tech) plan is at $35/month and allows three sessions per tech and unlimited agents. Finally, the Pro plan at $45/month can work up to 10 sessions per tech.  A free 14-day trial is available for all plans.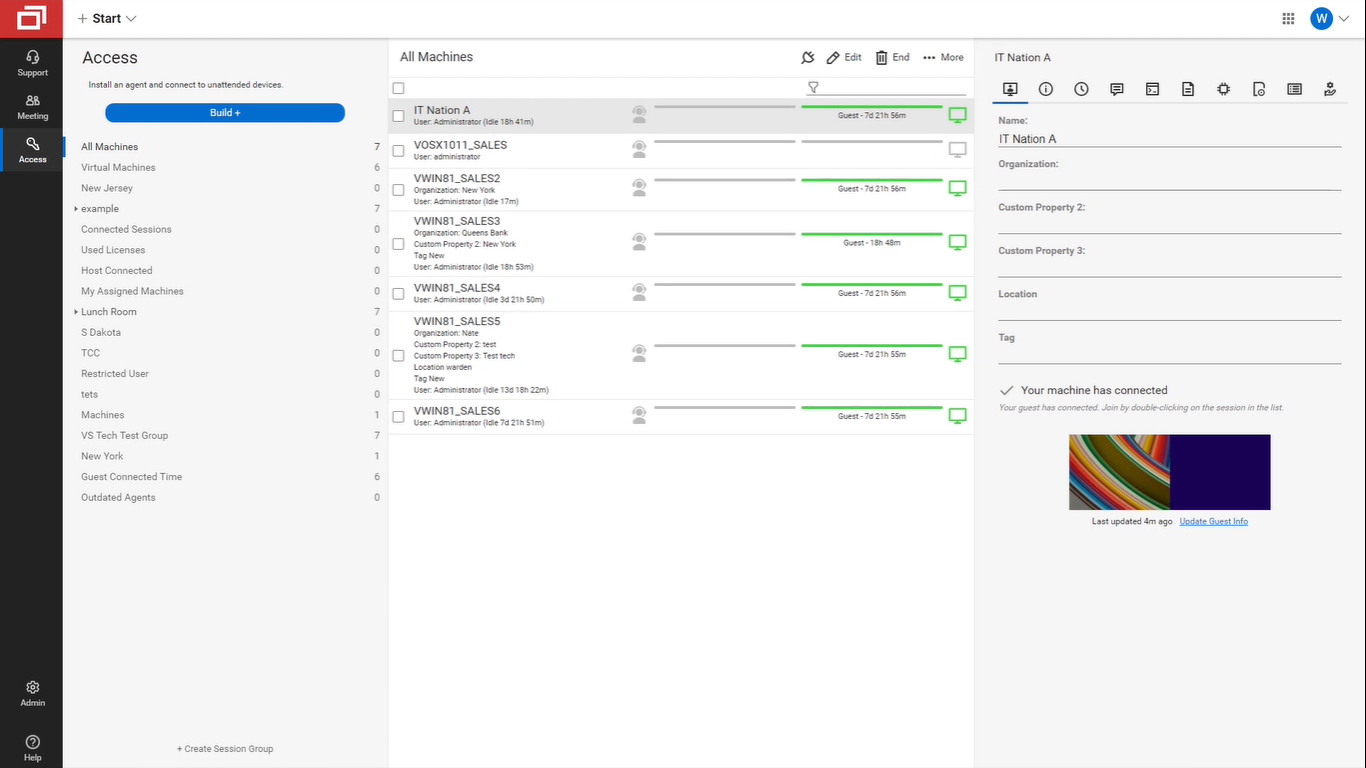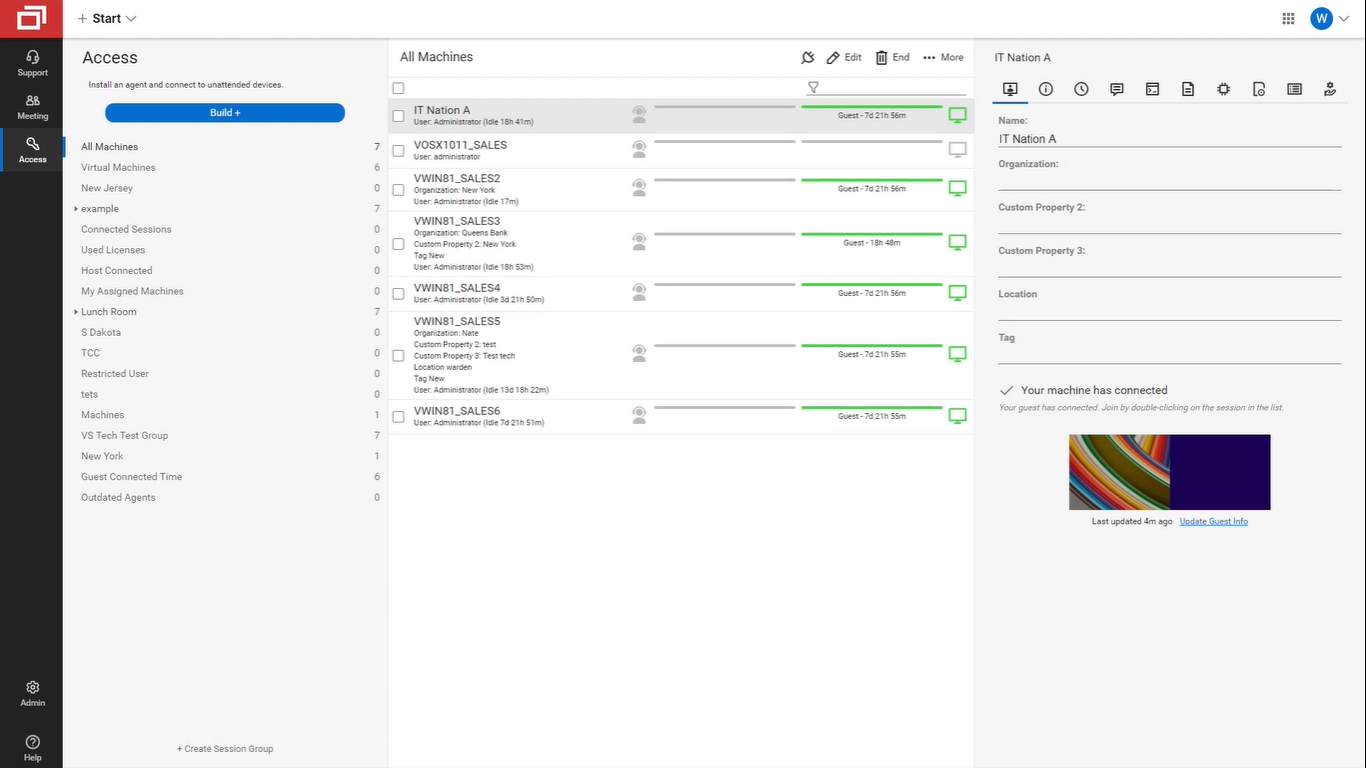 4. Supremo
Supremo features one of the easiest remote control software installations available out there. The software only requires copying an exe file into the client computer–no installation required. This also means no updates or patches necessary during its lifespan. Unfortunately, the software only works for Windows, so Mac users will not be able to take advantage.
Another convenient feature of Supremo is its data transfer protocol, which does not require an additional firewall/proxy configuration.
A 21-day free trial is available for Supremo for both Solo and Business plans. Solo costs $108/year and is limited to a single user running a single connection at a time. The Business plan costs $195 and lets you make three simultaneous connections, with extra connections being charged additionally.
5. Bomgar Remote Support
Bomgar boasts of superior security over the competition with its slew of safeguards, offering military and banking-grade features. Also, Bomgar features a segmented single-tenant environment where each client's data is kept isolated from the others.
The software supports Windows, Mac, iOS, and Android devices and offers pre-built integrations for leading service desk, CRM, and systems management products. However, you can still customize your remote support setup with your system and create a seamless experience.
Pricing starts at $1,995/year per team, but custom pricing schemes are also available for unique requirements. A seven-day trial is available should you wish to check out the features before committing to a purchase.
6. Zoho Assist
Part of the Zoho Suite of cloud-based applications, Zoho Assist, features a novel User Access Control that helps detect errors and bugs that end-users can fix themselves. Besides, dual monitor support is also available, where both technicians and end-users can switch controls between themselves.
The software also features audio- and video-capable chat in support of remote sessions, so you can initiate conversations with clients to help pinpoint issues more quickly. Zoho Assist is also great at establishing secure connections quickly, and also has reliable connections during data or file transfers.
Zoho Assist is relatively cheaper than its counterparts, with prices starting at Free for the Lifetime Free Plan limited to one technician and five remote computers. The Remote Support Standard goes for $10/month  per technician and covers two concurrent sessions, while the Remote Support Professional is higher at $15/month per technician and allows four concurrent sessions. Also, an Unattended Access Standard plan is available for unattended sessions and is priced at $10/month.
7. AnyDesk
AnyDesk offers secure and reliable remote desktop connections for both individual users and seasoned IT professionals. It is available in Windows, MacOS, iOS, Android, Chrome, Linux, FreeBSD, and Raspberry PI, giving you access from almost any device out there. Same as with the others, AnyDesk provides Web conferencing and file-sharing during sessions, which means better collaboration among team members and clients.
This remote desktop software can be easily customized with your brand and logo, giving your company more visibility when undertaking remote jobs. TLS 1.2 encryption technology and incessant verification of connections make sure of your privacy and that only authorized desks can work on your clients.
A free download for personal use or evaluation is available. Pricing starts at $10.99/month for a single user (Lite), which allows for one device and unlimited endpoints at a time. The Professional plan goes for $20.99/month and offers access by multiple devices but only one concurrent session. The Power plan goes for $52.99 and allows for multiple users with unlimited sessions.
8. RemotePC
RemotePC is a cloud-based remote control software that works via web browsers. It simplifies remote access work by allowing Always-ON access to your computer and make it available anytime, anywhere. The software also features true drag-and-drop operations when transferring files between computers, and allows for remote printing for added convenience.
The cloud-based software uses TLS v 1.2/AES-256 encryption as protection, while an individual access ID and key are assigned to each computer, giving extra security. Collaboration is made more interactive via whiteboards, chat, and invites to connect.
There are four pricing plans available: Consumer ($22.12/year) for one user license and access for two computers, SOHO ($52.12/year) for one user license and access to 10 computers, Team ($187.12/year) for unlimited user licenses and access to 50 computers, and Enterprise ($374.62) for unlimited user licenses and access to 100 computers. A 30-day free trial is available for the Team and Enterprise plans.
9. NoMachine
NoMachine touts itself as the "fastest and highest quality" remote desktop made possible by its NX technology. It is available for Windows, Mac, iOS, Linux Android, Raspberry Pi, and ARM.
Videos and audio files can be streamed between computers, while file access and transfer, recording sessions, and file printing can be performed quickly as well.  The software allows you to enjoy what you do on your personal computer to another device–whether it's work files or for entertainment.
The best part of NoMachine is that it's free without limitations. Just download and enjoy. For enterprise users, a 30-day evaluation copy of their Enterprise products is available, with options for purchase.
10. Parallels Access
Parallels Access focuses on giving you access to your computers via your mobile phone. Alternatively, you can secure your files via a browser using another computer.
Parallels Access feature a nimble Applification technology that, while using your phone, transforms your desktop applications into behaving like mobile phone apps. You can now control your desktop files and treat them like a mobile phone icon. Even select, copy, and paste functions are activated.
Parallels Access offers a Single and Business Plans. The Single consists of one user account with unlimited mobile devices and connection with five computers, offered in a 1-year plan worth $19.99 or a 2-year plan at $34.99. The Business Plan comes for $49.00/year and offers unlimited users via account administrator, unlimited mobile devices, and connections to five computers, with additional five computers, charged an additional $49.00.
Which Teamviewer alternatives should you consider?
The first consideration for your purchase should always be your end objective: will I need remote access for personal or work use? Either way, do I need the software for file access, as an extension of my desktop, or for collaboration and learning with my team? Do you want to optimize your call center? Upon establishing your particular needs, aligning them with your budget can help narrow down your choices.
Some of the software listed in the Teamviewer alternatives above are offered free of charge. You may want to test them first and see if they fit your exact needs.  If they do, then your problem is solved. If not, it would be a good time to consider the trial versions before settling for an option that carries a price tag.
Lastly, it may be a good move when you compare collaboration software since remote support tends to involve close collaboration.