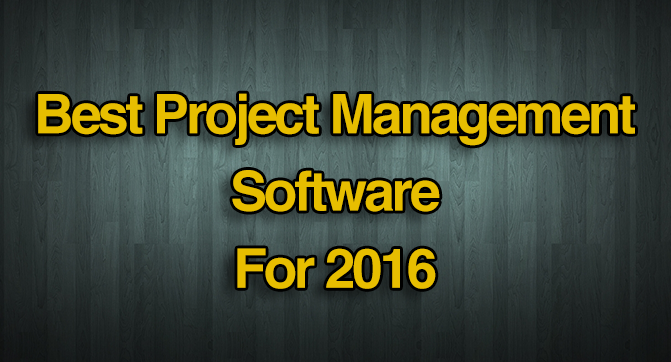 Project management software is not just another mundane suite of desktop applications that reduce administrative burden for business performers, but an already maturing discipline that gives companies the organizational clout to boost their revenues. Though it is still usually housed between departments, project management is quickly showing it can be a important factor that makes your company competitive, making it obvious that your success can depend on well led tasks as much (or more) as on financial management.
Be it a small or a large team you're managing, you're most likely already familiar enough with the troubles PM software can eliminate:
Task updates are automatically distributed among the team

Schedules are more transparent to both executives and sponsors

Priorities are clear and met

Obstructions are avoided.
Another thing you certainly know is that not every system can keep your team this centralized, or deliver the quality you expect. Improper software choices are one of the reasons why the IT environment is noting record failure rates. More than ever before, businesses are challenged to set up a program that can lead their type of resources to the desired results, but still remain flexible enough to meet their changing deadlines. No wonder that for most of them this is a mission destined to fail.
What about you? How well do you know the PM product you're about to invest in? In this article we'll take a look at the most common implementation scenarios for best project management apps of 2016 to give you a better understanding of how you should choose a solution that will actually fit your needs and the specific nature of your industry.
Scenario #1: Project Management Software For Small & Medium Businesses
Fair enough, you're not pushing a multi-million dollars project through by the end of this year, but that doesn't change the fact that your success depends on how well you leverage your resources. If you intend to boost ROI, as we all do in the business ecosystem, project management matters for you as well. What should you be looking for?
1. Snap multi-functional and cloud-hosted systems
Software installations are already a thing of the past, and so are the delays and expenses related to on-spot configurations. Modern systems are hosted in the cloud, making it possible to outsource and rely on virtual teams and freelancers to contribute to a business regardless of their location. The biggest benefit of cloud-hosted apps is that they streamline communication, keep teams on the same page, and give them access to a centralized workspace where all information is accessible in a snap.
Software suggestions:
Wrike: the current leader of the project management software 2016 rankings, listed at the top because of its ability to serve all businesses in an equally accurate way. It is a great provider of collaboration functionalities to keep the entire team focused on product accomplishment, and gives you access to enterprise-grade features such as audit reports, activity streams, and 3-pane project views.
Nutcache: perfect for startups working on fewer highly-specified projects, because it offers a basic package that is free forever. For teams with no more than 20 users, this means access to project-adjusted time tracking, collaboration, and unlimited base of relevant documents for as long as they want. In fact, the entire pricing scheme is designed with affordability in mind, meaning that once the business decides to switch to a paid package, transition will be painless.
2. Systems that reduce paperwork, limit costs, and offer financial insights
Digitalized project management is a critical advantage to make use of, because 45% of small businesses are still relying on manual input, spreadsheets, and third-party-mediated communication. Once you lay hands on a system that eliminates these obstacles, you will minimize the risk of human error, and obtain clear visibility on your employees' accomplishments.
Software suggestions:
Clarizen: a system that should be considered both by small and large business, because it has the most complete dashboards to be found among such solutions. Clarizen follows projects end-to-end, covers planned and unplanned activities, and assembles even the most unique workflows with effective communication. Thanks to its advanced reporting, ROI becomes fully measurable. Therefore, this system is perfect for cross-organizational management, flexible automation, and extensive visibility.
Scenario #2: Software for remote teams working in various locations
More than 40% of businesses nowadays run virtual teams with no central workspace, and experience severe inefficiencies due to document misplacement that cannot be traced directly to the culprit. More often than not, the uncoordinated efforts in their team affect the quality of their project delivery, and may lead to complete failure if not handled on time. What should you be looking for with this type of software?
1. Systems genuinely designed for outsourcing
If you're running a business relying on field management, contract workers or remote freelance agents, you should settle for nothing less than powerful outsourcing. Otherwise, you're risking scattering communication to an inconsistent level, where certain tasks are repeated for no reason, while critical ones are left behind. Needless to say, unorganized teams are the masters of losing documents and spending money, and are nowhere close to the perfect working environment that would attract a talented performer.
Software suggestions:
Projectplace: Geographical boundaries mean nothing to Projectplace, because this system was designed to surpass difficulties related to territorial limitations. Having it in your office means securing a private and safe network for employees to communicate, share files, and complete tasks together and in real time.
Asana: The main benefits of this system are email notifications which let all team members know what is happening in the company. They are instantly alerted upon every alteration, and fully enabled to monitor it, discuss it, and comment on it while it is happening. All relevant conversations are stored in the system's Team Pages, which can later be used by the manager to draft performance reports, and evaluate contribution per agent.
2. Systems that make information accessible
In a remote team, you have to make peace with the idea that time and geographical boundaries are not excuses for delayed deliveries. Instead, you should run operations in a flexible manner, relying on a program that keeps changes in the loop from the very first moment they occur. Ideally, this should also be the app you're using to track progress and measure financial parameters, and the centralized base where you store and protect your documents.
Software suggestions:
Asana: We will confirm once again Asana's power to help remote teams, this time because of its advanced Progress Reports. The system uses these reports to track projects from launching to completion, attaches various file formats, and shares cost-related calculations for absolute transparency. It also allows you to star or tag tasks that are prioritized, so that you'll have no trouble finding them in your system.
Nutcache: Together with useful reporting, Nutchace does an amazingly good job streamlining billing and invoicing. You can use this app to create business-specific estimates, distribute invoices and send overdue reminders for each project separately. What is even better is that this app handles payments conducted via Stripe, PayPal, Authorize, and credit cards, and monitors expenses effortlessly and accurately.
3. Systems that are fully mobile optimized
Mobile optimization is the hottest trend in project management, and probably the most practical innovation developers ever introduced. Alongside displaying information on mobile devices, project software nowadays must provide options for conditional out-of-office formatting, analyze data at any point of time, and provide separate channels for corporate communication.
Software suggestions:
Clarizen: The newest version of this program covers all bells and whistles of recent mobile technology, and performs equally well on desktop and mobile devices. There are no restrictions as to the operational system you're using – if an internet connection is available, Clarizen will add value to your PM operations.
Trello: Trello's dashboards are so rich with cards, lists, and task charts that one would probably think it is impossible to bundle all that functionality on a small screen. Nevertheless, the company accepted the challenge, and designed fully-functional apps for Android and iOS devices, tablets, mobile watches, and Kindle Fire technology.
Scenario #3: Software for large-scale enterprises
Quality project management is the core of every successful business, and it becomes more and more important as the business grows in size and complexity. The more roles your project application can fulfill, the more money it will redirect to other aspects of the business, which makes it critical to choose wisely. Ideally, an enterprise-grade PM app should integrate ERP and collaboration features, handle billing and invoicing, and provide customer service. What should you be looking for then?
1. Systems that provide strong reporting features
Reporting is one of the highlights of every project management system which plays a vital role for enterprise users. What they should be looking for are pre-defined dashboards ready for ad-hoc reporting, automated and secure access to corporate information, be-use report objects in custom views, and the compulsory exporting of reports in all formats. In the best of all cases, their system will also support batch report generation.
Software suggestions:
JIRA: one of the rare PM apps that enable personalized views, and that's all because of its flexible and report-ready dashboards. It was developed using a homegrown Jira Query Language that auto-completes advanced queries and allows screen sharing for custom reporting in and out of the company.
Mavenlink: this software will provide you with all financial reporting functionality you need, as it tracks time, expenses, and invoices in real time. You can also use it for inventory management, personnel planning, and utilization reporting, or test how it tracks your margins to depict important trends.
2. Systems that are flexible and customizable
Flexibility is another important feature to expect from your PM app, in particular when your projects are industry-specific, and track parameters that don't fall within the 'one-size-fits-all' logic.
Software suggestions:
Trello: In this occasion, we praise Trello for the unlimited number of boards and people it can work with, and all the filters and labels it offers to simplify searching and delivery.
3. Systems blending easily within every software infrastructure
While comparing several PM products, make sure you've checked the number of integrations they offer. The last thing you need is a completely standalone system where all information must be imported/exported manually, and expensive purchases of third-party software are not excluded.
Software suggestions:
Clarizen: One of the reasons why Clarizen rates so well on our top PM list is that it is an open API system (supporting both REST and SOAP) with a Mulesoft connector that adjusts it for every enterprise ecosystem. On the list of premade integrations you can find Microsoft Office products, QuickBooks, Lotus Notes, Salesforce, iCal, and many other business systems.
Scenario #4: You have no experience with project management yet
Choosing the right project management system is an absolute priority for novice users that are encountering digital PM for the first time, and don't have a clear overview of how this software can help them. They need a quick, easy-to-learn solution that produces immediate results, and features a variety of explanatory notes, rather than simple charts and schedules. What should you be looking for?
1. Systems with short learning curves and simple training
Your beginner's position doesn't leave much room for expensive experiments, including purchasing systems that waste both your money and your time. If a week has passed, and employees have no clue which tasks are assigned to them, you're doing something wrong.
Software suggestions:
Workfront: Rather than arriving to your team with a set of rules and standards, Workfront is a tabula rasa which you can tweak until it looks just the way you like it. Basically, you won't expect your team to surpass long learning curves, but give it the chance to create a project management system of its own.
eXo Platform: eXo Platform's features are all integrated around an intuitive social layer, and allow employees to work in a familiar environment. Its cute design is user-centric, and allows spontaneous engagement, which means they will have no problem learning and collaborating with it.
2. Systems with multiple deployment methods
Despite of all benefits ascribed to cloud-hosted management, some companies still prefer to download software, control updates related to it, and pay one-time usage licenses instead of monthly installments.
Software suggestions:
JIRA: it can be deployed both on premise or on demand, depending on the user's preferences.