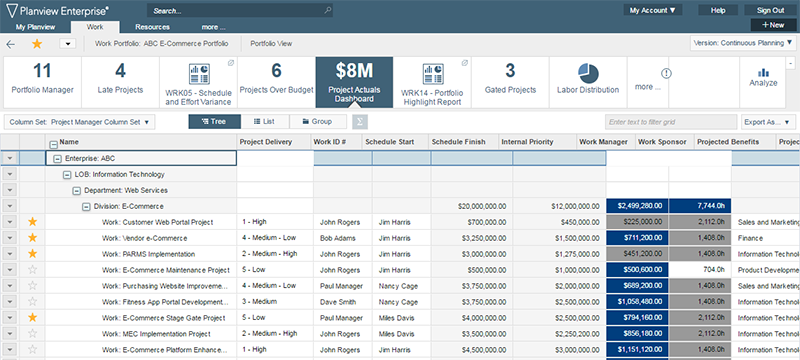 Planview offers companies the features they need to handle portfolio and resource management. The system provides tools that address the issues and tasks that come up during the various stages of project management. Planview users get the features they need to integrate the various phases to ensure data remains important and helps them to make configurations and trade-offs as needed. Users can easily capture demand, prioritize portfolios, maximize their capabilities, execute strategies, and manage financials with Planview.
One of the benefits we consistently note in our Planview reviews is that the app also offers rich reporting and analytics features. Users can access data easily, visualize their data, share it with others, and collaborate to make smart business decisions. To help users view and understand their data, Planview offers very visual metrics. For more details on those you may want to a read Planview review here.
The platform's scalable and intuitive interface enables users to easily create tables and views using the wizard-based approach. Guided analytics and drill down reporting help to visualize business information including big data. It is simple to create ad hoc reports, adapt to custom controls and processes, and access the solution through SharePoint, Excel, or Microsoft Outlook, whether you are using an iPad or your desktop. Planview is used by businesses operating in a range of industries including services, finance, product development, and information technology.