As the world continues to go digital, more and more companies are turning to video conferencing platforms to make sales calls. Anyone who is already good at selling in-person can be successful in virtual selling, as long as they're willing to adapt. 
While virtual sales calls have their own unique set of challenges and opportunities, they are, at the end of the day, still conversations between people – not all that different from the ones you're used to having face-to-face.
So how do you master virtual sales calls? We've put together the best tips for how to make a great first impression on your prospects. We'll explain how you can convince them that your product is worth the investment, and (most importantly) how to close a deal.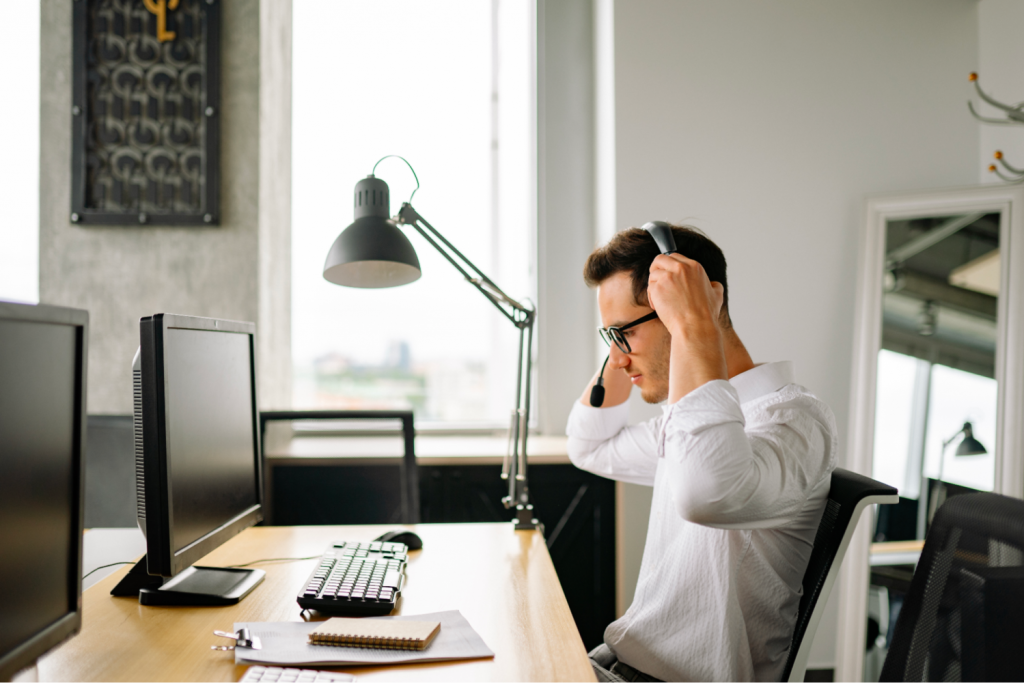 6 Virtual Selling Best Practices That Will Help You Hit Your Targets
1. The first calls are always crucial 
The first sales calls you make are always of heightened importance.These are the calls in which you're establishing a sense of trust with your prospect, asking the right questions, and giving them an idea of whether or not your solution is a good fit for their organization. 
But there's more to that you might not know. Your prospect's expectations for their sales appointment starts even before you talk with them! 
It starts with your website or landing page that needs to be optimized to an optimal conversion rate.
Assuming that one of the ways that your prospect can book a time to talk with you is through your website, there are two places where it makes sense to set those expectations: next to the form, or, even better, in a video on your site. 
And remember: always do your homework before attending your virtual sales call.
No matter what your business does, there are always going to be questions that people ask on the first call. If you can think about those questions ahead of time (and prepare an answer for them), it's going to help make the conversation go more smoothly. It will also help your sales prospects feel more comfortable asking other questions, in case there is something else they want to know.
You should also provide a back-up to your virtual sales call situation in case you or your prospect has technical difficulties. 
2. Bring a killer presentation to your virtual sales call
When it comes to virtual selling, you need to be prepared. Having a presentation that clearly spells out your product or service's benefits to the customer is a crucial component of any successful sales formula.
The most common mistake that salespeople make is thinking they can wing it. Sadly, that's never the case. To help you get ahead of the game, we've put together some tips to consider when making virtual sales call presentations. 
When you're putting together a presentation, remember that it's not just about how much information you can give someone. It's also about how easy it is for them to understand and retain that information. You want to make sure that your audience can understand — and feel excited about — what you have to say.

Think about its format. How are you going to best communicate your message? Are you going to use graphs and charts? Are you going to use pictures and videos? Will you be giving a speech or having a conversation?

Understand your audience. Sales presentations can be made with the customer in mind or the company's needs in mind. Make sure you are clear on who exactly you are pitching to before you start designing your presentation.

Keep it short: Nobody wants to sit through an hour-long sales pitch. Keep your presentations brief by only discussing what is relevant and practical for each stage of the sale process.

Remember the goal. You should always have a specific goal in mind before starting any sales conversation. When developing your presentation, make sure that each slide contributes to achieving this goal.

Start your

virtual sales call

with your strongest selling point and continue from there. Show the client that you understand their concerns and needs, and that you can address them through your product or service. This is your best chance to start converting some leads. 
3. Invest in the right sales tools
32.8 percent of chief sales officers (CSOs), according to Gartner, are planning for a permanent shift to a virtual selling reality and are willing to invest in automated tools.
So, when it comes to picking the right tool for your team, there are a few things you have to keep in mind:
Remember that your salespeople are still selling, no matter which

tools you use

. If you're choosing a tool with artificial intelligence and machine learning, make sure they allow for the tweaking of variables to optimize performance.

Invest time in training your staff on how to use the tool, and what kind of productivity they can expect from it.

Look for tools that offer automated virtual sales meeting solutions. Many of them offer automated scheduling by sending prospects one-click booking links. The tool also offers a host of other features like automated

appointment reminders

, seamless calendar sync with your existing workflow, session recorder and more. 

Consider cost. While some companies like Slack will offer free trials or free plans, others may require a fee — and that fee could be considerable. However, many companies offer special discounts for volume purchases or early-stage startups.

Research how easy it is to integrate the chosen software with your existing systems and processes — especially if you're already using different tools.

Invest in a

power dialer

. It's an amazing software tool that boosts agents' productivity by automatically dialing through numbers on their call list. Your team won't have to waste any more time manually dialing numbers and will be able to spend more time doing what they do best: persuading prospects and closing deals. 
Some other features include: 
scheduling functionality that allows you to see which of your reps are scheduled at any given time,

sales lead scoring system that helps you prioritize leads,

call scheduling functionality.
4. Deal with no-shows smartly
You're going to have to deal with no-shows at some point during your virtual sales call sessions. That said, how you react to these no-shows can either keep the deal alive or completely close the door to this new client. 
Here are some quick tips:
Find out why the client didn't show up and discuss it with them. You can always give them a call or

send them an email

to see if they are still interested in meeting with you. You could say that your schedule is pretty busy and you have another appointment coming up, so you wanted to check if they were still available. 

If they're not available, ask if they can recommend someone else who might be able to meet with you instead. 

You can also send them a calendar invite through your preferred

scheduling app

. Schedule an alternate meeting time right away, in case you didn't get a response from the person who missed your first virtual sales call.

Sometimes, they may even feel more comfortable calling, texting, or emailing you if they'd rather avoid the pressure of a formal meeting. Tweak your plans accordingly. 
For one thing, video calls allow for a much more personal and direct connection with the client — you can see their face and body language, which is often an important way of determining whether or not they are interested and engaged in what you are saying. You can also take advantage of this by showing off your excitement for the product or service you are offering them. 
Bonus tip! You can also create a video brief of your product for the no-showers. For example, you can make notes about what you want to say and then record yourself talking about it in front of the camera with some text on the screen. Send it when they don't show up and pitch a new meeting time along with it. 
5. Keep your prospects engaged
It's hard to keep people engaged during a virtual call. With so many distractions and the risk of technical difficulties, it's no wonder that your prospect might be tuning you out to catch up on emails.
Here are some ideas for grabbing their attention.
Share your screen:

People learn in different ways, so if your prospect seems bored or unengaged with what you're saying, offer to show them what you're referring to rather than just talking about it. Sharing an infographic or video can be an easy way to reinvigorate the conversation.

Relate the conversation to something they care about

: If you're talking about product features but they care more about saving time, bring the conversation around to how this product helps them save time.

Ask questions

. When you ask a question, it forces people to think and engage with the conversation. It's also a great way to make people feel heard and valued — which will keep them engaged!

Don't be afraid of silence or pauses

: A few moments of silence after you ask a question gives your prospect time to think about what they want to say and come up with an answer that isn't just "yes" or "no."
6. Measure and analyze your virtual sales call 
Sales is a numbers game. So, when you're managing a virtual sales team, one of the most important things you need to do is track how they're performing. Even when your team is doing everything right, you need to know what your numbers are: which parts of your process are working for you and which aren't.
While there is no shortage of metrics you can use to track their performance, here are some of the most useful ones: 
Actual sales vs your goal

: Are you tracking actual sales versus your quota or goal? This will show how well your team is doing against expectations. If the two numbers aren't even close, then something needs to change.

Close rate

: This number shows how many qualified leads your team has closed. Are they closing half of their leads? A third? Less than one in ten? This number reveals where they need help and whether they need to be retrained in certain skills .

Sales cycle: If it takes more than 5 calls to close a deal, that's too long. Figure out where the lag points are in your process and fix them.
Average revenue per new client

: This number shows whether you're getting enough revenue from each new client that signs on with your company.
The percentage of sales-qualified leads (SQLs) that turn into sales opportunities is another key metric for determining how well your reps are doing their jobs. If you notice this percentage is low, then you should dig deeper. A few questions to ask:
Did the rep make all their calls?

Did the rep do any research on the lead before making their call?

Is there something about your product that makes leads not want to go for it?
Don't Be Intimidated By Your Virtual Sales Calls — Happy Selling!
While it may take a little more practice and some new tactics, anyone who is good at selling face-to-face can be just as successful in a virtual environment.
The takeaways from this post, frankly, are pretty simple: if you want to be successful in your virtual sales calls, all you really have to do is think about what you do in-person sales calls and apply the same principles over a video call. That's it!