The construction industry is positioned for a tremendous digital transformation. This guide explores the key trends and tools that will be at the forefront of this evolution. 
The digital transformation of the construction industry is something that has been developing over the years. There are now a variety of tools and software innovation in the construction industry that are changing the way the industry as a whole operates. According to the latest reports digital transformation is a priority for more than 72% of construction firms currently operating on the market. Let's take a look at some of these trends in digital transformation as well as the tools that will be used.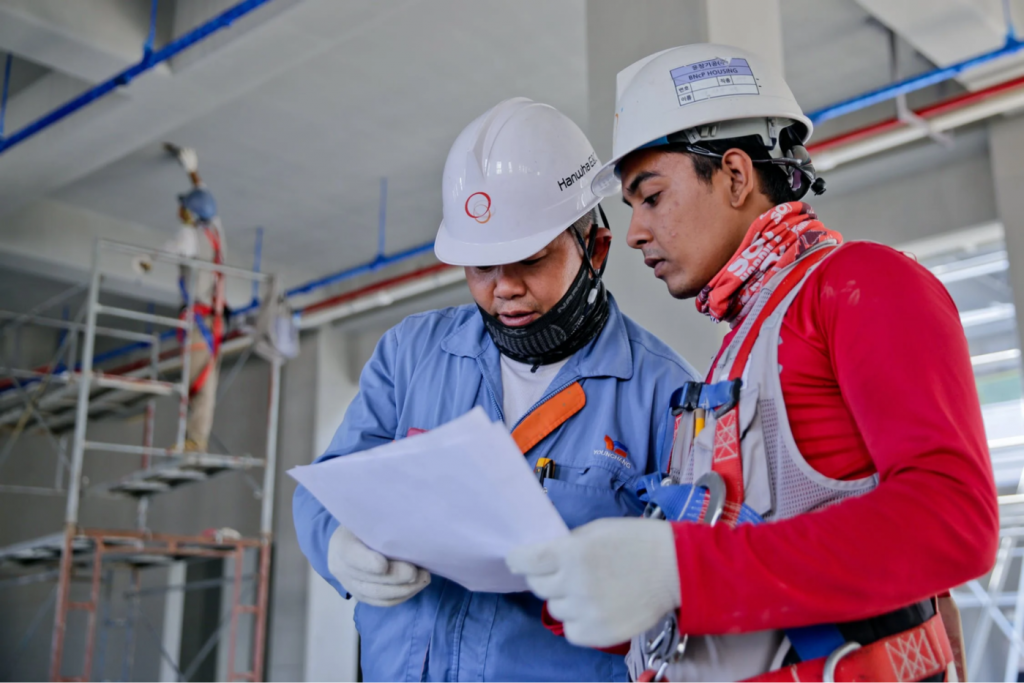 N°1: Smart Infrastructure
A monitoring system was created by Hexagon Geosystems that uses sensors to monitor the strengths and weaknesses of a specific structure. Without the aid of these sensors and systems, this information would not be readily available to us, as it is invisible to the human eye. 
This extremely smart system uses monitors that have been designed to help workers predict structural problems before they happen. Once the issue has been predicted, the necessary amendments to the site can be made before it becomes a dangerous work environment. Based on the extensive data provided by monitors, accidents can be avoided. Thus, helping ensure the health and safety of workers. 
The smart infrastructure technology can also be used in places like mines to assess the structural integrity of the site. The monitor will alert the team if there are any hazardous conditions, avoiding exposure to any unwanted risks. This technological leap forward ensures the safety of construction teams all over.
N°2: Virtual Reality and Augmented Reality
Virtual Reality (VR) and Augmented Reality (AR) are two different pieces of tech that entered the market around the same time. While they are often used interchangeably in conversation, in reality it is not the case at all. 
AR involves computer-generated images and real-world image information, where VR is a completely simulated environment. Both of these pieces of tech have benefits in the construction industry. 
For example, AR has the ability to provide construction site workers with virtual feedback on real-world progress. As such, the site manager doesn't actually have to be on site to be able to ensure that everyone is on the same page, and that mistakes are not being made.
VR is used in a number of different ways in the construction industry. For example, this is used for training employees, safety tips, plan reviews and so much more. Additionally, construction workers will be able to run simulations to get the information they need. These simulations would be too dangerous to replicate in the real world.
N°3: LiDAR
LiDAR technology was created to measure distances. This is done through illuminating the target with laser light. From there, the reflection is measured with a sensor that can be placed on other construction tech on the site. This allows those on the construction site to scan the surrounding site, producing 3D, high-resolution images in real-time. The health and safety benefits of this are staggering, with workers able to complete site work from a distance. 
It is important to note though that LiDAR technology is very fragile, and the capacity of the sensor can sometimes be limited in certain conditions. An example of this would be if the weather became foggy or covered in snow, the sensor may be compromised in its ability. 
Some of the other uses of LiDAR technology are as follows:
Drone Mapping

Shadow Analysis

Urban Assessment

Land Classification

Structural Flaw Detection

Tunnel Surveying
These are just a small number of its capabilities, as it's an extremely versatile and helpful piece of equipment.
N°4: Connected Hardhats
Working on a construction site is considered to be a high-risk job. Accidents can and do happen, doing what you can to protect your employees ensures everyone's safety and wellbeing. Things can quite often come tumbling down on construction sites like scaffolding poles for instance. Through the use of hardhats your employees are safe and protected from any serious harm or damage. 
If you are wanting to ensure the health and safety of your employees as a number one priority then upgrading their hardhats is one option. Standard hard hats are great but can they tell you when a worker is at risk of fainting or overheating? Connected hardhats can do just that, they can also monitor location, temperature, and movement. 
Hardhats come in a variety of colors and they all mean something different. For example, black ones indicate the wearer is a site supervisor, a green hat is worn by a qualified first aider, and blue ones are worn by everyone else including visitors and apprentices. Hardhats are an item of personal protective equipment (PPE) and are often required by law to be worn in any dangerous, risky environment. 
N°5: 3D Printing Houses
We're sure that you have been keeping up on and off with the development of 3D printing technology over the years. It has now gotten to a point where the construction industry has worked out how to print an entire home faster and cheaper than the traditional method. The first 3D print home sold for less than $10,000 in the US, and another 50 are currently being developed in Mexico.
This technology is predicted to completely change the landscape of the house building industry. It will make buying homes more affordable for everyone, making it easier to purchase your own home in a time where prices for everything are at an all time high. The construction industry is taking technological advancements like this one, and turning them into positive changes for wider society.
N°6 Robot Swarms
Digital transformation has come a long way in the construction industry. It isn't just people that are now working on construction sites, it is also robot swarms. These are different to humanoid robots as they don't look like people. They are small swarms of little robots that take on the mundane jobs so human workers don't have to. There are usually around a hundred robots all working in sync completing the tasks so your humans don't have to. 
The great thing about robot swarms is that they can get to the hard to reach places and the dangerous places that humans wouldn't be able to get to safely. Years ago this was not an option and humans had to risk their life to get the tasks done that are now successfully performed by the robotic swarms. 
Safety is paramount in the construction industry. You can program the robotics swarms to complete complex or dangerous jobs without the need for human labor. 
N°7 Humanoid Laborers
If you thought that construction workers were amazing at what they do, wait until you hear about the humanoid laborers that Japan has created. They are capable of doing tasks independently and faster than humans. If you want a drywall installed then set the humanoid laborer to work and it will be done independently and at a fast pace. This frees up other construction workers to get to other more important tasks on the construction site. 
Humanoid laborers can even be used when the site is closed to others. These worked out well during Covid when builders and other construction workers were not allowed into work. Once they have been programmed to carry out their task they will get to it instantly. The great thing about these is that they are much cheaper in the long run. They can also carry out the tasks that are deemed too dangerous for humans to do. 
N°8 Exoskeleton
This is a specific technological advancement that is being used and developed now in 2022. The use of exoskeletons in the construction industry is becoming increasingly popular, with the wearable piece of technology working with the user. 
Have you ever wondered what it would be like to work faster than humanly possible? To be more productive? Or thought about how great it would be if you could get your employees to be more productive? Exoskeletons are the future of this. 
Minimizing stain and injury to the workers body, the exoskeleton takes on some of the job for the person, meaning that they are at reduced risk of hurting themselves. There are various exoskeletons available, all have their own specific purpose. 
For example, power gloves are there for gripping tools and materials, reducing the risk of dropping. Back support is available for lifting and reaching and there is even an entire body suit that aids when carrying and lifting anything heavy.
With all the benefits Exoskeletons provide to workers plus the increased level of productivity, it's not hard to understand that this is the future of the construction industry.
N°9 Artificial Intelligence
The construction industry has always relied on some form of artificial intelligence to complete big jobs. Now there is technology that can speed up the efficiency of entire operations and cut down on the amount of time spent on construction sites.
Through the use of AI, workers can use the data and work out how much a project will cost by checking out the project size and the competence of the workers on site. One of the most significant uses of AI includes real time data analysis. A report in 2017 suggested this could boost levels of productivity by 50% 
Hopefully, now you have a better understanding of some of the digital transformations that have been made specifically in the construction industry. There is no reason to believe that there will not continue to be emerging technology over the coming months and years, so ensure that you're keeping up to date for the best results with your firm. In a recent poll only 2% of construction firms reported using no digital technology. So, if your firm isn't using this tech, your company is already behind.