Few companies share Uber's distinction of getting a business concept named after them. Dictionaries now define 'uberisation' as a business' use of computing platforms to facilitate peer-to-peer transactions between clients and service providers.
Uber's business model allows customers to receive services more quickly, effectively eliminating middle man roles. Uber statistics will show you how well this business model has worked for the company, not only for ridesharing services but also in the food delivery industry.
In this article, we've put together the latest numbers behind Uber's performance in recent years. We've also included some Uber safety statistics and driver demographics to give you a complete picture of the company, as well as how the Covid-19 pandemic impacts on Uber and its drivers.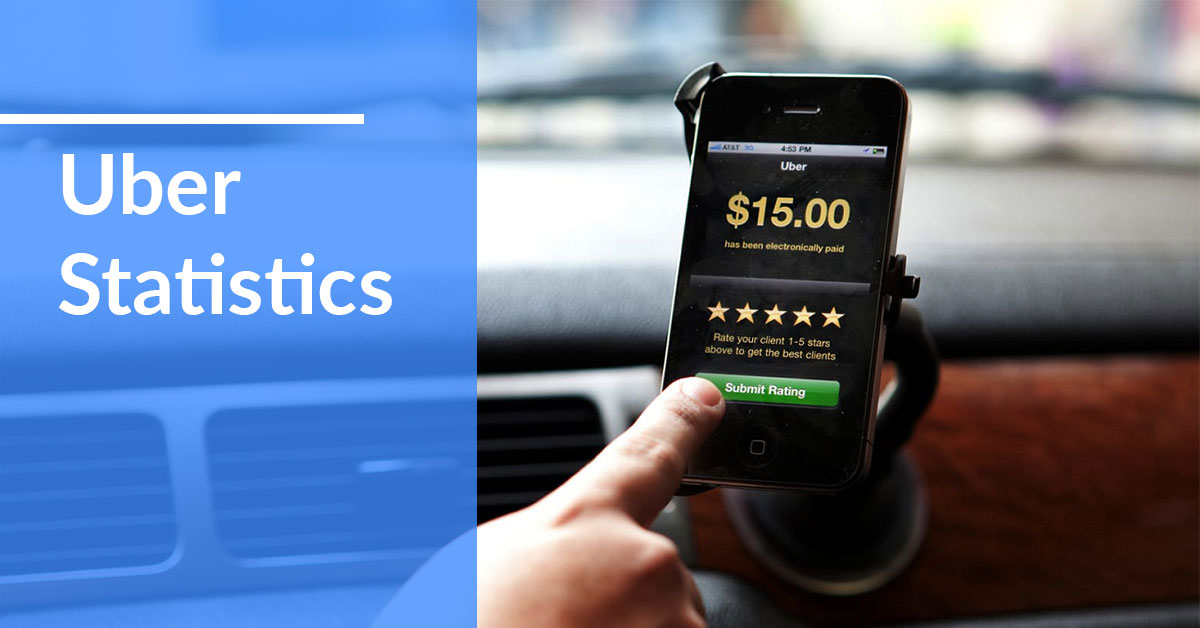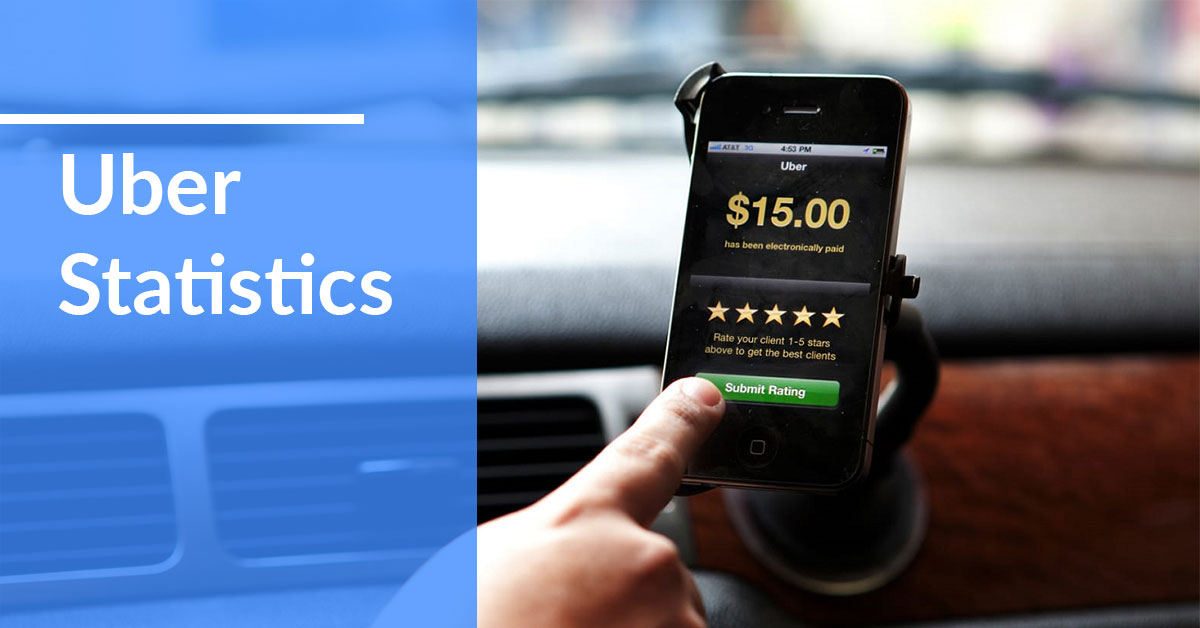 Uber Statistics Table of Contents
General Company Statistics
Founded in 2009, Uber Technologies Inc. has become one of the most well-known service providers in the sharing economy. The company's base of active users has seen steady growth since 2016, and most rideshare drivers in the US work for Uber. Additionally, the company has expanded its offerings to include meal delivery, a payment system, and freight services.
Let's take a look at the numbers behind Uber's recent financial performance as well as some general Uber statistics.
As of March 2020, Uber commanded a 71% share of the ride-hailing market, with a revenue of $3.5 billion.
In the same period, Uber's global costs and expenses amounted to $4.8 billion.
The total booking volume of Uber's ridesharing, meal delivery, and Uber Freight services worldwide amounted to $15.8 billion.
Uber reached a global net revenue of $14.1 billion in 2019. The company's global net revenue has steadily increased since 2013.
However, the company posted a $1.1 billion net loss in the fourth quarter of 2019.
When it filed its IPO paperwork in May 2019, Uber was valued at $70 billion.
The company's worldwide market value in 2018 amounted to $72 billion.
In 2018, Uber received a total of $24 billion in investments, the most significant amount received by any ride-hailing company.
As of March 2020, Uber has spent $645 million on research and development. The company's plans include the development of a self-driving unit.
Uber had 220,000 employees as of 2018.
According to the latest data, 59.1% of Uber's direct employees are male. This figure excludes drivers.
Making up 33% of Uber employees, Asians were the biggest minority in Uber in 2019.
Driving for Uber
Aside from meeting minimum requirements, potential Uber drivers must provide proof of residency and complete online screening processes and background checks. Vehicles that drivers use must also pass city-level vehicle requirements. As of the latest data from Uber show, the company works with over 3.9 million drivers worldwide.
In 2019, 54.8% of rideshare drivers in the US worked for Uber.
Uber drivers earned an average of $19.73 per month, before expenses, in 2019.
In 2018, 45% of Uber drivers made an average of up to $99 per month.
68% of Uber drivers quit after only six months.
On average, drivers make 4,102 trips during their stay at Uber.
74.7% of Uber drivers work for UberX, which also has the lowest payout of $.73 per mile.
UberX drivers receive an average tip amount of 7.19% of the fare.
22.1% of drivers for Uber and Lyft prefer to use Toyota vehicles.
Interestingly, women comprise 27% of Uber's drivers.
Uber Usage
With Uber providing services in 63 countries and 900 cities all over the world, it's not surprising that the platform is the most used ride-hailing service today. Let's look at the supporting numbers for Uber's usage in recent years.
Through Uber drivers, the company provided 1.7 billion rides in the first quarter of 2020.
Uber drivers also completed a total of 6.9 billion trips in 2019.
14 million Uber trips are completed daily, and Uber drivers have completed over 10 billion trips worldwide.
In 2018, the average wait time for a rider to be picked up by an Uber driver was 5 minutes.
Uber remains as the most downloaded ride-sharing app worldwide on both Google Play and App Store.
In 2018, first-time downloads for the Uber app reached nearly 2.5 million each month.
Uber vehicles traveled 26 billion miles in the same period.
Source: Statista Global Consumer Survey
User Demographics
The US may be Uber's biggest market, but the company's services extend well beyond American shores. Uber users can be found all over the world as the company continues to expand its services in various regions worldwide.
As Uber's biggest market, the US was home to 41.8 million Uber users in 2018.
88% of Americans aged 18 to 24 have some familiarity with Uber. Americans aged over 55 are less likely to be familiar with the platform.
38% of Americans in the Northeast US report that they're very familiar with Uber.
Americans in San Francisco spend an average of $110 on Uber trips each month, the highest in any US city.
As Uber's second-biggest market, Brazil is home to 17 million Uber users.
With 3.5 million users, London is Uber's biggest market in Europe.
52% of Uber riders are male, and 37% are aged 16 to 24.
Moreover, 48% of Uber users live in suburban areas.
In 2019, 73% of business travelers used Uber's ride-hailing services, while 25.6% used Uber Eats.
Additionally, with its 13% market share of business expenses by volume, Uber takes the top spot among the most expensed vendors for business in travel in 2019.
Likewise, in 2018, Uber took a 56% share of ground transportation expenses, the biggest for the category. If your car rental service is struggling to keep up, consider streamlining your services through car rental software like HQ Car Rental Software and Navotar.
The average rating for Uber riders is 4.89 out of 5.
Uber Usage in the US, by Age Group
Source: GlobalWebIndex
Created by CompareCamp.com
Uber Eats
Launched in 2014, Uber Eats provides a platform for online food ordering and delivery. A year after its launch, the ordering software was released as a separate app from the ride-hailing Uber application. Uber Eats continues to be a profitable venture for its parent company, achieving considerable growth year over year.
Uber Eats accounts for $4.7 billion of Uber's gross bookings as of the first quarter of 2020.
The service's adjusted net revenue amounts to $527 million, as of the latest data from Uber. This translates into 124% year-on-year growth.
Uber Eats currently operates in 500 cities worldwide and has partnered with more than 220,000 restaurants worldwide.
The platform has a 29% share of the global meal delivery market by number of transactions.
As of April 2019, Uber Eats had 15 million users.
It's also the 2nd most downloaded app in the Food and Drink category of Google Play Store and Apple App Store.
The service has a 27% share of the total food delivery market in the US.
Additionally, Uber Eats is the most used food delivery service in Miami, where the service has 54% of the share of sales.
Nearly 40% of active Uber drivers in the US and Canada also cross-dispatched Uber Eats in April 2019.
Uber Eats drivers take an average of 30 minutes to complete a delivery.
Uber Freight and Other Uber Services
Aside from its ride-hailing services and Uber Eats, Uber has expanded its offerings over the years. For instance, in 2017, Uber launched Uber Freight, a service that matches freight shippers with truckers. Another prominent Uber venture is Uber Health, a HIPAA-compliant service that providers can use to coordinate transportation for patients.
The company has partnered with over 36,000 carriers in the US to provide the Uber Freight service.
12% of US truckers use Uber Freight.
Uber Freight accounts for $198 billion of Uber's gross bookings in the first quarter of 2020.
This service also achieved an adjusted net revenue of $199 million in the same period, as well as 57% year-on-year growth.
Moreover, the company reports that it will invest $200 million annually to support Uber Freight's growth.
More than 900 health care organizations have joined Uber Health.
As a result of the Uber Health program, Boston Medical Center reported a savings of $500,000 and higher patient satisfaction.
To date, more than 2 million Uber Riders have used Uber Transit. Uber Transit adds real-time public transportation options to the Uber app.
Safety Concerns and Controversies
Through the years, Uber has received its fair share of criticism on various aspects of its operation. The bulk of these complaints stems from rider safety concerns as well as the company's alleged treatment of its drivers. Below, we've compiled some important safety statistics related to Uber use, as well as statistics on Uber drivers' satisfaction with the company.
Fatalities
The company's safety report stated that, in 2018, nine people were murdered in Uber rides, and an additional 58 were killed in auto crashes.
In 2018, Uber vehicles had a fatality rate of .57 fatalities per 100 million miles traveled.
21% of these fatalities were Uber drivers, while 21% were riders. 40% of these fatalities were pedestrians.
In addition, 29% of the fatalities of riders and drivers using Uber involved a third-party driver who was reportedly driving under the influence of alcohol.
90% of Uber-related fatal crashes occurred in urban areas.
Sexual Assault
The company also received 235 rape reports in 2018, along with 3,045 reports of sexual assault.
For combined 2017 and 2018 data on sexual assaults, 45% of accused parties in sexual assault reports were riders.
Moreover, 92% of the rape victims were riders, while 7% were drivers.
Women and female-identifying individuals made up 89% of the rape victims as well.
In 2018, Uber saw a 16% decrease in the average incident rate of sexual assault.
Uber's safety team filters assault reports into 21 categories, ranging from leering to non-consensual sexual penetration.
During 2017 and 2018, more than a million prospective drivers did not pass muster with Uber's rigorous screening process.
To date, the company has removed more than 40,000 drivers from the app due to continuous screening.
Source: Uber US Safety Report
Driver Satisfaction
45% of Uber's drivers expressed satisfaction with working for the company.
53% of Uber drivers think that the company needs to do more for driver safety.
Uber launched 38 new features as part of its "180 Days of Change" pledge to improve drivers' experience with the company.
Uber recently paid $20 million to settle two class-action suits.
The company has also agreed to pay $7 million to 480 workers in 2018, to settle claims of gender discrimination, hostile work environment, and harassment.
In 2017, Uber agreed to pay the US government $20 million to resolve accusations of misleading drivers about potential earnings.
COVID-19's Effects on Uber
The COVID-19 pandemic has greatly affected ride-hailing services all over the world, with more than 50% of Americans saying they're much less likely to use these services if COVID-19 spread to their community. However, despite the pandemic's debilitating effect on its ride-sharing platform, Uber continues to profit from the Uber Eats platform.
With quarantines in effect all over the world, Uber Eats saw a 10% increase in sales in March 2020.
Similarly, the company reports a 30% surge in new signups from customers during the same period.
Uber Eats also posted an 89% year-over-year gross bookings growth in April 2020.
In light of the pandemic, Uber has also pledged 10 million free rides and food deliveries worldwide for frontline healthcare workers, seniors, and people in need.
Meanwhile, Uber announced a global ride business decline of 80% in April 2020.
As a result, the company recently remotely terminated 3,500 of its customer service and recruitment employees.
Uber's Role in the Future of Tech and Ride-Hailing
According to Uber CEO Dara Khosrowshahi, the next revolution in technology involves companies combining the digital and physical realms while maintaining profitability and responsibility. As such, Khosrowshahi wants Uber to be a marketplace of shared, affordable transportation options. Through these options, Uber can help solve the problem of worsening traffic congestion, especially in large metropolitan areas all over the world.
Moreover, we may see more developments from Uber's self-driving car division. Currently, the company plans to introduce self-driving to markets where it's safe, cost-effective, and feasible. This way, Uber can provide cheaper and safer automated options for ride-hailing consumers.
References:
'Uberisation' is the future of the digitalised labour market

Certify SpendSmart™ Report 2019

Who will win the race to autonomous cars?

Uber Technologies, Inc. Q1 2020 Earnings

Uber versus Lyft

How much Americans spend on Uber and Lyft

Allianz Summer Vacation Sharing Economy 2018

The Rideshare Guy – 2018 Reader Survey

Ground Transportation Q2 2019 Report

Uber's Secret Gold Mine: How Uber Eats Is Turning Into A Billion-Dollar Business To Rival Grubhub

Uber Has Spent More Than $1 Billion on Driverless Cars

The $80B question: How does Uber plan to disrupt the health care industry

Statista Global Consumer Survey 2019

Autotech 2019

Sexual Assault Reports Received By Uber

Uber's Ride Business Takes a Hit as Food Delivery Booms

The future of Uber is basically Amazon

Uber's self-driving cars are a key to its path to profitability