The desire to succeed professionally often pushes people to spend more time in the office. Furthermore, the long commute and overtime contribute to the long hours. As such, work has been taking precedence over other parts of our lives for decades, making it the normal way of living for the longest time. However, work-life balance statistics show that this has both positive and negative effects on our overall quality of life.
Various studies and experiments have proven that overworking has a profound impact on both the physical and mental health of the employees. Consequently, unhealthy workers cannot maximize their productivity at work. In some cases, they cost businesses money due to low-quality output and increasing absenteeism.
Fortunately, the last few years saw more demand for better work-life balance among employees. And, companies are taking steps to improve the overall work-life situation of their members. In this article, we present various work-life balance statistics to show you the current state of work, different work-life balance programs, and how they affect employees. This way, you can determine what you can do as an employer as well as how you can adjust as an employee.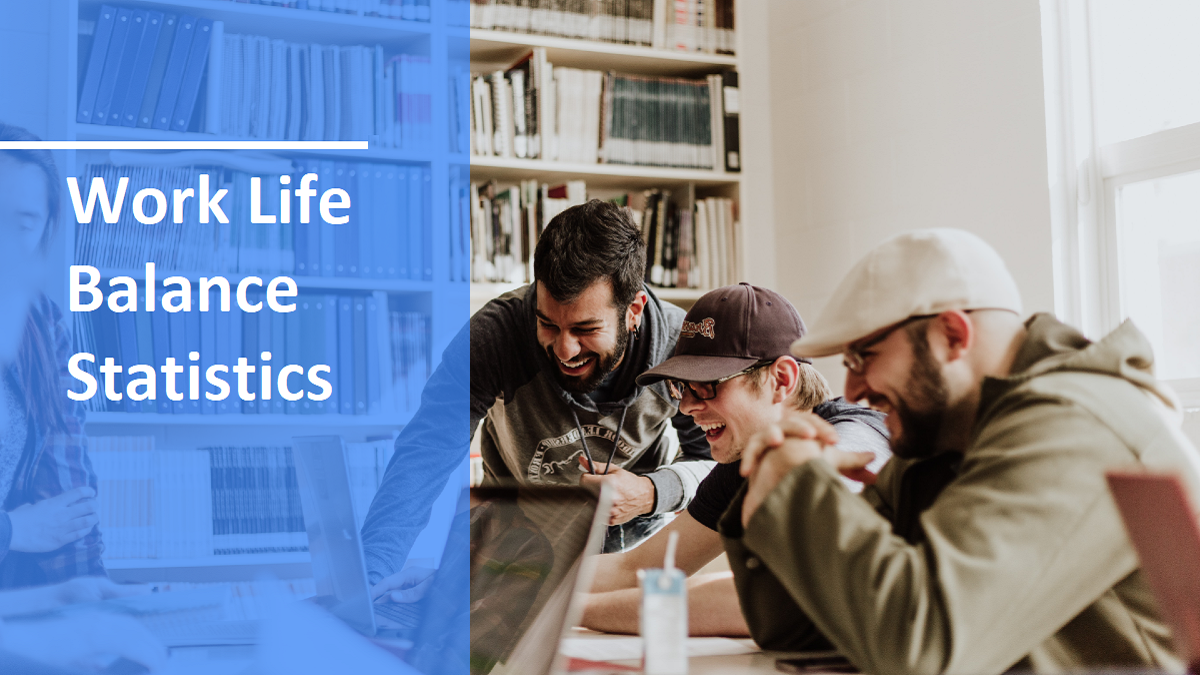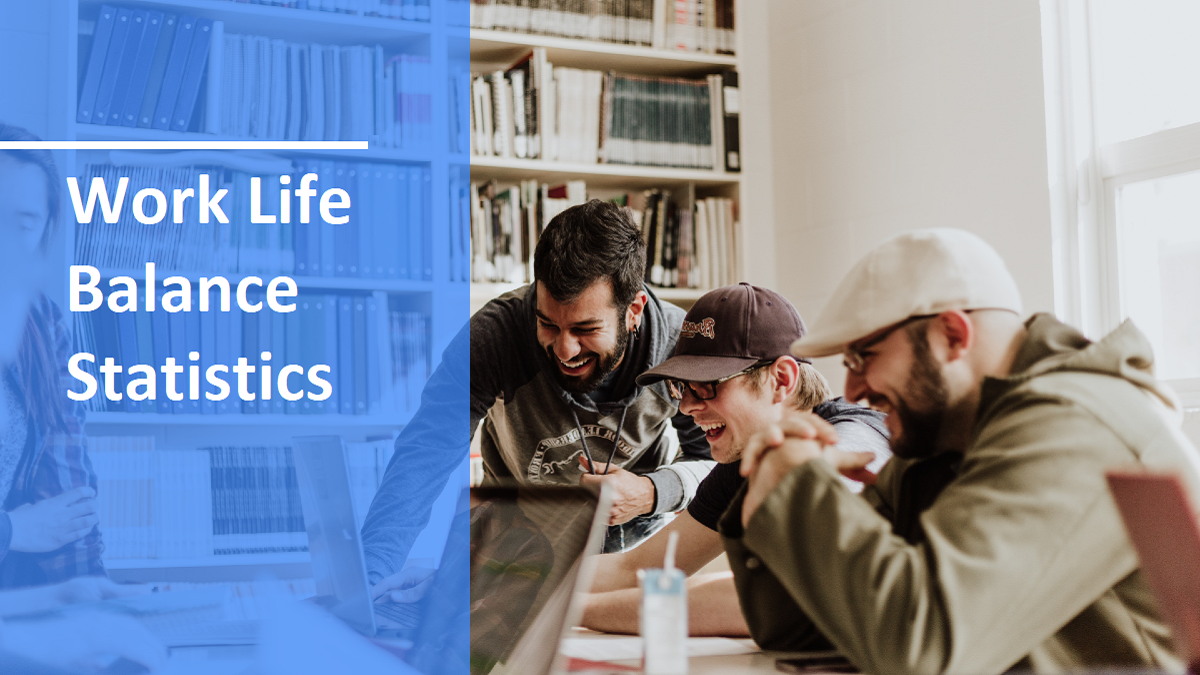 Work Life Balance Statistics Table of Contents
1. The Current State of Work
Recent employment trends show that work has changed drastically in the past decade. The combination of technology, the dominance of millennials in the workplace, and changing demands in the market is causing a continuous evolution in how people work. Companies are also taking note of such transformations, and many businesses have modified their workplaces to adjust to modern needs. Here are some facts that describe the current state of work.
Around 46% of Americans are stressed by their workload.
40% of employees said that their job was extremely stressful.
Burn out is a common issue in the workplace as well, with 26% of employees experiencing it at work.
75% of workers believe that they are more stressed about the job compared to the last generation.
80% of employees report that they feel some sort of stress at work.
Also, over half of employees say that they need help managing work-related stress.
Additionally, around 42% say that their colleagues need stress management help.
25% of employees felt like screaming or physically expressing their stress.
Almost 19% had quit their jobs due to extreme pressure and stress.
Lastly, around 25% have been in tears because of the stress.
Source: Stress Pulse Survey
2. Effects of Work Life Imbalance
Work life imbalance does not only stem from the increasing workload. Offices are social places where various issues can stem, such as peer pressure, fighting, bullying, and more. Some even report very serious problems such as assault, pay gap, and more. These are sources of stress that affect employees' lives.
65% of employees report that workplace stress has caused various difficulties in their lives.
Additionally, about 10% say that workplace stress has caused major issues in their personal lives.
Around 10% of employees express concern about a colleague that might become violent.
Another 10% say that they work in an office where physical violence has occurred due to job stress.
14% of survey respondents felt like hitting a coworker but did not.
Also, 2% of workers have actually hit someone.
Around 9% of employees are aware of some form of a violent act at their office.
Furthermore, 18% have experienced verbal assault at work in the last year.
42% of employees report that screaming and other verbal abuse is quite common in their workplaces.
Similarly, 29% of workers say that they had yelled at colleagues due to work stress.
In addition, about 14% said that work rage had caused damage in property and machinery in their offices.
Physical issues caused by work stress and imbalance
62% of workers feel neck pain at the end of the day due to stress.
More than 50% of respondents report that they often skip lunch due to their heavy workload.
Around 34% report difficulty in sleeping due to ongoing work-related stress.
Furthermore, 12% complained of hurting hands due to their workload.
Up to 44% of employees also report stressed-out eyes.
Due to various physical issues stemming from job stress, around 12% had called in sick and missed work.
Furthermore, around 27% of workers are depressed due to their workload.
Source: American Institute of Stress
3. How People Work Across the Globe
Culture affects how people work around the world. Certain countries are known to work long hours. On the other hand, other nationalities take longer breaks to unwind and rest.
To get a better snapshot of the work culture around the world, OECD conducted a Better Life Index study based on the importance of the following indicators: income, jobs, housing, community, education, civic engagement, environment, health, life satisfaction, safety, and work life balance. Here are some of its key highlights:
On the work life balance indicator, Netherlands placed the highest with 9.5 out of 10.
The Netherlands is followed by Italy (9.4), Denmark (9.0), Spain (8.8), and France (8.7).
On the other hand, Turkey tops the countries with employees working long hours, with 32.6% of them clocking 50 hours or more a week.
Mexico (28.7%), Colombia (25.5%), South Korea (25.2%), and Japan (17.9%) make up the top five countries, with most employees working long hours.
Netherlands
Only 0.4% of workers in the Netherlands work very long hours, which is way below the global average of 11%.
Because they do not spend the majority of their day working, Dutch people can devote up to 16.1 hours to leisure and personal care.
Dutch families also share most of the responsibilities with the female employment rate at 69.9%.
Denmark
Much like the Netherlands, only about 2% of workers in Denmark work long hours.
Danish employees spend 66% of their day on leisure and personal care.
Denmark provides financial support to families with young children to ease the burden on the parents. The country spends more than 4% of its GDP on family benefits.
Turkey
Many Turkish employees work long hours, with about 33% of them spending more than 50 hours or more in the office.
Interestingly, they can spend about 14.8 hours in leisure and personal care, which is just slightly below the global average.
The country is working on integrating teleworking in businesses, such as ZAMBAK, an electronic document system, in the Yalova municipality.
Mexico
Mexico has the second-highest number of employees working long hours at 29%.
Due to this, workers can only spend about 12.4 hours or less on personal care or leisure, which already includes sleeping and eating.
Experts say that providing better female employment opportunities could improve the overall work life balance of Mexican households.
United States
The US placed the average on the number of employees working long hours at 11%, which is the global average.
Consequently, American workers can spend 66% of their time on leisure and personal care.
While the country spends $160,000 on child welfare and education, these are mostly spent on compulsory education. That means support for young families and childcare is lacking.
Source: OECD Better Life Index
4. Work Life Balance Programs
Various industries realize the negative effects of the lack of work life balance. As such, flexible working statistics show that more and more companies are implementing initiatives to alleviate the problem. Some work life balance programs are opportunities for remote work or hybrid work arrangements. Here are some of them:
Remote work
Before the COVID-19 pandemic, around 3.4% of Americans (7 million people) were already working remotely.
In the last half a decade, the number of people working remotely has grown by about 44%.
Similarly, remote work has grown in popularity by about 91% over the last decade.
Remote employees work 1.4 days more days in a month compared to their office-based colleagues.
Three out of four workers say that their work life balance had improved when they started working remotely.
Around 71% of remote workers report that they are happy with their current work compared to only about 55% of on-site employees.
Also, 40% of employees working remotely say that they are not stressed during a typical workday.
57% of workers are already working remotely full-time.
Hybrid work
According to the Future of Work, 78% of employees consider flexible schedules as the most effective non-monetary method to improve retention.
About 82% of American companies are already using flexible work locations to improve the work life balance of their employees.
Around 83% of applicants around the world consider the ability to work remotely on some days as a clincher when choosing between two jobs.
Similarly, around 6 out of 10 workers would think about leaving their current positions if they lose the flexibility to choose where and when to work.
90% of workers report that flexible work arrangements contribute significantly to their overall morale.
About 62% of employees say that they have the opportunity to work remotely partially.
Other programs
Enterprises provide the necessary hardware to allow flexible work arrangements with 52% of employees who work remotely using computers issued by their companies.
34% of workers are also using instant messaging platforms to communicate with their coworkers and supervisors.
Additionally, 36% use some form of cloud-based management application.
Furthermore, about 13% of remote employees use collaboration software to increase productivity.
The Japanese government introduced Premium Friday, where workers are encouraged to clock out at 3:00 PM every last Friday of the month.
Companies are revamping their workspaces by adding social spaces such as gaming rooms.
Additionally, some companies organize out-of-the-office volunteer initiatives to foster team relationships outside of the work setting.
Other countries offer better parental leaves such as Finland (170 weeks), Germany (67 weeks), Iceland (39 weeks), Norway (101 weeks), and Sweden (69 weeks).
5. Benefits of Work Life Balance
Creating an office environment that revolves around work life has its fair share of advantages. It not only keeps your employees happy and content but also encourages them to improve their productivity and efficiency. However, keep in mind that employees from different generations have different ideas of what work life balance is. So, in order to reap these benefits, you might want to learn more about demographic trends to see how you can better cater to their unique needs.
Companies that offer better work life balance have a 25% lower employee turnover.
Furthermore, 24% of employees who enjoy some form of work life balance program, such as working from home at least once a month, are significantly more happy and productive.
Additionally, 85% of businesses that provide work life balance opportunities report that they are more productive.
A Stanford University study showed that work life balance programs, such as remote working, could lead to a 13% performance increase.
Encouraging work life balance helps prevent chronic stress and eventual burnout.
Across generations, from Boomers to millennials, all working dads spend more time with their kids if given enough vacation times or flexible working arrangements.
33% of employees who enjoy work life balance benefits plan to stay in their current companies.
Around 21% of workers with good work life balance tend to work harder.
Companies with employees who benefit from a good work life balance report that their healthcare expenditure is 50% lower.
Happy employees are less likely to be absent, which saves businesses about $2,600 per employee.
Source: Morning Consult 2018
Work Life Balance is Beneficial to Both Employees and Businesses
Contrary to traditional beliefs, long work hours do not equate to better productivity and revenue when workers spend more time in the office with intense workloads, their productivity declines along with the quality of their outputs.
Fortunately, work life balance initiatives are getting more and more popular across the globe. Employees are much healthier when they have flexible work arrangements. As such, they enjoy working when they can recharge and spend more time with personal care and families at the end of the day. Companies also reap the benefits of well-balanced employees. Happy workers are more productive, even when logging fewer hours. This translates to better revenue for their organizations as they can maintain high-quality performance and output. As such, worker-friendly workplaces are becoming a norm across different industries.
---
References:
Highlights: Workplace Stress & Anxiety Disorders Survey

Workplace Trend: Stress Is On The Rise

Work-related stress, anxiety or depression statistics in Great Britain, 2019

OECD Better Life Index – Work-Life Balance

25 Key Remote Work Statistics for 2020

17 Surprising Statistics About Remote Work

Working From Home Increases Productivity

Hybrid Areas of Work Between Employment and Self-Employment: Emerging Challenges and Future Research Directions

Modern Workspaces: Getting Started With a Hybrid Workspace

6 Virtual Team Statistics You Should Know

Latest (Mindblowing) Remote Work Statistics 2019

Coworking is the New Normal, and These Stats Prove It

The Evolving Definition Of Work-Life Balance

The Most Compelling Work-Life Stats of 2017 (so far)