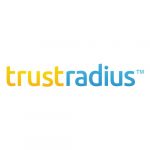 Most customers tend to do some research and examine various reviews from users on popular platforms before they make up their mind about investing in your SaaS product. The feedback from user reviews can be a significant factor influencing their buying decision. This will give them a pretty good idea about the features and benefits of your product and its quality.
The Local Consumer Review Survey 2014 findings show that 88% of respondents read online reviews to get more information about the quality of a local company (up from 85% in 2013 and this trend is estimated to grow further in the upcoming years). This survey also indicates that 39% of respondents have a habit of reading reviews regularly (the figure went up from 32% in 2013). Comparatively, 12% did not read any reviews in 2014, and 15% did not in 2013. These findings reveal that about 90% of respondents read online reviews to make an informed decision on a local company. Plus, 40% have a habit of reading online reviews regularly to get more details about different products.
The above findings are also applicable to B2B and SaaS software systems. A survey done by the review website Capterra shows that 71% of software purchasers read recommendations and reviews by their colleagues and peers before deciding if they want to invest money in a software app.
Because of these reasons, B2B review platforms such as TrustRadius are growing in popularity. They provide dependable reviews to help B2B purchasers make the right buying decision. These websites can also be used by B2B software vendors to advertise their solutions and engage customers.
On TrustRadius, B2B software users provide their insights and feedback on products through detailed reviews and networking. Visitors can use these useful reviews to make informed decisions about product selection. The website is credible and trustworthy because it vets all reviews and authenticates all reviewers.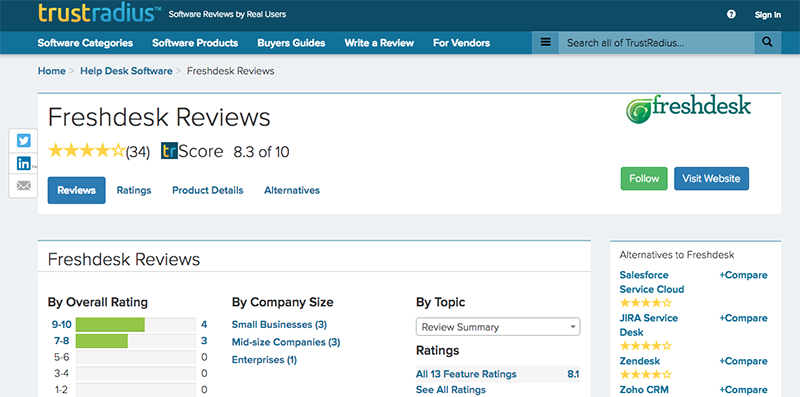 TrustRadius is more than just a simple rating site, though. It offers detailed reviews with each one averaging more than 500 words. The reviews are updated regularly to ensure they are kept current. They are also efficiently converted into product comparisons and buyer's guides. Review contributors can build their reputation and make a name for themselves online by creating personal profiles to showcase their expertise and get quality points for their articles that can also be "liked" by the readers. It is definitely a platform where you want to have you product listed and promoted.
If you want a wider choice of places to promote your SaaS, however, there are at least several other equally good review directories. In this article, we discuss the details of leading TrustRadius alternatives that B2B vendors can use to effectively market their products to reach a higher number of potential buyers.
1. FinancesOnline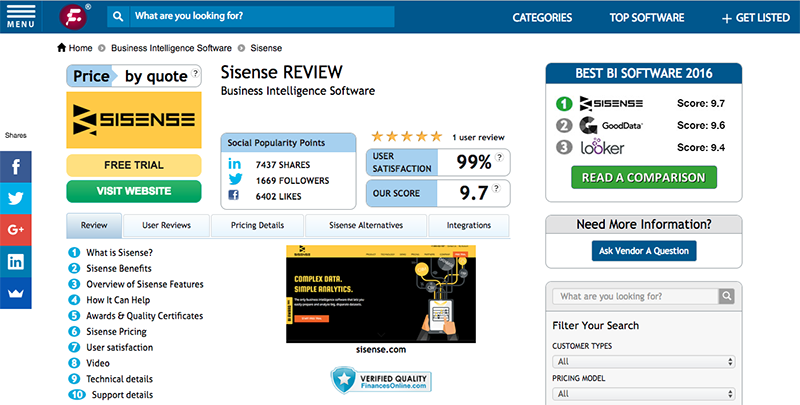 FinancesOnline is rated as one of the best online B2B/SaaS review websites out there. The site offers independent and unbiased reviews of thousands of B2B software systems. It is ranked high because in addition to a large user base it also has an in-house team of experts who write detailed software reviews that vendors can utilize to boost their lead generation strategies.
The website also offers evaluations and reviews by actual product users who provide in-depth analysis of leading software applications. B2B vendors can efficiently boost their online reputation and brand recognition by getting their products favorably reviewed on this platform.
FinancesOnline is a dynamic website as it constantly looks for new B2B solutions to review. If you are a fresh startup and have just launched a new software product, this platform can actually help you promote it, as their review pages and rankings can send more potential buyers to your site and allow you to improve your sales. You can easily check if your system is listed on their site using the search function, and if it's not, you can easily request a review of your product here.
What makes this platform one of a kind is their proprietary SmartScore system that offers a detailed review score calculated based on an app's main functionalities such as customization, mobility, app integration, customer support, and collaboration tools.
FinancesOnline also utilizes a novel Customer Satisfaction Algorithm that takes into account social media mentions, online comments, and user reviews, and gives each application a percentage score that shows the general customer satisfaction among actual users. Buyers can use this score to easily gauge each software system's  social proof.

In addition, their team of B2B experts can distinguish your product with a wide range of trust marks, quality certificates, and industry awards to recognize your product's quality, boost its credibility and reputation, and highlight its useful features. The website also offers marketing plans that vendors can use to get new customers and enhance their sales. You can, for example, get your product featured in a premium position on the website and have it suggested as a good alternative on the reviews of your competitors' products. This will help you to distinguish your platform from the competition which can hugely increase the number of leads you get from your review page. The platform actually boast a very high conversion rate of 12-24% in their lead generation campaigns, which is significantly higher than what other platforms offer. To find out how you can market your software on FinancesOnline, you can request a review here.
2. AppExchange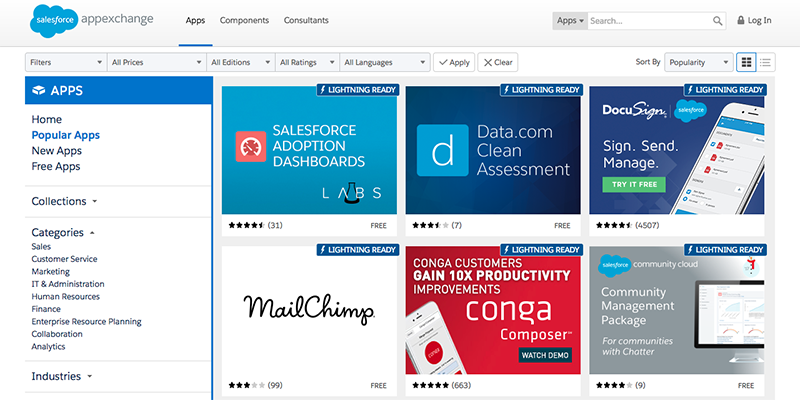 AppExchange is Salesforce's marketplace for business applications that are designed to meet the requirements of businesses in multiple industries. The website hosts as much as 2,700 pre-integrated software systems that showcase the power of Salesforce and help companies to improve their business more easily. AppExchange is definitely a reliable and trusted cloud computing marketplace and it is also a quote popular user review website, though its scope is limited.
Visitors interested in acquiring a B2B software for their company can browse AppExchange to search for suitable solutions fit for their business needs. Software providers can also benefit from this website as they can search for system integrators and custom app developers to improve their products.
3. Capterra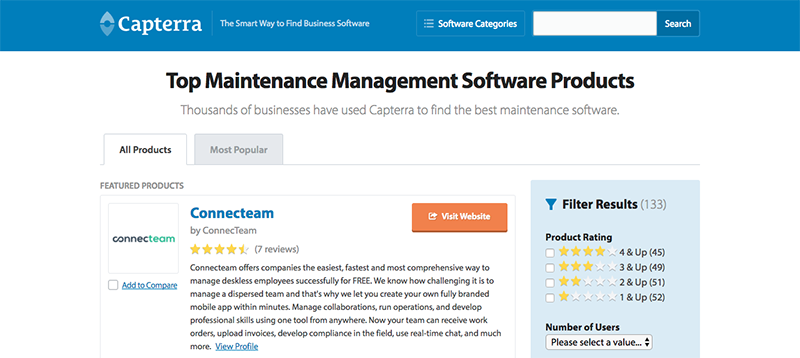 Capterra is another popular review site that helps B2B purchasers pick the right software and apps for their firm. The website compares a wide range of software platforms to see how they fare side by side and also assists B2B purchasers by helping them communicate with their chosen vendors.
Capterra is a comprehensive review website that hosts reviews of products in more than 300 software categories. It also features blog posts, buyer's guides, and user reviews to provide detailed information on software solutions. The website is easy to navigate and enables buyers to select apt solutions easily.
Capterra's in-house team of software experts also help purchasers by recommending appropriate shortlists of systems that match their unique needs. Software providers can also benefit from this website as they can directly engage prospective buyers online by replying to their questions, user reviews and requests.
4. G2 Crowd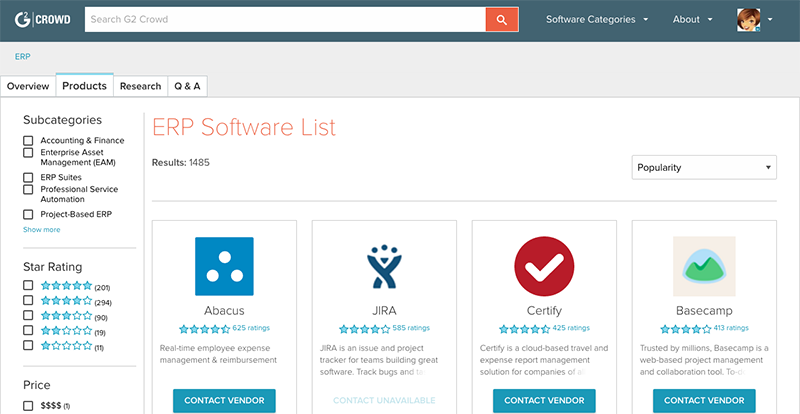 G2 Crowd features on their platform primarily user reviews for all types of business software systems. Enterprise technology analysts, investors, and buyers can use this site's user reviews and synthesized social data to efficiently compare and pick appropriate software solutions.
The platform allows business software users to share their feedback and reviews in real-time. This popular site has a large reader base that is interested in the information and insight offered by as much as 25,000 authentic user reviews.
The feature of G2 Crowd that really stands out is the fact that it uses the knowledge of a community of more than 30,000 software users who offer their opinions and reviews on the website. They present authentic reviews and their collective knowledge can be used by all types of companies and organizations to make educated buying decisions. In this regard, G2 Crowd can be compared to websites like Yelp and Amazon that also feature peer reviews. This website uses an innovative Grid Scoring methodology that helps customers select a good solution depending on their individual expectations. Even lay B2B software users can contribute their reviews to obtain rewards and to boost their reputation as an expert.
5. IT Central Station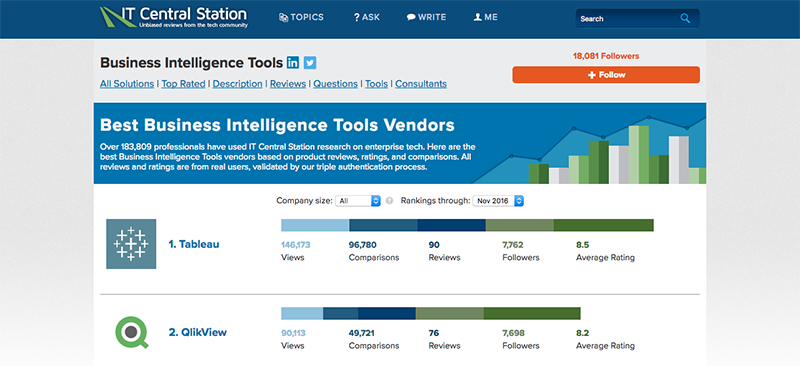 IT Central Station uses crowdsourcing reviews to help its users pick the best software platforms for their firm. It features independent user reviews of B2B applications for the enterprise tech community. It is an especially reliable website as it thoroughly verifies the identity of all its reviewers (though FinancesOnline and G2 Crowd do that too but to a lesser degree). All reviewers have to pass an interview. If they clear the interview, then their review is featured on the website.
IT Central Station's authenticated crowdsourced reviews offer detailed information on B2B software solutions. This website is widely used by many professionals in the enterprise technology industry to make their software investment choices. The site also offers expert recommendations and advice for technology purchasers. Only current, objective and high-quality information is posted on the platforms.
To sum up, the website hosts useful feedback and reviews from a robust community of product users, independent consultants, and knowledgeable experts.