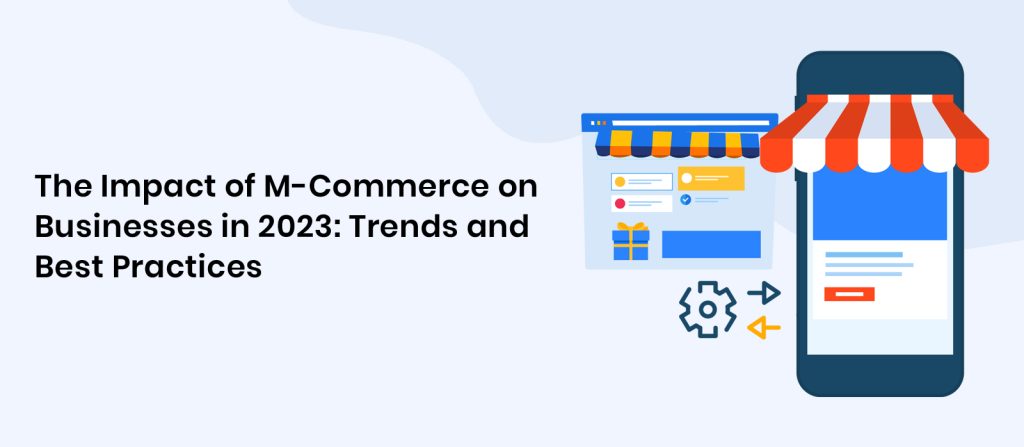 M-Commerce or mobile commerce have grown significantly over the years and took up the place of many of the online shopping destinations. With the increasing use of smartphones, for checking messages and emails, catching up on daily news, or to watch favorite TV shows and scroll through social media, it has become an integral part of our daily life. Even from browsing products to making payments, we bow our heads towards mobile phones. 
This rising trend and opportunity has forced many all-in-one e-commerce platform to adapt to the changing landscape, and those who failed to do so have been left behind. However, the impact of M-Commerce is just not limited to the rise in the number of mobile shoppers but has also affected the way businesses design their websites, promote their products, and engage with customers. 
Today, M-Commerce has become a big boom in the entire commerce industry and every other industry expert – whether seasoned or a newbie, has to keep up with the latest trends and practices to stay ahead of the curve. So, let's dive in and discover the exciting world of mobile commerce!
The growing importance of mobile optimization in commerce platforms
Mobile optimization involves designing your commerce websites and platforms in a manner that provides a seamless and user-friendly experience for mobile users. It includes optimizing page loading speed, ensuring responsive design, and simplifying the checkout process. 
Mobile optimization can significantly increase your conversion rates by providing a positive experience on mobile to consumers. Studies have revealed that mobile-optimized sites witness a 15-20% increase in conversion rates compared to non-optimized sites. Furthermore, it encourages repeat purchase behavior and enhances customer loyalty. 
Mobile users spend an average 4 hours per day on their devices and businesses utilize the same opportunity to capture their attention and keep them engaged. So, if you're a commerce business owner, it's essential to prioritize mobile optimization. 
Insights into the latest trends and best practices for M-commerce 
Mobile commerce doesn't just mean using mobile-friendly websites but also tapping into other technology. Choosing the best ecommerce software for an online store will help you gain insights into the latest trends and best practices for M-Commerce. 
However, we have listed the four main types of mobile commerce trends and best practices that are usually adopted :
Mobile Payment Applications
Shoppers today utilize many mobile payment apps to their smartphones like PayPal, Gpay, Paytm, and many more for a seamless payment procedure. Shoppers are utilizing these online payment methods to contribute significantly in online shopping. 
There has been reportedly a rapid increase in the number of buyers who have switched over to digital payment methods in comparison to previous purchasing behavior. This has led to convenient shopping and has significantly increased the purchasing tendency of customers. 
Mobile Commerce Apps
Mobile App development in the commerce industry has proven to be a game changer and has entirely changed the shopping scenario for everyone. Reports have clearly shown that almost 90% of purchasers today shop using a mobile application. 
Businesses who understand the importance of being on the frontpage of a potential customer without forcing them to open their browser and find you, understand the importance of mobile apps.
Finding the right developer for mobile commerce apps is essential to build your own fully functional mobile application. Make your business more accessible to your customers by simplifying their shopping experience with your brand. 
Once a user downloads your mobile app, they can easily browse through product catalogs, purchase an item, and track their orders without leaving the interface. Furthermore, the additional benefit with mobile apps is that you can easily send push notifications to customers, to keep them binded. 
Most of the businesses today are planning to invest more and more on mobile application development but it can be expensive and time consuming. Thus, platforms like Shopaccino exist to solve the problem of such businesses with their custom mobile app development services in India. 
Social Commerce 
Social media platforms hold the largest network of audience and serve as one of the most efficient mediums to grow commerce business rapidly. However, it's not just the market segment, a majority of platforms are evolving themselves to facilitate social commerce so their users can buy products directly without leaving the app. 
QR Codes
QR codes are playing a great role in enhancing the e-commerce industry's face. Many of the commerce players are embedding QR codes at the checkout desk in their brick-and-mortar store. It helps them direct shoppers to a personalized in-app checkout page and even add them to product packaging for customers to make repeat purchases via their mobile phones. 
Also, you can pair these QR codes with your mobile app and different mobile banking and digital wallets. 
Examples of platforms that are successfully adapting to mobile-first strategies
Below are some of the examples of platforms that are successfully adapting to mobile-first strategies to win over their customer base.
Instagram

– Instagram has been primarily designed for mobile devices and offers a seamless mobile experience. With over one billion monthly active users, Instagram's mobile-first strategy has paid off.

Uber

– Uber's mobile app allows users to book a ride from their mobile devices, making it easy for people to get around. The app has been optimized for a mobile experience, making it simple and intuitive to use.

Netflix

– Netflix has been optimized for mobile devices and offers a seamless mobile experience. The company has invested heavily in its mobile app, making it easy for users to watch their favorite shows.

Amazon

– Amazon offers a fully functional mobile app that has been designed with a mobile-first strategy in mind. The app allows users to easily browse and purchase products on their mobile devices, making it easy to shop on the go.

Facebook

– Facebook offers a seamless mobile experience. The company designed its mobile app with dedication, making it easy for users to access their news feed, interact with friends, and more from their mobile devices.
Tips for improving mobile user experience and driving sales
Use Mobile Chatbots – Mobile chatbots are a trending feature that makes customer interaction seamless. One can utilize them to immediately solve the basic queries of clients and navigate them to take the desired action directly through their mobile phones. This will provide potential buyers with a pleasant purchasing experience which drives sales.  
Voice Search Optimization – When it comes to improving mobile user experience, voice search is the one option that has been used widely through a  majority of mobile users. The growing popularity of voice assistants like Siri, Alexa, and Google assistant have made this feature a big hit. You can optimize the voice search feature on your mobile app using natural language and long tail keywords that reflect how people speak to make it more user-friendly. 
Implement Augmented Reality – E-commerce platforms are gradually adopting augmented reality as a powerful tool to improve the mobile user experience. It enables users to see what a product looks like in their own environment and drives engagement and sales. It is a great feature to utilize to consider implementing for visualization or virtual try-ons. 
Mobile Commerce continues to flourish like never before and impacts on consumer purchasing behavior to a great extent. These M-commerce trends and stats only depicts how much shoppers are actively relying on their mobile devices for making purchases.