"Let there be coffee," and there was … Starbucks.
It was 1971 in the historic Pike Place Market in Seattle, USA when the soon-to-be-phenomenal brand began transforming the way the world drank coffee. Starbucks practically created the idea of a third location between home and work where people can sit back, enjoy a cup of coffee, and revel in the engaging ambiance.
Many agree that Starbucks educated America on how to appreciate coffee and is now doing the same with the rest of the world. This time, let these Starbucks statistics teach us about its colorful story, vibrant history, and promising future.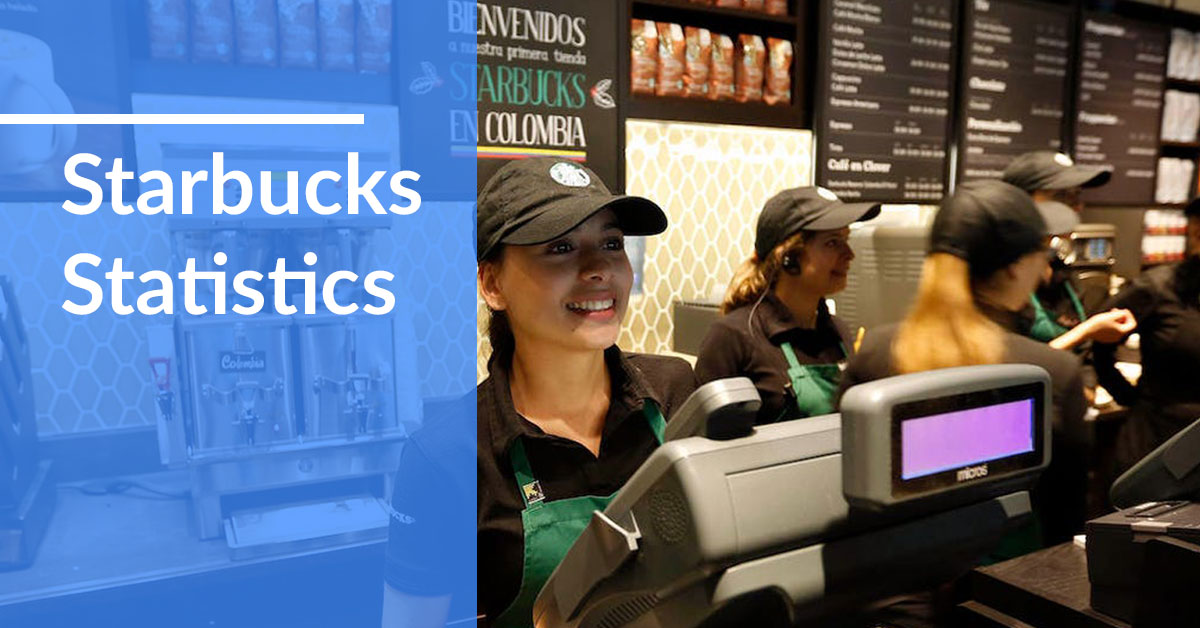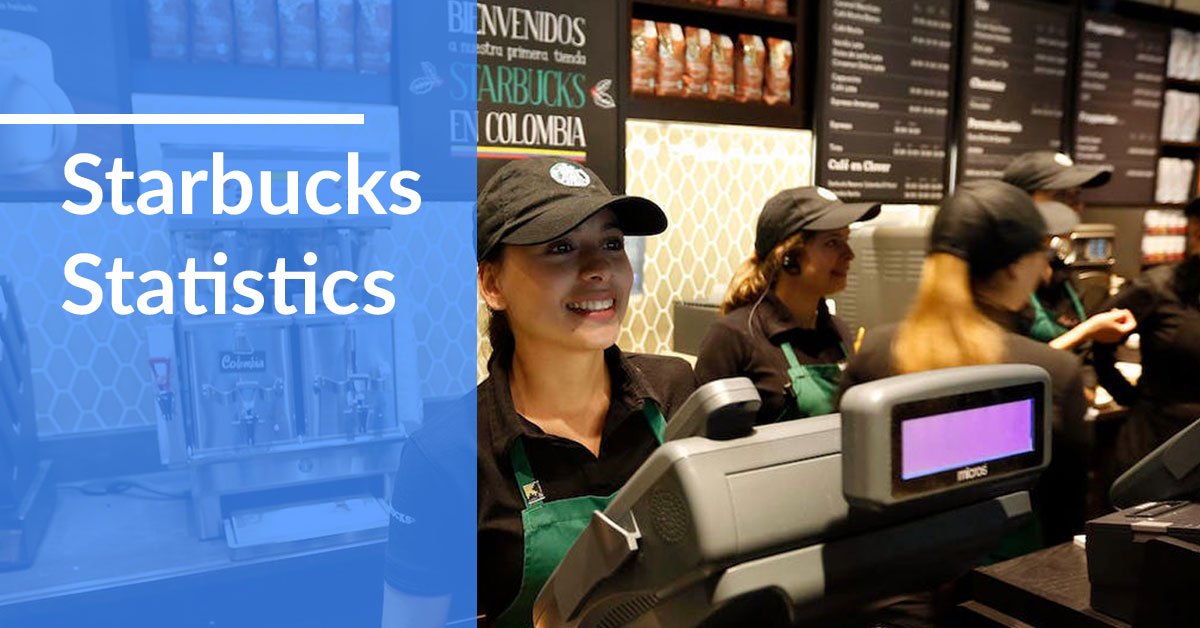 Starbucks Statistics Table of Contents
Industry & Starbucks Statistics
America is famous for many things coffee, including its world-class brands like Dunkin' Donuts, Seattle's Best, Caribou, and Peet's. But one brand had successfully brought the coffee business to an entirely new level, separating itself from the rest: Starbucks.
Starbucks was the largest coffee shop chain in the US with 15,149 stores as of September 2019

The coffee shop giant currently operates with a total of 31,256 locations across the world

On average, Starbucks has opened two new stores every day since 1987

Its top competitor, Dunkin, has 10,132 stores in the US as of April 2020

In 2019, the market for the US coffee shop industry reached $47.5 billion

The industry grew by 3.3% year-on-year

For 2019, Starbucks generated over $21 billion in sales in the US alone, more than half of its closest competitor
Sales of Leading Coffee Houses and Cafe Chains, US 2019
(In million US dollars)
Sales of Leading Coffee Houses and Cafe Chains, US 2019
Starbucks: 21380
Starbucks
Sales of Leading Coffee Houses and Cafe Chains, US 2019
Dunkin Donuts: 9299
Dunkin Donuts
Sales of Leading Coffee Houses and Cafe Chains, US 2019
Tim Hortons: 714
Tim Hortons
Sales of Leading Coffee Houses and Cafe Chains, US 2019
Dutch Bros. Coffee: 567
Dutch Bros. Coffee
Sales of Leading Coffee Houses and Cafe Chains, US 2019
Peet's Coffee & Tea: 358
Peet's Coffee & Tea
Sales of Leading Coffee Houses and Cafe Chains, US 2019
Caribou Coffee: 306
Caribou Coffee
Sales of Leading Coffee Houses and Cafe Chains, US 2019
The Coffee Bean & Tea Leaf: 133
The Coffee Bean & Tea Leaf
Sales of Leading Coffee Houses and Cafe Chains, US 2019
Biggby Coffee: 130
Biggby Coffee
Source: restaurantbusinessonline.com 2020
Created by CompareCamp.com
International Operations & Starbucks Statistics
The global expansion of Starbucks has been rapid and strategic. Starbucks generates the lion's share of its revenue in the Americas; other regions account for less than 20% of its total revenues.
Starbucks currently has over 24,000 stores across more than 75 markets

It opened its first international store in Tokyo and the second one in Singapore in 1996

In 1997, It inaugurated its third store outside the US in the Philippines

By the following year, Starbucks entered the UK coffee shop market

In January 1999, it opened its first store in China in Beijing World Trade Building

After 20 years, Starbucks has opened over 4,200 stores in 177 cities in China, employing over 57,000 partners

In 2002, it entered the Latin American market with its first store in

Mexico City

It penetrated the Russian coffee market in 2007

In 2013, it opened its first store in Ho Chi Minh City, Vietnam

Starbucks entered its 64th international market and 15th market in the APAC region when it opened its first store in Brunei i

n February 2014

In 2015, it opened new stores in Panama
Source: Starbucks Annual Report 2019
Unique Operations & Starbucks Statistics
Starbucks has long been cited as a business with great customer loyalty and high levels of customer satisfaction. The company knows how to keep its customers delighted and thus was able to build a huge fan base of promoters.
In February 2008, it closed over 7,000 stores across the US for its Espresso Excellence Training program
Involving about 135,000 baristas, this special program included training them on how to pour a perfect espresso shot and steamed milk

Since 1987, Starbucks has been adding an average of two stores daily

However, during the 2008 global recession, over 800 Starbuck stores were closed from that year until 2009

There are 796 Starbucks locations in Chicago that employ over 18,100 people (or "partners")

Starbucks abides by the "10-Minute Rule," which requires each store to open and close its doors 10 minutes before and after the start and end of store hours

As of November 2019, Starbucks has six Reserve Roasteries located in New York, Tokyo, Seattle, Shanghai, Milan, and Chicago

The world's biggest Starbucks branch, the newest Reserve Roastery, is located in Chicago. This gigantic five-story building spans more than 35,000 square feet
Source: Starbucks Annual Report 2019
Branding & Starbucks Statistics
Since its inception, branding has been one of the decisive aspects of the Starbucks strategy. The coffee shop giant has invested considerably in creating a standardized appearance and feel of its stores, merchandise, and food and drinks.
The Starbucks Siren logo is one of the most recognizable company logos in the world

In Interbrand's Best Global Brands 2019, Starbucks is 48th in rank, up by 23%

Among all restaurant brands, the coffee shop company ranked 5th

In 2011, Starbucks spent $109 million in advertising in the US alone

By 2013, the company cut its ad spending to $95 million

In terms of measured media spending globally, Starbucks was at no. 9 in 2018, spending $79 million

In 2015, Starbucks' American Customer Satisfaction Index (ASCI) score went down to 74 points due to customer complaints regarding changes to Starbucks' morning menu

This low ASCI score placed the company at no. 10 on the list of top 10 fast-food chains in the US

Its main competitor, Dunkin, is the only fast-food chain to improve customer satisfaction in 2015, climbing 4% to 78

Following some operational improvements, Starbucks' customer satisfaction index slightly improved to 75 (+1%)

in 2016

By 2019, Starbucks improved its ASCI score to 79 points

The coffee giant enjoys a Net Promoter Score® of 77, an unparalleled feat in its sector
Source: Starbucks Annual Report 2019
Menu & Starbucks Statistics
In his book Onward, former Starbucks President and CEO Howard Schultz writes, "Success is not sustainable if it is defined by how big you become. Large numbers that once captivated me–40,000 stores–are not what mattered. The only number that matters is 'one.' One cup. One customer. One partner. One experience at a time."
Listing all of Starbucks main drinks and multiply them by all available customization possibilities will total to more than

87,000 combinations

Its Cinnamon Chip Scone has 480 calories—70 calories more than the McDonald's Quarter Pounder sandwich

Starbucks' White Hot Chocolate contains 78 grams of sugar (equivalent to 2 cans of soda) and over 500 calories (which is more than a McDonald's BigMac)

A Starbucks grande coffee has 320 milligrams of caffeine, more than four times the volume of caffeine in

a Red Bull

The Trenta can hold up to 916 milliliters. It is

a bit larger than your stomach, which, on average, has a capacity of 900 ml

For 2019, Starbucks' beverage products generated $15.92 billion in revenues, followed by food ($4.79) and packaged and single-serve coffees and teas ($2.13 billion).
Source: Starbucks Annual Report 2019
Employment & Starbucks Statistics
Another unique strategy that differentiates Starbucks from other companies is that it has made its employees "partners" in business in more ways than one. All company employees, for instance, are offered stock options as well as health insurance.
Starbucks spends $300 million in

healthcare insurance for its partners (employees) than on purchasing coffee beans

In 2014, the company announced the

Starbucks College Achievement Plan for Starbucks partners. All partners who work 20 hours a week or more are eligible

With Starbucks shouldering 100% of all education-related costs, the program involves the

completion of any online bachelor's degree program offered at Arizona State University

To date, over 2,400 Starbucks employees had completed

an online bachelor's degree program at Arizona State University; 12,000 are currently enrolled

From 2017-2019, Starbucks has reached an annual 100% pay equity for partners of all genders and races doing the same job functions throughout the US

The coffee giant has welcomed and hired 1,672 refugees in Europe, Canada, and the United States

Since 2013, the company has hired 22,500 veterans and military spouses,

In 2018, Starbucks was able to employ 3,000 former military personnel and their wives

By 2025, the company aims to hire 25,000 military spouses and veterans

Since 2015, Starbucks has hired 71,145 youth—16- to 24-year-olds out-of-school youths who are unemployed

Starbucks has reached its goal of enrolling 10,000 partners in its Greener Apron certification program

Among its senior leaders, 42% are women, an increase of 13% since 2015; 19% of its C-level executives are people of color

Starbucks China, which employs 52,000 partners, strictly observes gender equity in pay
CSR & Starbucks Statistics
Starbucks does almost everything against the norm to excel. It uses the same strategy in reaching out to communities, helping protect ecology, and in its overall corporate governance practices.
Starbucks scored a perfect 100 out of 100 on the 2018 Corporate Equality Index, an initiative administered by the Human Rights Campaign Foundation on corporate policies and practices related to LGBTQ workplace equality

Since 2011, Starbucks' partners and volunteers served more than 960,000 hours in the communities it serves

To drive consumer behavior on reusables, Starbucks launched the first-ever airport reusable cup trial at Gatwick Airport, London

With a 2025 target, the company announced its strategy to improve the lives of

250,000 women and girls in cocoa, tea, and coffee communities

In 2016, Starbucks partnered with Feeding America to launch its FoodShare food donation program. It aims to rescue 100% of the food available to donate from US stores by the end of 2020

In 2019, Starbucks launched its FoodShare program in Canada. This initiative aims to rescue 100% of food available for donation from its over 1,100 company-owned stores in the country

By the end of 2020, the US FoodShare program aims to rescue 100% of the unsold food from its over 8,000 company-owned stores in America

In partnership with the

World Wildlife Fund and SCS Global Services, Starbucks launched the

Greener Stores framework to design, build, and run 10,000 environment-friendly stores worldwide by 2025

Starbucks partnered with Feeding America, a nationwide network of

60,000 soup kitchens, meal programs, and pantries and 200 food banks. This program aims to

connect FoodShare donations with local food banks and people who require them

The company's FoodShare program reached the milestone of

providing over than 20 million meals to those in need

In the aftermath of Hurricane Maria, the company donated 2 million coffee seeds to rebuild Puerto Rico's coffee industry

The Starbucks' Sustainability Commitment

2030 preliminary targets aim a 50% reduction in carbon emissions, in waste sent to landfills, and in water used in business operations and coffee production
Starbucks Sustainability Commitment: 2030 Preliminary Targets
Source: Starbucks Sustainability Commitment 2020
Created by CompareCamp.com
Supply Chain & Starbucks Statistics
Since starting its operations in 1971, sustainability has been at the heart of Starbucks, especially in how it sources and uses its raw materials to prepare its F&B menu offerings.
Starbucks purchases three percent of the world's coffee, grown by more than 400,000 farmers

99% of Starbucks coffee is ethically sourced

The company introduced five new rust-resistant coffee tree varieties and donates thousands of seeds to Costa Rican Coffee Institute

To date, over a million coffee farmers and workers on four continents have benefited by participating in the company's Coffee and Farmer Equity (C.A.F.E) Practices

Starbucks continues to expand how it positively influences the lives of

25 million people worldwide who depend on coffee for their livelihoods

This includes a network of six farmer support centers around the world, which include those in Rwanda, Tanzania, Colombia, and Ethiopia, and a commitment to provide $20 million worth of short- and long-term loans for farmers

In 2013, Starbucks purchased Hacienda Alsacia, its first 240-hectare coffee farm in Costa Rica, to function as a global agronomy Research and Development facility and working farm

Starbucks has donated more than 31 million climate-resilient coffee trees like the hybrids developed at Hacienda Alsacia

By 2025, Starbucks aims to donate 100 million trees to farmers across the world

The Sustainable Coffee Challenge is a joint initiative of more than 60 NGOs, R&D firms, governments, and companies that collaborate

to make coffee as the first sustainable agricultural product

Over 6,200 farming families received new coffee trees from Starbucks to help to rehabilitate over 2,500 hectares of farmland across the world

By 2020, Starbucks committed $50M in affordable credit for coffee farmers and cooperatives

The company also invested $20 million in open-source agronomy via a network of eight Farmer Support Centers to train 200,000 coffee farmers by 2020
Starbucks Global Coffee Supply Chain
Source: Starbucks Annual Report 2019
Created by CompareCamp.com
Sustainability Timeline Starbucks Statistics
Over the years, Starbucks looked for ways to help protect the planet with the help of its partners, customers, industry experts, and advocates.
1971

– Opened its first store in Seattle's Pike Place Market, selling whole bean coffee, spices, and tea

1984

– Started its first test of a coffeehouse concept, serving to-go coffee and tea in paper cups

1985

– Began offering a 10 cent reusable cup discount

1997

– Started using soymilk, the company's first non-dairy alternative to milk

2005

– Made its first renewable energy purchase, equivalent to 5% of its US-based stores' total electricity consumption

2006

– Increased its renewable energy purchases four times and launched the retail industry's first hot beverage paper cup with 10% post-consumer recycled fiber

2008

– Announces 2015 "Shared Planet" commitments, including goals to ethically source 100 percent of its coffee; Introduces a new polypropylene plastic cup that uses 15 percent less plastic than previous cups and emits 45 percent less greenhouse gas during production

2012

– Rolled out cup sleeves made from more post-consumer content and less paper; this helped save almost 100,000 trees annually

2013

– To help reduce cup waste, b

egan offering a £1 reusable cup in the United Kingdom and a $1 cup in Candana and the U.S.

2014

– Starbucks Japan launched environmentally friendly napkins made from 30% FSC®-certified paper and

70% post-consumer recycled milk-carton fiber

2015

– Purchased adequate renewable energy to power 100% of its company-operated stores in the U.K., Canada, and the U.S.

2016

– Reachef 1,000 LEED-certified stores in 20 countries

2017

– Announced its commitment to provide 100 million climate-resilient coffee trees to farmers by 2025

2018

– Removed straws in all Starbucks Korea store via strawless lids and paper straw alternatives; invests in solar farm to power 600 Starbucks stores in the US States, including West Virginia, Delaware, and

North Carolina

2019

– Over 340 Illinois Starbucks-operated stores were powered with 100% renewable energy; introduced enhanced strawless lid made with 9% less plastic in selected U.S. and Canada stores

2020 – Hired its first chief sustainability officer; started the New Year across Asia by phasing out plastic straws
Technology Use & Starbucks Statistics
The coffee chain giant has always been a forerunner in the use of technology in its store and overall business operations. From POS and cloud computing to AI, Starbucks is building a highly personal, seamless customer experience in its stores and beyond by leveraging advanced computer technologies.
Since Q3 2016, the Starbucks mobile app represents 25% of all in-store purchases across its US stores

Powered by Microsoft, this mobile app uses reinforcement learning technology—a type of machine learning system—that help Starbucks continuously improve customer experience personalization

At some locations, as much as 20% of peak hours orders come via mobile order-ahead

In December 2018, Starbucks partnered with Alibaba in launching a virtual store that integrates all of its digital services into one location in China

The total number of Starbucks' Mobile Order & Pay users reached 16.3 million by the end of 2018

38% of Starbucks purchases comes from rewards or gift cards, 33% of which comes from its Rewards program
If you're a small restaurant owner, it's high time to also start leveraging technology such as res POS systems like Toast POS to your advantage.
Social Media & Starbucks Statistics
The brand has a sizable social media and digital presence, which has received renewed focus in recent years. This has been driven by the need to engage customers better and also be visible on platforms where the target or future customers spend time online.
With 36,934,939 fans, Starbucks is the 4th top-ranked beverage brand with the most Facebook fans worldwide as of 2019

In a 2019 online survey among American consumers, 18% said that they had purchased something from Starbucks because of an Instagram advertisement they've encountered

The same survey found that 77% of respondents knew Starbucks at least by name

A ranking of restaurants and bar brands in the UK shows Starbucks was mentioned almost 3.1 thousand times in print, online and social media

In August 2019, Starbucks Coffee Japan was the 6th most popular Instagram account of domestic brands in that country

With over 49,000 images, Starbucks is the most pictured food, and beverage brand found on Instagram posts worldwide in July 2017
Top Brands Purchased through Instagram Advertisements in the US, 2019
Top Brands Purchased through Instagram Advertisements in the US, 2019
Starbucks: 18
Starbucks
%
Top Brands Purchased through Instagram Advertisements in the US, 2019
Nike: 18
Nike
%
Top Brands Purchased through Instagram Advertisements in the US, 2019
McDonald's: 17
McDonald's
%
Top Brands Purchased through Instagram Advertisements in the US, 2019
Adidas Originals: 12
Adidas Originals
%
Top Brands Purchased through Instagram Advertisements in the US, 2019
Oreo: 10
Oreo
%
Top Brands Purchased through Instagram Advertisements in the US, 2019
Ben & Jerry's: 9
Ben & Jerry's
%
Top Brands Purchased through Instagram Advertisements in the US, 2019
H&M: 8
H&M
%
Source: Social Media Advertising in the US, 2019
Created by CompareCamp.com
Covid-19 Pandemic & Starbucks Statistics
Leading the company's response to the coronavirus pandemic is the Starbucks Foundation, which provided funding to help support the community's urgent needs. From giving free food and providing handwashing stations, Starbucks delivered numerous assistance to first responders and people in need.
Starbucks partners have served over 1 million cups of free coffee to first responders and front-line health care workers during the outbreak

The company's Washington D.C. regional director closed 98 of Starbucks' 100 stores he oversees

Even before the pandemic, o

ver 60% of the company's US store formats

include a drive-thru, while 80% of all customer orders were placed "on-the-go."

Starbucks has tested various service options in over 300 stores across the US during the early weeks of the lockdown, including at-home delivery, curbside delivery, entryway pickup, and

contactless service

Starbucks store partners and managers have volunteered to

brew and deliver 50 cups of free coffee to each of the 11 D.C. Police stations every afternoon for several

weeks in March and April

The Starbucks Foundation donated $1 million to Feeding America's Covid-19 response fund

It also gave $25,000 to the Food Bank for New York City

As part of its hometown support initiatives, Starbucks also gave $250,000 to Northwest Harvest in Seattle

Last March 17, Starbucks Foundation partnered with

Broad Street Ministry to set up

12 temporary handwashing stations around Philadelphia, particularly in places where at-risk populations typically come together

These foot-operated handwashing stations come with 40 gallons of water, complete with

soap and paper towels; these stations are replenished once or twice a week

Around 2,000 people now use these handwashing stations every day to wash their hands, helping slow the spread of the virus in Philadelphia

The Starbucks Foundation donated $1 million to Mercy Corps to help assist in the prevention of COVID-19 in various coffee, tea, and cocoa farming communities
What do these Starbucks statistics mean to you?
Starbucks currently operates more than 31,000 stores across the world. With over 400,000 store partners, the coffee chain giant serves 100 million customers on a weekly basis. Empowered by top-of-the-line store design, advanced technologies, and coffee-making expertise, this world-class organization is poised to grow further.
If you're a small business owner or an upcoming restaurateur, these statistics offer a wealth of knowledge in helping your improve your F&B operations. In times of plenty and crisis, you can likely learn a lesson or two on how Starbucks can adapt to market changes to achieve better outcomes. And don't forget how the company also excels in helping protect the environment and in giving back to the communities it operates in.
Yes, Starbucks is almost everywhere in the US, from California to New York. However, there's a town called Starbuck in Washington, and it doesn't have a single Starbucks store.
---
References:
The Secret to Starbucks' Brand Success

Best Global Brands 2019 Rankings

Advertising Age Leading National Advertisers 2019 Fact Pack

Starbucks: A Customer Loyalty Story to Learn from

Starbucks stays Mum on Drink Math

Be Careful Of Starbucks' White Hot Chocolate

A Medium Starbucks Coffee has over Four Times the Caffeine of RedBull and Three More Caffeine Facts

Human Rights Campaign Recognizes Starbucks as Top Employer for LGBTQ Workplace Equality

No strings attached: Starbucks College Achievement Plan grads launch into next careers

About Starbucks China

Starbucks UK launches first ever airport reusable cup trial at Gatwick Airport in London

20 million people fed through Starbucks FoodShare program

Infographic: Starbucks Sustainability Commitment

Sustainability Faceoff: McDonald's vs. Starbucks

Starbucks Sustainability Timeline

This Earth Day, meet some of the people working to make coffee sustainable

Starbucks Verifies 99% of Coffee Ethically Sourced

Nurturing Family, Coffee for Next Generation of Farmers

Starbucks to Provide 100 Million Healthy Coffee Trees by 2025

5 things to know about Starbucks new environmental sustainability commitment

Starbucks turns to technology to brew up a more personal connection with its customers

Starbucks hits 16.3M Mobile Users, eyes expanded delivery

Starbucks creates Unified Virtual Store in China via Alibaba Technology

Here's how Mobile Order & Pay could lift Starbucks

Social Insight: Instagram popularity ranking

6 Instagram Marketing Tips For 2018, Backed by New Analysis

Starbucks gives 1 million cups of free coffee to front-line responders in U.S. and Canada

A message from Starbucks CEO Kevin Johnson: Preparing for the next phase in the U.S.

As food bank need spikes, Starbucks and Feeding America fight hunger together

Broad Street Ministry, The Starbucks Foundation to bring handwashing stations to homeless