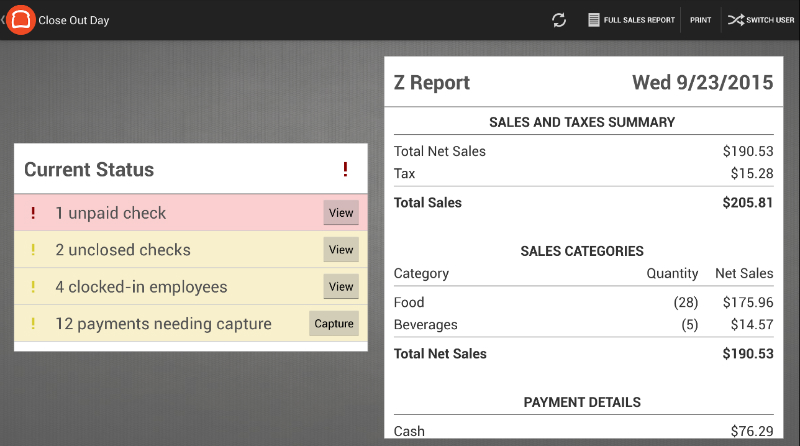 The main benefits of Toast POS are its rich feature set, mobile support and great value for money.  Below are its benefits in details:
Offer Gift and Loyalty Programs
Toast offers both physical and digital gift cards, and allows restaurants to sell gift cards in-store or online. It also provides a loyalty program integration that you can link to a phone, card, or customer credit card. The POS screens automatically feed the CRM and loyalty platforms and thus boost the number of registrations for these programs.
Utilize the Inventory App
Toast offers a real-time inventory app that enables you to monitor food inventory, units and prices, and suppliers, using your mobile device or computer. This functionality empowers you to reorder the items you need, when you need them. In addition, you can automatically download menu, inventory, and food cost reports that can be utilized to improve your menu details.
Facilitate Online Ordering
Toast charges just $50/month to offer online ordering services. Other vendors are more expensive as they charge up to 12% to 15% of the total transaction value. This feature routes orders from the client directly to the systems, which means you don't to renter info in the POS.
Enhanced Business Visibility
Toast enables you to use your mobile device to track your business in real time. You can effortlessly access menu, labor, and sales reports. In addition, the system automatically sends summary emails every day that enable you to keep track of vital metrics and alerts. Plus, you can generate insightful reports and utilize the knowledge to boost your management and operations.
Facilitate Table Payment
Toast facilitates table payment which enables restaurants to serve customers faster and diners to pay quickly. This feature is thus a benefit to both quick-serve and full-service restaurants. You can accept orders and payments in line, which minimizes bottlenecks and boosts service. Another advantage is kitchens get better order lead times and more visibility.
You can check out this Toast review for more info on this software capabilities.