The power of social media is exquisitely massive as it can help you leverage the vast population it contains, scale up your expenditure and take advantage of multiple platforms for a single entity. This article will help you understand how social media lead generation strategies will help you to make yourself stand out from the crowd.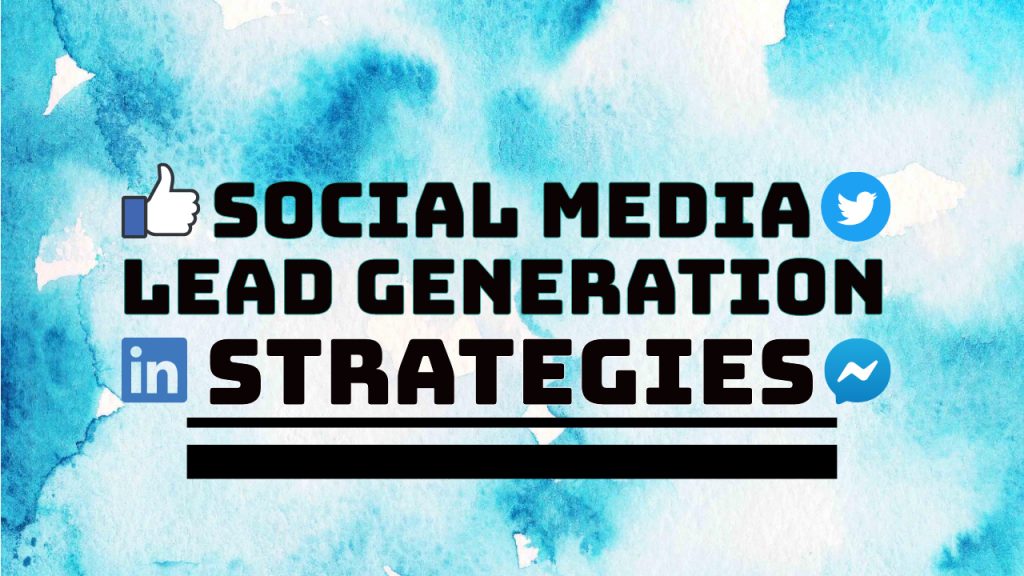 What is Social Media Lead?
A lead refers to any sort of information that you can use to find out the next prospects for your business. This can be a person's name, email address, mobile number, address (geographic location), or even his gender.
A Social media lead can help you get the preference of how the upcoming prospects will be. This type of lead provides insights into the lead's Taste, preferences, likings, disavows, and dislikes. This type of lead helps you get a multitudinous level of information that can be reusable in the future. The most important fact is that these leads may be achieved more cost-effectively than any other way to generate leads for your business. 
Social Media Lead Generation Trend
The true power of social media has been massively explored in the last few years, turning the shapes of businesses around the world.
Facebook alone features more than 1.93 billion daily active users! Instagram's everyday user count clocks around 500 million, whereas Twitter and YouTube have 229 million and 122 million daily users.
The number above describes why social media is crucial in generating leads. You may find many e-commerce stores around you that use various e-commerce software to enable people to run online stores. Yet, none are as cost-effective as social media platforms for generating leads and growing business. 
Nowadays, the social media lead generation trend combines a data-driven approach, account-based targeting, interactive content, omnichannel outreaches, and many other ways that constitute sensible social media lead generation programs, resulting in organic and inorganic leads for your business. 
How to use Social Media to generate Leads (5 Proven Strategies)
Social media helps you find leads that you can turn into your regular customer or the service seeker. The lead generation processes are multivariate and creatively distinct. They can be functional to many and dysfunctional to a few, yet a few strategies can help you leverage the power of social media to generate leads for your business. 
Following are the five proven strategies that help you get the most out of social media if you are thinking of generating leads through various social media channels.
1. The 'Triple E' Formula (Educate, Entertain & Engage)
If you are determined to turn the likes, shares, and comments on your social media channels into leads, you need to make sure that you have to go through three formulas that would help you generate leads automatically. Turning likes and comments into leads and sales requires posts and content that would help people get Educated, Entertained, and make a long-lasting Engagement. 
To build on the Triple E formula, you have to remember that you shouldn't ask for people's information that can usually be considered leads. That means you can't ask them to provide their emails or other data in all of your social media posts. There should be some posts for interactive engagement. Some posts should be articulated with the flair of Education. Some of them should bring just natural and generic Entertainment to the viewers.
So, don't drive away your potential customers by asking to buy the product or signing up for the newsletter that you send to the subscribers now and then.
Instagram is a perfect platform that you can apply the Triple E formula, but you have to be Engaging, Educator, and Entertaining, not a hankerer of sales and leads.
By frequently including a CTA in all your Instagram or Facebook posts, visiting a website will mean that you're getting fewer likes and comments on the post itself; you're unwittingly thwarting your reach because platforms like Instagram only show your post to your audiences if people are making active engagement with them.
So to give your followers exactly what they came for, Engagement, Education, or Entertainment. To sum up, you have to be selective about which posts will promote your product and which posts are just for the sake of Triple E.
2. 'Trust' >>> 'Sales'
Social media has started to become overpopulated, and Trust is an issue that evolved from this burst of population. Most businesses keep their eyes on the profit scale, and building trust is now a task that most are likely to avoid.
To build trust over time, you have to be consistent with your posts. You have to keep your audiences updated about anything related to your business. Your audience will notice your style and worth through your content, like you through personal & engagement posts, which fosters trust over time. Trusting others is daunting. Once they trust you, selling to them is effortless since they want to purchase.
Posting regularly and keeping the audience updated will help emit your Trust in your audience. They take your proliferation of content as a sign of building long-term Trust and engagement.
Facebook, which features the highest number of active users every day, would be an excellent stage for building Trust and creating interactive content such as polls, quizzes, Live sessions, and webinars. These contents are good ways to make a decisive engagement and start multiple conversations, ultimately creating a buzz in the community.
Facebook Groups are now a prolific source of generating leads and sales. Facebook Group Automation tools like Groupboss help you extract leads from the answers of the requesting members of Facebook Groups. You can email campaigns using that information and build a solid foundation for your business. Again, using Facebook Groups to generate leads should follow the same rule- being sincere about posting regularly to keep the members aware of your product/service and not exploit them by asking them to buy your product now and then.
So, Trust is more important than sales, but sales have a role to play too. Marketers nowadays use different sales software to streamline various sales-related processes. Build Trust first, and then you will witness how the sales rise!  
3. Say 'No' to 'Post & Ghost' Approach
It's a generic tip for any social media that you want to use for your business growth and lead generation.
Regular posting is important but keeping the audience's interaction lively in the posts is as important as the former one. Posting frequently and replying irregularly to the audience would hurt the growth as you'd miss the point of building the trust and engagement on the posts.
You must interact with people in your comments and direct messages by responding to queries in your comments and making every effort to answer to every direct message, tag, mention, and share. In the next step you may ask them to provide their emails which is a lead generating step.
So, before creating a point of interaction and building the unforeseen foundation of Trust, don't go for asking the information that can be considered as leads. 
4. Copywriting Skill will do Magic!
While generating leads on social media platforms, there is a lot of writing involved in the process. So, mastering the art of copywriting is as important as you do the other steps to generate leads for your business.
To be able to back your posts with your copywriting mastery, you have to go through three different strategies.
Making people attentive to your posts with the help of eye-catchy captions, beautiful graphics, and deep thoughts inside the posts. An enticing headline would help you make the first impression, and the usage of graphical content keeps that attention flowing.

Contents mustn't be empty-hearted. It should be lively and engrossing. But, more importantly, it should offer something that Educates, Entertains, and Engages people. So, you see, the first strategy will come down to every content you are creating and building attention around the posts is not enough if the first strategy isn't followed. 
iii. After following all these, you will find yourself creating an enormous foundation to build trust and generate sales. But the closing sentences of the contents are meaningful too. Include a CTA at the end of the posts. It will bring a professional look to your post and help you get leads once the customers find you a trustworthy source of value.
That's how your content will bring you more leads and sales, turning it into profitable and making you a person who generates value through content and engagement.
5. Draw the Ending line by instructing what to so next
A call to action is a beautiful way to generate leads at the end of the posts you made. But most of us fail to design the call to action creatively. Adding a CTA doesn't mean that you have to tell your audience to buy your product, subscribe to your weekly newsletter, or provide the contact. You can put CTA creatively asking the audience by putting their comment like 'yes/no' if they want more posts like this one.
It seems insane and lame in the first place, but while making this kind of light engagement, you will find the people taking you more friendly as you are not behaving like those who always ask you to buy and subscribe.
But before all these steps, remember the main rule of thumb- Your original aim is to help people, not to vex them by telling them to buy the product.
This way, you can persuade them to be your buzz makers, and later on, on another day, a CTA for purchasing may entice them more effectively, and you will see your sales crescent rise and shine.   
Lastly, You may use various marketing tools to measure the success rates in different categories to see how the strategies perform.
Special tip: Handle Social Media Lead generation
Gathering and reporting Social Media leads data manually can be annoying. Many tools can help companies facilitating this time-consuming process, Leadsbridge being one of them. 
Conclusion
Nowadays, social media provides you with the most cost-effective ways to generate leads and turn them into sales. But, using them only to play your part is not wise. So, never eat alone. First, offer value to the community you are dwelling in and then get something in return. Turning the likes and comments into sales and leads is not that difficult if you are consistent with your content and persistent in your persuasion. The rest will be done automatically!