Writing is a mode of communication in which humans use marks or signs to convey their message. This skill has enabled us to transfer the wisdom of the past and build our current life. The only reason for our familiarity with Aristotle, Einstein, Karl Marx, etc. is their written manuscripts.
The signs of writing can be traced back to 8000 BC in Mesopotamian civilization. Ever since then, it has become an essential part of human life.  From business to education, from education to social and political work, nothing can be done without writing.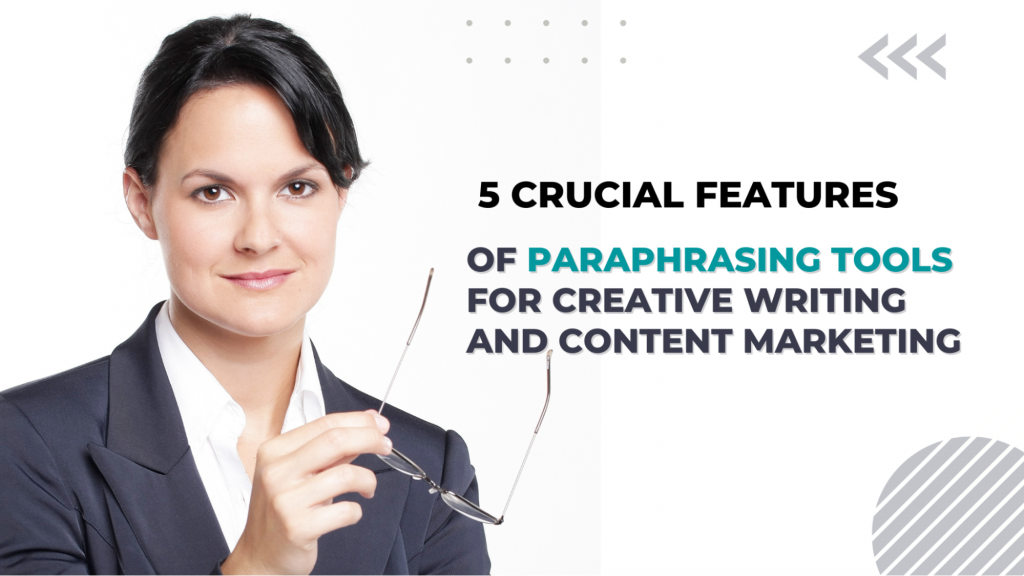 Creative Writing and Content Marketing
Creative Writing is a form of writing that allows a writer to use his imagination and style to go beyond the realm of professional or academic writing.  The writer is judged by how effectively he conveys the feelings of his heart.  This type of writing is used to write:
Fiction

Dramas/Films

Poetry

Speeches

Biographies

Novels
Content marketing relates to digitally marketing a product or service with help of online tools.  This method has replaced traditional marketing methods. Content allows you to connect with 4 billion internet users around the world. The most effective form of content marketing is via content writing and blogging. A blog can generate sales, build brands, and attract new customers.
However, we should appreciate the difference between these two types. Both pose a different challenge, requiring a unique set of writing skills.
Paraphrasing Tools for creative writing and content Marketing
Writing is no walk in the part. It takes a lifetime to master any form of writing. To rank on top of Google's SERP  you require updated content with an innovative approach and unique style. Most writers struggle to keep up with this pace.
We recommend you solve this problem by using the online paraphrasing tool. A paraphrasing tool can rewrite any content within seconds to generate a unique copy that is not just plagiarism-free but also better than the source. The tools use complex NLP algorithms to carry out this task.
5 Crucial Features of paraphrasing tools
So far, we have discussed that paraphrasing tools can prove beneficial for creative writing and content marketing.  The question is what makes them do so? This section explains 5 crucial features which these tools possess.
1. Readability of con
Readability is simply defined as the ease of reading.  An ideal text should be easy to read so that it is easier for the public to understand it.
Be it creative writing or content marketing, Google uses a readability score to put your work on top. This helps Google to engage and extract more screen time from its users.  A readability score between 60-70 is considered good for content marketing.
It requires simple language, correct use of words, adequate expressions, and linguistic efficiency to improve the readability score of your content. Even if you possess this skill level, there is always a possibility of human error.
The quality paraphrasers can do it with perfection. The tools are equipped with advanced AI, which rewrites a text while improving its readability. It makes your content short and crisp.
To see that in action, consider the following paragraph
"Put simply, a small business loan is a type of financing offered to a company by a lender or provider. In exchange for capital, lenders charge interest and fees and require businesses to repay the principal on a set schedule over a standard period of time. However, repayment terms, interest rates and fees vary greatly depending on the type of business loan you take, who the lender is and various other criteria, such as your credit history, years in business and existing debt."
This is how it looks after rewriting via a paraphrasing tool.
"Simply put, a small business loan is a form of financing offered to a business by a lender or supplier. In exchange for the principal, lenders charge interest and fees and require businesses to repay the principal on a set schedule over a standard period. However, repayment terms, interest rates, and fees vary widely depending on the type of business loan you take out, who the lender is, and various other criteria such as B. Your credit history, financial years, and existing debts."

The highlighted text shows the amendments. You can see that the text has become more direct and engaging. This draft will attract more viewers than the original courtesy of our rewriter.
2. Flow of Writing
The flow of an article describes how smoothly writing takes you towards the desired conclusion.  This isn't an easy task.
It requires the connectivity of paragraphs, sentences, concise wording, and thoughtful order of arguments.  Good writers always pay special attention to this aspect.
According to quality writers, To improve sentence flow, you must have
Organized Thoughts

Topic Sentences

Logical connectivity among paragraphs

Rhythm

Adequate sentence length
If you feel incapable of doing all this, don't worry. Choose an efficient rephraser, it can take care of all these factors and improve the flow.
Let's understand this by an example that only possesses 3 sentences:
"Basically, cadence is the rhythm of your writing and how words change in pitch when they're read aloud. A compelling cadence is more than varying sentence lengths. It's about the texture of words, the sounds of syllables, the ebb and flow of a sentence and knowing when to stop."
"In fact, Catnes is your writing rhythm and as words change loudly while reading. Coercion is more than the length of the sentence. It is about knowing the structure of words, the sound of letters, the ups and downs of a sentence, and the stopping time."

You see the impact of the sentence has increased dramatically after the right flow adjustment.
3. Content Tone
A tone is a style in which an article is written. For content marketing, your tone can not be too personal or like that of a corporate style. It should strike the right balance between the two. A marketing tone should make people desire your product. That's the essence of marketing.
While for creative writing, the tone should depict the story you are representing. It should carry verbal prowess and emotionality as per the situation. 
To do both, you need a proficiency level of  10/10. Otherwise, you may run a risk of writing disaster. In this situation, the Paraphrasing tool can save your day.
They not only understand the context, but they can also improve the tone based on context. This gives a professional outlook to your writing just like the Grammarly gives.
4. Removal of Redundancy
Redundancy is the usage of unnecessary words. The prime example is words like extremely useful, very high building, extremely long and tall, etc. As to the University of Arkansas, it occurs when a writer unnecessarily repeats something. It shows that you don't have adequate knowledge about a subject. 
Redundancy has a negative influence on the audience, and they struggle to engage.  People pay attention when they get new insights about a topic. Redundancy is nothing except a poor attempt of completing word count.
See the following sentence:
He loves cricket so much. He can watch it all day along.

You see words like  " so much and all day long" have been altered because they add nothing to our cause. In a similar pattern, you can remove redundancy from your articles.
5. Grammatical Correction
Grammatical accuracy is a basic requirement for every writing. It is important to follow the norms on which a language is understood.  Basic errors are a stain on a writer's name. It can turn your writing into a laughing stock for the masses.
Paraphrasers can rewrite your content with grammatical perfection. The tools use advanced AI to write content that follows all writing norms.
Final Words
Writing is a skill that takes a lifetime of effort and dedication. For effective creative writing and content marketing, writers should consult online paraphrasers.
This article describes the 5 crucial features which can improve your writing.  We hope after reading this, you would have a better vision about using a rewriter.