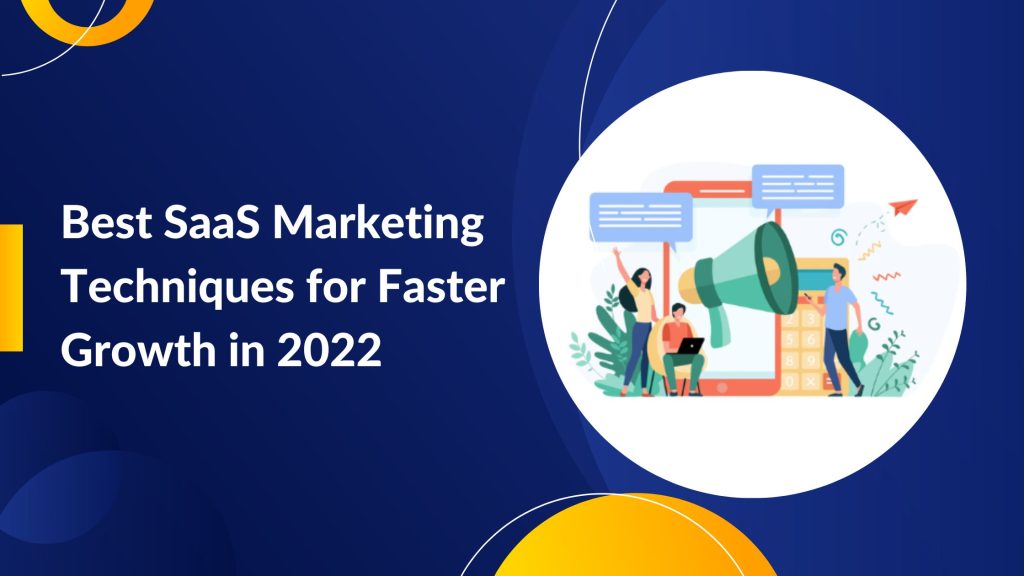 If you want to learn about the best SaaS marketing techniques, start chronologically so that you may know about them in a flow.
What is SaaS?
SaaS, or software as a service, is a cloud-based service that hosts applications online.
Users can use the application through the internet using their devices, which is the most significant benefit since users don't need to download it to their devices. Depending on the specific business priorities, SaaS typically has a subscription payment plan that may be paid monthly, quarterly, or annually.
Among the commonly hosted services are those related to marketing, data management, project management, accounting, human resources, travel services, and so forth.
Indian SaaS Market
According to a report, the Indian SaaS market will increase by 2025 and represent close to 7 to 10% of the worldwide market, up from 2 to 4% now.
India is positioned to become the next SaaS capital over the coming years, according to a study by EY and CII capital, driven mainly by small and medium businesses with a focus on large organizations. By 2025, the market is projected to grow from $4-7 billion to $20-25 billion.
India currently boasts 18, moving up to third place among the significant SaaS ecosystems worldwide from having just one SaaS unicorn in 2018. The survey also shows that, compared to 2019, Indian SaaS companies will more than double in 2021. Furthermore, during these two years, financing has climbed from $2.6 billion to $6 billion.
SaaS companies have grown significantly in India since they began, yet due to difficult conditions, at least 60% of Indian businesses are considering SaaS products or implementing SaaS models. Given that SaaS provides flexibility and cost-effectiveness, a survey conducted by IDC poll.
Global SaaS Market
According to the most recent study by SkyQuest Technology, the Global SaaS Market is anticipated to grow at a CAGR of 25.89% during the forecast period, reaching a value of USD 720.44 billion by 2028. (2022 – 2028).
The Global SaaS Market was estimated to be worth USD 143.77 billion in 2021, and it is anticipated to grow to USD 720.44 billion by 2028, at a CAGR of 25.89% from 2022 to 2028.
Best SaaS Marketing Techniques
With all due respect, if your SaaS company is declining and by any means, it cannot contribute to the growth mentioned above, it strongly suggests that your SaaS marketing is ineffective or, to put it another way, that it is substandard in comparison to other SaaS companies that are expanding. Nevertheless, the best SaaS marketing techniques listed below would aid in the expansion of your business.
Content Marketing
Most SaaS companies constantly use these marketing techniques, just as in other markets or domains, to reach out to potential clients via blogs, podcasts, videos, and other platforms. While giving clients helpful information, increases brand exposure.
You might not be able to provide your customers a reason to contact you, but you can influence or give them a reason to choose your SaaS product with your content marketing strategy. This will increase non-targeted page views of your service or product by bringing organic visitors to your website. Additionally, by using this method, you may make people aware of the benefits of your product that they would otherwise miss out on, and they will learn about your quality of industry expertise.
Ensure that the content you share is pertinent to the subject and was written or published after the study. Consistent with your content marketing efforts can keep your current consumers happy and draw in new ones.
Hiring a fractional CMO is an excellent choice for developing the ideal content approach. Your content not just indicates your expertise in the field, but it also assists your audience in choosing your product over a rival's. 
SEO
SEO is a complicated process that is inextricably linked with content marketing. It is intended to increase internet traffic and make your website visible to the appropriate target audience. A website needs to be customized and improved to rank as highly as possible in search engine results. Your website will rank higher as more people visit it. To create effective SEO, many different factors must come together. For SaaS sites, specific SEO tasks and initiatives are more successful than others.
You may raise your website's search ranks and ensure that users who conduct searches relating to your company can find it using on-page SEO tactics. Additionally, SEO can create reputable backlinks to your website and increase referral traffic.
Pay-Per-Click (PPC)
Pay-Per-Click (PPC) marketing is one of the most effective SaaS marketing techniques and the fastest way to drive website traffic. In other words, PPC persuades targeted visitors to your site and is highly scalable. The most popular websites that the target audience visits must be known to the advertiser. It would help if you didn't think of it as an alternative for content marketing or SEO; instead, think of it as an add-on.
You can design advertisements that are directed at visitors that are the most likely to become paying clients. To ensure that your links are in the sights of the targeted audience at the lowest cost-per-click, ensure you employ the appropriate keywords, long-tail keywords, and variations.
After all, is said and done, if you are not providing an appealing value proposition to prospective customers with the ads, they may not appear as effective as you want.
Email Marketing
You may maintain leading awareness and create enduring connections with prospective customers by consistently sending emails or newsletters to your subscribers. You must contact the customers with knowledge about your methods and techniques. To maximize ROI, you may use email search tools to make sure you have the right email addresses and track the effectiveness of your ads using email marketing tools and make any adjustments.
When sending emails, you may choose product features, market trends, landing pages, advertisements, and more as your subject. So, please send it in different emails with a separate subject line, email copy, and design. Consider that when your customer or target finds your email extremely valuable, they're more likely to forward it and share it with others. Therefore, be sure to include your social network share buttons at all times.
You might need collaboration software like MailTrim, an email management software that will help you keep track of things and make marketing easier.
Lead Generation
Lead generation is the most effective and best SaaS marketing strategy for SaaS businesses. It all begins with converting site traffic into high-quality leads, which you must then convert into paying clients and repeat business.
SaaS lead-generating strategies make use of both natural and artificial methods. Get your website found naturally in search engines by using organic techniques. While inorganic strategies entail actively interacting with your potential clients via social media, email marketing, sponsored advertisements, and other online channels.
To maximize your marketing ROI as a SaaS company, you must increase the number of high-quality leads. By doing so, you'll be in the best possible position to convert many more potential prospects into legitimate customers and recurring revenue.
Referral Marketing
SaaS companies can increase the number of their customers by compensating their current clients for each referral they make to new service users through a SaaS referral program. In other words, the existing users or referrers are typically provided with a referral link or code which they can share among their friends, family, and internet communities via blog posts and social media.
Referral marketing is the most successful SaaS marketing strategy that will produce a sure-shot redemption and would help tremendously for any SaaS business. Additionally, you will be able to improve the flow of new clients without spending much money on marketing initiatives.
Your happiest customers might require a little encouragement to recommend you to others. The referral program with appropriate incentives or prizes can help in this situation.
Free SaaS Trails
You know your product is the finest on the market, and your potential or target customers should be too. Giving your customers a free SaaS trial is one of the best SaaS marketing techniques to educate them about what you offer. Customers would not notice any change because your competitors would provide the same plus or minus features or functionalities you offer. To be more precise, whoever offers your customers a deal at the lowest price is likely to get them to take advantage of it, even though the cost of your subscription may not make a huge difference compared to your competitors. Your primary approach should be to inform customers about the high quality of your offerings, and the only way to do this is by offering free trials.
Your SaaS sales might increase if the product is a good fit. Despite having more customers, many brands continue to use the same strategy. Consider this a chance to showcase your product, customer care, and support.
Your prospective customer could or might not subscribe to your product or service after a trial period. Still, you will have the opportunity to gain insightful information about their preferences while they test your SaaS platform. You can improve your product using this feedback to meet market demands.
Co-Marketing
Co-marketing is a marketing strategy in which two or more complementary businesses collaborate to market each other's products or services. Both sides can expand their markets and increase their marketing effectiveness by establishing a mutually advantageous strategic alliance with a non-competitive company.
Co-marketing enables SaaS providers to coordinate their efforts to work toward a common objective: connecting with potential customers as affordably as possible. Finding the ideal companion is all that is required, and there are thousands of potential partners to choose from.
The participating businesses produce a piece of content, including an ebook, webinar, or research publication. The participating companies split the expenditures and leads that are produced. Co-marketing can be successful if both teams are on the same page.
Social Media Marketing
One of the most affordable SaaS marketing techniques is social media marketing. You can spread knowledge, offer assistance, and raise awareness through social media. Both options are sharing a blog post with a link to one's website or an informative explanation video. To make this technique run smoothly, create a set of content pillars to keep your social media content aligned, well structured and in tone with the brand.
The majority of millennials are active on social media sites like Instagram, Facebook, Twitter, and others, where they and others can connect with like-minded people from their location, profession, educational background, and other factors. These sites also ask users for their gender, age, location, occupation, interests, and other factors, which helps SaaS marketers easily set up their ads to appeal to the target and desired audience.
Ensure that your team is active on the social media platforms you use for business. It is simple to concentrate on gaining a sizable following and use this to market and sell your SaaS products.
Google Ads
The best place to advertise your SaaS products is Google. Because of Google's analytical data, it is only possible for internet users or tech-savvy people to get through their day by using Google products like Search, Google Drive, Notes, YouTube, Maps, and others before making purchases.
Your SaaS company will benefit significantly from using Google Ads to raise its SEO rating. Since Google Ads is a platform for online advertising, businesses may use it to reach consumers in various ways, including by showing up in search results.
Producing more organic web traffic raises your SEO position. The organic listings on the initial page of the search results are presented above the advertising when someone searches on Google. Consequently, Google Ads raise your SEO rating.
Video Marketing Strategy
People would rather watch videos than read an entire page of text due to their preference for visual content. Viewers have always been more drawn to videos than images and text. Marketers believe video marketing to be a superior tactic to content marketing.
According to most marketing professionals, having a video on your landing page can boost conversions by more than 80%. Videos can provide rapid answers in an engaging fashion that draws in potential clients who need more time to read a whole blog post or article you wrote.
Keep Signups Process Simple
It may surprise you, but one of the SaaS marketing tactics is making your signup process. If the Signup process is simple, users are more inclined to engage in it. The signup process should include fewer fields and detailed information on what the customer may expect. Get as many irrelevant fields out of the way if you wish more individuals to sign up.
If signing up was complex or drawn out, potential customers might abandon it and try one of your competitor's websites instead. Therefore, ask that your development team create a signup flow that is slick, user-friendly, and based on best practices.
The success of your signup page will determine the effectiveness of any SaaS marketing techniques you employ, so ask for more information on subsequent pages, let users sign up first, and then gradually collect details.
Concerning the aforementioned SaaS marketing techniques, it would be unfair if I didn't recommend at least one essential SaaS product, such as a team chat software, with Troop Messenger being the ideal option. One of the top SaaS products, it is widely used across numerous businesses and sectors. It offers connectivity with Zapier, allowing you to add any business management tool and turn it into a one-stop solution. It also supports various delivery options, such as on-premise, chat APIs & SDKs.
Conclusion
Suppose you want to promote your SaaS products or services effectively. In that case, you must understand it and identify the one strategy that is both affordable and highly relevant to your industry. It also needs to be a plan to help you achieve your goals.
Owners of SaaS companies know a wide variety of SaaS marketing techniques or digital marketing tools, but selecting the most effective one and putting it into practice is more complex than you might imagine.