Out there, certain SMB owners still believe that investing in BI software can hardly break even. Facts, on the other hand, regard this dilemma as hardly justified, and experts take it out of the question:  with employees being more than competent to improve the bottom line of their companies, there is absolutely no reason to skip investing in a BI solution.
Why is that so? Back in 2010, The Guardian's contributor Charles Leadbeater draw attention on the uprising mass, global phenomena of cloud computing which, according to him, was about to benefit foremost poorly-funded companies, helping them restore corporate control on a fair price. A year later, Certified Public Accountants' examiner John Lannon pointed Business Intelligence as one of the most popular cloud computing trends, praising these systems for 'enabling business users to see and use large amounts of complex data in a manner that aids decision making'.  It is 2017 already, and we have profited from business intelligence software in many ways Lannon couldn't even think of in the days.
Most Popular BI Trends in 2017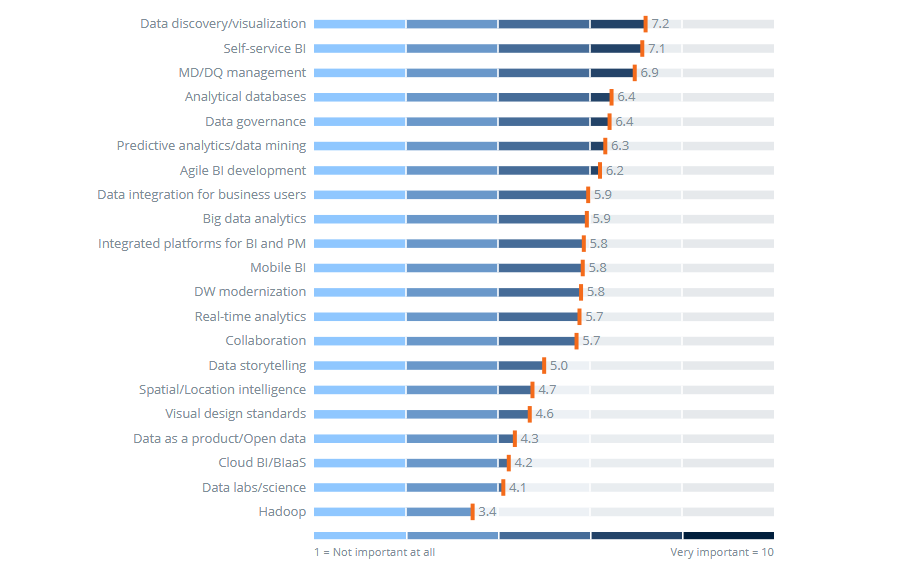 Many of the businesses that didn't blow hot and cold over the BI question (or at least had nothing to lose) are now the respective leaders in their niche.
Why did BI turn out so well? If you wish to make a lasting change in your corporate performance, you move from the bottom up, not the other way around, explains Julia Scavicchio from BetterBuys.com. BI systems unite data on common, cross-company dashboards, and keep all employees oriented towards the same goal. At the same time, they pinpoint the main parameters for success and help managers understand which tactics work the best. Observed through the prism of future achievements, data-driven tools also help predict the future based on past trends, and thus eliminate perilous guesswork that led many top enterprises down the road to perdition. If you're still not sure whether your business needs a tool like this, you may as well consider that some of the frontrunners in this industry offer their services for free.
Primary use cases of BI systems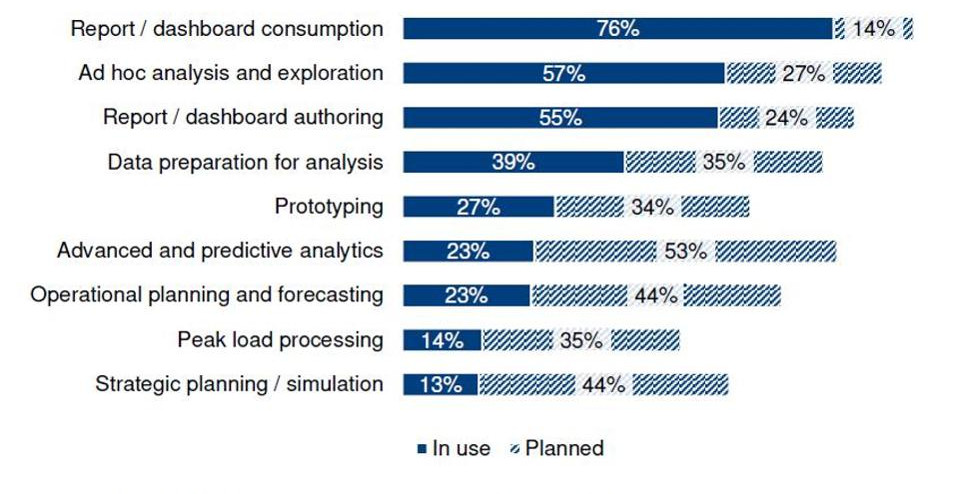 In order to help you choose a suitable product, we drew up a list of 12 leading business intelligence tools, and invite you to consider their competitive advantages.
What are the 12 best business intelligence systems?
1. Sisense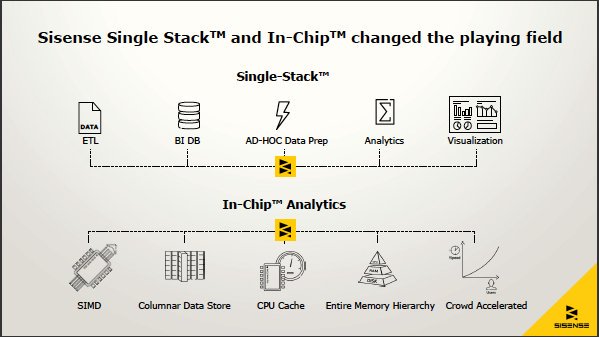 Sisense is a regular Gartner magic quadrant winner, and holder of the 'fastest data processing system' attribute. With multiple awards to confirm its impeccable performance, Sisense promises simplification for complex data analysis, and brings all of your data sources together to provide valuable business insights. The tool scales and adapts to your specific needs, built around a modern Single-Stack architecture that helps deploy it instantly, and a proficient In-Chip technology that prepares data without you drawing boards for each new query. On top of it all, Sisense also provides expert support for developing companies, and aids them to create a data-driven team. Contact the vendor for more details, or subscribe for a free test drive on your actual data.
Why use Sisense?
Instant analytics and visualization of big and disparate databases

Single-Stack architecture for instant deployment

Advanced In-Chip technology for data preparation

Short learning curve and focus on streamlined customer UX on traditional and mobile devices

Optimal use of computational resources and no extensive IT investment

No DBA required – minimal total cost of ownership

Effective use of CPU cache memory and processing of billions of data rows simultaneously

Explore, filter, and drill into data in any granularity with all standards and ad hoc reports

Test drive it on your actual data

Rest API and custom connections for developers
2. SAP Crystal Reports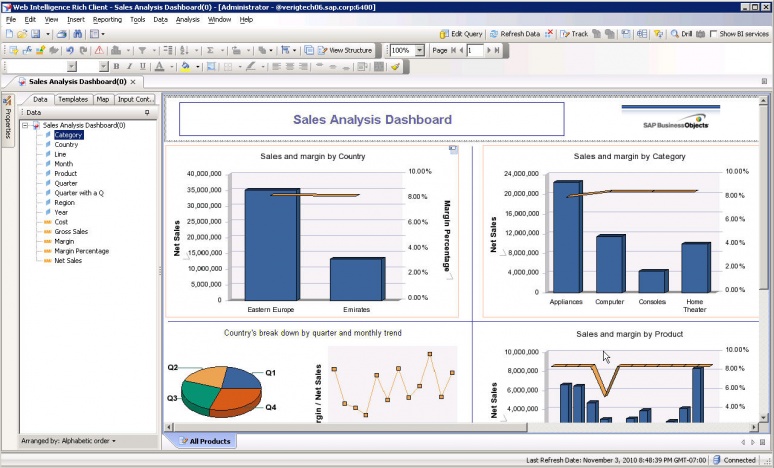 If looking for a prominent productivity family with years of data processing experience, look no further. SAP Crystal Reports is another prominent Gartner winner that takes full control of complex data, and transforms it into instantly operable intelligence. The system allows you to design dynamic, pixel-perfect, and richly formatted reports in various formats and languages, and connects information sources such as native, ODBC, OLE DB, JDBC (relational), XML, OLAP, local databases, web databases, and Salesforce.com. Next to reporting and ensuring broad connectivity, SAP Crystal Reports helps you develop smarter BI strategies, as it detects trends on a very early stage.
Why use SAP Crystal Reports?
Detection of trends, compelling data mashups, and What If scenarios

Written using Java and Net. to ensure maximal connectivity for developers

Intuitive design and precise layouts

Dynamic and richly-formatted reports

Multiple data sources

Available in 28 languages

Embedded in many popular software systems and technologies including CA and HR

Flexible deployment options

Well-integrated

Mobile-ready
3. Microsoft Power BI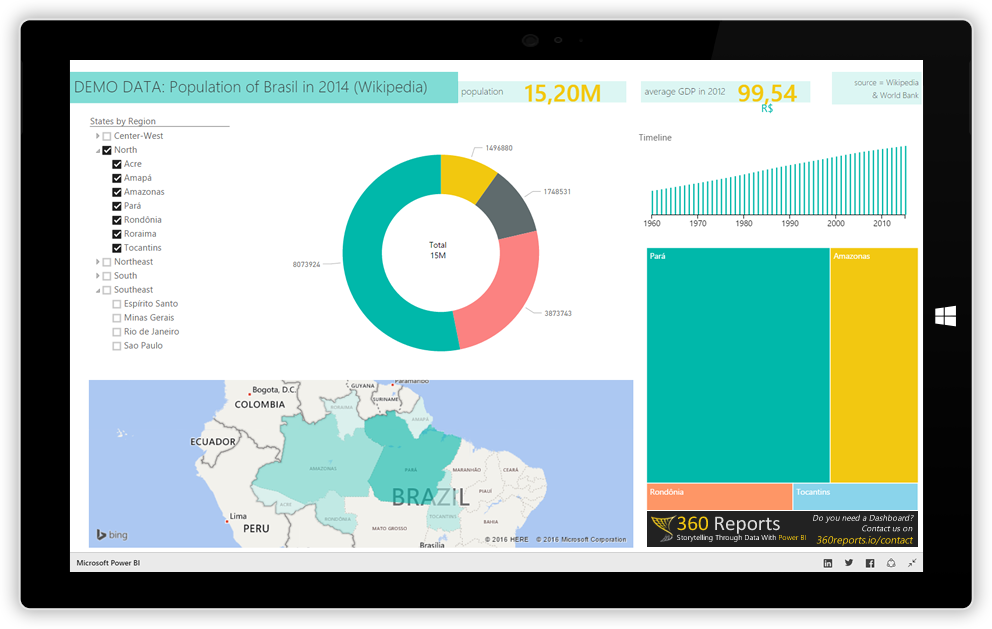 Microsoft also has its homegrown data visualization tool known to the public as Power BI. Even without being familiar of the origins of this system or having built high expectations, Power BI will surprise you with unified and instant insights, simple data preparation, ad hoc analytics on mobile devices, and yet – a beautiful and friendly interface. The system is best known for connecting to hundreds of data sources, which makes it one of the most flexible tools in the niche. You can also rely on it to achieve compliance and bring homegrown apps to life, transform data in all desired ways, and get answers to all possible questions.
Why use Microsoft Power BI?
5 editions available – Desktop, Mobile, Premium, Embeded, and Reporting server

Custom data transformations and easy preparation

A centralized location for all on-premises and cloud information

Drag-and-drop data exploration

Interactive storytelling and What If scenarios

Natural-language queries that help discover trends at any moment of time

Unlimited team sharing for immediate action

Sharing reports on websites and blogs

Open API infrastructure

Long experience in the industry
4. Google Analytics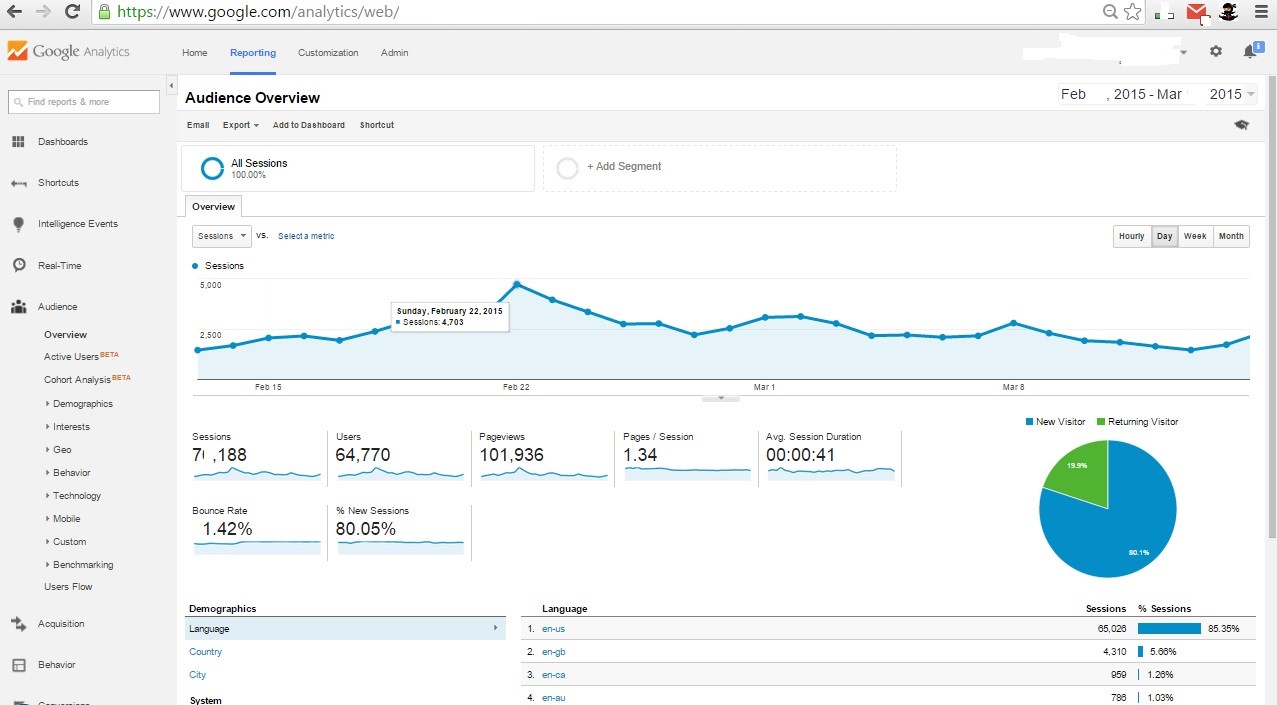 Google Analytics is without false modesty the king and ruler of marketing analytics and conversion management for website and blog owners. Therefore, it can help you analyze all of your sites, apps, and offline channels and understand what customers genuinely want. Many prominent customers are there to confirm Google Analytics' power to optimize customer experience, and the assistance it provides when building smarter marketing strategies. Just recently, the system was enriched with a 360-degree Survey suite that uses user-list and zip-code targeting to help you test various markets, and target the right audiences.
Why use Google Analytics?
Top-notch audience insights and classification of customers based on behavior

Personalized dashboards that showcase only the metrics that matter to you

Smarter targeting and market impact analyses

Measurement of bounce and success rates for different data portions

Examination of multiple traffic channels, including URL redirections, organic search, paid search, etc.

Familiar and intuitive Google-style interface

Beginner-friendly

Integrations with AdWords, Google Tag Manager, Google Optimize, and Google Data Studio

Integrations with MS products

Affordable pricing scheme
5. Dundas BI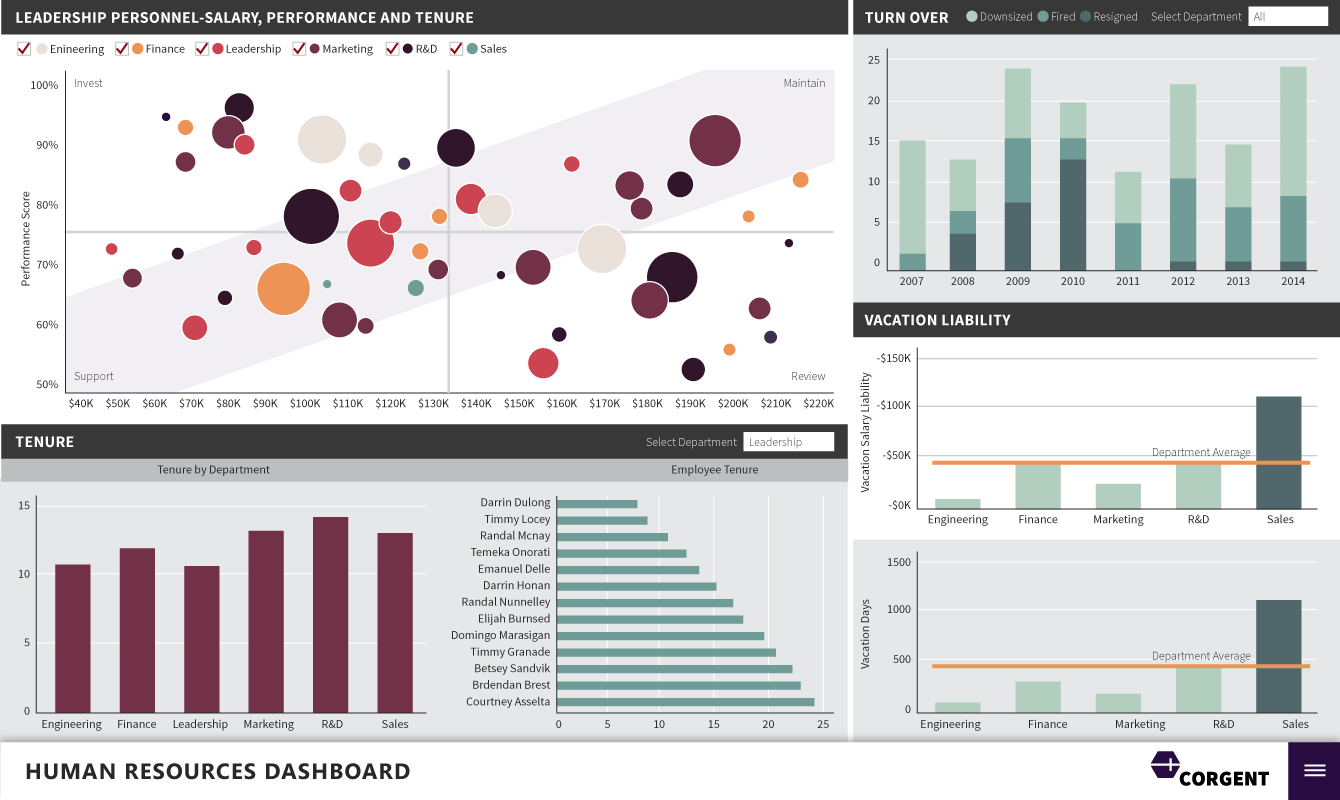 Dundas BI's developers like to think of their system as being limited solely by human creativity and imagination, and facts stand in favor of their opinion. The system is a multiple award winner that delivers striking insights, explores, prepares, and transforms data up to your exact specifications. This makes Dundas a suitable alternative for all businesses, regardless of the industry they operate in. The system is easy to recognize with its pixel-perfect dashboard, wide range of visualizations and layout options, automatic data preparation, and self-service for business users.
Why use Dundas BI?
Built on the latest Css, JavaScript, and HTML5 standards

Interactive custom scripts and built-in filtering

Storytelling with automated correction of data mistakes and wrong estimations

Special relationship diagrams that showcase hidden and explicit data connections

PowerPoint-styled dashboard presentations

Smart Design Experience methodology for full data control

Self-service analytics for business users

A free database of tutorials and training materials

Dedicated customer support

20 years of industry leadership and innovation
6. IBM Cognos Analytics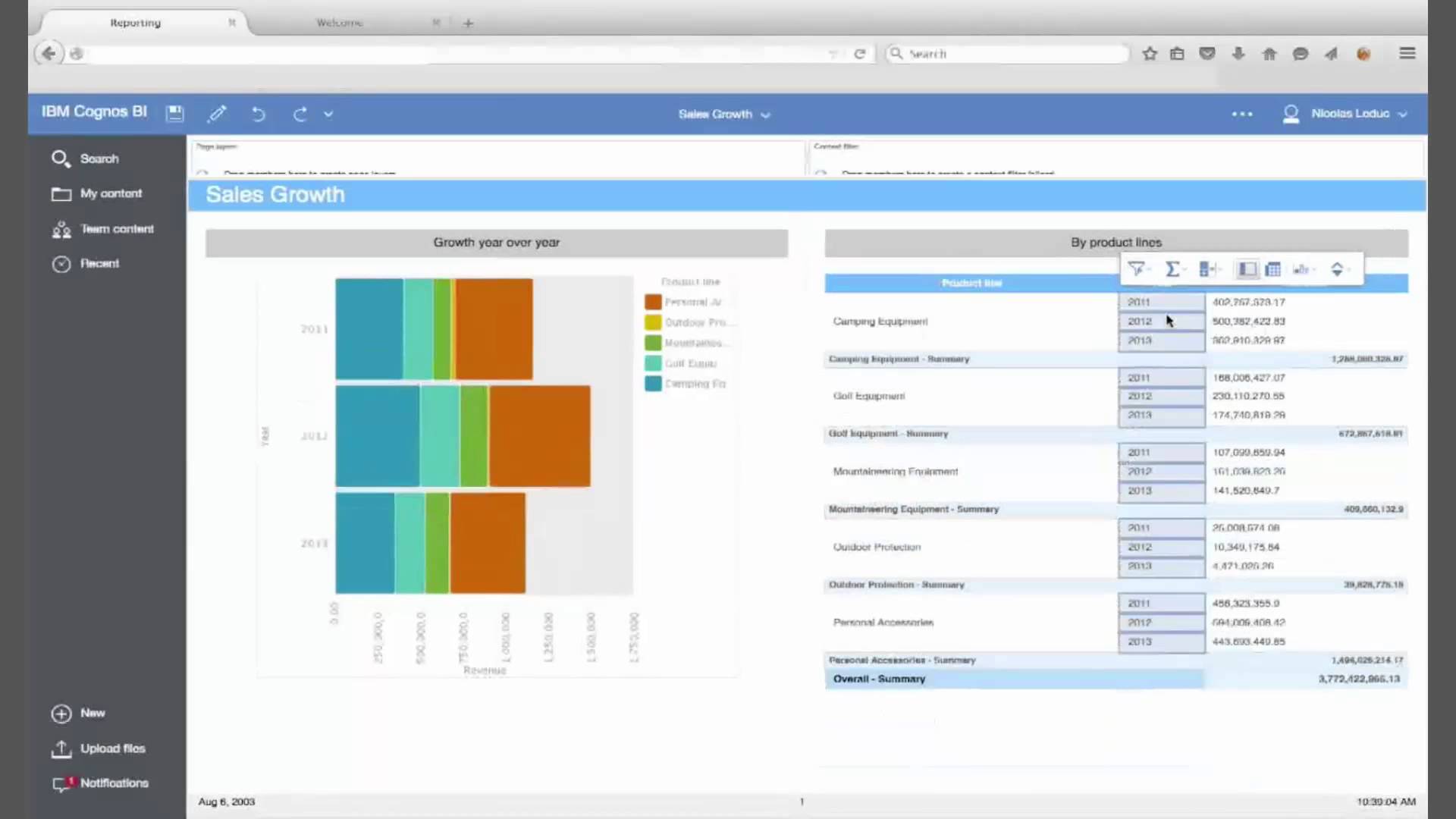 Cognos Analytics is IBM's flagship BI product often referred to as a trendsetter in this industry. The same as Sisense and SAP Crystal Reports, IBM Cognos Analytics regularly appears among Gartner's Magic Quadrant winners, a place it earned with its smart, self-service, and user-first analytics. There are many reasons to choose this powerful system, the most important among them being data discovery, reporting, guided experience to data access, consistent experience on all devices and operating systems, scalability, and many more. IBM Cognos Analytics is also one of the very few systems that converges and governs analytics for the public, and makes sharing easier than ever before.
Why use IBM Cognos Analytics?
Self-service ad-hoc and enterprise reporting for the entire team

Unlimited data access from all devices and operating systems

Custom safety rules & secure reporting

Predictive analytics across different departments

Point-and-click interface

Query Studio feature that provides useful mini reports to answer important questions

Event Studio feature that detects deficiencies and occurrences that may harm the business

Multiple add-ons used to extend its functionality

Automatically connected to IBM Analytics

Open API infrastructure
7. Tableau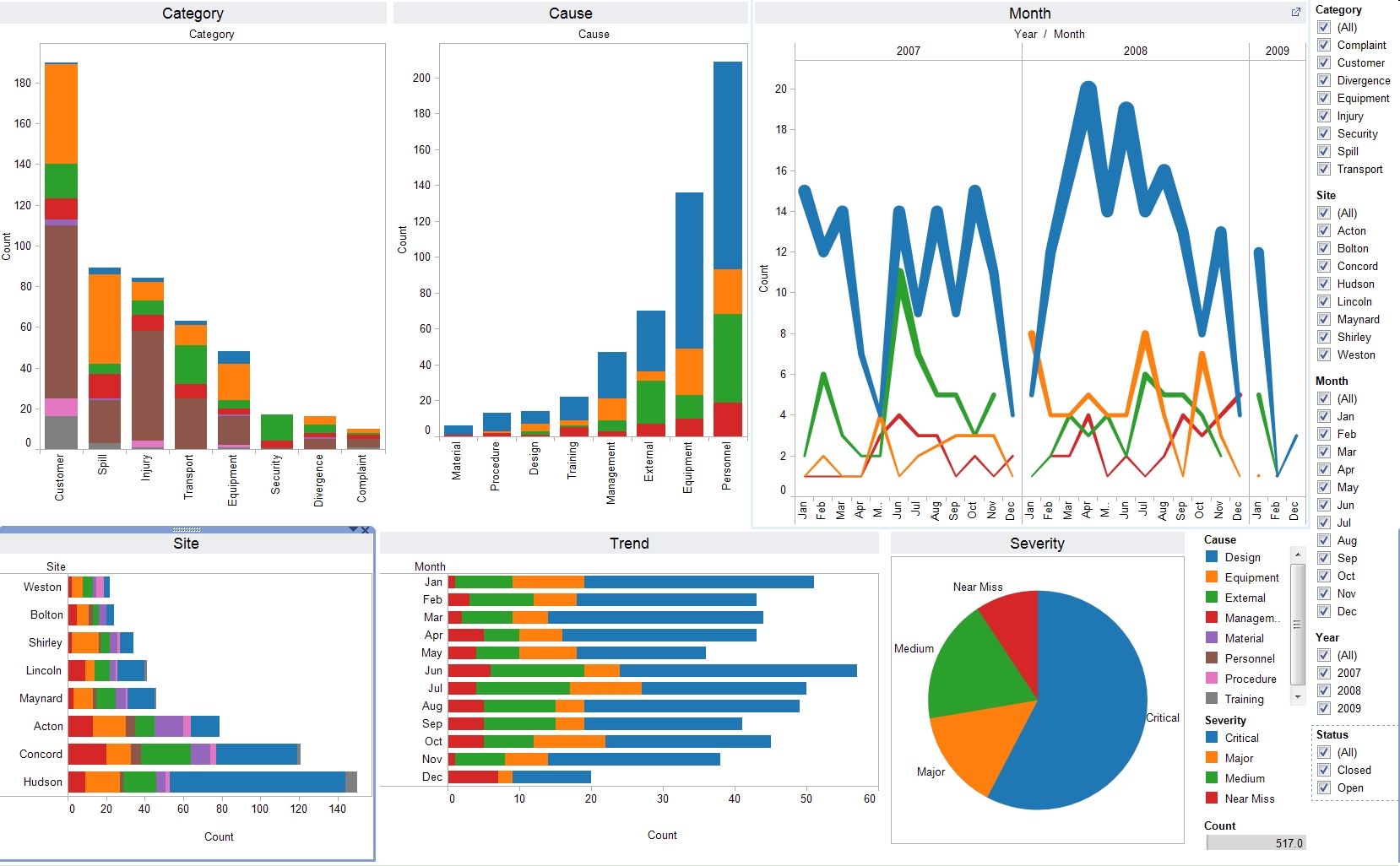 Tableau targets larger companies and organizations in need of better data and employee management, and helps them make the most of their stats. The system also appears on Gartner's Magic Quadrant for its enterprise-grade analytics, and flexible server-, cloud-, or desktop deployment. Tableau also offers a dedicated mobile version for remote teams, and allows you to prepare powerful data visualizations using hundreds of sources, share data and dashboards, and receive in-time alerts whenever something in your database changes. Tableau also has one of the most flexible BI pricing schemes in the niche, with a public module with 10GB storage that is available for free.
Why use Tableau?
Flexible deployment and availability on all devices

Easy dashboard-to-dashboard interactions

Interactive drag-and-drop interface

SAML authentication and single Sign On

Analytics and web authoring on mobile devices

2 different runtime versions

Enterprise-friendly system

A free, public version for Windows and Mac users (Tableau public)

Open API and extension possibilities

Flexible pricing
8. QlikSense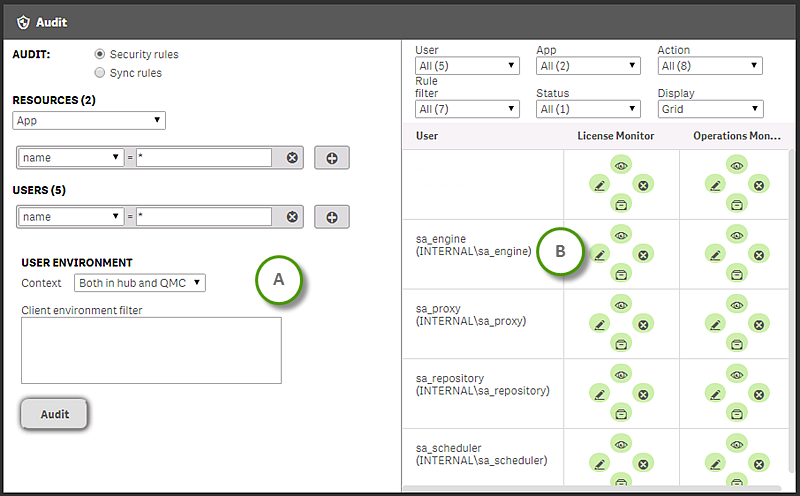 QlikSense is one of the pioneers and best-known providers in the BI and data discovery industry that will empower everyone in your team to prepare stunning, self-service visualizations with the metrics they need. The same as Tableau, QlikSense offers several differently deployed editions, and has appeared high on Gartner's Quadrant for 7 years in a row. Its interface is flexible and intuitive, and its unique capacities include smart search for complex information, self-service creation of SQL queries and joints, unrestricted sharing within the team, and a number of handy integrations.
Why use QlikSense?
Self-service data discovery approach

Instantly calculated aggregations and dimensions

Compression of in-memory data to 10% of its initial size

Smart searching throughout complex data sources

Natural data exploration

Columnar arrangement and storytelling

Unlimited sharing

Flexible deployment/Availability in different editions

Automated associative indexing & recognition of important data

Excellent reputation & high customer satisfaction
9. Domo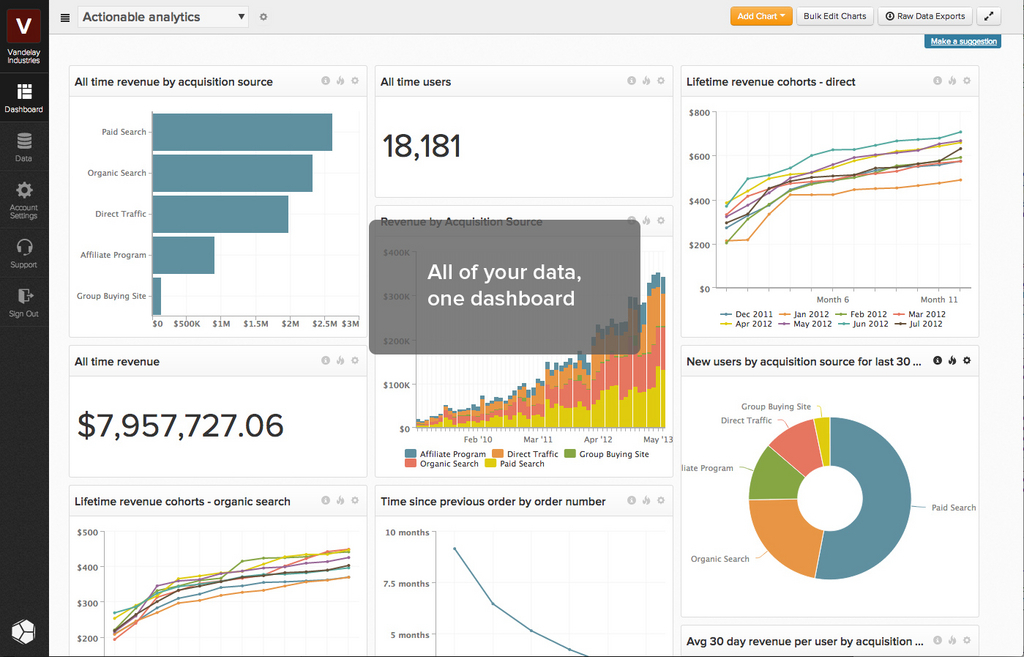 Domo also does a great job meeting business intelligence expectations, especially for on-budget teams looking to capitalize from different types of data. The system is fully equipped for data management and analytics, and offers a modern interface users find very appealing. Domo is best known for helping you discover positive trends and hidden opportunities, as well as providing you with generic data flows, social sharing possibilities, and over one hundred functionality connectors.
Why use Domo?
Equipped for collaboration, easy and streamlined sharing, and role-based access

Two different types of data flows – GUI based and SQL based

Modern and attractive interface

Unlimited sharing with Domo Buzz

Ready for machine learning support and predictive analytics

Predominantly graphical data visualizations

Developing business-friendly

100s of data connectors to extend its functionality

Open API architecture

Large base of training materials
10. Zoho Reports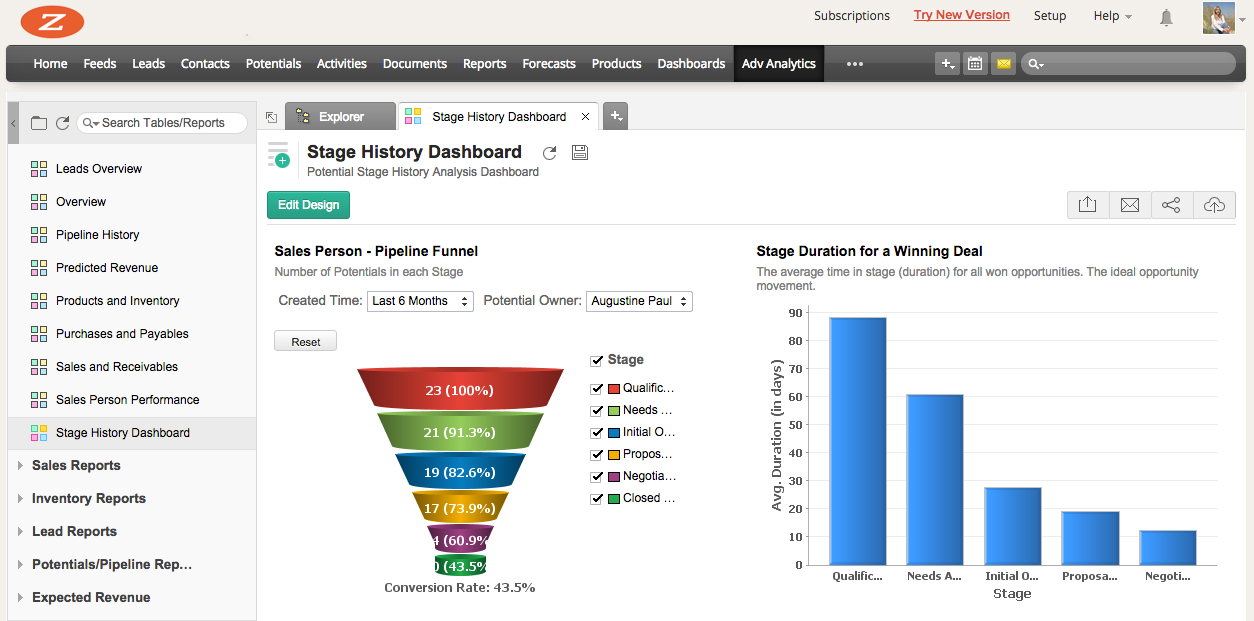 Zoho Reports is the company's flagship BI product developed to cater to small and developing retail companies. Comprehensive and well-designed, Zoho Reports primarily targets teams in need of accurate sales management, helping them understand key trends in their sales funnels, and blend data coming from different sources (CRM apps included). It functions in synergy with several Zoho-powered products, but also integrates with third-party apps to ensure undisturbed data flows. Our experts also recommend it because of clutter-free and on point reports, easy-to-use formula engines, and top notch security.
Why use Zoho Reports?
Connectivity & scheduled data import

Connects with both SQL and no SQL databases

Designed for sales management

Blends and organizes data from different sources with a single click

Formula engines such as the ones of Microsoft Excel

Very useful and affordable for small and medium businesses

Well-structured and clutter-free reports

High security measures and precautions

Collaboration features

Works well on all devices
11. Woopra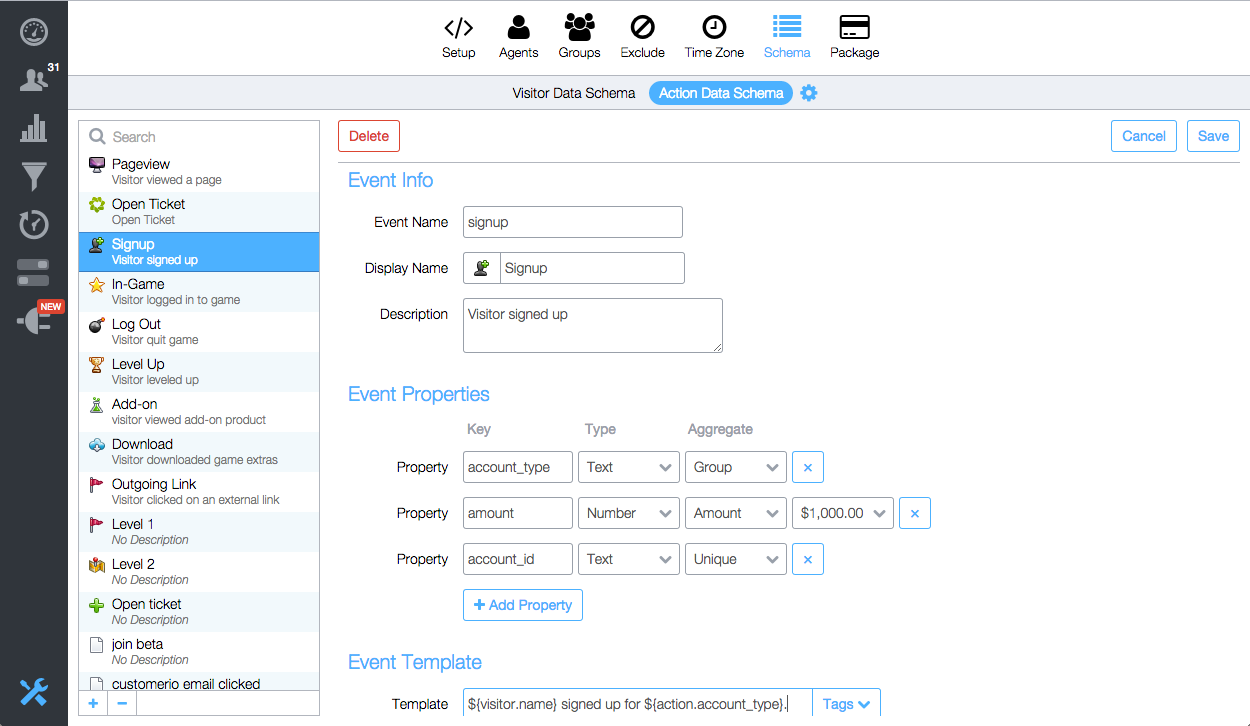 A top BI list such as this one would not be complete without Woopra, an all-in-one customer intelligence system that traces the path with new trends and constant improvements. Woopra shines at tracking website, application, and email visitors and contacts, and analyzes their behavior to help you promote the right way, and establish a great relationship  with them. It will help you build beautiful and compact customer profiles, segment, manage, and retain contacts, and automate data-driven decisions with personalized notifications. Woorpa works impeccably for a wide range of industries, and has a very long list of available integrations.
Why use Woopra?
Real-time customer segmentation and retention

Business intelligence for anonymous customers

Real-time analytics for websites, applications, and email

Detailed customer profiles

Contact management

Suitable for many different industries and departments

Personalized notifications

Direct communication with visitors

Time tracking features

A large list of available integrations
12. BOARD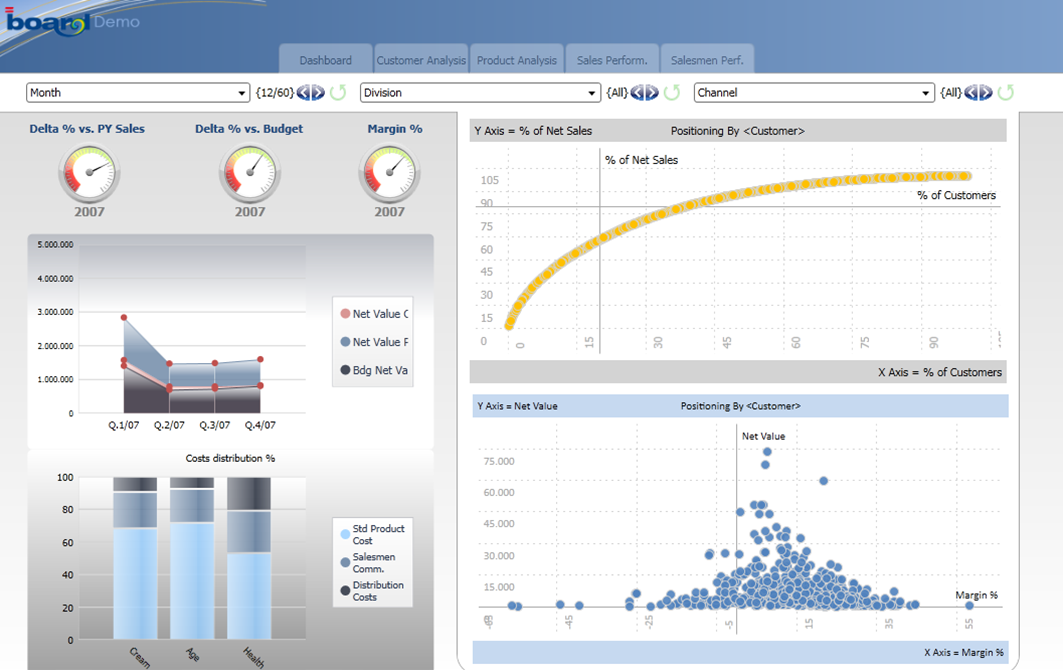 Last, but not least, we have another popular provider of BI and CPM services to suggest. BOARD is a planning & analytics platform that unites advanced business intelligence with performance management, and provides separate modules for sales, marketing, HR, supply, and finance management teams. Its unique capabilities include building planner applications, HBMP in-memory technology, and processing data automatically and with maximal speed. At the moment, BOARD operates in 22 offices worldwide, serving more than 200,000 customers from all scales and industries.
Why use Board?
Combined BI with performance management

HBMP in-memory technology for maximal development speed

Automated analytics for a variety of data sources

Meaningful and forward-looking data insights

Predictive analyses

Builds planner applications

Serves several different departments

Easy-to-use interface

Open API architecture

Large base of training materials