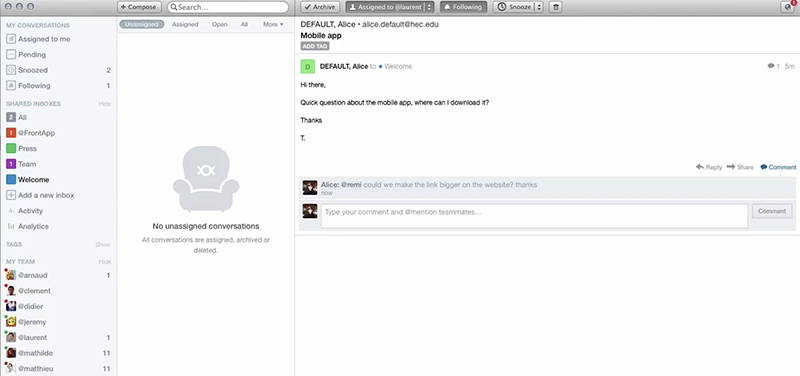 The main benefits of Front are its comprehensive feature set, intuitive user interface, automation, and accessibility. Here are the details:
Front offers useful features such as reminders, canned answers, and comments to boost productivity. You can also use the native iOS and Android mobile apps to be productive on the go. Front smoothly integrates with leading software systems such as Slack, Trello, Intercom, and Asana. Plus, its API allows you to develop customer integrations for your specific business needs. The built-in analytics functionality allows you to monitor performance closely and automatically track performance metrics such as the messages handled by a user, hourly messages handled, and time-to-reply.
The one thing that we cite about this software in our Front reviews is that you don't need to learn anything new to use Front as it is similar to other popular email solutions. Plus, the app offers advanced features such as send-later messages, reminders, canned answers, automatic rules, and keyboard shortcuts to improve productivity. On top of that, the native mobile apps have all the features of the desktop and web applications. Your team can manage all channels in a single place to collaborate more effectively and reduce response time, and ensure all replies are made in the proper context.
Front can automate actions if you provide predefined criteria for conversations. Plus, the automatic reminders ensure all queries can be answered by your team without missing anything. The real-time collision detection feature helps to prevent a situation where more than one agent responds to the same query. The sophisticated analytics and full visibility into team inboxes help managers to make educated decisions. Front stands above traditional email solutions as it enables you to easily export reports to get a more insightful analysis of the information. You can read more about the possibilities offered by this solution in this Front review.