The days of companies throwing stuff against the wall to see what sticks are long gone. Guessing what strategies to follow and how much money to spend is not only expensive but also ineffective.
Business owners must understand where their resources and marketing dollars will bring in the most revenue to be successful.
There is no such thing as a one size fits all marketing budget. Allocating the correct number of resources and dollars to the most profitable initiatives is entirely dependent upon numerous factors, including your products or services, customer personas, and location. 
It can be challenging for many business owners to find the right balance between spending on marketing and still paying for other necessary costs, such as payroll, inventory, and rent. 
However, by developing and following a solid and comprehensive marketing plan, business owners will be better informed and equipped with the necessary knowledge to spend their marketing funds wisely.
What is a Marketing Budget and Why You Need One
A marketing budget outlines and documents how much money a company plans to spend on marketing initiatives over a specified period, such as a month, quarter, or year.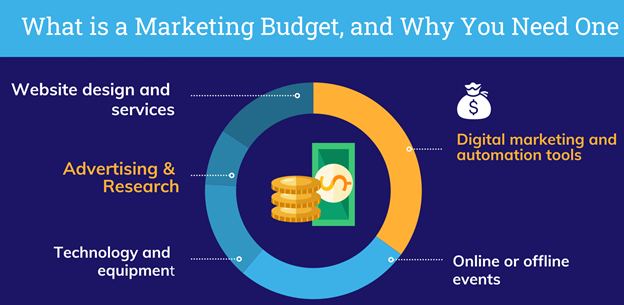 Essential elements that should be included in any marketing budget generally fall into the following categories:
Website design and services

Digital marketing and automation tools

Advertising

Online or offline events

Technology and equipment

Research
Although marketing budgets vary depending upon numerous factors, including location, size of company, and niche, Deloitte's annual CMO survey results provide insights into the percentage of a company's overall budget allocated for marketing. 
Their results show that as of February 2021, marketing budgets are approximately 11.7% of a businesses company-wide budget. 
This represents a slight decrease from June 2020, but is still relatively higher than it had been over the last four years.  
So, when creating your marketing budget, keep Deloitte's survey results in mind for a ballpark percentage of your overall budget that you should allocate to marketing. 
You need to create and follow a marketing budget to help you stay on track financially, allocate funds to the right resources, set goals and benchmarks, and plan long-term for your business' growth. 
Financial Numbers to Include in Your Budget
It helps to understand complex financial numbers that you will need to review when managing your marketing budget, including:
Expenses:

Money spent on investments such as office supplies, equipment, training, tools, and advertising.

Accounts receivable:

The balance of money due by customers but not yet paid or the total of unpaid invoices.

Profit by client:

The total profit by a client used to determine which ones are worth the most money to your business. 

Profit and Loss

: Represents the net amount of money you earn after subtracting expenses paid out from monies earned. 

Cash flow

: The actual amount of income received and money paid out in expenses for a specified period.  

Profitability of each product or service

: How much money you are making and how often each product or service is sold. This information is helpful when determining where to allocate more marketing dollars.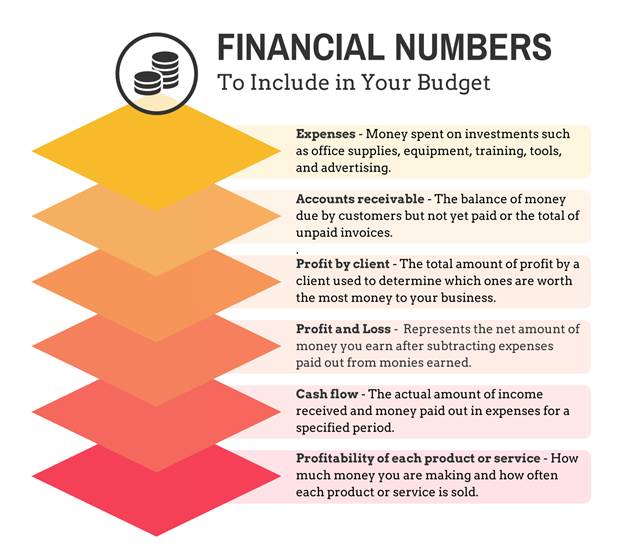 An effective marketing budget will enable you to track all your marketing initiatives, how much money you are spending on each, where to cut expenses, and where to spend more. 
Now that you know what a marketing budget is and why you need one, let's discuss vital elements to consider when preparing and setting priorities.
What Are Your Goals?
If you do not know what you want to achieve, how will you know if you are successful? Before creating a marketing budget, know your goals to set a realistic budget that enables you to achieve those goals.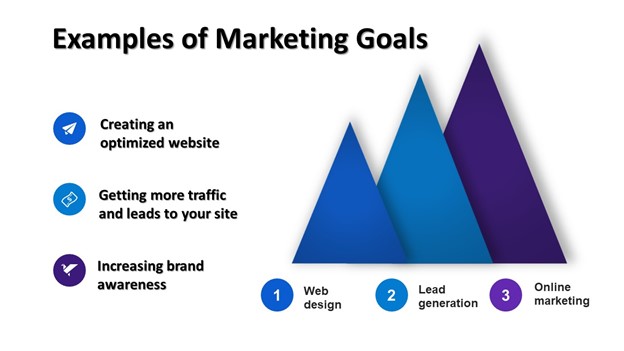 Every business has an ultimate goal of increasing profits. However, there is a plethora of marketing initiatives that you must plan, follow, and measure, such as:
Creating an

optimized website

.

Getting more traffic and leads to your site.

Increasing brand awareness. 
The more detailed your marketing plan is, the better you will be to work towards and achieve the goals at each step of your strategy.
Set up precise and measurable goals to get a clear reference point when budgeting for your marketing. To properly prepare a marketing budget, be sure to include all your marketing goals and invest in the most profitable marketing methods.
Understand Your Market 
To create an effective marketing budget, you must know where your business fits into the market. 
Equally crucial is to know how your company stands up against your competition so you can develop the most cost-effective strategies to compete with them.
Perform a competitive analysis to see what, where, and how your competitors are performing online. Then, use the collected data to determine which marketing initiatives will best differentiate your brand from others, and be sure to include any associated costs in your budget.
Know Your Customers and Their Buyer's Journey
Remember that your potential customers do not care about your business. Instead, they are concerned with how you can solve their problems or make their lives easier.
Knowing your target market's interests, issues, demographics, and other pertinent information is essential when deciding where to spend your marketing dollars.
A buyer's journey encompasses the steps they take from lead to customer. Understanding their journey enables you to gain insights into how they interact with your brand, what goals you should set, and where you should allocate funds to better reach your customers.
Make sure you can answer the following questions about your target audience's buyer's journey while setting goals and creating your budget.
How do prospects discover your products or services?

What information do prospective buyers typically need before deciding to make a purchase?

How many of the leads you attract each month convert to paying customers?

What is the cost of converting leads to customers?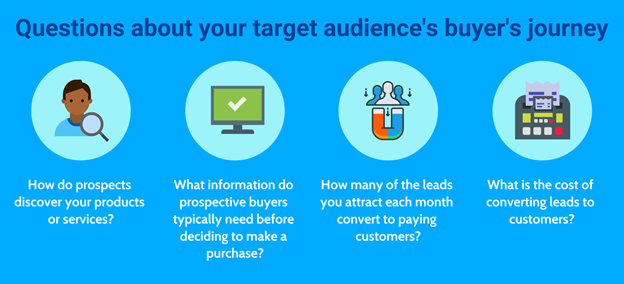 Effective marketing today must be directed at each step of the buyer's journey, accessible on all devices, and available on multiple platforms. 
Website analytics will provide you with the data needed to answer the above questions. Study them to determine where you need to focus your spending.
For example, if your analytics show that not much traffic is coming from Instagram, allocating funds in your budget to Instagram ads is not advisable.
Establish Your Sales Funnel
A sales funnel is the process by which potential customers go through their first interaction with your company to become paying customers.
It is a crucial element of a marketing budget as it determines where resources are best allocated. Understanding your company's sales funnel and buyer experience will help you identify where, what, and how you should develop a digital marketing initiative to keep people moving down the funnel. 
The four major stages of a marketing funnel are:
Awareness

is where your audience searches for solutions to problems or answers to questions.

The

Interest and consideration

stage is when consumers find your company and others and evaluate which solution is best.  

During the

Decision

phase, customers dig deeper into their options and start narrowing down their choices.

When a lead reaches the

Action

phase, they have chosen to become a paying customer of yours or not.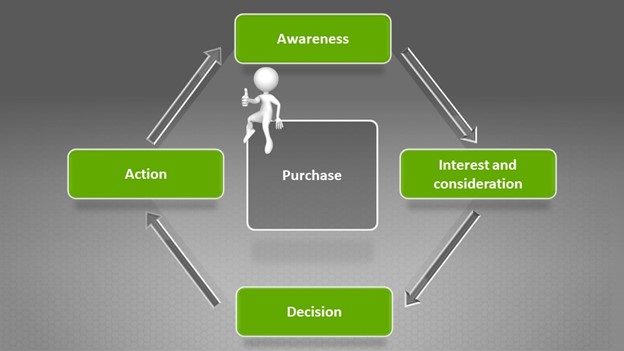 If you notice that your company attracts many leads at the top of your funnel, but only a few make a purchase, include money in your budget for marketing strategies that will drive leads into the consideration phase, such as paid advertising and SEO. 
So, understanding your sales cycle and customer's journey through your buyer's funnel will help you know where to allocate more funds in your budget.  
Include Software and Tools in Your Marketing Budget
While a company's most important investment is in the people who work for them, all businesses can benefit significantly from tools to help improve productivity and increase efficiency.
Although each business has its own unique set of circumstances and needs, there are several applications and tools that all companies will benefit from having in their digital toolbelt. 
Technology enables companies to market their products or services better, build and nurture relationships, and access necessary data to help make informed decisions. 
Tools and business automation have transformed the way companies operate by helping them do more with less. 
Marketing technology and tools enable companies to:
Save time by scheduling and releasing campaigns based on schedules set in advance.

Increase efficiency and minimize human errors by automatically sending email follow-ups, creating

digital invoices

, collecting data, and gaining insights into what is working and what is not.

Analyze marketing strategy performance. 

Interact with potential and current customers where and when they have a need with communication tools such as chatbots.

Communicate, collaborate, organize, interact, and share tasks, files, and projects with team members and customers via tools such as Trello, Slack, Google Drive, and Monday.com
Don't Forget About Operational Costs
Operational cost refers to the money spent running a business. It includes the day-to-day expenses such as electricity bills, web hosting, staffing, sales tax, equipment fees, and anything else needed to run a business.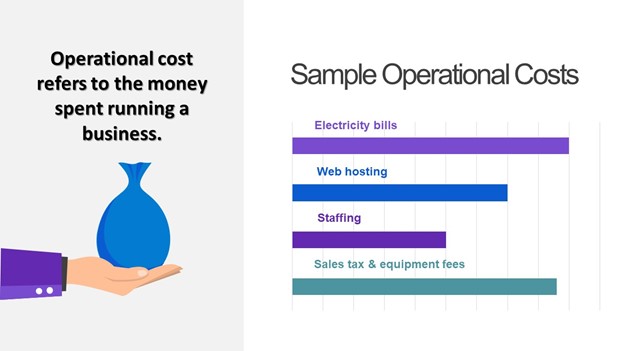 Be sure not to overlook these business essentials in your marketing budget. 
Setting up your marketing campaigns is a bit of a balancing act. If you don't allocate enough funds, you might miss out on growth opportunities.
However, if you spend too much, you could harm your bottom line. One of the best ways to keep on the right path in your spending is to analyze your results from last year.
Analyze your data to see where your spent dollars resulted in the most profit. Additionally, consider the results of marketing research to get an idea of where and on what other companies are spending their marketing dollars. 
Marketing Trends Affecting Budgets
According to WebFX,  a provider of digital marketing solutions, company size plays a significant role when determining marketing budgets. They recommend:
7%-8% for small businesses

10% for mid-sized businesses

15% for enterprise businesses
Criteo conducted a study in October 2020 to analyze the impact of Covid 19 on marketing spend. The results show that companies will spend more on digital marketing across all channels in 2021. 
The participants said they are likely to increase how much money they spend on the following initiatives:
Social media by 47%

Website and content marketing by 44%

Advertising on retail websites and apps by 43%

Retargeting ads and display ads on publisher websites by 38%

Paid search by 36%

Email marketing by 36%

Omnichannel marketing strategy by 36%

Paid video by 34%
Hubspot reports that money spent on tech will return to a normal level throughout 2021 but that not all niches will benefit. 
Some businesses will stay remote, some will eventually return to in-office work, while many will move to a hybrid workforce model.
For example, companies that sell products and services such as video conferencing, collaboration tools, digital security, telemedicine, and antivirus software will remain strong, reflecting the new remote workforce. 
According to Russ Somers, former VP of Marketing at TrustRadius, other categories, such as facilities management and event management, will need to radically reinvent themselves. 
Additional marketing trend predictions outlined by HubSpot include:
Less interest in live events

Increased consumer expectations for interactivity, panels, and discussions at online events

The need for brands to carefully navigate a polarized social media landscape

A decline in A/B testing due to the rise of AI and machine learning in predicting trends before they happen

More authentic and human-centric conversations between brands and consumers
When setting up your marketing campaign budgets, consider the predicted trends above when deciding where to allocate funds.
Get the Most Bang for Your Buck
Now that you know what to consider when creating and managing your marketing budget and how intertwined it is with your marketing strategies, you can move ahead and realistically analyze, measure, and tweak it when necessary. 
If you find that your budget isn't large enough to cover everything you want to do, you can reduce some expenses and add them back incrementally as you start to earn more money. 
For example, if necessary, you can run fewer paid ads and utilize free marketing initiatives like social media. 
Some companies might feel the need to make budget cuts in their marketing campaigns as a result of the economic downturn and loss of revenue from the pandemic. 
However, many experts agree that these businesses will be setting themselves up for failure by doing so. As a result, some pulling back on funding marketing efforts might be necessary for the short term. 
But when the economy starts picking up again, make sure your business is still present enough online to re-engage with your customers.