Pogo-sticking is the process when a searcher navigates between the pages in the SERP back and forth. In the SEO community, people believe that this user behavior can be noticed by Google. What's more important, Google can penalize websites for this. 
However, is it really so or Google doesn't care about it? 
Let's find out!
In this guide, you will get familiar with pogo-sticking in detail. 
Shall we begin? 
The Difference Between Pogo-Sticking and Bounce Rate 
If you know a thing or two about SEO, you might be confused with pogo-sticking. Simply because you might confuse it with bounce rate. Therefore, to make things clear, review the difference in these SEO terms.
Pogo-sticking is the process when the users find your site on the SERP, enter the site, and leave it returning to the SERP again.
Bounce rate

is the process when the users enter your site from whatever source they need and don't do any actions there.
What are the reasons behind pogo-sticking? 
Pogo-sticking can be caused by various reasons. They do not just include low-quality content or a negative user experience. 
Anyway, let's review a few of the reasons behind pogo-sticking. 
1. Clickbait content 
You are aware of what clickbait content is. The goal of clickbait content is to force people to consume information that isn't worth anything. As the rule, when the users click the link to read the blog post, they leave immediately. 
2. Buried information
Sometimes the users can explore information on the web and can't find it due to one simple reason – it is hidden under the wall of text. Or when the user clicks the link to read a blog post but can't do this because there is a full-screen "sign-up" form that appears. Nobody likes it and gets back to the SERP. 
3. Awful UX
Any user can leave the site because of a poor user experience. If the site looks terrible and works with some glitches, it may lead to pogo-sticking. Here are some things that cause a bad UX:
Site speed (when the site is slow)

Ads (when there are ads that appear all the time on the site)

Sign-up forms (when the sign-up form covers the full screen)

Mobile optimization (when the site isn't optimized for mobile devices)

Etc.
4. The user browses the site without any reason for this
If the user isn't interested in your site and browses it just for fun, it can be the reason for pogo-sticking. For example, the user has noticed some interesting images on the site and wants to download them. After this user gets the images, he or she leaves the site. 
As you can see, there are lots of reasons that result in pogo-sticking. 
You might wonder if pogo-sticking is a ranking factor or not. Let's see what Google's John Mueller says on this:
"We try not to use signals like that when it comes to search. So that's something where there are lots of reasons why users might go back and forth, or look at different things in the search results, or stay just briefly on a page and move back again. I think that's really hard to refine and say 'well, we could turn this into a ranking factor.'
So I would not worry about things like that. When we look at our algorithms overall, when we review which algorithm changes that we want to launch, we do look into how users react to these changes. But that's something we look at across millions of different queries, and millions of different pages, and kind of see in general is this algorithm going the right way or is this algorithm going in the right way.
But for individual pages, I don't think that's something worth focusing on at all."
To conclude, pogo-sticking is not a ranking factor. 
Is there any need to worry about pogo-sticking?
From an SEO perspective, there is no need to worry about it. Google doesn't take pogo-sticking into account mostly. It is not a ranking factor. From a business perspective, you should pay attention to this. You want people to read your content and explore your product or service in detail. 
How to Create Content That Users Would Like 
It goes without saying that if you want people to keep on reading your content – it should be engaging. And here are pieces of advice that will help you out. 
1. UX of the site must be perfect (mobile as well)
It doesn't matter how well your site is designed. People don't leave the site just because they don't like its design. Nope. They leave the site because of the existing distractions on the site. Thus, to make sure the UX is perfect, you should start with fixing the user interface. And here is what you can do:
Avoid using pop-ups

(sign-up forms, exit forms, banners, etc.)

Pay attention to the website's layout

(remove all design elements that don't have any purpose in terms of website navigation)

Take care of a website's mobile optimization

(50% of traffic that comes to the site is from mobile devices. Plus, Google indexes and ranks content based on the mobile version of the site)
2. Site speed
Nobody likes when the speed of the site is slow. The users will leave your site and go to your competitors just because their website doesn't force them to wait. Moreover, site speed is Google's ranking factor. Hence, if your content needs time to appear in front of the users, it won't rank on the SERP. 
To check the site speed you can use a service called PageSpeed Insights.
3. Practice the inverted pyramid method
People consume your content because they want to find the information they need. Consequently, if they can't find what they need from your content, they will try to get this information from your competitor. Thus, your goal is to help people find answers to their questions in a blink of an eye. 
How to do this?
Use the inverted pyramid method. This method puts the "need to know" before "nice to know" information. 
To give you a better idea of how this method works, here is an example. 
A search query "what is an infographic" has a pretty high search volume according to Ahrefs. 

It means that content design SaaS companies are interested in creating content that would rank for this keyword. The goal of such a piece of content is to provide readers with the definition for "infographic." And if you review the post from Visme, you will see that it revolves around this search request. 

It gives a direct answer to the question "what is an infographic?" right off the bat. 

This is the way the inverted pyramid method works. 
4. Write superb intro paragraphs
Your blog post's intro is arguably the most important part of your article. If you get it right, you get people to stay and keep reading. If you get it wrong, people bounce immediately and contribute to your pogo sticking rate. 
There's a whole science to writing perfect intro paragraphs but the main points are to keep it short and concise and hit them upfront with the information they need to know, i.e., using the inverted pyramid model as we covered in the point above.
It's worth it to spend extra time on making your intro paragraph just right, but if you're in a hurry, like most of us are, you can use an AI tool like Jasper AI to write the intro paragraph for you. They have an intro paragraph template you can use and it works really well.
5. Add more visuals to your content
Nobody likes to read boring content. Especially, if a blog post doesn't include visuals. People consume information far better when it is suggested in the form of visual elements. 
You can do whatever you want – create an infographic, charts, add stock images, social videos etc. The more visuals are within the blog post, the more engaging it will be. 
6. Don't forget about using internal links
When people read long-form guides, they can have more questions about certain things. This information may require to be covered separately. As a stand-alone topic. Therefore, you can use internal links to let people get familiar with the topics in more detail. 
Plus, it has a positive effect in terms of blog navigation. 
7. Show E-A-T in your content
E-A-T is a concept widely known in the SEO community. It stands for expertise, authoritativeness, and trustworthiness. Your content should meet the requirements of the E-A-T concept. 
What does it mean?
Expertise

(your content must be created by real experts who know a thing or two in a particular field)

Authoritativeness

(it is about your reputation among other experts within the niche)

Trustworthiness

(your content should be a trusted source of information with up-to-date facts and stats)
8. Refresh your content
You can't write a blog post and believe that it will attract readers all the time. People don't like to read outdated content. There is no sense to explore the post that suggests information about smartphones that were in trend back in 2019. People want to review content that contains material on smartphones in trend this year.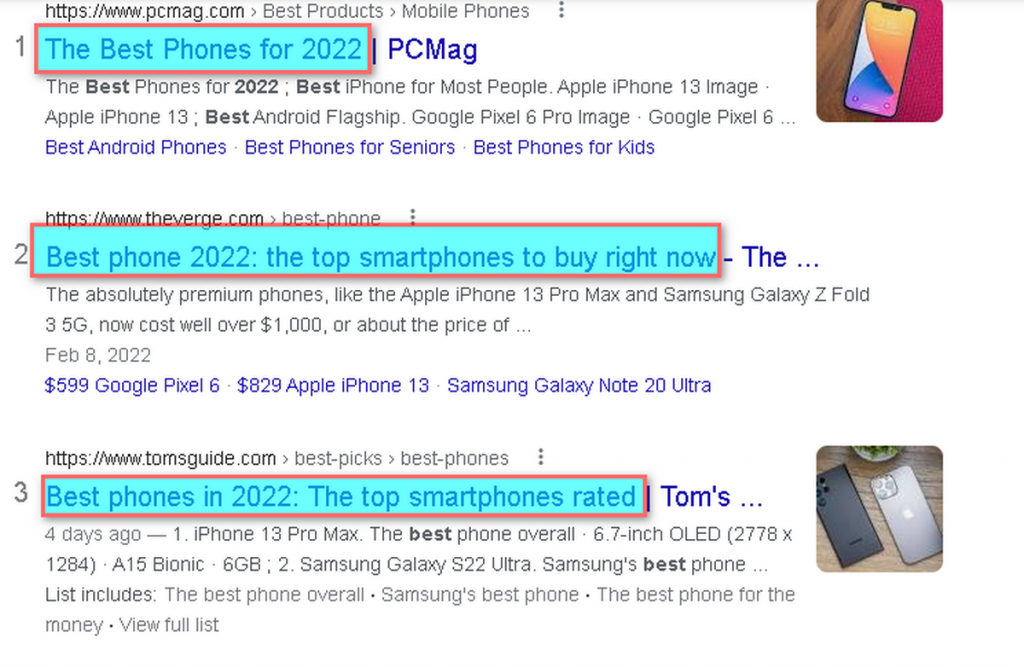 This screenshot proves that if you type a query "best smartphones," you will get content around popular smartphones in 2022. Following this logic, you need to update your content a few times per year. Otherwise, it won't be interesting for the audience and people won't read it. 
To Sum Up
Pogo-sticking isn't something that you should be afraid of. It doesn't have any impact on SEO. John Mueller has proven that it isn't a ranking factor. 
But if you want users to stay longer on your site, read your content, and explore your product, then use the tips suggested in this post. Plus, some tips can help you boost your ranking positions in the SERP. 
If you think this piece of content misses anything, feel free to share your ideas in the comments.