Fads come and go, and sometimes they can be as mercurial as a simple social media post. And they're true for fashion or music as they are for fitness, with fitness industry trends dictating many on how today's social circles should look at general well-being.
By definition, though, fads have limited staying power. It takes a certain knowledge of the industry to sift through transient fads and find the true trends, where the industry is headed. This article aims to look at the 11 most noticeable trends in the fitness industry, from the latest iteration of wearables to how the job market would look like in 2020.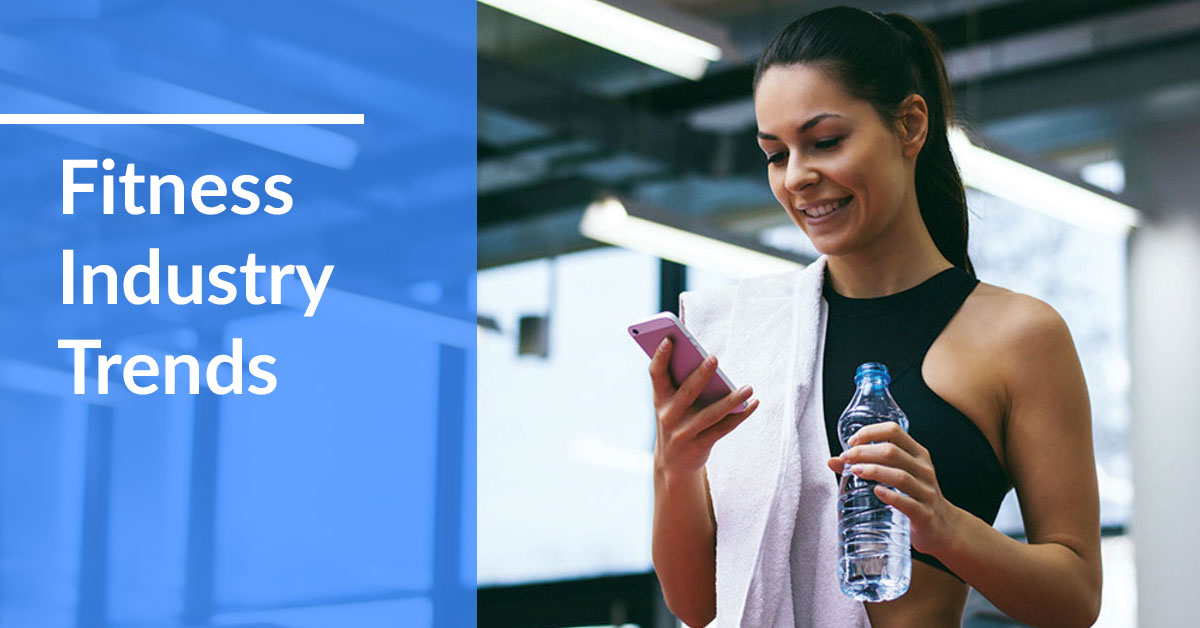 Fitness Industry Trends Table of Contents
The fitness industry as a whole is a juggernaut in 2019. Global revenue last year amounted to $94 billion. With these numbers considered, the industry is on track to enlist about 230 million members by 2030.
Revenue and membership, however, are only part of the story. Worldwide, people are getting more conscious of their health, driven by social media, the melding of multi-disciplinary approaches such as athleisure, and health concerns like heart diseases and obesity. After all, nearly half of people globally (44%) consider themselves unhealthy.
So what's an unhealthy person to do? This is where fitness industry players come in, such as health clubs, wellness centers, and gyms. The way these facilities, however, deliver their services is about to change in the coming years. The following are how these changes might occur.
Wearable Technology
Since 2016, wearable technology has been the buzzword in fitness. From Fitbit to Samsung Gear and Oculus Rift, these devices provide deep insight into your activity and what you can do to correct or improve them. And wearables have consistently topped the list of trends for four years, with 2020 being no different.
Wearables consist not only of fitness trackers and smartwatches. They also come in a range of other devices, such as heart rate monitors and GPS trackers, such as those used when charting a route for cycling. Over the years, their accuracy has improved and their capabilities have expanded, with some now offering even AI solutions to fitness. Others, for example, also use VR games for fitness, including the wildly popular Beat Saber.
While gyms don't need to have new experiences to be a hit, technology makes sustaining such experiences easier. The reason is that it makes the experience more multidimensional and fun, resulting in more transparent fitness goals. And in this era of the internet of things, anything tech-related is perceived to be much more accessible.
Wellness Programs In and Out of the Gym
This is a trend describing programs that improve well-being and health has been rising since 2018, and now it's a respectable force in itself. Many employers around the world now include some form of health and wellness programs on their list of employee benefits. Additionally, candidates are also looking for these on their non-negotiables when scouting around for a new job.
Originally, health and wellness programs used to be restricted to worksite evaluation of healthcare and costs associated with it. In 2020, though, companies have started partnering with local gyms and/or health clubs to offer more comprehensive fitness programs. In fact, fitness chains like Life Time Fitness have already launched their own initiatives with employers, while other clubs are exploring a broad range of fitness that includes diet.
Percentage of US Employers That Offer Wellness Benefits in 2019
Percentage of US Employers That Offer Wellness Benefits in 2019
First-aid training: 51%
First-aid training
51%
Percentage of US Employers That Offer Wellness Benefits in 2019
Nutritional counseling: 21%
Nutritional counseling
21%
Percentage of US Employers That Offer Wellness Benefits in 2019
Life coaching: 14%
Life coaching
14%
Percentage of US Employers That Offer Wellness Benefits in 2019
Onsite massage: 13%
Onsite massage
13%
Percentage of US Employers That Offer Wellness Benefits in 2019
Mindfulness or meditation programs: 11%
Mindfulness or meditation programs
11%
Source: SHRM.org
Created by CompareCamp.com
Expect gyms to be more of an all-inclusive health club than just a place where people go to exercise and occasionally shower, some experts say. Relying on revenue from memberships is just too early 2000s. To grow in the third decade of the millennium, gyms should also include other fitness-related services on their menu to capture those on the fence about leading a healthy lifestyle.
Catering to Generational Needs
If you haven't noticed yet, the fitness needs of every age group are different—not to mention the amount of money they can dispense with. This means that as 2021 arrives, fitness centers may leverage this knowledge to design programs that cater specifically to a certain age group. For example, they can create a fitness plan for seniors that stresses relaxation and keeping the body healthy as opposed to a younger age group's plan focused on high-intensity activity and weight loss.
Millennials, though outnumbering every other cohort in the gym, are far outnumbered by the older generations in partaking of fitness services. The former comprise 33% of all health club memberships, while Gen X are at 24% and Baby Boomers at 22%. Still, Baby Boomers visit their health clubs for an average of 131 times a year, while the youngest generation, Gen Z, only visited up to 78 times a year.
Different fitness activities and facilities also appeal to different generations. For example, Millennials and Gen Z enthusiasts like group training, while older generations are, well, more old-school. They would rather use cardio and other weight training equipment than their younger counterparts. Relatively new approaches to fitness, such as yoga and HIIT, are hits with the younger generation.
Memberships also vary. People under Gen Z would like, for example, to be part of a nonprofit club, Millennials are split between fitness-only and nonprofits, while Boomers are more common in fitness-only.
The trend, therefore, outlines that fitness clubs (and otherwise) are seeing the importance of offering age-appropriate activities and facilities. Even as we speak, operators of these chains are looking at how to diversify their offerings, if at all, or which generation they should target in a given location. The one-size-fits-all gym is going out of style.
Accessibility and Inclusivity
Inclusivity is getting a bad rap as of late, with a lot of "fake woke" in social media. By all accounts, however, inclusivity in an industry like fitness, where the main source of revenue is continued patronage, is a good thing. Economically, at least.
In this sense, inclusivity means making fitness accessible to every person, whatever their ability, ethnicity, or status. For example, UFIT (Universal Fitness Innovation and Transformation) is a program shared by both the United States and Ireland to broker research into making fitness accessible to people with disabilities. UFIT is an inter-agency UN collaboration between UNESCO and the World Health Organization.
In addition, businesses that do good with the community also put their imprint out there. Community-building makes consumers more aware of the business, leading to positive word-of-mouth. In fact, 84% of people would trust positive reviews, while it's up to 92% for people they already know.
How Much Do People Trust Word-of-Mouth?
Source: ModernComment.org
Created by CompareCamp.com
Fitness Clusters in Malls
Clubs and studios in the context of fitness are due for a makeover in 2020 and the coming years. You might already be seeing a part of it at present—fitness clubs are snapping up spaces in malls and similar retail establishments that were left vacant after (an unexpected) poor performance last year. Others, like JCPenney, are creating new stores or rebranding new ones for a fitness-focused outlet.
Other big chains are following suit. In an interview with USA Today, a fitness studio chain, Club Pilates predicts that up to 10% of their clubs will be located in former retail spaces. Meanwhile, stores that offer fitness products will also grow, leading to more real estate occupied by such establishments.
But it won't stop there. It will also lead to a new thing called fitness clusters, as coined by an article by The New York Times. Simply put, the presence of boutique fitness studios in one mall will attract others, eventually creating a congregation of similar outlets from competing studios in one location.
Increased Focus on High-Intensity Interval Training
If you've heard of HIIT lately, there is a good reason for it. HIIT, or high-intensity interval training, is an exercise plan that typically features bursts of high-intensity exercises in between intervals of low-intensity training. "High-intensity," in this case means an exercise that taxes your cardiovascular system, increasing your heart rate to around 90% of your maximum.
The popularity of HIIT in any gym worldwide is because of its many benefits. One benefit is that HIIT burns calories faster than a lengthy, low-intensity exercise would (such as running in place). In addition, HIIT exercises usually take significantly less time than regular ones, making them attractive to busy people. Plus, you don't need specialized equipment to do it—mixing it up in a small space, even with bodyweight training, reaps all its benefits.
HIIT has never been more popular. The number of PubMed articles regarding HIIT has grown 20 times from 2005 to the present. And other publications are also featuring more and more articles regarding this exercise program, especially its health benefits. The Medicine & Science in Sports and Exercise even cited HIIT in their July 2019 issue exploring its benefits in cardiometabolic disease prevention. The journal notes that HIIT has clear benefits on insulin regulation, blood pressure, and body composition.

Group Training
As mentioned before, the younger generation is keen on fitness activities where they can bond with like-minded people. This is reminiscent of a clique in high school, though it goes deeper than that. Group training motivates people in it, especially if one has a competitive streak. It also introduces accountability and makes the exercise fun.
Strictly speaking, group training is an exercise involving five or more participants. Fitness instruction for group training is also different from one-on-one or those for a couple. More of a class than anything, group training activities include dance-based classes, indoor cycling, or cardio.
Group training has been on a steady uptick since 2017, and has only gotten more popular since then. Boutique fitness studios catering to groups have likewise trended, and thus trainers that seem like a cross between motivational speakers, fitness instructors, and even DJs have proliferated in its wake.
While the second decade of the millennium has seen this kind of group training, led by a charismatic instructor, 2020 and beyond will have a more crowd-focused approach. Instead of an instructor, the group fitness trend will be more of a group of people with no formal instructor, only glued together by a common fitness goal. The idea is to find a "clique" that will make what you want to do fun, make you accountable, and motivate you.
Free Weight Training
In fitness parlance, "free weights," broadly speaking, are gym equipment that are not bolted to the floor. These include dumbbells, barbells, kettlebells, and medicine balls. As sports medicine gained advances in recent years, more and more trainers are seeing the importance of using free weights to mimic natural motion. This, in theory, can make reaching functional strength goals easier and more realistic.
Free weights are also safer because you can change how you use them in case you have an injury. For example, you can substitute free weight barbell squats with a smith machine or a chest fly machine, as both can actually cause repetitive strain injury. Free weights are also more flexible than bolted-on equipment, and they're generally more available than other specialized gear in any gym.
2020 will go back to basics in terms of resistance training, which free weight training is a subset of. By making weights as close to natural work as possible, you can build strength, endurance, and health as naturally as possible without relying on a machine that may or may not always be available at any given fitness studio.
Proper form to observe safety and maximize benefits, however, are more important than ever, which means that in the coming years, the science of fitness will focus more on anatomy and biomechanics than just mere calorie counting. Still, the market size of fitness and sports equipment is growing; whether people are buying more free weights than expensive equipment, we may never know.
Source: Grand View Research
Exercise Is Medicine® Movement
This is a global health initiative that urges health care providers, including physicians, to explore the benefits of physical exercise in order to resolve actual illnesses. The idea is that exercise should naturally be a part of medical treatment whenever possible by encouraging medical practitioners to assess and recommend patients to the appropriate exercise professional.
Originally founded in 2007, 40 countries host EIM, with support from a variety of organizations. For example, the American Council of Exercise, the American Physical Therapy Association, and the Preventive Cardiovascular Nurses Association, and more, are all EIM partners.
The growth of EIM in 2020 and the coming years is all but guaranteed with the explosion of the fitness industry. No more will be exercise relegated to a just "preventive" treatment. It will now be an actual resolution for an ailment after the fact.
EIM is currently expanding its reach across borders by collaborating with health care providers and updating the credentials of an EIM-licensed professional. Challenges, however, include the integration of newer technology, localization of EIM care, and updated quality control. These are barriers, however, that are far easier to surmount now. COVID-19 only increased funding and attention to medical front liners, and EIM may well be one of the beneficiaries of this cultural shift.
Health and Wellness Coaching
While group training in 2020 will be more of a democratic-style crowd effort with limited instruction, coaching is still a big part of the fitness ecosystem in the coming years. Fitness trainers will never be out of work as long as adherence to fitness goals remains a problem. And what a time to be alive if you're a trainer or a coach—a study found that 80% of UK consumers drop out of an exercise regimen eventually.
The importance of client outcomes when you're a fitness professional has always been a thorn in the fitness industry's side. This is why 2020 will have a sort of a change in how they coach and in what approach they would take to improve exercise sustainability. For example, modern fitness instructors draw from multiple disciplines to serve the needs of consumers. One such field is behavioral science, where they use psychology to motivate people to stick to their goals and avoid self-destructive habits.
Coaching isn't just motivating, however. Health and wellness coaching (HWC) is a specialized field that, ironically, is a hybrid of many. Many consumers who have participated under HWC report better satisfaction with their wellness program, better weight management, improved mood, and sustainable behavior. In addition, 60% of Americans are also keen on approaching a health and wellness coach.
Employment During and After COVID-19
Staffing is a problem in any industry. However, the COVID-19 pandemic and its aftermath will only expose how tight the labor market is for this particular sector.
Before the novel coronavirus hit, the fitness industry was performing decently. Last year, its unemployment rate was at 3.5%, but was hit by a loss of jobs (about 200,000) in April this year due to COVID-19. Still, on a longer timescale, the Bureau of Labor Statistics still hasn't revised its optimistic 13% job growth for the fitness industry from 2018-2028. This figure surpasses the average of other industries.
In any case, while jobs are steadily rising in this sector, wages have relatively stagnated. The good news is that many organizations are partnering with the fitness industry (even in its own sector) for wellness perks. This will only accelerate the need for fitness instructors and licensed HWCs.
The pandemic is also going to reinvent, quite literally, how the fitness industry delivers its services. For example, thanks to social distancing, the traditional face-to-face meeting for training won't exactly work. A few enterprising studios, in response, have made training sessions over video call tools, such as Zoom, or else in their social media accounts using real-time videos, such as Instagram Live or Snapchat. Monetizing this delivery isn't an exact science—yet—but it's getting there.
How the Fitness Industry Shapes Up Ahead
The fitness industry's outlook is a positive one, though it's riddled with a lot of changes due to it. The same goes for any other industry, though. Adapt or be phased out in favor of newer ones that just work for many more.
People's increased need for health and wellness, however, means that fitness, unlike many others, is essential in the years after 2020. With the long-term effects of a respiratory pandemic still remaining to be seen, most professionals are of the mind that preventive treatment—such as exercise—can hedge your bets of surviving many diseases. What changed is that exercise used to be disdained because of its high commitment and effort.
This article has shown, however, that exercise need not be a chore. The slew of wearable tech, new approaches to exercise, and a science-backed approach to exercise adherence and minimizing dropouts can make exercise more fun to many segments of the population. Fitness will soon be a part of daily life, just as video games in the 80s were.
References:
Virtual Reality Institute of Health and Exercise: Beat Saber

Nielsen: "Under The Influence: Consumer Trust in Advertising"

CNBC: "US retail sales unexpectedly decline in a sign that consumer economy could be cracking"

USA Today: "From Toys R Us to Pilates studios: Malls fill empty stores with latest fitness fads"

The New York Times: "The Boutique Fitness Boom"

Healthline: "7 Benefits of High-Intensity Interval Training (HIIT)"

Medicine & Science in Sports & Exercise: "High-Intensity Interval Training for Cardiometabolic Disease Prevention"

NBC News: "The health benefits of working out with a crowd"

Stack: "Why Athletes Should Avoid the Smith Machine"

BMC Public Health: "Who stays, who drops out? Biosocial predictors of longer-term adherence in participants attending an exercise referral scheme in the UK"

Market Research Blog: "Health Coaching Gains Favor Among Consumers, Insurers, & Employers"

Bureau of Labor Statistics Occupational Outlook Handbook: Fitness Trainers and Instructors