Consumer goods have long influenced human behavior and addressed our needs and wants, whether at home, in the office, or during social functions. With this, the manufacturing sector has become a huge part of many global economies, accounting for significant chunks of their GDPs.
While many manufacturing companies adhere to the "Why fix it if it isn't broken?" adage, a lot have turned to technology to drive more outputs from their production plants. And it has largely worked for them. This was supposed to be the center of 2020's trends until a pandemic arrived and redefined what the public considers as normal.
We have compiled 22 trends that reflect what the near future holds for the manufacturing industry. Many point to the continued adoption of technology. And there are others that are rooted in dealing with the COVID-19 threat.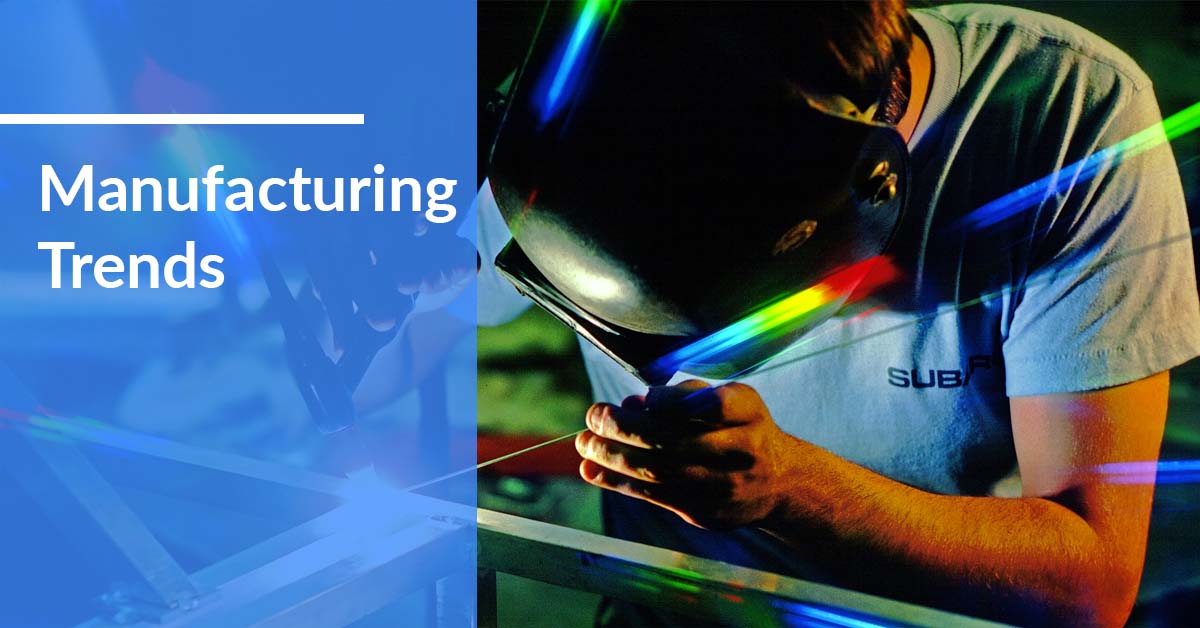 Manufacturing Trends Table of Contents
The coronavirus has left most people stuck at home while those who need to go outside are bound by certain parameters that limit their actions but also keep them protected from the disease. Since manufacturing operates with human demand, it will have to conform to the special needs forced upon by the pandemic.
History suggests that tragedies, like wars and pandemics, have reshaped society with solutions that had influenced new norms. This year's manufacturing trends would likely follow the same path. Below are some of the changes that we can expect within this calendar year:
Trade Declines Caused by COVID-19 in 2020
Source: UNCTAD 2020
Created by CompareCamp.com
A Decline in Manufacturing FDIs
COVID-19 has led to the temporary closure or slowdown of factories across the globe, including China, the world's largest manufacturing nation. This has affected a whole host of industries, from electronics and electrical equipment to healthcare and chemicals, to food and beverage. According to the United Nations Conference on Trade and Development, the pandemic might cause global foreign direct investment (FDI) rate to decline by 5-15%.
Some countries have opted to reopen their economies to alleviate the impact of COVID-19. However, most companies have yet to operate at full capacity, thus, production continues to be down. And it's anyone's guess as to how long until the disease's recovery rate outpaces its rate of infections. The same goes for the creation and use of a vaccine. Until the COVID-19 threat has been curbed, the supply of raw materials will continue to be limited. This will lead investors to focus more on local markets.
Higher Demand for Domestic Manufacturing
With the decline of FDIs comes the rise of domestic manufacturing. Governments have mandated the continued operations of essential businesses, albeit on a limited scale. And these include manufacturing. Countries are bound to revive or reinforce their manufacturing sectors, including community-based operations that have thrived during the lockdown. A large number of imports will still be present but at a lower rate, given the restraints on transport and production.
Nations that are rich in natural resources and have the capacity to turn raw materials into a wide variety of consumer goods will have an easier time adapting to the new norms.
More Companies Will Go Digital
Going digital paves the way for real-time data, which companies can leverage to make timely tweaks to their products or enhance customer experience. This is accompanied by the use of cloud storage and digital tools like task management software and time trackers, among others. So, how do they help during the pandemic?
Automating the manufacturing workflow means a lot of employees can work remotely to go in accordance with today's social distancing measures. They can access real-time data on the cloud and deliver outputs from their homes. Of course, supply chains will still require manual labor, but other tasks like data collection and planning can be migrated online.
Factory records, for instance, can be placed on a company database in real-time and accessed at any time by end-users. Likewise, digital scheduling systems allow managers to create accurate forecasts and timelines away from their offices. Many industries have taken the digital route and more are expected to follow suit this year. After all, 80% of manufacturers stated that going digital has become a high priority in the past three to five years, according to a 2019 RSM survey.
Source: United Nations 2020
The Rise of Robots
Manufacturing involves hands-on work from teams of workers with a lot of help from machines. In light of this, the use of collaborative robots will take much of the load off of human hands and into machinery. This promotes efficiency, with the likelihood of human error reduced, and decreases risks. Also, it keeps operations running with a barebones force, which goes in accordance with quarantine rules.
Robots have figured in industries like electronics, especially in the creation of tiny, intricate components like circuits and chipsets. They also help put together products and product components in assembly lines. This is why it comes as no surprise that they accounted for over $550 million in revenues in 2018. In 2020, more companies will look to capitalize on the use of robots given that their workforces are saddled by the quarantine.
China will Remain the Global Manufacturing Leader
China is head and shoulders above the rest of the world in terms of industrial output, with $4.36 trillion coming from its industrial sector in 2016. In that same year, the US trailed it by over a trillion dollars as a distant second. Manufacturing in China experienced a slowdown in the first quarter of 2020 largely due to the coronavirus, but in April, it posted an industrial production rate of 3.9%. This is a drastic improvement over the -13.5% and -1.1% rates in February and March, respectively.
China is recovering from the pandemic and its positive rate only signifies that it's well on its way to continue its dominance. Among the major industries the exhibited growth, the biggest ones were electrical machinery (9%), metal (8.9%), general equipment (7.5%), food (7.5%), and automotive (5.8%).
Source: Trading Economics 2020
Increased Deployment to Countries with Fewer COViD-19 Cases
Many factories in Korea, Europe, and other parts of the world were shut down temporarily due to the pandemic. Rather than putting a halt to operations, however, some of the affected companies looked for other places where they can continue to produce goods. For instance, Samsung deployed part of its operations to Vietnam, a nation that has successfully contained the coronavirus. More multinational companies are expected to apply a similar strategy.
Aside from Vietnam, countries like Norway, Taiwan, Germany, and Denmark have been handling the COVID-19 crisis relatively well. They are likely deployment sites for manufacturing.
Digitized Distribution
Amazon revolutionized the distribution landscape by digitizing the physical marketplace, offering goods of all kinds to the global market. While this is already a popular model, it stands to get even bigger this year with a majority of buyers stuck at home and left to their own mobile devices, thanks to the coronavirus. Manufacturers will bank on the massive built-in audiences that sites like Amazon, Alibaba, eBay, and Otto have on offer. This can help keep them afloat amid the COVID-19 crisis. After all, not even a pandemic can stop the biggest shopaholics from making a ton of purchases.
Moreover, more online avenues for distribution will pop up, given the surge in popularity of online shopping amid the lockdown. These include Instagram sellers, dropshipping sites, and merchandising websites and apps. Deliveries are also tagged as an essential service in most countries and have been thriving since most people aren't able to step out of their homes. With this, manufacturers can always turn to digital distribution to find or increase profits during these hard times.
Tariffs will Continue to Haunt Manufacturers
The tariffs imposed by the Trump administration and the resulting retaliatory tariffs have put pressure on manufacturers last year. With the rates not being relaxed amid the COVID-19 crisis, the prices of raw materials and other goods remain high while global manufacturing experiences a slowdown. This has led to serious concerns on sourcing, setting margins, pricing, and most importantly profits.
According to a 2019 RSM survey, 44% of middle-market executives claimed that tariffs are one of the biggest risks to their business. That was before the pandemic.
Carbon Footprint Reduction
The recent popularity of all things sustainable has influenced people to be more mindful about their health and the environment, and remarkably, this extends to manufacturing companies. In Deloitte's 2019 annual survey, over a fourth of US manufacturers have made steps to reduce the carbon footprint in their operations. Moreover, a lot of manufacturers are looking to tap into renewable sources of energy. Doing so not only promotes a cleaner environment, but it also leads to reduced costs.
The pandemic has led to a reduction of the harmful emissions that plague most major cities around the world. Couple this with the conscious effort by manufacturers to clean up their act and we might have a shot at slowing down climate change.
Internet of Manufacturing Things
Technology has claimed real estate into our daily routines through a slew of interconnected devices. It won't take long before it bears a similar effect to manufacturing. Aside from office computers, wearables and smartphones could play a bigger role in the manufacturing sector. Currently, there are apps that help manage tasks, consolidate data, and limit errors. Soon, there will be dozens of apps and devices dedicated to specific processes in assembly lines and supply chains.
Market experts have predicted that investments in the Internet of Things will reach $40 billion. And the manufacturing sector would likely have a large share of that.
Bigger Focus on Customer Experience
The foremost result of trends like automation and leveraging big data is a more detailed approach to customer experience. With all the data and insights in the hands of manufacturers, they can tailor their products to suit the exact preferences of their clientele. They can also find ways to make their workflows less wasteful in regard to time and resources. This leads to an increase in satisfied and repeat customers, which, in turn, influence a spike in profits. It has worked for other industries and the results will be the same for manufacturing.
A Sustained Demand for Healthcare and Hygiene Products
COVID-19 is not going away any time soon. Experts have predicted that the pandemic could last for two years or until two-thirds of the global population have gained immunity. This means healthcare manufacturers will have to speed up or scale up their operations to meet the sustained demand for healthcare products. Items like masks, gloves, and alcohol will continue to have high buy rates. The same goes for hygiene products like soap, hand sanitizer, shampoo, and tissue paper.
With some economies reopening recently, a second wave of infections is likely to occur. This could lead to an even higher demand for healthcare and hygiene products in the near future.
Diversifying into Healthcare
As manufacturers have trouble keeping up with the demand for healthcare and hygiene products, big corporations have stepped up to give their production that much-needed boost. Producers of cars, alcoholic beverages, t-shirts, and perfume, among others, went on to manufacture essential goods like medical equipment and hygiene products. This might be a temporary measure, but the COVID-19 threat would probably be present even after this year. So, those companies won't likely halt the production of essential items while the demand for them is critically high.
Despite the production boost, there is still a massive shortage of healthcare supplies given the rapid rise in infections globally. More manufacturers are likely to diversify into healthcare within the year to address the shortage.
Source: United Nations 2020
An Upswing in Nearshore Manufacturing
Dealing with shortages in healthcare supplies has been a nightmare for producers. With this, suppliers can boost production by tapping into the manufacturers and production plants of neighboring countries. For developed countries, this vastly increases their output while operating with lower costs. Deliveries won't take too long given the close proximity of those nations, which is an advantage over the typical offshore manufacturing setup. As for developing countries, they are afforded more jobs and foreign investments.
Aside from healthcare, other industries can look into this option considering its financial benefits. US companies, for instance, have brought their supply chains to Latin American countries like Mexico and Costa Rica. The costs are generally lower in India and China, but transport is easier and cheaper while quality checks are less tedious. Tariffs are also lower in Latin American countries.
Global Decline in Manufacturing
While the production of healthcare items remains high, manufacturing as a whole is set to plunge, thanks to the pandemic. According to the World Trade Organization, global trade is expected to decline by around 13% to 32%. This comes as no surprise as numerous factories were shut down and the global business sector is not able to operate at full capacity. Moreover, not all companies carry digital infrastructure, thus, there is difficulty in applying work-from-home schemes.
A Bad Year for Electronics and Automotive
The manufacturing trends for this year are generally grim, and the hardest-hit sectors are those that possess complex supply and value chains. The ones that quickly come to mind are the electronics and automotive industries. Besides the immense physical work required, both industries deal with a ton of parts imported from other countries, mainly China. China happens to be struggling to produce its normal yield since some factories were closed and the quarantine has kept companies from operating optimally. Factor in the trade tariffs and it pretty much translates to a rough year for the said industries and those similar to them.
A Boost in Digital Security
This trend is not exclusive to the manufacturing sector. Every industry will have to beef up digital security as the pandemic has left most organizations vulnerable to cyberattacks. Social distancing means companies have to resort to work-from-home schemes to get as much work done as possible. The problem is remote workers are connected to less-secure connections instead of the private network that companies provide. Hackers can exploit each of those connections since they are entry points to systems, and steal information from organizations.
As a result, the number of cyberattacks has escalated ever since the pandemic began. In March, a spike in phishing attempts in Italy was detected. This could occur all over the world. But the IT teams of companies have probably anticipated that early on, thus, leading to better digital security.
Growth in Motion Control
Motion control refers to a field of automation centered on moving items in a controlled manner. This is heavily used by advanced manufacturing firms for lifting or moving parts in assembly lines. Since the user is far from the machinery, the risk of injury is much lower. Meanwhile, the level of control it affords users results in improved efficiency, especially when working on items that have hard-to-reach areas.
According to a recent study by Interact Analysis, there will be a larger market for motion control products. In fact, it is set to exceed $15 billion by 2023. Japan has got the market cornered at the moment, but companies from the US, China, and Germany are beginning to take a larger share. Given how motion control simplifies and affords more control over heavy tasks, it won't take long before more manufacturers integrate the technology into their supply chains.
Heavier Use of VR and AR
Similar to motion control, the use of virtual and augmented reality in manufacturing reduces the risk of injury and improves the level of control the user has on product parts. Both environments also afford better visibility of the machinery and the items worked on as well as data and insights that users can leverage. With this, they are often used alongside motion control in various applications.
VR and AR also make for effective training tools. Simulations of the work environment help trainees avoid injuries and costly errors in tasks like assembling product parts and processing raw materials.
All that said, more companies will want to automate their supply chains by availing of those simulations.
Motor Drive Smart Sensors
Motor drives feed energy to the machinery in production plants. Should they be equipped with sensors, they can provide various information about the motor and its components. In light of this, there have been attempts to innovate sensors that would serve as tools for predictive maintenance. Users can spot areas of the machinery that aren't performing optimally, and so parts can be fixed or replaced before they can cause damage and delays. According to Interact Analysis, as much as 80% of the motor's failure conditions can be observed through the drive.
Forging Strategic Partnerships
Sometimes no matter how advanced or well-structured a company is, it won't reach its full earning potential without forging partnerships. The pandemic has also proven that a singular effort isn't enough to supply the market with sufficient healthcare items. With this, finding partners within one's ecosystem extends a company's reach and widens its capabilities.
Research from Deloitte suggests that companies that pursued business partnerships are twice as fast at generating new value to customers than those that didn't. They were also able to create new business models five times faster than other companies.
A Greater Need for Diversified Skillsets
As technology is poised to shake up manufacturing paradigms this year, the shift would require a more digital-savvy workforce. After all, they will be the ones taking control of the digital platforms and tools intended to streamline operations. The latest product trends will also call for innovation in terms of functionality and aesthetics, so manufacturers are expected to come up with pertinent solutions as soon as possible.
This would likely result in companies investing in new departments to accommodate these changes. Existent employees, on the other hand, will be advised to learn new skills or expand their knowledge base to adapt to the market. Truth be told, the costs will be high, but the payoffs will be much higher.
What's Next for the Manufacturing Industry?
The prognosis for the manufacturing industry in 2020 may not be encouraging due to the COVID-19 crisis, but economies are expected to bounce back in a big way in 2021. Of course, that is entirely dependent on how effective the world's collective response is to the virus and if we can successfully contain the threat. But when we do, the World Trade Organization suggests that the rate of trade growth for many economies will be in double digits.
China, the world's biggest manufacturer, has started to recover as evidenced by its impressive industrial growth rate. And it won't take too long before the rest of the world follows a similar trend. Consider this year a period of dormancy before economies rise anew, but not a manufacturing landscape identical to the one prior to the pandemic.
Technology has begun to infiltrate manufacturing workflows in recent years, and it would likely pervade company operations more emphatically this year. The pandemic has exposed chinks in the armor of many manufacturing companies, particularly those that were paralyzed by the quarantine. They will have to address those issues if they are to survive this year, and this is where the aforesaid trends enter the picture. Parallel to the effects of the pandemic, the technological measures companies will adopt won't just be band-aid solutions—they could possibly become the new norms.
---
References:
Due To COVID-19, Manufacturing Will Experience Five Years Of Innovation In The Next 18 Months

Our Top 5 Industrial Trends in 2020

Cobot Sales Will Reach $5.6bn by 2027, Driven by Growth in Non-Manufacturing Applications

10 Countries With The Highest Industrial Outputs In The World

China Industrial Production

Which Countries Are Handling The COVID-19 Crisis Best? New Public Opinion Data Offers Answers

The Five Most Important Manufacturing Trends

5 manufacturing trends to watch in 2020

2020 Manufacturing Industry Outlook

Top 7 Manufacturing Trends for 2020

COVID-19 Pandemic Likely to Last Two Years, Report Says

Factories that used to make perfume, T-shirts, and cars are now making supplies to fight the coronavirus

How factories change production to quickly fight coronavirus

How medical supply chains can diversify beyond COVID-19

Nearshoring Latin America: A Closer Look

Application of IoT in Manufacturing Plants

Trade set to plunge as COVID-19 pandemic upends global economy

What you need to know about COVID-19-related cyberattacks

What is Motion Control

The Motion Control Market: Global and Regional Perspectives

What's the Difference Between a Motor and a Drive?

Exposing the Top Ten Manufacturing Tech Trends of 2020s

COVID-19 triggers marked decline in global trade, new data shows

How COVID-19 is changing the world: a statistical perspective

Americans are Hoarding Face Masks