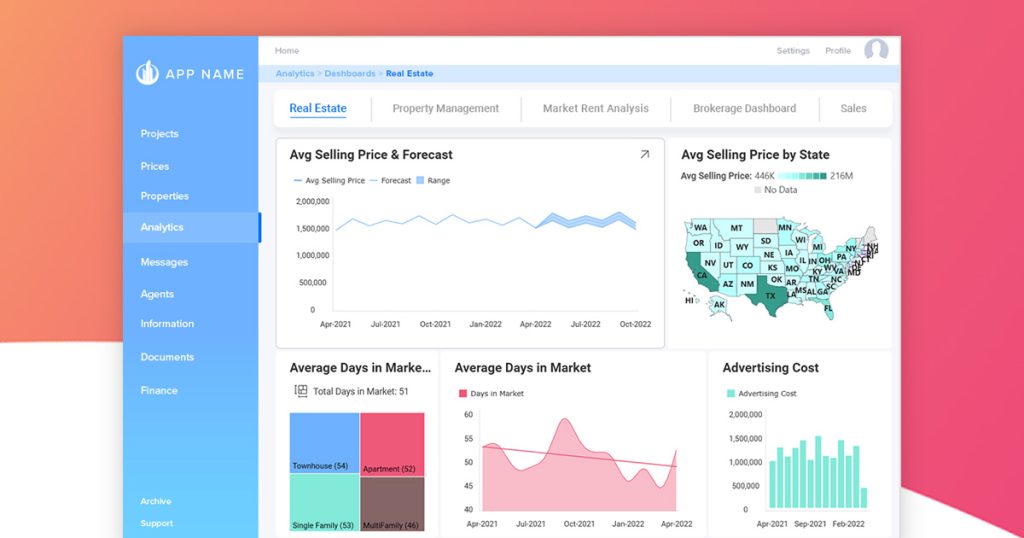 The famous Peter Drucker's quote, ''You can't improve what you don't measure'' is true for any business, SaaS businesses included.
How are people getting to your website? 
What features are your customers using? 
What is your conversion rate? 
By embedding analytics into your SaaS application, you will be able to answer these questions and as a result grow your SaaS business. 
There are a lot of data analytics tools on the market, but they're not one-size-fits-all. Find out why SaaS analytics is important, and what you should look for when choosing a vendor to partner with. 
The Need of Embedded Analytics for SaaS Providers
By embedding analytics into your SaaS apps, you can create a better analytics experience for your users and employees alike without straining engineering resources. Data helps businesses to spot trends and patterns in data that they would've otherwise missed and helps reveal where and how their business processes and operations can improve for maximum effectiveness, efficiency, and ultimately profitability. 
Moreover, embedded analytics tools allow SaaS providers to improve data literacy across their organization and establish a data-driven culture. With access to SaaS analytics, everyone can easily understand data, draw conclusions from insights, and make more intelligent business decisions confidently at the moment of impact. 
With all of this in mind, choosing the right embedded analytics solution to integrate with your SaaS application is crucial. To help you in this journey, we gathered the essential SaaS analytics features ad functionalities that you should look for, so you can better evaluate different vendors and make the best investment decision. 
7 Essential SaaS Analytics Features & Functionalities to Look For
Simple data integration
One of the most important things that you should look for when choosing an embedded analytics solution for your SaaS is a simple and seamless data integration. The last thing you would want is to add additional and complex tasks to your developers and analysts. The less time they spend integrating the solution and getting it to work with your SaaS, the more time they can spend on more important tasks, running analytics models and actually analyzing your data to uncover the insights you've been looking for in order to make smarter business decisions to maximize your profits. 
The embedded analytics tool you decide to partner with should also provide native SDKs for easy integration with your existing data warehouses, databases, data lakes and applications, both on premises and in the cloud. 
Cloud-based SaaS analytics solution 
Look for a cloud-based SaaS analytics solution that allows your users to access data and analytics applications regardless of their location or the device that they are using. Bearing in mind the fast-paced lives that many business users are living, this is essential as it brings the power of BI into users' hands every time they need it. That way, they can view business data in real-time and can make the best possible decision in every important moment. 
Self-service analytics
All of your SaaS users are different. Some of them might be analytics experts or have some basic data analytics or reporting skills, but others surely have no experience or expertise at all. For that reason, it is essential that the embedded analytics you decide to integrate with your SaaS provide self-service capabilities so users of at any analytics level can be empowered. 
Self-service analytics is the capability that allows end users to analyze data and build dashboards and reports by themselves, without waiting for or relying on BI or IT experts. End users can easily do that through the self-service analytics features that include an intuitive and user-friendly drag-and-drop interface and predefined dashboard templates. 
Rich library of data visualization tools
Data visualization is one of the most important BI tools as it makes it easier for those not trained in analytics to quickly be able to read and understand data. Many embedded analytics solutions offer simple charts and graphs, but those are no longer enough; nowadays businesses generate tons of structured and unstructured, simple and complex data that want to use to uncover hidden insights, patterns, and trends. And to do that, a simple bar chart or a table won't do the job. That is why it is important to look for a solution that offers a rich library of data visualization tools. Having that, you can rest assured that your business data will always be visualized in the most optimal way so everyone can understand it and act on it. 
Customization capabilities 
Customization in the data analytics and BI space refers to the so called white-label capability, or in other words, the ability to customize all UX elements of the analytics solution so that they perfectly match those of your own SaaS application. 
Why do you need this? 
To guarantee a seamless and undisturbed customer experience for all of your clients. 
If the analytics solution that you have embedded in your SaaS feels like it doesn't belong, your customers will get distracted, and your user experience will drop significantly.  
Effective data governance 
Effective data governance is a vital part of any analytics tool as it helps businesses implement internal data standards and comply with data privacy and security laws. Furthermore, data governance ensures that data is trustworthy, secured, documented, managed, and audited, and that there is a high quality of data management throughout the entire data lifecycle. Effective data policies and procedures lead to improved business outcomes and are a must-have in today's highly competitive market. 
Robust data security 
Another essential SaaS analytics feature that you must look for. In today's digital age, businesses need to prioritize SaaS cybersecurity more than ever before. As cyber threats grow, data breaches, virus attacks, and other malicious activities become a growing concern for organizations and therefore robust data security is something that no business can afford to neglect. 
Luckily, embedded analytics solutions make it easier to stay on top of security and stay ahead of cyberattacks through data visualization, predictive analytics, and machine learning algorithms. These paired together can help security professionals to identify potential security threats based on previous behavior patterns of exploits. 
3 Advanced SaaS Analytics Features & Functionalities to Look For 
Predictive analytics
A lot of businesses fail to survive because of their inability to forecast and therefore plan and execute smarter business strategies. And that is where this advanced SaaS analytics feature, predictive analytics, comes to the rescue. 
Predictive analytics is a type of data analysis used to predict future events by analyzing historical and real-time data patterns to determine if those patterns are likely to emerge. Predictive analytics is very useful in predicting inventory management, demand, sales and revenue forecasting, risk of security breaches, and much more. It finds applications in every industry and is especially beneficial for healthcare organizations, manufacturing, and supply chain, the retail and IT industries, and banking. 
Statistical functions 
Another great SaaS analytics feature to look for is statistical functions. In the data analytics world, statistical functions refer to the process of using mathematics to perform technical data analysis. For example, any chart or graph can give you a high-level view of your business data, by applying statistical functions, however, you can get deeper insights and operate on your data in a more targeted way. 
The key statistical functions include: 
Linear regression

– this statistical function lets users visually see trends in their data by finding the relationship between two variables and seeing a linear approximation of the data, including future trends. 

Outliers detection

– allows users to easily detect points in their data that are anomalies and differ from much of the data set. 

Time series forecasting

– the third key statistical function is part of predictive analytics and allows users to make predictions on future values based on historical data and trends. 
Dashboard linking
The dashboard linking feature allows you to connect visualizations in a dashboard or an entire dashboard directly into another dashboard or a URL. That helps users pass parameters and filters through between dashboards to make drilling down to deeper insights quicker and easier. 
Final Words… 
Data-driven decision-making is the key to growing your SaaS business and you should carefully assess the different analytics tools on the market in order to select the one that would best fit your needs and answer all the pointed requirements. Other important analytics capabilities that you shouldn't miss asking about include collaboration features, easy sharing of reports and dashboards with internal and external team members and stakeholders, in-context editing, and rich APIs.