Why are companies willing to shell out their hard-earned money on customer relationship management (CRM) applications? A Gartner report predicts that CRM software global sales will climb up to $36.5 billion by 2017. CRM software already occupies second place in sales behind ERPs. To answer our question, a quality CRM solution can help businesses to engage their prospects and customers positively and stay ahead of the cutthroat competition.
This article details the main CRM software benefits, provides you tips on how to buy a suitable system, and reviews six leading applications that you can consider.

Key Benefits of CRM Software
Boost to your sales
This is the main reason why companies use a CRM solution. It can help you to track quality leads and not waste time on unpromising prospects. The software reduces sales cycles and improves win rates. Plus, you can track customer purchase histories to spot potential leads, repeat customers, and upsell opportunities.
CRM software can also help you to spot your important customers and create personalized communication and reward systems for them to boost engagement and conversion. Another benefit is you can identify the weak links in your sales process – such as calls or emails not being followed up on – and resolve the issues quickly.
Enhanced efficiency and profitability
Profitability involves more than just improving sales. It means creating efficient business processes to capitalize on sales opportunities as well as reducing costs. CRM software enables your employees to access vital data quickly to resolve customer issues and to address important business processes. For example, if a customer complains about a defective product, your customer support unit can get the product's serial number and check the logistics' database to find the defective batch. Meanwhile, the logistics unit can replace the product and your finance unit can calculate the cost of this activity to the monthly overhead.  
You can also track customer engagement via calls and emails, and route required actions to concerned units. Similarly, you can identify top performing employees and reward them with incentives.
Another benefit is you can provide user-friendly tools to onboard new hires quickly and easily. The new hires can get accustomed to standard operation procedures as the CRM solution provides all employees the same forms, templates, and procedures to do their tasks.
On top of that, the CRM app can integrate with processes such as sales, inventory, and accounting to offer a seamless pipeline and help you avoid repeating of tasks. Items such as products, projects, events, and contracts, are aligned in a single CRM system to aid quicker turnaround of deliverables.
You can make fast and reliable strategic decisions
The software gives managers access to real-time data which enables them to quickly make adjustments to adapt to market trends. CRM platforms help you to get accurate insights from on-location and real-time data. This can help you to adjust your strategies quickly to avoid a crisis or make the most of an opportunity.
For instance, your sales team can provide sales figures that show customer clusters. You can consolidate this info with supply chain and ask your events team to conduct scalable trials in promising sales clusters. Thus, CRM software helps you to allot resources to lagging as well as promising areas.
On top of that, accurate data can enable you to combine the best practices of different units to improve the overall business processes. In our example, the activities of the sales, supply chain, and events teams are coordinated and their collaboration strengthens weak sales points and this strategy can be repeated in other areas.
Improved data security
You can securely store confidential and sensitive trade insights and customer data in a centralized CRM application instead of in different desktops. This enables you to focus your capital infrastructure, human resources, and budget on the CRM system. You can give role-based permissions to ensure only authorized employees can access data, and monitor the software closely for security breaches. This helps you to safeguard your system and data effectively from lurking hackers and viruses.
Mobile CRM boosts field productivity
Mobile CRM technologies enable field reps to access data such as customer personal info, purchases, product info, and delivery schedules wherever they are and make decisions on the spot right before the customer.
For example, field sales reps can log client meetings immediately and your back office can process the mobile report instantly. While the reps are talking to a prospect, the back office prepares a quote based on the field inputs. The reps can offer the quote to the client during the field meeting which reduces the sales cycle as they don't have to schedule another meeting just to deliver the custom quote.
Other field benefits of mobile CRM are: fast approval process, receiving alerts on things like out-of-stock products, checking customer credit limits, and checking real-time inventory.
How to Choose a Suitable CRM for Your Needs
Now that you have learned about the CRM software benefits, read on to know how to select the best CRM software. We help you by giving you tips on five key factors you should consider to make the perfect selection.
Price
Budget is an important criterion in any purchase decision. Calculate the upfront as well as long-term costs of the CRM solution. Do you need to pay extra for training, upgrades, ongoing services, integration, customization etc.? Besides the vendor fees, do you need to invest on added infrastructure such as PCs, laptops, and servers? Can the CRM app integrate cost effectively with your existing systems? Get the answers to these questions before you plunge in.
Be Clear about Your Business Objectives
Prepare a wish-list of features that you want in the CRM software. Get input from your sales, marketing, customer support, and IT units, as well as managers and end users on what they expect from the system. Be clear about your company's processes and how you wish to improve them by using the CRM platform. In short, prepare a shortlist of priority requirements before you go shopping.
On-Premise vs On-Demand
Go for a web-based SaaS solution if you want anywhere, anytime access and if you don't wish to invest in hosting infrastructure and technologies. The main advantage is you can implement the SaaS system quickly and easily.
However, if your company has adequate IT and computing resources you can opt for on-premise software. Even if you don't have the resources you can hire a third-party solution provider, systems integrator, or consultant to maintain your on-premise solution. In-house is also a good option if you don't want to trust a third-party vendor with your confidential company and customer data.
Scalability
Make sure you invest in a CRM product that can keep up with your business growth. Otherwise, you would have to spend time and money again in the future to select another appropriate system. The solution is to do proper research and choose a CRM platform that is easy to use for current purposes and whose functionality can be expanded in the future to cope with greater business demands. You can do this by trying out the free trials of leading apps to ensure the software offers what you need.
Vendor Track Record
Finally, invest your money in a trusted vendor with whom you can build a mutually profitable long-term business relationship. Read online reviews about the provider's performance and product efficacy. Get references from the software maker and talk with current users to learn more about the vendor. If you wish to invest in a SaaS system, talk to existing users and find out about the provider's responsiveness and quality of services, and the online software's up-time rate.  
Bottom line
The main thing is to take your time to make the selection. There is no point being hasty and regretting later. Be clear about your company's needs, get designated users to check out the free trials of shortlisted apps, get their feedback on the performance of each product, talk to the vendors to clarify your doubts, and finally select the software that passes all tests and qualifies as the best one for your current and future needs.
Leading CRM Software Apps You Should Try Out
You can try out the free trials of the following apps that offer verified benefits and can prove handy for your business:
Pipedrive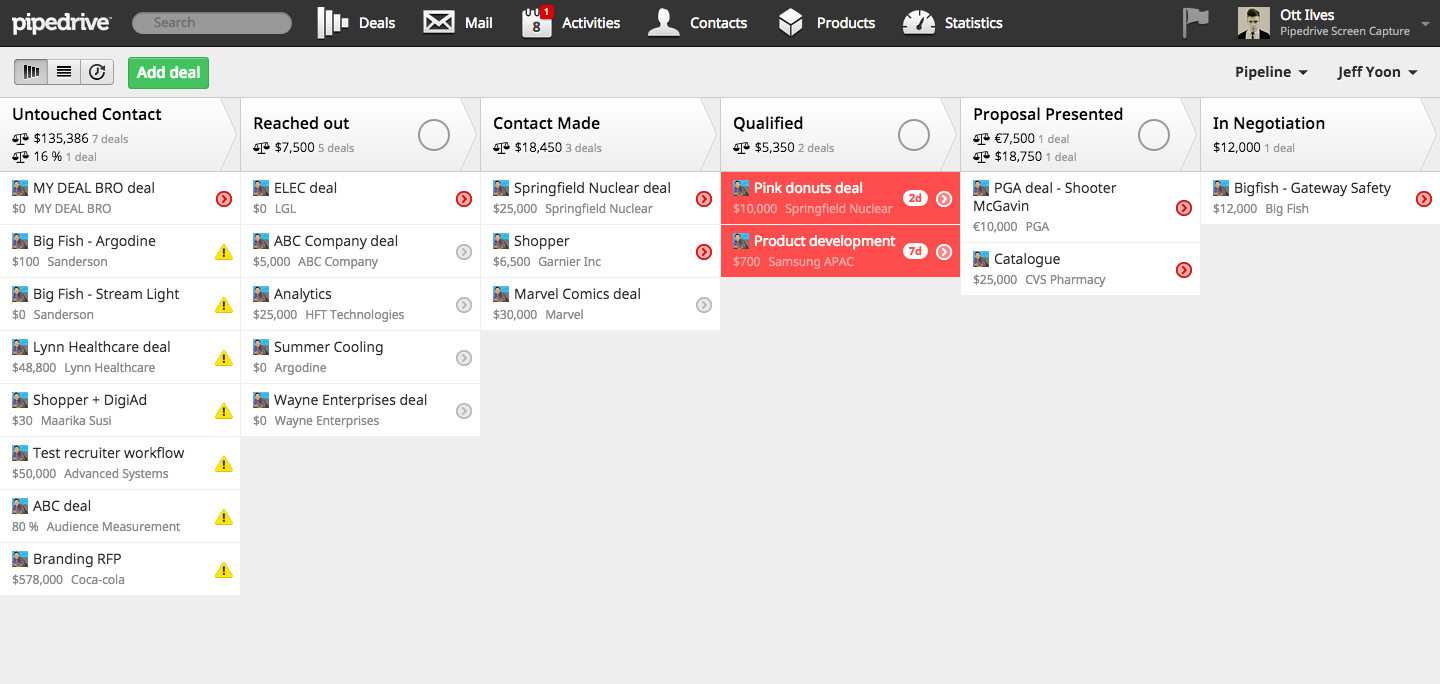 You can use Pipedrive to take control of your company's sales process. The app shows your pipeline's strengths and drawbacks with clarity. It takes the guesswork out of what activities are required to close deals.
The main advantage is Pipedrive allows you to focus on the activities that drive deals to close. You can clearly mark out and follow the needed steps so that no deal is missed. Plus, you can control the manner in which your deals move through the pipeline.
The unique element of Pipedrive is it enables efficient sales management as it acts as your personal sales manager to assist you to concentrate on promising deals. The product's website states that this app is utilized by more than 100,000 global users including freelancers and small and medium-sized companies.
bpm'online CRM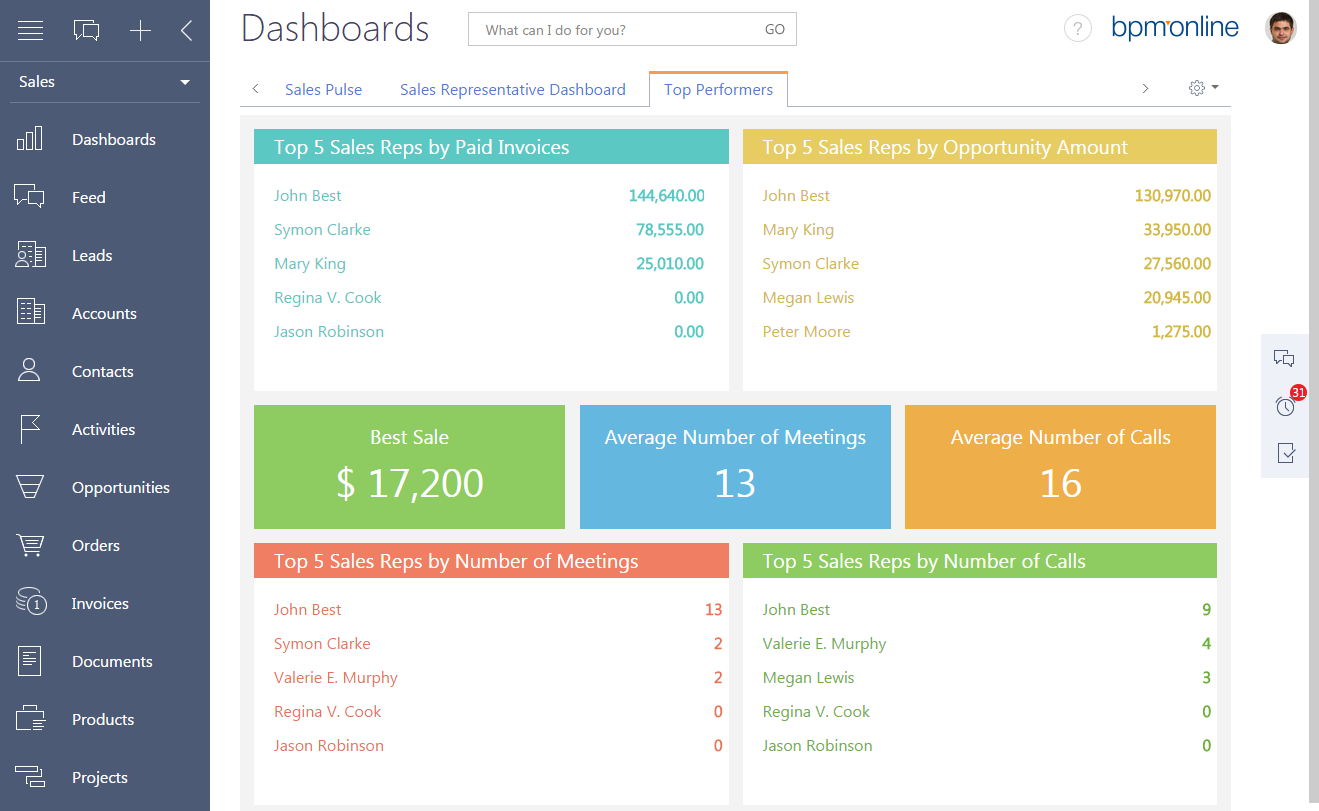 bpm'online CRM provides seamlessly integrated products to connect marketing, sales, and customer support. It offers end-to-end processes to handle the customer journey – from lead to order. With this app, you can combine sales, marketing, and support in a single CRM system.
The unique element of bpm'online is it offers both CRM and BPM features in one application. You can use it to design, automate, and manage business processes, view customers' purchase histories, and make sales plans more efficiently. The app has been created for medium-sized companies and large enterprises in pharma, legal, telecommunications, distribution, private investment, consultancy, retail, real estate, banking, advertising and other industries.
Freshsales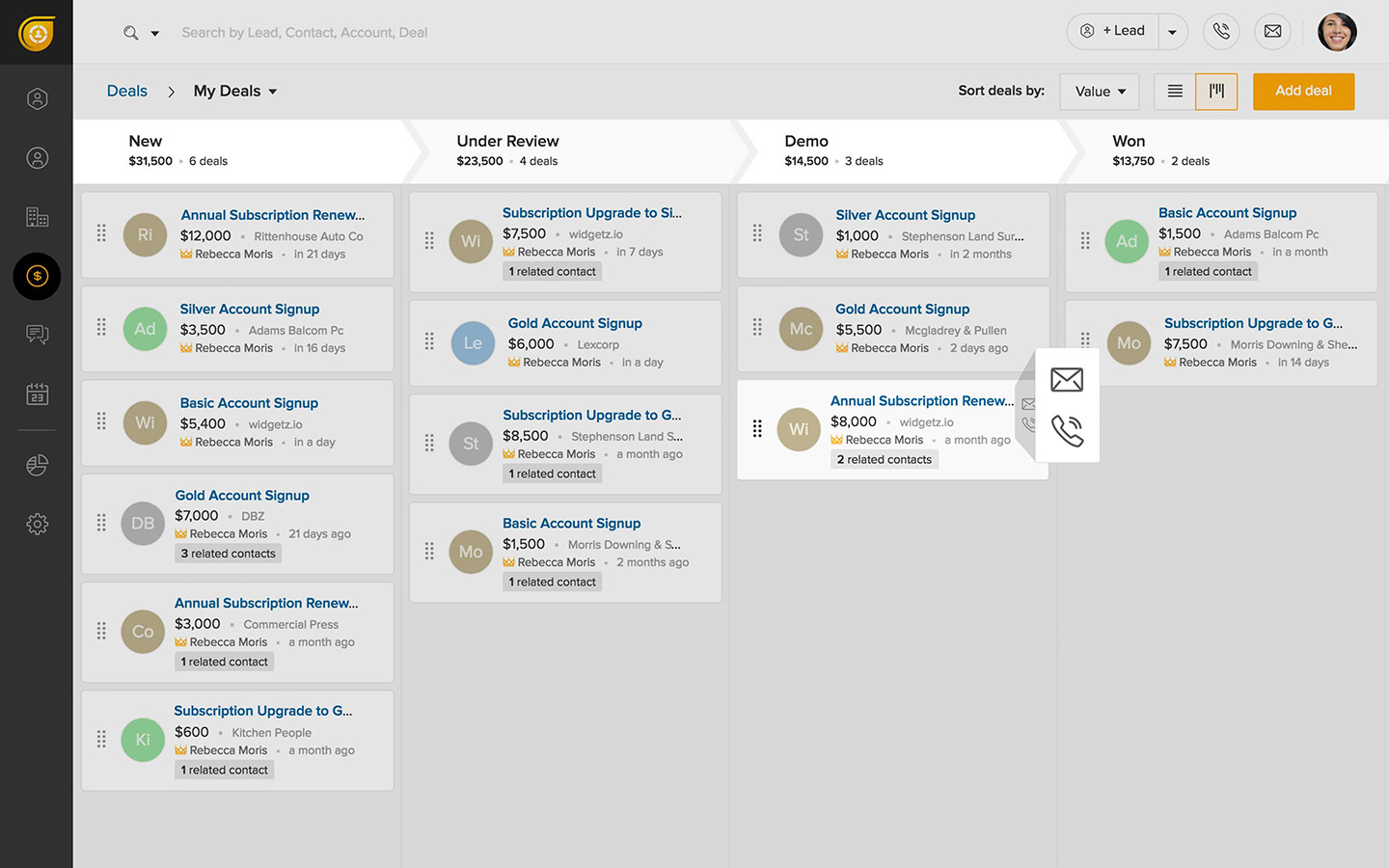 Freshsales is a suitable CRM app for high-velocity sales teams. It offers user behavior tracking, lead scoring, and integrated phone and email in one effective package. You can utilize the solution to make more calls and send targeted emails. Plus, you can easily identify promising leads that are ready to buy your solution. Another advantage is you can find all sales interactions and follow your buyers' journey.
The unique aspect of Freshsales is it allows you to send bulk emails drafted on personalized templates, schedule them to be sent any time, and sync them with your calendars. This CRM application is utilized by more than 1,000 small, medium-sized, and large companies including top brands such as Ascendore, Raved, Weefer, and Vacasa.
Nutshell CRM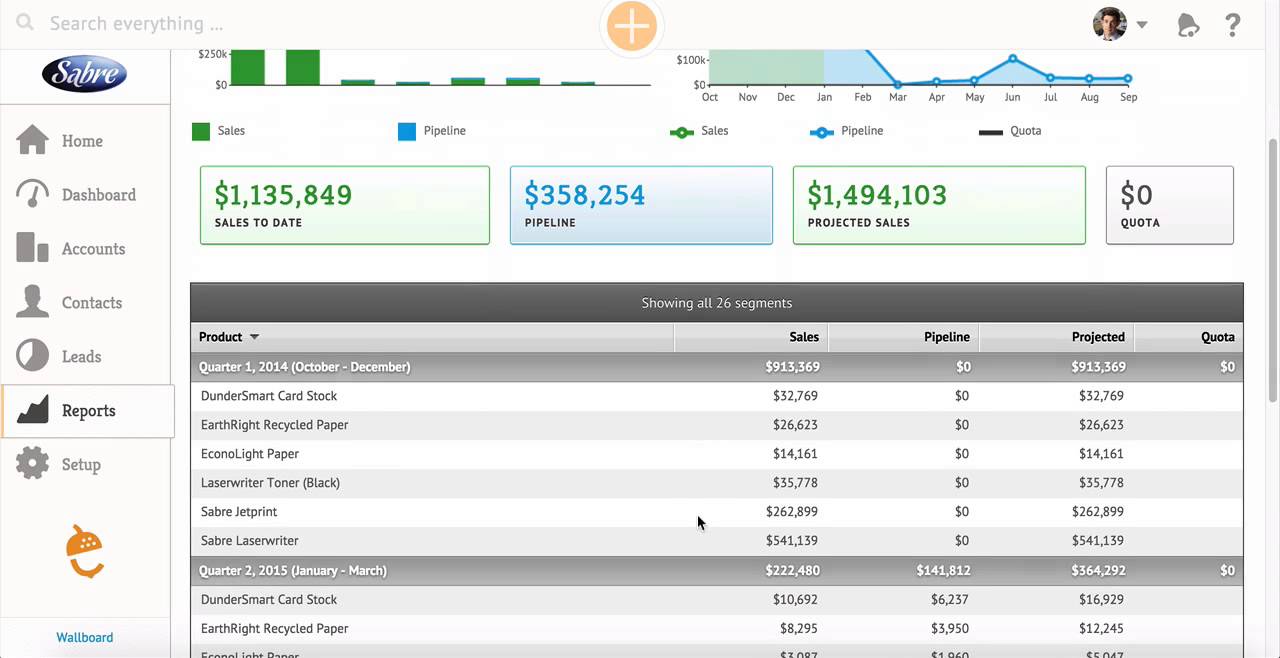 Nutshell CRM can help your sales reps win more deals. Many CRM solutions do not provide enough value to sales teams. But Nutshell CRM is different because it offers top class features and customer support to small businesses. No wonder, it is used by thousands of small companies in greater than 50 countries.
The unique factor about Nutshell CRM is it eliminates CRM inefficiencies. It provides effective features to help sales reps use customer data to make intelligent decisions and close deals. The system enables sales reps to track information for more quotas, do easy scheduling, and save time spent on manual tasks. This CRM system is suitable for resellers and VARs, manufacturers, software companies, construction businesses, business services companies, brands and wholesalers and others.
Insightly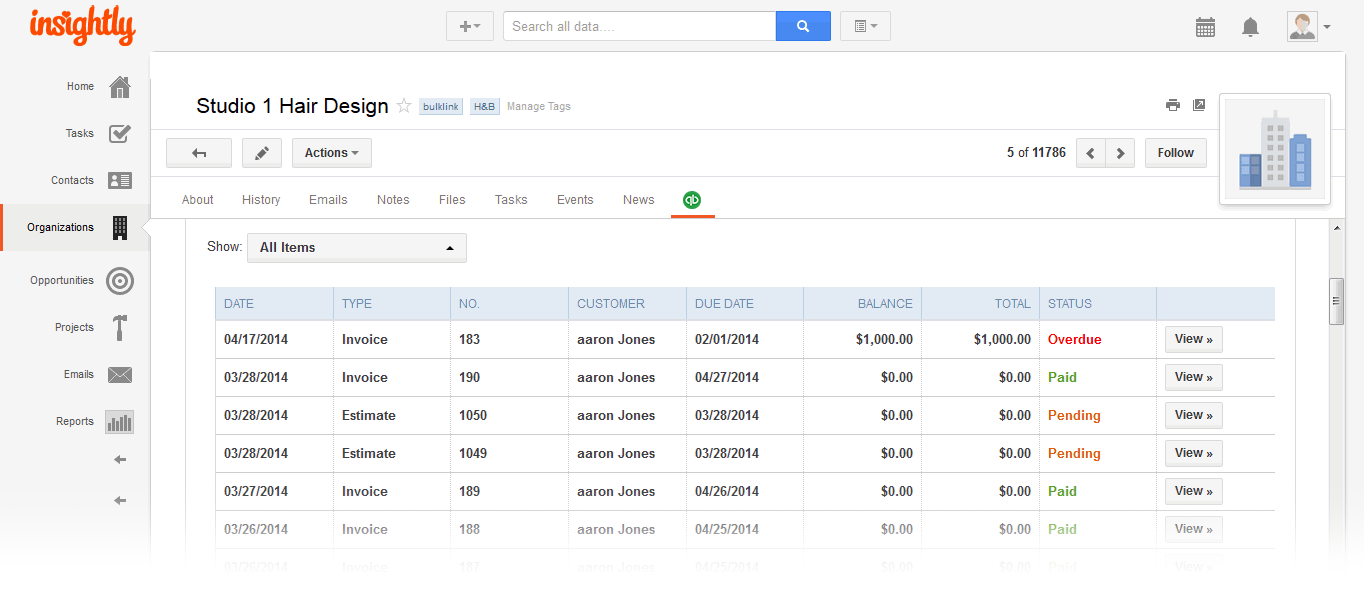 Insightly is a powerful CRM product that you can use to manage your leads, contacts, vendors, and partners. It shows information about a contact or lead including background, email history, opportunities, and projects. The app offers social media profiles and information of your contacts on LinkedIn, Facebook, Picasa, FourSquare, Klout and other popular social networks.
The unique aspect of Insightly is it provides CRM and project management in a single system to help you manage your customer relationship through every stage. This application is designed for small businesses, growing firms, and large corporations in IT consulting, manufacturing, advertising and media and other industries.
Zoho CRM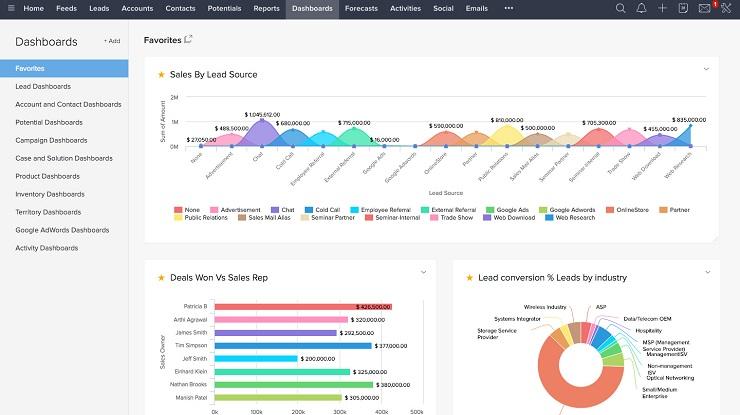 Zoho CRM enables companies to engage their customers on convenient channels such as email, live chat, phone, social media, and in person. You can store all your interactions in one place and use them to boost conversions. The system offers you data and insights in a usable way.
Zoho CRM provides insightful reports and analytics about your customers' life cycle and your team members' performance. Plus, you can utilize workflows and automation features to sell more. The unique aspect of this app is you can easily modify it for the market. This can be done as you can customize how you gather and utilize crucial information across your company. Zoho CRM is used by freelancers and small, medium, and large companies including top brands such as Amazon, Selectra, Benchmark, and Amiad.