Ever since accounting software first appeared, developers are doing the impossible to extend its functionality and cover operations accountants couldn't imagine doing with plain Excel charts. Billing and invoicing nowadays are fully automated, and distinguish good from great accounting systems which offer diverse businesses with fully-featured and sophisticated bookkeeping.
Every company has different billing & invoicing needs, but what they are all looking for is a friendly system where they are not expected to enter data manually, and get to save time automating boring and routine operations. There is a hardly such thing as the best billing software that can cater to all vertical industries, but luckily, there are such that offer configurable payment collection methods to let companies adjust them to their needs. We've selected the top performers among them, and listed their advantages to help you choose the ideal system for your needs.

1.FreshBooks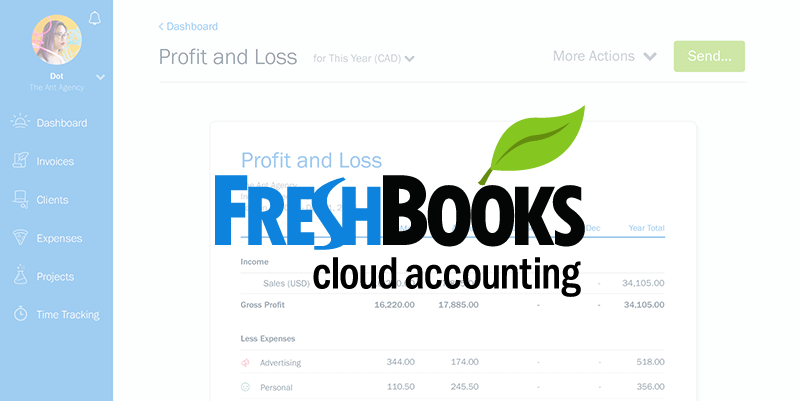 FreshBooks is a leading billing and invoicing system that responds to most of companies' accounting and finance management needs. It is believed to handle both simple and complex payment collection operations, and suits well small companies and large enterprises. The system is fast and reliable, and has a beautiful and understandable interface that caters perfectly to the expectations of non-savvy users and novice accountants. It is fully equipped with invoice-to-payment features you can use to charge late fees, set due dates, brand invoices, and to track billing. What is also good to know is that FreshBooks stores documents and saves billing history, and handles taxation issues to facilitate reporting.
Advantages
FreshBook unifies financial control, and allows users to send invoices and collect payments using the same platform.

It allows you to work in a friendly and intuitive interface, and to create your own to-do lists.

It offers all necessary invoice-to-payment features, making it possible to charge late payments, collect finances complying with taxation issues, and set due dates.

It is ready for reporting, as it processes data and summarizes taxes automatically to generate accurate balance sheets.

Integrates with multiple business systems, applications, and top notch credit card providers.

It is fully responsive on Android and iOS mobile devices.
Disadvantages
Customers are experiencing difficulties to find the invoice they need, because invoice tags are not provided.

Non-billable expenses are not recorded, and you must enter them manually.

There is no Free pricing plan for sole accountants and small teams.
2. Zoho Books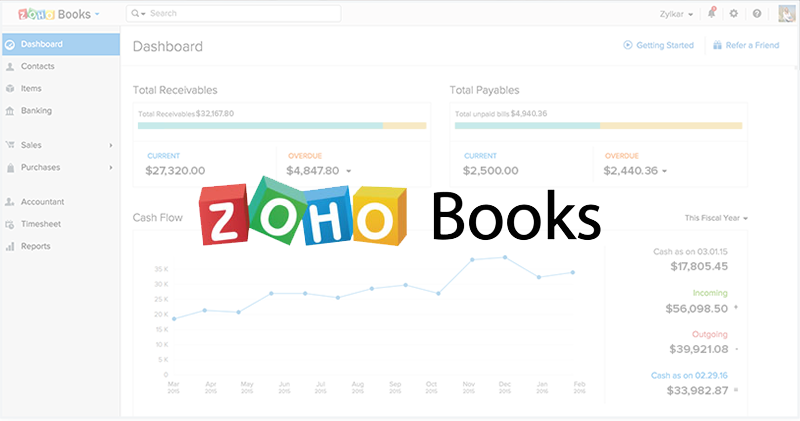 Those of you who are familiar with the qualities of Zoho's productivity suite will certainly appreciate Zoho Books, a system developed to help small and medium businesses regain control of their finances. Thanks to it, many companies automate invoicing and collect payments faster and easier, but also manage inventory, track projects and time, and use Stripe to reconcile payments. Another thing that makes this system unique is live collaboration with clients and external partners.
Advantages
Zoho Books automates bank feeds, and imports all credit card transactions to help you work in line with bank rules.

With Zoho Books, you can easily involve customers and manage contacts, letting them complete payments through the same portal, and follow the status of their bills.

It makes reconciliation easier, as it integrates with Stripe to let you see how money is moving on your accounts.

It manages your inventory and runs reports on it at any time.

It collects retainers, offline payments,  and prepayments based on how much time you spent working on a case, and associates those to the final invoice.

Integrations are almost unlimited, as it offers rest-based APIs for developers to connect it to various apps and systems.
Disadvantages
Compared to FreshBooks, Zoho Books' custom reporting is not that generous with fields.

It suits small and medium companies rather than enterprises.

There is no unpaid plan for small businesses and sole accountants.
3. QuickBooks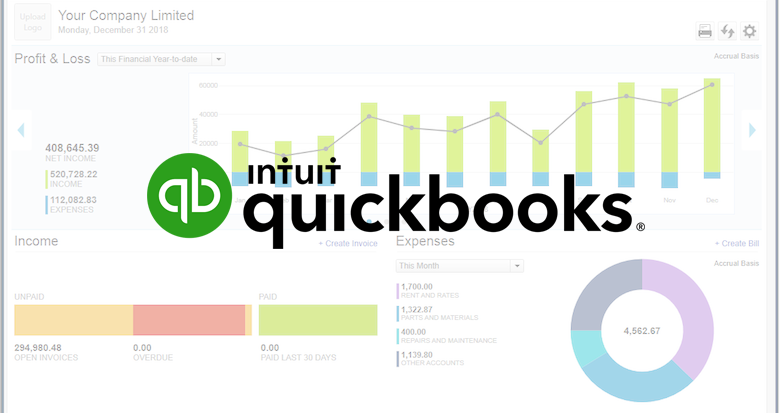 Experienced accountants will also remember hearing about QuickBooks, a popular performer in the accounting industry that delivers enterprise-grade value to small and midmarket businesses. Using it, you will get grasp of all core invoicing functionality, and have access to all billing tools and payment collection assets to keep track of their finances. The system also offered powerful reports that you can customize to your needs to cover specific transactions, making sure at the same time that information is completely protected.
Advantages
It assembles all transactions in a single system, and allows companies to collect and track payments with a single click.

It analyzes large data volumes, which is why large enterprises use it to run their payrolls and to make the most of their business intelligence.

It offers shipping and inventory management, and a variety of packing options standard accounting systems don't provide.

It allows you to customize all reports, and to schedule them on a special activity calendar.

You can choose whether you want to deploy it in cloud or on premise.
Disadvantages
Novice users have a hard time learning how to use it.

Customizing reports without accounting experience may require professional assistance.

There is no Free Plan for sole traders and accountants.
4. Xero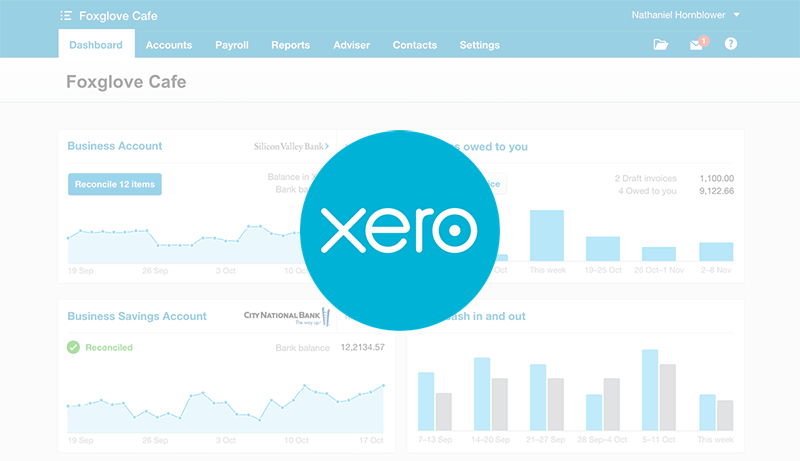 Xero is also a billing & invoicing leader, commonly perceived as the best financial collaboration system on the market. Xero's business value is mostly its ability to transform complex financial operations into enjoyable tasks suitable for non accountants, and the multiple integrations to other business systems you can use to make it more functional. Setup takes less time than expected, as there are premade transaction templates and adjusted taxes for more than 20 states. What is more, you can use Xero to pull off excellent reports such as Income Statements and Cash Flow Records.  
Advantages
Operations are based on a standardized accounting logic, and accountants get to work in a customizable and familiar environment.

Setup is easy and inexpensive, and companies have the chance to consult tech support while implementing the product.

All finances are displayed and compared on a single Dashboard, with a total of 7 tabs where the user can insert and edit information.

Transactions are simple, as there are premade forms and templates.

Inventory management is more than advanced, as Xero processes payrolls, and adjusts taxes for over 20 countries. You can also use its Stock Management Powerhouse to create purchase records and align them with your transactions.
Disadvantages
You can't sync your bank account data for reconciliation.

Currency adjustment is possible only for certain types of expenses.

There is no Free plan for small businesses and sole accountants.
5. Intacct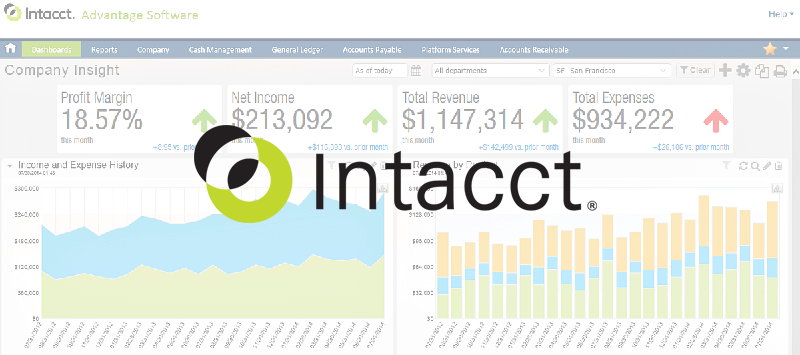 Intacct was designed as an ERP system, but is perfectly applicable for the billing and invoicing needs of small and medium businesses. Its financial management suite is robust and well-organized, but also easy enough to allow non-accountants to project productivity and complete transactions in different currencies. Similarly to Xero, Intacct offers very flexible reporting with premade templates, and covers also accounts payable and accounts receivable operations and payment monitoring.
Advantages
Intacct tracks depreciation rates, and that's exactly what makes it unique on the accounting software market.

The interface is simple and clean, and all Dashboard options are fully customizable.

Alongside billing and invoicing, you can also use Intacct for ERP management, and cost and margin control operations.

Compliance won't be an issue, as Intacct computes currency differences for all types of transactions.
Disadvantages
It might be a good idea to hire a professional programmer when transferring large volumes of data to the system.

Training is limited to higher plans.

There is no fixed pricing scheme.
6. Tipalti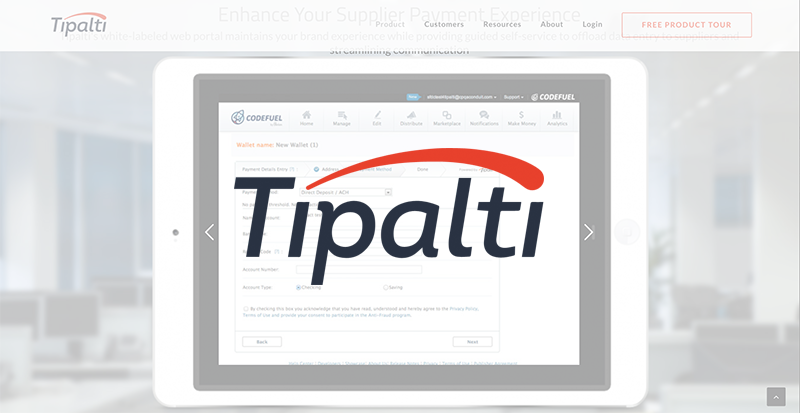 Tipalti is another fully-compliant and secure financial management system your company can use to automate global payments and to reduce administrative overload. Regulation and taxation issues are considered for approximately 190 countries, and customers' experience is improved regardless of how complex your operations may be. Tipalti is perfectly applicable for high volume and high complexity operations, but also functions impeccably in ISPs, advertising and affiliate networks, and online marketplaces.
Advantages
Tipalti automates more than 50% of all global payout operations in approximately 190 states.

It offers a brandable Supplier Management Portal, where transactions are validated against more than 26,000 national and international tax standards using a special Remittance Validation Engine.

It supports 6 payment methods, and gives users the chance to convert payments into more than 120 currencies.

When generating reports, Tipalti considers disparate payment method strategies taxation rules, and regional considerations.

It helps you prevent and detect fraud with 1042-s tax reports.
Disadvantages
There is only one payment plan.

Customization is limited.

There is no free plan for small businesses and sole accountants.
7. Harvest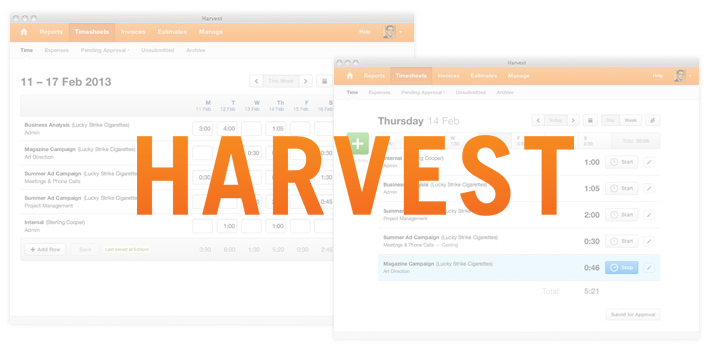 Harvest carries the reputation of a business management system that genuinely facilitates invoicing, and that's because it doesn't only distribute beautiful and professional invoices, but it also collects payments and analyzes those in a handy reporting suite. You can also apply it to track time and expenses, send overdue notifications, and charge late payments. The same as other systems we discussed, Harvest is well integrated with third-party software, and functions perfectly on all mobile devices.
Advantages
The interface is intuitive and simple, and allows you to complete payments with only one click.

Harvest allows employees to automate reporting, and to prepare detailed weekly timesheets based on the information they've inserted.

Harvest monitors the progress of your operations and tracks time.

You can expand its capacity with different add-ons.

The pricing scheme is very flexible – there are three payment plans adjusted to different team sizes.
Disadvantages
Roles and permissions are governed by the admin, and employees are only allowed to contribute to projects that have been assigned to them.

Exporting options are limited – you can easily export all of your files, but there is no option to export separate files.

No Free plan for small teams and sole accountants.
8. PaySimple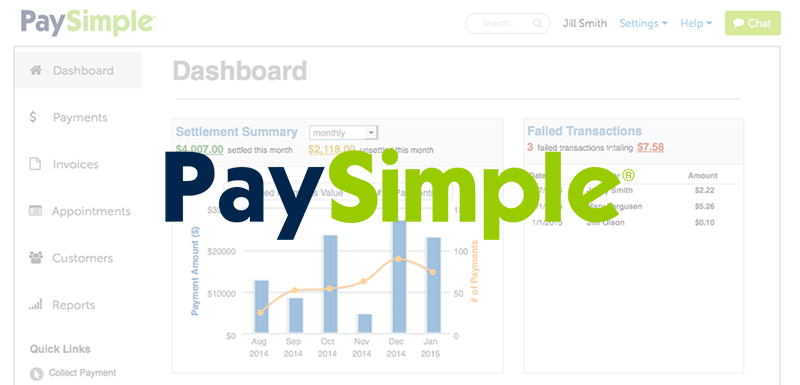 PaySimple genuinely makes payments simpler, and that's because it automates transactions, monitors payment details, and sets up recurring payment systems. It is friendly and very intuitive, which pleases foremost end users looking to accelerate and secure payments. What PaySimple is also known for is efficient time management and powerful booking.
Advantages
PaySimple allows you to monitor clients with pertinent details such as banking and credit card information.

It is a powerful and secure payment platform that lets clients choose they preferred payment method, including ACH e-checks, credit and debit cards.

You can use its handy calendar to schedule appointments and to automate reminders and follow ups.

It helps manage contacts and customers, and eliminates in such way the need to purchase an additional CRM tool.
Disadvantages
Without experience, beginners will find it difficult to change credit card information.

The system doesn't support multiple currencies or languages.

There is no Free plan for basic users.
9. Zervant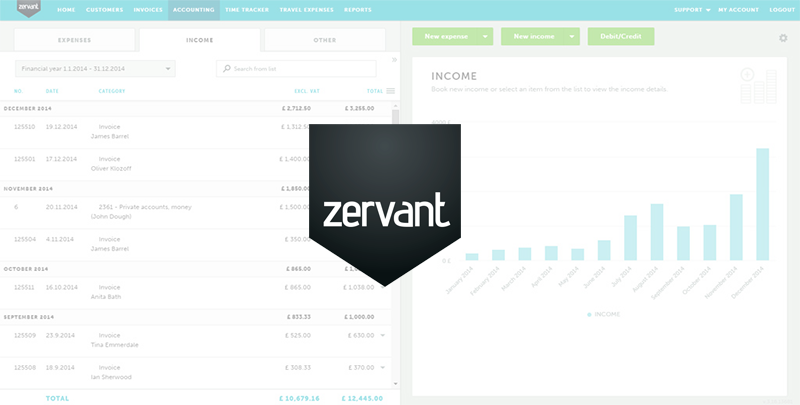 Zervant is a very intuitive system designed for freelance accountants, sole traders, and small businesses that can use it even without financial management experience. It comes with a fully-featured billing & invoicing suite, but that's not all there is to it. Zervant offers some unique functions, as for instance automated conversion of estimates into invoices, time and expense management, due reminders, and balance comparison.
Advantages
Zervant tracks products, mileage, and expenses, and syncs all meaningful data from local devices and third-party apps.

It is packed with premade invoice templates you could use regardless of whether you're sending those as email, paper, or PDF ones.

It sends automated reminders, and monitors existing balances and overdue payments.7

It helps you manage your budget and to generate a variety of financial reports (Sales breakdown, VAT, and others).

The Mini Plan for small teams and sole accountants is very affordable (£5/month).
Disadvantages
The accounting suite is pretty basic, which is why Zervant may not be suitable for large enterprises with global and complex transactions.

Customization is limited in certain occasions.

There is no Free Plan for sole accountants and small businesses.
10. Avangate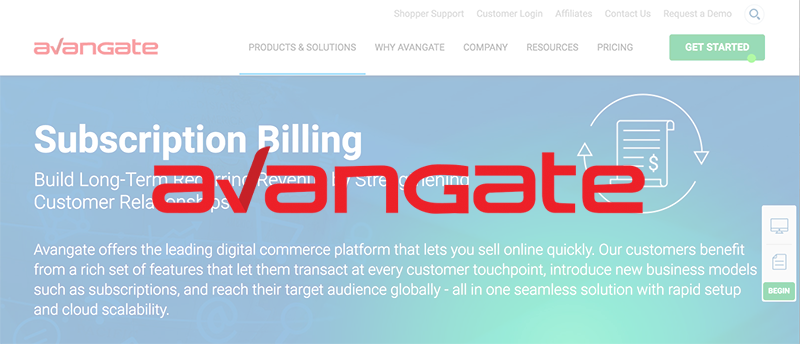 More than 4,000 online service companies and SaaS providers prefer Avangate to other billing and invoicing systems. This digital commerce apps offers subscription billing for direct and channel sales, manages global payments, and eliminates all compliance and taxation concerns related to international transactions. In this way, Avangate helps expand market reach and boost revenue, and has a number of prominent partnerships to match any software architecture.
Advantages
It helps you make the most of your customer value and minimize passive churn, as a result of which you get to increase revenue by 10%.

The interface is easy to navigate, which is how even inexperienced users start selling right away, instead of focusing on administrative issues.

It helps expand your market reach, as you can now distribute your products in more than 180 countries, and empower payments in several different currencies.

Avangate has over 4,000 global partnerships, and integrates easily with many business systems and applications.

It is designed for online retail businesses, and you can use it to run an e-store, and manage inventory and sales.
Disadvantages
Despite of the fact that it integrates with more than 4,000 systems, Avangate's connections with CMS providers are still limited.

You have to adjust credit card payment fees manually.