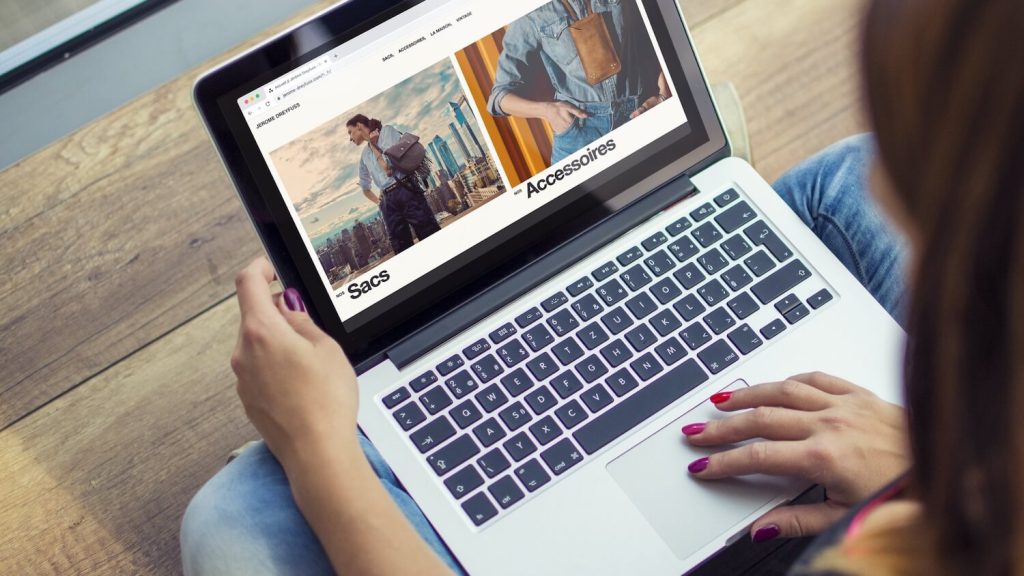 The term "Best-of-breed" in technology refers to the best individual technological solutions out there, as opposed to an all-inclusive, one-fits-all solution. And whilst it may seem a more complex strategy, in terms of time, cost and integration, a best-of-breed strategy will provide consistent value to your business. By choosing the best solutions for your platform, your technology will help drive operational efficiency, growth, and ultimately, revenue.
Let's take a look at how you can apply a best-of-breed approach to your e-commerce platform.
What is an eCommerce technology stack?
An ecommerce technology stack, or tech stack, is an essential aspect of online retailing. It is a collection of various frameworks, digital tools, software applications, and platforms that a retailer uses to efficiently and effectively run its online business. The tech stack plays a crucial role in enhancing customer experience, streamlining operations, and improving overall business performance. In addition, some of the applications or tools may also be used in concordance for certain offline areas of the business, such as stock management, which makes it a versatile and valuable resource for retailers. Without a robust tech stack, retailers may struggle to compete with their competitors and provide a seamless online shopping experience for their customers. The components of an eCommerce technology stack are the building blocks that make up the infrastructure of an eCommerce business.
The different components of an eCommerce technology stack include:
Front-end development

tools and frameworks, which are responsible for creating the user interface of an online store including the homepage, product pages, cart, and checkout pages.

Backend infrastructure and databases, which are responsible for powering the online store's server, website, and database as well as handling the processing of user data.

Payment gateways and transaction processing, which are responsible for allowing customers to pay for products and securely processing those payments.

Inventory management and order fulfilment systems (OMS), which are responsible for managing the inventory of an online store.

Customer relationship management (CRM) and marketing automation tools, which are responsible for managing customer relationships.

Content management systems (

CMS

), which are responsible for creating and managing the content of an online store such as blog posts, product descriptions, and landing pages, without the need for technical coding skills.
The goal of an eCommerce technology stack is to enable a business to create an online store that is both functional and user-friendly.
Building a Best-of-Breed eCommerce Platform
It's important to know what to consider before diving in. There are many advantages to a best of breed approach, as well as different factors to take into consideration for each chosen solution. Let's take a look.
The advantages of a best-of-breed approach
Flexibility: A best-of-breed approach allows for the flexibility to create a platform that is customized according to your specific business needs. You can mix and match different products and technology services to build a tailored solution.

Adaptability: Not only is a best-of-breed approach flexible, it also gives a merchant the ability to adapt their eCommerce platform over time. You can easily replace or upgrade individual components or services as new and improved options become available in the market.

Access to leading technology: Stay ahead with the most advanced and innovative solutions available for your eCommerce platform.

Avoid vendor lock-in: A single-vendor approach can result in being locked into using a service that may not fully meet your specific needs. With a best-of-breed approach, you have the freedom to select the best products and services from different vendors.

Enhanced customization: Choosing components that are specifically tailored to your business ensures a more personalized and unique experience for your customers.

Improved productivity: Each component can be optimized for its specific function, enabling efficient operations and streamlined workflows. Not to mention the ease of working with up to the minute technology for development and operational teams.

Cost reduction: Contrary to the perception that using multiple vendors may increase costs, a best-of-breed approach can actually lead to cost reduction. By selecting the most cost-effective solutions for each component, you can avoid unnecessary expenses associated with bundled services or paying for features you don't need.
Key considerations when selecting components for your eCommerce technology stack
When embarking on the journey of building a bespoke technical stack for your eCommerce business, it is crucial to thoroughly evaluate and consider various elements for each technical solution under consideration. By paying attention to these key factors, you can ensure that your chosen components align with your business requirements and contribute to the success of your online venture. Here are five essential considerations to keep in mind:
Scalability and flexibility

Integration capabilities & complexity

Security and compliance

User experience and customization options

Analytics and reporting capabilities
Example of a Best-of-Breed eCommerce Technology Stack
Jerome Dreyfuss adopted best-of-breed components in just 16 weeks. Their main focus of this replatform was performance and user experience, with the challenge of postponing a backend migration.
Jerome Dreyfuss needed room for creativity & flexibility to be able meet their customers' expectations with their online experience. To solve this issue, it was proposed to separate the front-end and back-end with a complete redesign of their e-commerce ecosystem.
Introducing agility into an existing e-commerce platform
The first step was to adopt a headless architecture, separating the Magento 1 back-end from its front-end and then connecting the Front-Commerce front-end to that Magento backend.
From there, Jerome Dreyfuss were able to integrate best-of-breed payment, search and CMS components into their e-commerce platform, choosing Prismic for the CMS, Algolia for their search technology and Adyen for their payment service provider.
They subsequently changed their back-end to Magento 2 in a separate development phase. This was a strategic move allowing the brand a better control over costs and risks associated with a platform migration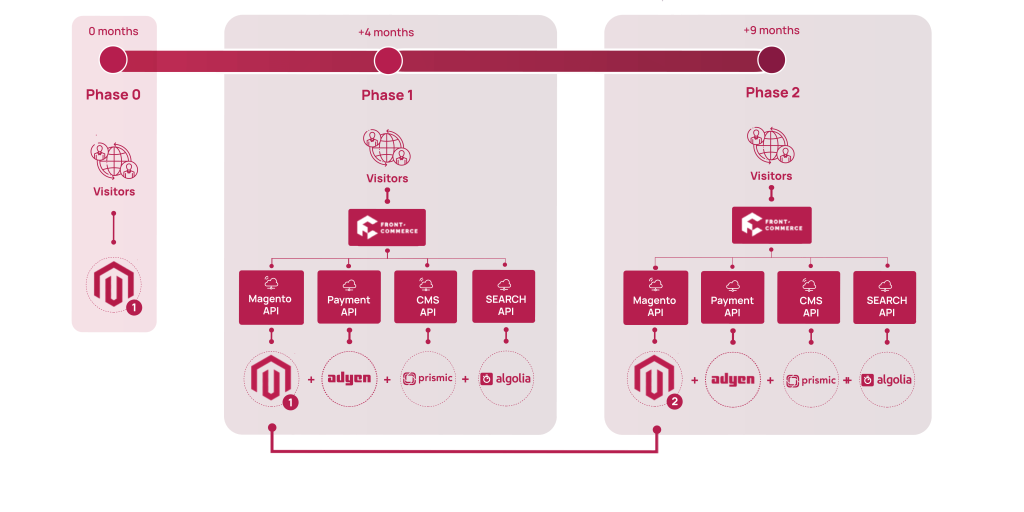 Choosing best-of-breed has had clear benefits for Jerome Dreyfuss
Being able to implement the CMS of their choice has allowed the retailer to manage content alongside the product catalog easily. The user experience is more consistent with the brand image.

They gained an understanding of the logic of design and functional components that facilitate the evolution of the platform. The platform can evolve and change with less friction

Being able to move from Magento 1 to 2 without changing the other services and features in place.

A redesign with a short time to market, in just 16 weeks.
Conclusion
There is nothing worse than implementing a service that reaches end-of-life after a year or two, or does not deliver what it promises, or does not adapt to your needs as expected. Adopting a best-of-breed approach for building an eCommerce technology stack has numerous advantages.
By selecting the best individual solutions for each component in your e-commerce stack, you will see more flexibility and adaptability in your platform as well as enhanced customization, improved productivity, and potential cost reduction. Not to mention an efficient eCommerce platform that aligned specifically to your business needs
However, it's important to take the time to research your needs internally and the available tools before making a decision on which components are the best fit. By carefully selecting and integrating the best solutions available, you can stay ahead of the competition and deliver a personalized and exceptional experience to both your customers and your teams.