Before the advent of digital business payment software such as Bill.com, financial records were manually entered. Soon, accounting transactions used spreadsheets, which greatly sped up computations and processing. Spreadsheets weren't the end-all solution, however, as inputted formulas tended to have errors or wrong entries. Also, being a local document, spreadsheets were vulnerable to multi-user overwrites; thus, compromising data. Clearly, alternatives to spreadsheets were needed.
Fully-featured accounting software systems represent the next wave in software automation. Among the subcategories are digital billing payment software, where invoicing is digitally generated, and payments are electronically made without the need to print a check or step into a bank. One such software is Bill.com. This digital billing payment software not only processes AR and AP transactions but also sets up a two-way billing and payment system for your company. 
One of the top digital business payment software, Bill.com provides a more efficient way to manage company expenses, as it minimizes or removes the use of actual paper from accounting work, allows for the payment of bills anywhere and setting up of multi-level users, and automatically notifies your suppliers and recipients.
Issues with Bill.com
Bill.com, while considered as one of the top billing software in the market, is far from the do-all and end-all solution for all companies. Apart from a reportedly clunky UI, there are some concerns about the software's limited cross-border payment options and payment methods choice as the software requires you to cede managing accounts to Bill.com for payment purposes and then to have difficulties to revert control of these accounts to you.
For those who are unsure if  Bill.com can deliver on their company needs, below are 10 Bill.com alternatives comprised of the top digital business payment software available.
List of top 10 Bill.com alternatives
1. Melio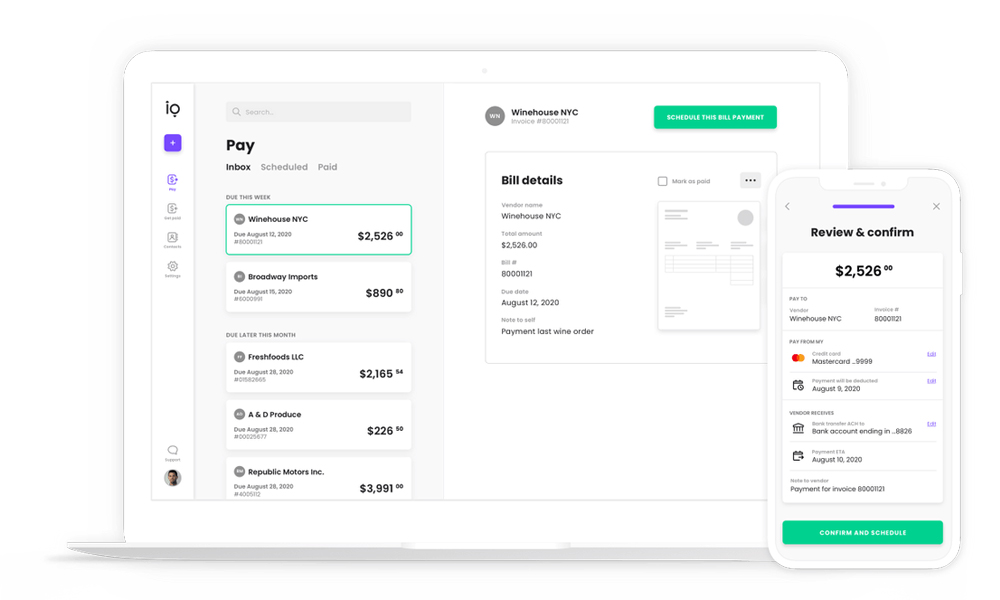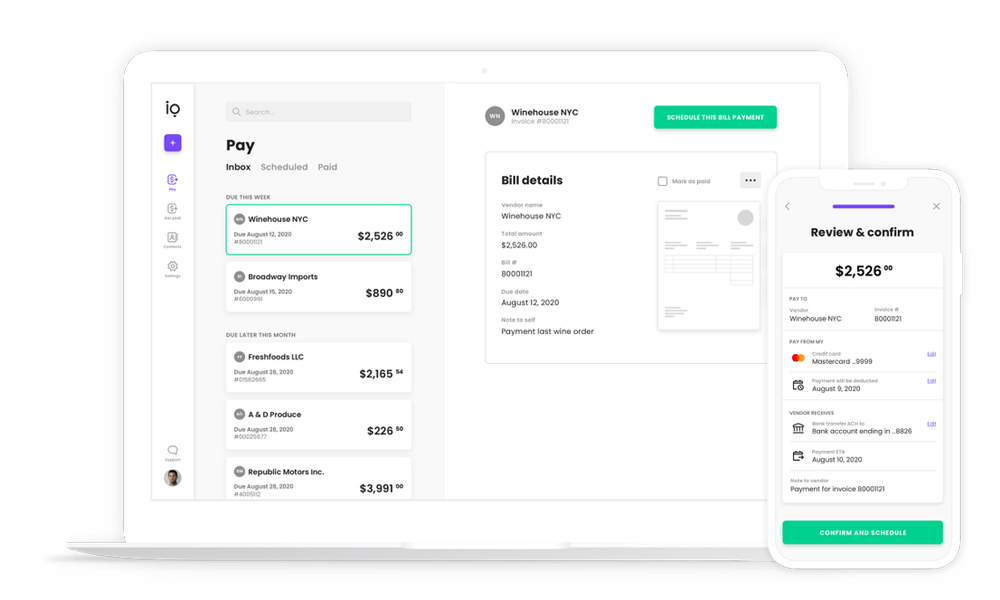 Melio is an advanced payment gateway that accommodates B2B transactions. It comes equipped with end-to-end tools for invoicing, bank transfer management, credit card processing, AP management, and AR management. It is also designed to ensure transparency through its payment tracking functions and workflow approvals.
Using this software, businesses can make transactions as hassle-free as possible. Users can also ensure fast yet safe payments as it leverages state-of-the-art cryptographic algorithms during data transmission.
For pricing, Melio offers a Business plan and an Accountant plan that is free to use. However, they charge a 2.9% credit card payer fee as well as $20 for international transfers.
2. Tipalti
Tipalti is a digital business payment software that features invoice-based AP automation and non-invoiced mass payments. It is designed to increase efficiency by reducing manual payable tasks.
The software is ideal for companies aiming for a global approach on their payment systems while reducing manual accounting workload for their employees. Designed for scalability, and accessible via the cloud server, Tipalti is a reliable and secure choice.
Tipalti does not advertise its rates and will provide custom quotes per company.
3. Bill4Time
Bill4Time, a law practice management solution, is a complete billing solution that automates billing, recovers lost revenue and tracks bills. Apart from case management, Bill4Time manages payment systems for companies through custom invoices and bills detailing terms, discounts, and fees. This results in a faster and more efficient way to transact and pay suppliers and vendors.
The software seamlessly integrates with your existing software, including payment options, document storage, calendars, and accounting platforms. This ensures your previous software investments remain in use.
Bill4Time comes in three plans, based on an increasing number of features. The Time & Billing package is $29/user per month. The Legal Pro comes in at $49/user per month, while the Legal Enterprise is at $89.
4. jBilling
jBilling is a web-based, open-source billing solution that can accommodate even highly complex billing matters. This open-source technology provides transparency in its source code to show the integrity of billings.
Recognizing the need for fast and reliable service, this cloud-based software aims to successfully process payments with complex business rules and high flexibility requirements.  jBilling also allows customization to better suit your business
jBilling does not offer a trial version and has not posted its rates. Instead, you can get a custom quote through customer support.
5. Prism Bills & Money
Prism Bills & Money is a bill management app for smartphones that tracks your pending bills and reminds you of incoming due payments. When settling your bills, you can choose to set up payments via credit, debit, or prepaid card, or directly taken from your bank account. The actual bills payment is simple and quick. You can pay one time or schedule payment regularly.
The software values the security of sensitive information being processed. Prism uses 256-bit AES encryption and features additional PIN/biometric authentication for added security.
Prism is free software available for download for iOS and Android.
6. billwerk
billwerk is a SaaS-based tool that features automated subscription billing and debt process and repeat payments management. While the software is European and is designed especially for European subscription companies, you can arrange payments with suppliers and vendors worldwide.
Typical PSP are already available out of the box, and billwerk can seamlessly integrate with existing process landscapes, thanks to its RESTful API. Security-wise, billwerk complies with prevailing European standards, such as EU GDPR and GoBD.
billwerk pricing consists of three plans: Plan M, which allows up to 1,000 contacts, is set at $156/month, while Plan L, which features unlimited contacts, is at $334/month. The third plan, Enterprise, offers custom quotes based on your company's exact specifications.
7. Mint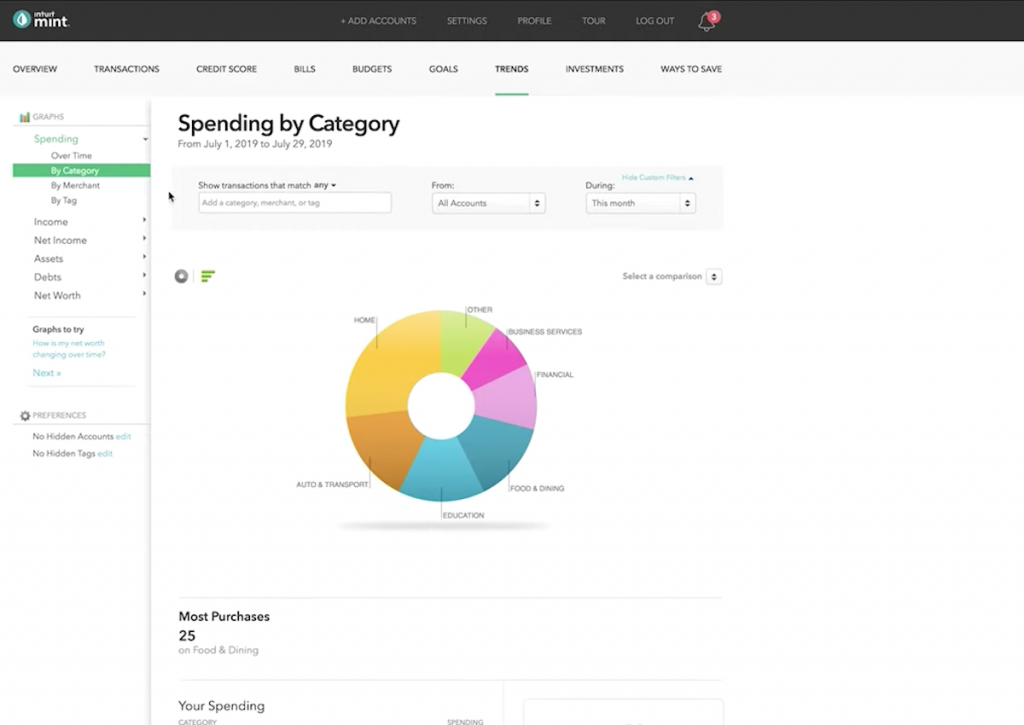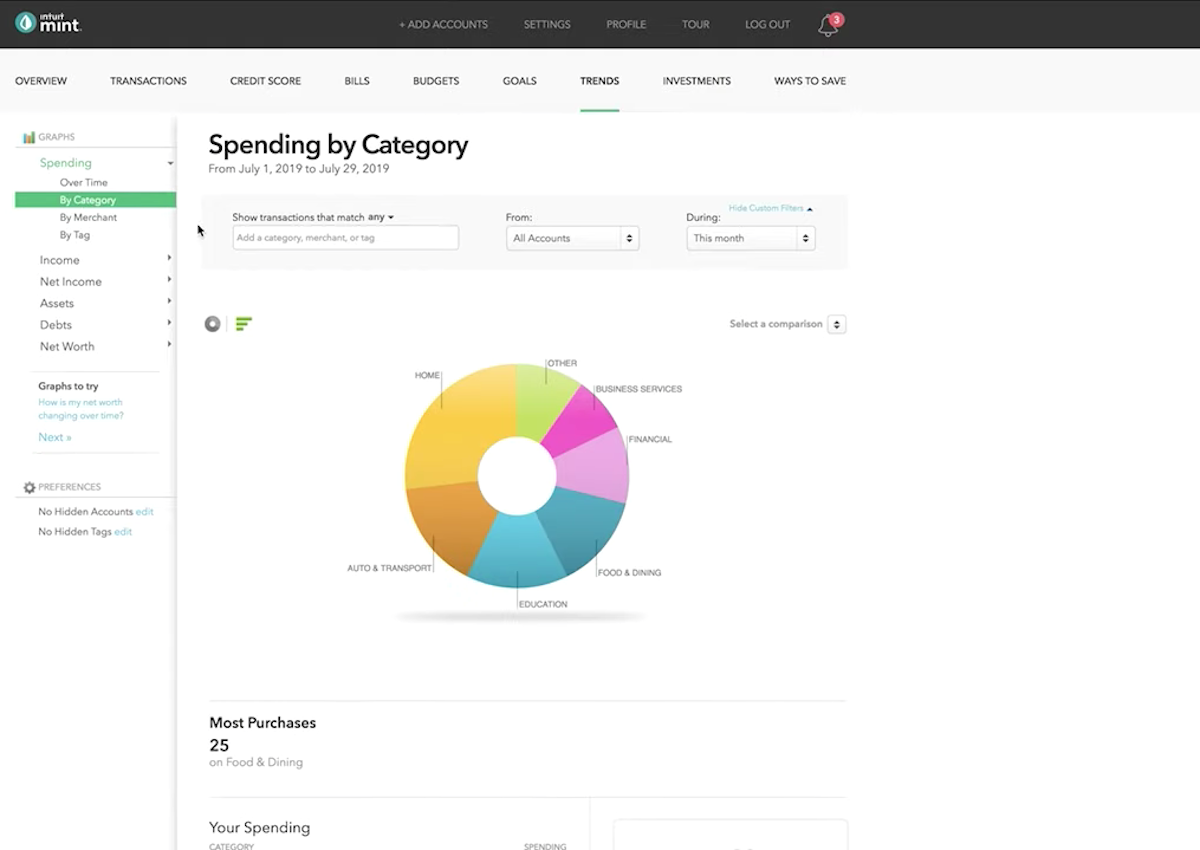 Mint is a brainchild of accounting software giant Intuit (maker of QuickBooks) and conveniently gathers all your accounts, bills, and more in one dashboard so you can manage your finances better. The program sends out reminders for upcoming bills so you can plan and alerts you when funds are low before scheduled payments.
The software ensures that data and transactions remain secure. It uses top of the line safety measures, including secure encryption, multi-factor authentication, and VeriSign scanning, ito ensure the reliable and safe processing of payments and accounts.
Mint is free to use and has no hidden charges. However, it sells aggregate financial data to various clients.
8. BillMinder
BillMinder thrives on today's subscription-based economy and thoughtfully reminds you to pay bills on time to avoid late fees, save money, and improve credit scores. A mobile app, Billminder, is available for the iOS system, particularly for iPhones and iPads.
The Upcoming screen feature shows which bills to pay and when. You can customize the integrated calendar by category or paid status, so you can focus only on priority bills to pay. You can also set alerts based on your reminder preferences.
BillMinder, now on version 4, is available at the App Store for $4.99.
9. Chronicle
Chronicle is a bills payment manager that tracks your bills and payment due dates. You get notified when a bill is about to be due. This makes bill payments easy, especially for recurring dues.
With its data analysis feature, the app tracks and monitors your spending to help give you an idea of where your money goes. Each bill can be further analyzed to get statistics about your expenditures.
Chronicle is available for Mac, iPhone, and iPad, with a free version that can manage up to five bills. The full feature costs ($19.99 one-time payment), while the iPhones/iPads version is priced at $4.99.
10. Xero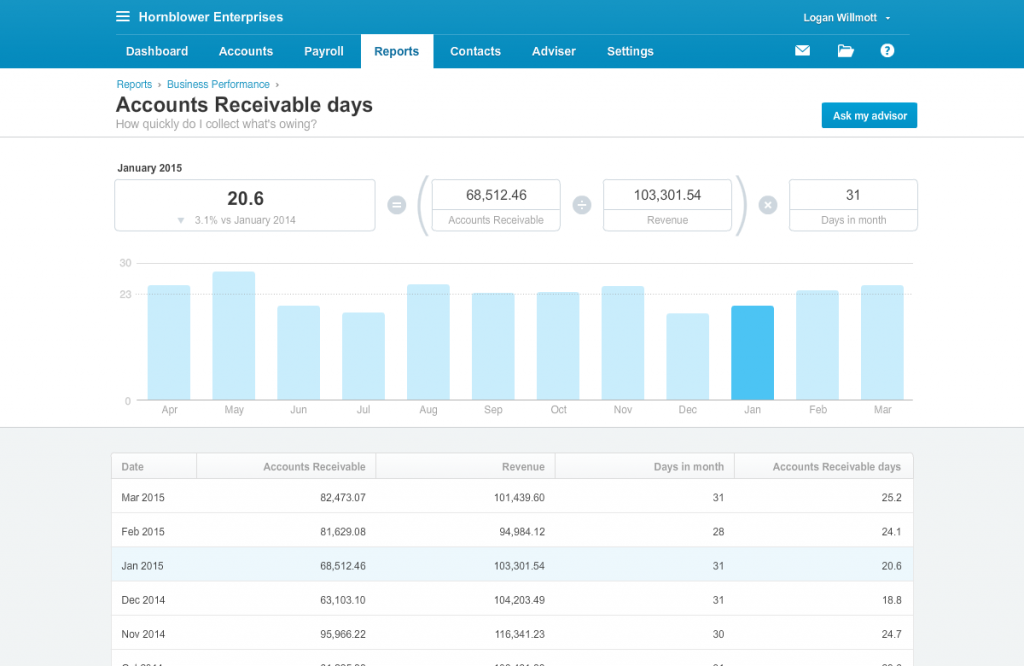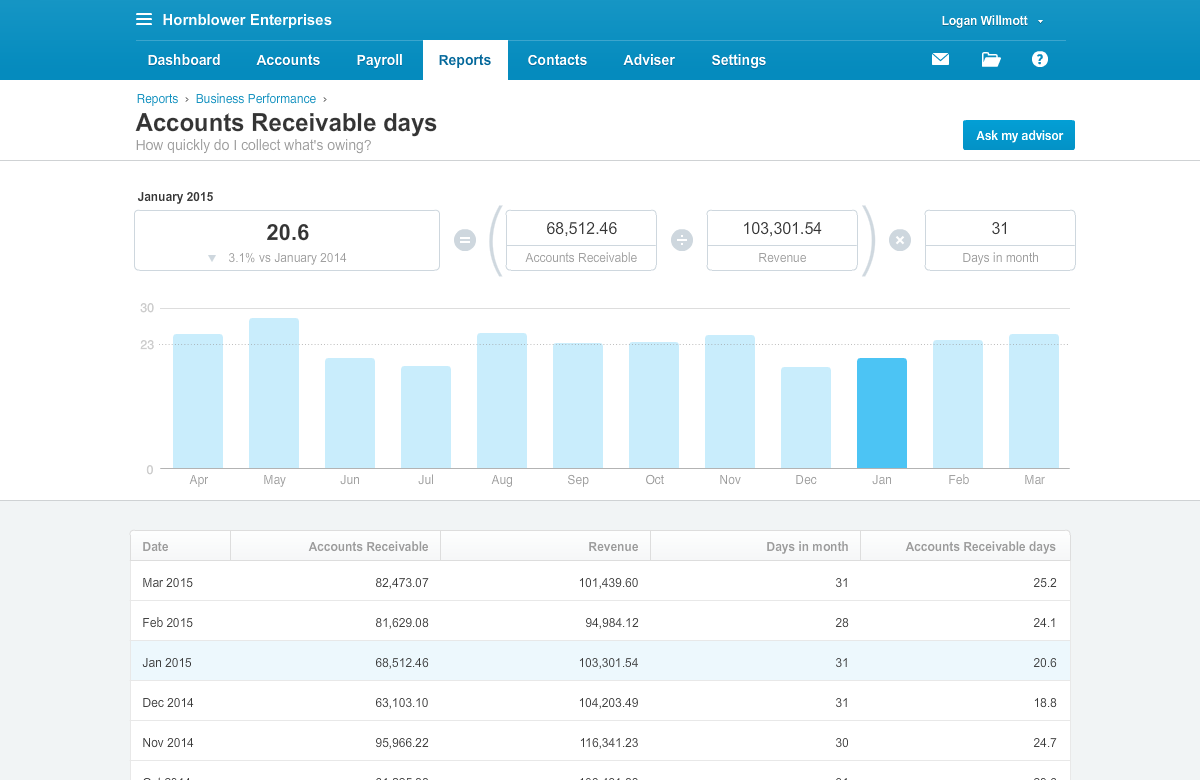 Xero is one of the more popular total accounting suites that features easy, automated bill payments. The purchases dashboard provides an overview of bills and purchase orders and lets you manage your payments and avoid late fees through timely reminders.
The software also lets you send your e-bills and documents straight to your inbox for paperless record-keeping. Simple data entry enables you to enter bill information with the actual bill attached on the side. It also lets you set up payments for recurring bills for convenience.
Early plan starts at $9/month, which includes five invoices and quotes, five bills, and 20 bank transactions. The Growing plan is at $30/month, with unlimited bills and transactions, while the Established plan runs at $6/month and can handle multiple currencies.
Which Bill.com alternatives should I choose?
Bill payments are a necessary evil, especially in this subscription-driven world. The more bills you have, the more payments become due, and this would all be easier if everybody has the same due date. If Bill.com may be too much or too expensive for you, consider the top 10 Bill.com alternatives above, and base it on your particular requirements. Or, if you want a more integrated experience, take a look at this list of ERP software that includes billing as one of the features. Things to consider include ease-of-use and the method of payments accepted.
This is where the importance of a trial version comes in. If available, go ahead and test-drive your chosen software. If it fits your budget, your comfort level, and your payment requirements, only then should you take the plunge and get the full-featured version.