During the earlier days of the Internet, just getting your business information published on the web is already an accomplishment. Instead of the old phonebook, customers can search your contact details via computer and proceed to visit or email you their queries.
As the world wide web becomes wider and wilder, managing your contact information soon became a burden rather than a boon. Imagine competing with other sites for premium placement on search engines, plus updating your information on numerous review sites and directories, along with the need to ensure that your site gets displayed prominently on search engines. With the proliferation of top contact management software that customers use to update information for their key contact contacts, it pays to have your contact information updated all the time.
Yext is a service that ensures the prominent placing of updated and accurate business information on major directory sites both locally and all over. It also searches for listing opportunities that enable clients to expand its presence in previously untapped markets. The app is a good addition to your marketing software tech stack. By availing of these services, Yext ensures your business presence is felt and remains relevant. Also, there are Yext alternatives that make up the rest of the top SEO software available today.
Issues with Yext
Of course, you can't please all people all the time, and Yext does not come without its caveats. Some people get turned off with Yext's hyperactive sales team, who were reported to be very persistent. Second, there are questions on what happens to your contact information if you deputize Yext then discontinue the service with them. Another issue pops up when the service automatically renews and charges your credit card without asking.
In case Yext is not the software solution you were looking for or you were inadvertently turned off by personal experience, it would be shortsighted to not realize the value of the service. As such, you would want to browse through the list of top Yext alternatives SEO software.
List of top 7 Yext alternatives
1. TribeLocal
TribeLocal, the first entry in our top Yext alternatives SEO software, is an all-in-one localized SEO and citation platform that focuses on local markets. It features review management, citation management, local ranking, and offline engagement, helping make sure all your business information remains accurate and visible in local directories and search sites.
The cloud-based software supports your local presence by utilizing local SEO tools, including Local Rank Tracker algorithms that track rankings for your keywords. TribeLocal also helps spread the word by proactively encouraging users to leave comments and reviews on your social media pages to give you increased exposure.
Pricing starts at $39 monthly for the Starter plan, which covers one location and 30 citations. The Growth plan is at $49/month per location and provides 65 citations. The Business plan is at $69/month per location and covers 100 citations.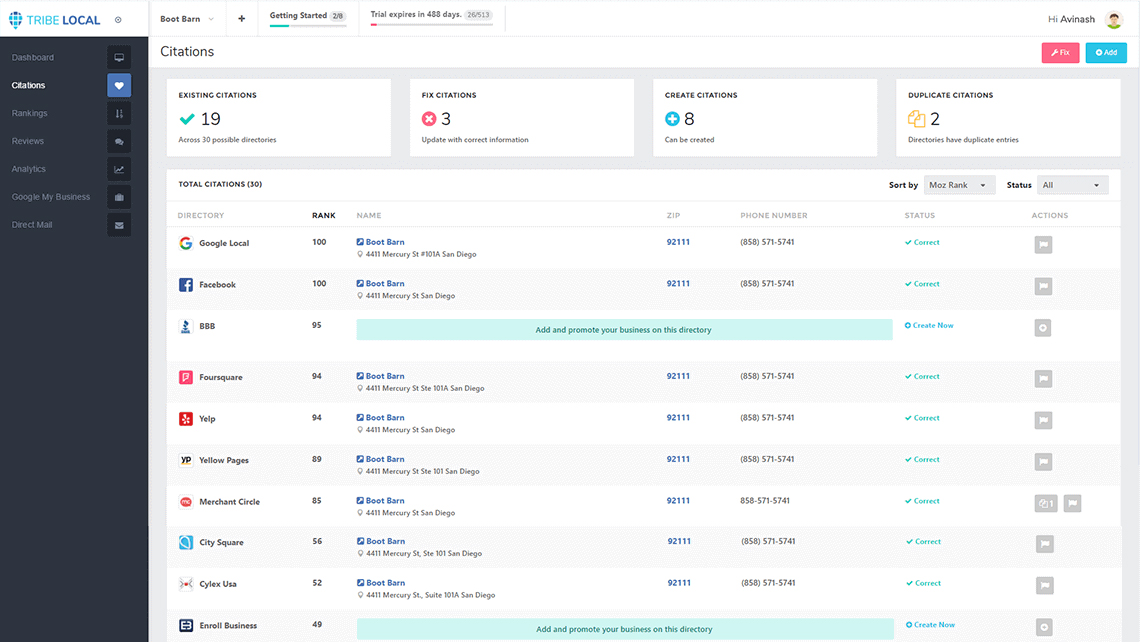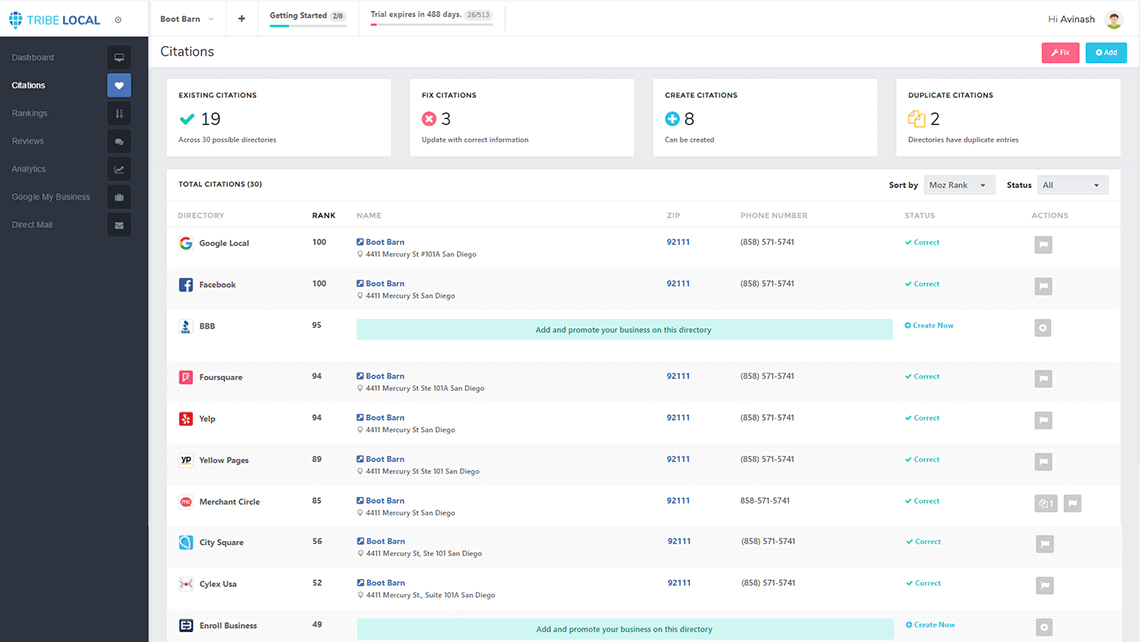 2. Moz
Moz is an all-in-one SEO toolkit that allows you to overhaul your site and make it SEO-ready. This includes site audits, rank tracking, keyword research, on-page optimization, and backlink analysis. The software even helps you discover improved keyword opportunities to further increase your site's noticeability, with keyword suggestions based on the latest data available.
Apart from its strength in keyword selection and generation, Moz makes it easier and more efficient to track rankings, monitor traffic, social growth, and onsite SEOs, and check your competition's performance.
Monthly Moz subscription consists of Standard ($99), Medium ($179), Large ($249), and Premium (%599). Each plan takes stock of your company size and objectives, and each includes one-on-one onboarding and 24-hour online support.
3. Serpstat
Serpstat is an analytics-heavy platform used for search engine optimization and designed to improve performance in major SEO areas: search analytics, content marketing, PPC, etc. Competitor rankings are monitored and reported, giving you insight on which areas for improvement need your attention.
The software utilizes a unique algorithm that searches keyword and keyword group market shares of all the domains in the top 100 search results. This helps identify what's currently popular and what is on the downtrend and which can be utilized by your site. The software also reports fluctuations in the market and provides a performance profile on competitors.
Serpstat offers four distinctive plans: Lite ($69/monthly), Standard ($129/monthly) Advanced ($299/monthly), and Enterprise ($499/monthly), with each plan containing access to 230 Google and nine Yandex databases. A 7-day free trial is also available.
4. Raven Tools
Raven Tools , apart from being one of the better SEO software out there, also functions as a reporting tool similar to the best data analysis software.  Apart from managing search engine optimization, it also helps monitor online advertising campaigns and social media conversations. With just one tool, you can track search engine trends, conduct research and analysis, manage campaigns, and create reports with team members.
The Site Auditor lets you check your website's health and isolate and fix issues that prevent your site from ranking. It generates a detailed report on the issues with each problem/issue ranked in order of severity so you can know which areas to prioritize and address.
Pricing plans consist of Start ($79/month for four users and 20 domains),  Grow ($139/month for eight users and 80 domains), Thrive ($249month for 20 users, and 160 domains), and Lead ($399/month for  40 users and 320 domains). Enterprise plans are available upon consultation. A 7-day trial is free for evaluation.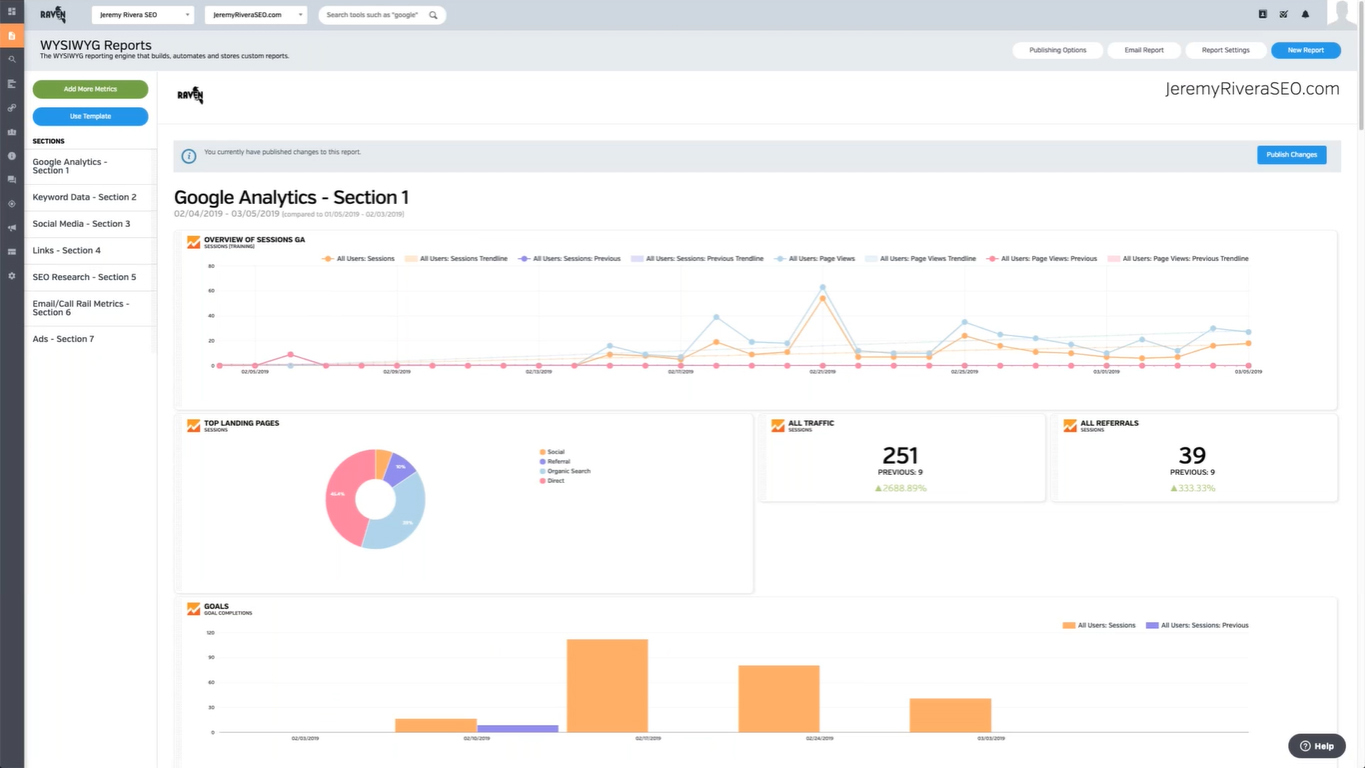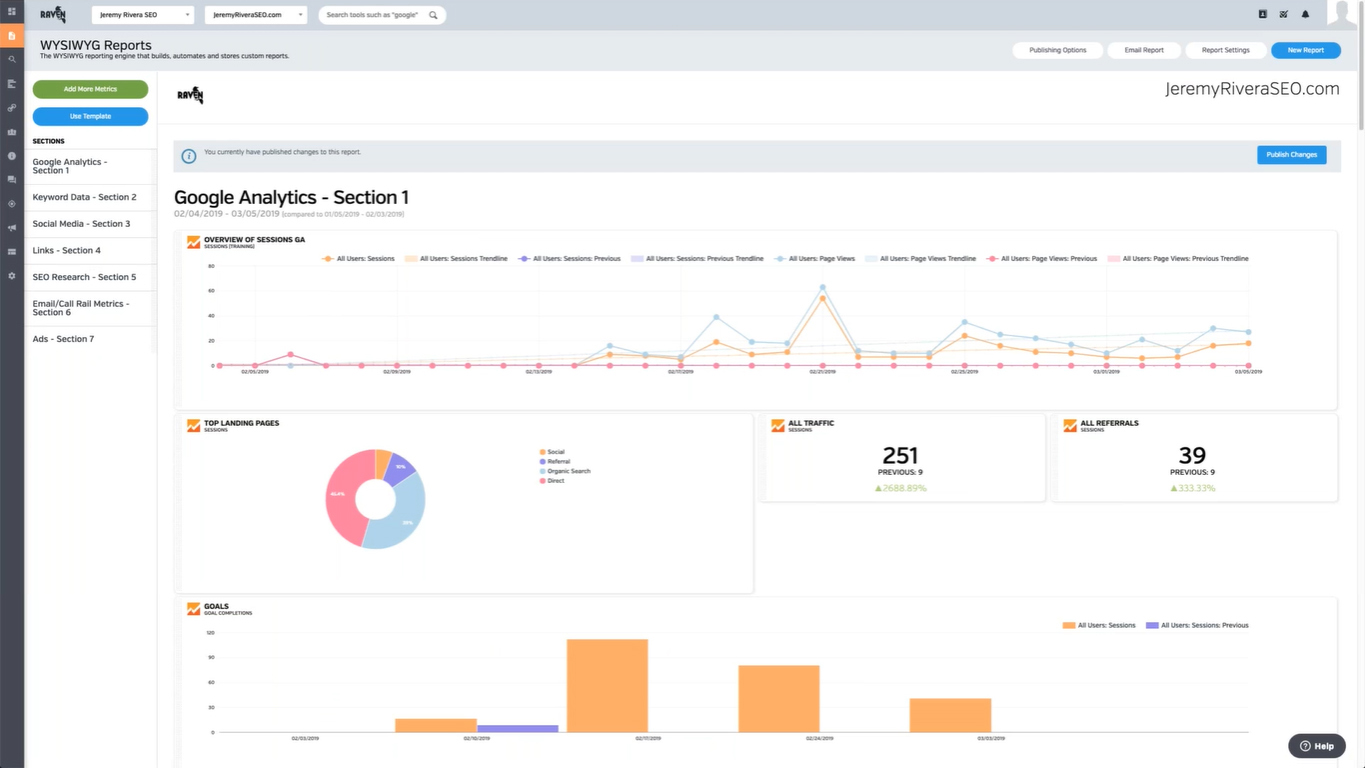 5. Agency Analytics
AgencyAnalytics is an SEO tool designed for agencies – those whose job is to monitor and report on multiple campaigns of multiple clients. It can provide clients with everything they need to monitor and manage their sites: analytics integrations, automated reporting, social analytics, backlink monitoring, SEO auditing, PPC keyword tracking, etc.
You can issue each client with a customized dashboard that provides the information they need, complete with client brand colors and logos to provide a full customer experience. Spreadsheets are a thing of the past, as your clients will receive easy-to-understand summary reports in their email on demand.
AgencyAnalytics is available via three plans based on agency size: Freelancer ($49/month for up to 5 campaigns), Agency ($149/monthly for 15 campaigns), and Enterprise ($399/monthly for 50 campaigns).
6. Ahrefs
Ahrefs features the world's largest index of live backlinks. It specializes in pinpointing what your competitors are doing that makes them successful, giving you insights on how to improve on your performance.
The SEO toolbar provides instant SEO metrics for any web page typed in, and Google SERPs are analyzed instantly. This lets you view domain rating, URL rating, rank, number of backlinks, referring domains, estimated organic search traffic, and number of ranking keywords.
Ahrefs offers a 7-day trial offer at $7. After this, you will be charged a monthly subscription, depending on your chosen plan. Lite is $99, Standard runs for $179, Advanced costs $399, and Agency costs $999. The number of users and projects increases depending on the plan.
7. Spyfu
Spyfu, which is the last entry in our top Yext alternatives SEO software, provides competitive information via the disclosure of the most profitable keywords and paid and organic search ads used by competing marketers. It basically hands over critical information that can help you develop a successful counteroffensive.
The software tracks all competitor activity and reports on any domain as they appear on Google: every keyword, every organic rank, and every ad variation. Using Spyfu, you can now link to these same domains, and utilize leads methods via social media, email, phone, and address.
Spyfu is available in three pricing plans, all of which feature unlimited access to Spyfu data. Basic, which costs $39/month, provides 250 leads, 5,000 keyword rankings, and 10,000 top lists results. Professional, which goes for $39 per month, gives you 500 leads, 15,000 rankings, 50,000 results, and 10 API rows. The team plan goes for $299 per month, gives you 2,000, 40,000 rankings, 75,000 results, and 10, API rows.
Which Yext alternatives should you consider?
The solution for your SEO conundrum depends on how you attack the problem. Are you more of the delegating-type that can trust reliable third-party software to do the job for you? Or would you rather scout the competition and then work on your site and make your online presence better. Still, would you prefer a little of both, and work your way up?
Whatever scenario you come up with, there will always be SEO software to help. It always pays to take a test drive and see how well you work with the product offering. Only then will it be a good time to commit to a purchase.