Using accounting software for small business is a good idea as it can help to save time, eliminate repeat data entry, and improve efficiency and productivity. Therefore, it is preferable to manual bookkeeping or using spreadsheets. This article details the usefulness of accounting software for small business. We start by giving you a primer on how to go about selecting a suitable solution for your business needs. You can learn about the important features for small business and the gimmicky ones that you may not need and need not pay for. Then, we provide in-depth reviews of five top accounting software solutions for small business and describe their main features, benefits, pricing, and support.
If you are a small business with few employees, little inventory, and only a small number of customers, you can opt for a free or low-cost accounting system. However, if you have a more robust business with more number of employees and customers, then you should use a powerful solution to maintain more accurate accounts. The advantage is even lay persons with little accounting knowledge can use this type of software easily and efficiently.
Important features to look for
Small businesses can use the following key features:
Business tax reporting
Payroll
Estimates
Budgeting
Merchant support for credit card payments
Sales tracking
Inventory management
Manage contacts or integrate with your existing contact management system
Accounting software for specific industries
Leading vendors offer accounting software designed for the particular needs of specific industries such as wholesale distribution, manufacturing, construction etc. If your industry has specific accounting requirements, then you should look for a solution that offers the tools to meet these requirements.
Talk to users
Before investing in a software solution, talk to current users of your shortlisted apps. Find out the strengths and drawbacks of each system, what users find easy to use and which features are more difficult, and discuss the areas that need improvement. For sure, no accounting software can be called perfect. But by doing your homework and searching diligently, you are sure to find an apt platform for your small business.
More factors to consider
Ask the following questions to shortlist the apps as you go shopping:
Can the solution grow with your company? Can you add modules such as payroll accounting in the future if the need arises?
If you are not able to add modules, can the system upgrade effortlessly to a more robust version later on? Can you export data to a format like CSV for easy reading should you change over to another accounting system?
Which accounting software is supported by your bank? You can save a lot of time downloading transactions from your bank so it is important to find out which accounting solution is used by your bank.
Should you opt for cloud-based or on-premise software? Web-based systems can be accessed on multiple computers from anywhere, anytime. Plus, the vendor takes care of all the upgrades and updates. On the other hand, on-premise software is more secure as you host it on your company's computers, but there is no mobile or anywhere access.
Can you control access to users? Some employees in your company may have only data entry tasks to do, so can you control the access levels for such users?
Does the vendor offer a free trial? This will help you to understand the features of the system at no cost and learn whether it is what you are looking for. Plus, you can view the tutorials or user guide in the help section of the free trial to find out the usefulness of the software documentation.
Support options
Make provision for support expenses in your budget. Some small business accounting software vendors offer fee-based support by phone or email. However, you may get free support initially for a limited period of time so that you can query the support agents regarding doubts while learning to use the application. After the free time period is over, you may need to pay for vendor support quarterly, annually, or per-use. Plus, you can also check if there is a free user forum online where you can get your questions answered. This is a good option if you have questions on how to use particular features.
Don't pay for gimmicky features
A small business needs fewer features compared to a large enterprise. Do not get taken in by gimmicky "bells and whistles" because you may be charged extra for including them in your package, and you may not even use them.  Over-buying is not needed for small businesses as there are plenty of suitable accounting solutions for them. However, if your business is growing rapidly, don't be shy to pay for robust features to keep up with the demand.
For your accountant's needs
You still need an accountant to ensure your company meets accepted and legal tax and accounting practices. But the software can help to ease the workload of the accountant and improve their productivity. Plus, you can easily generate the reports your accountant needs on an annual, quarterly, or monthly basis. You can either print the reports or deliver them securely online. Therefore, find out from your accountant what reports they need and generate them using the accounting app.
Now that you have learnt what factors and features to consider in your search for the right accounting app, take a look at the following five solutions and select the best one among them that fits your needs:
1. FreshBooks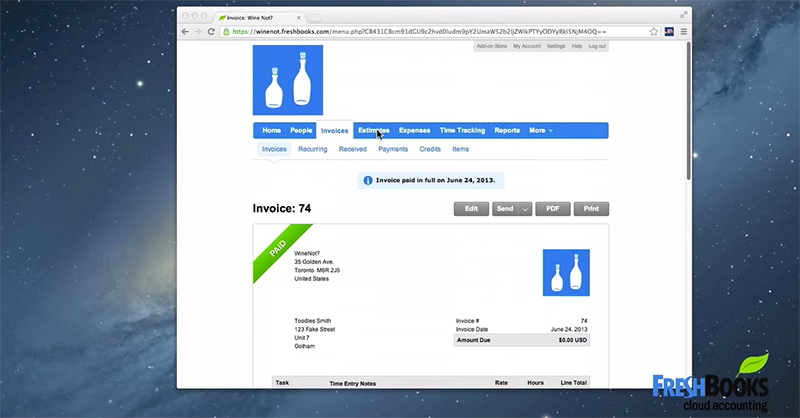 FreshBooks stands out as a popular solution as it is used by more than five million companies to streamline client invoicing and time tracking. Freelancers can also utilize this app to fast track their collection and sales cycle. Plus, you can custom brand your financial documents with your company colors and logo. The app is successful because it offers great features at an affordable price that can fit into the budget of even small businesses.
FreshBooks is a fast and reliable solution that makes accounting fun and easy. Businesses can use it to manage recurring subscriptions and invoices effortlessly, and to collect online payments in the same system. Plus, the app enables credit card, PayPal, and Google Checkout payments. You can easily integrate it with a number of popular third-party business applications. In short, it enables you to manage your company's finances using a single system, which means you don't have to pay for maintaining multiple software solutions.
The vendor offers a 30-day free trial as well as three reasonably priced packages. They start with the Lite plan ($15/month) that you can use to bill up to five active clients. The Premium plan ($50/month) allows billing up to 500 active clients. The company offers discounts on annual payment. Finally, you can contact the support agents anytime via phone and email to get your issues resolved, and the vendor also offers training to help new users get started.
2. QuickBooks Online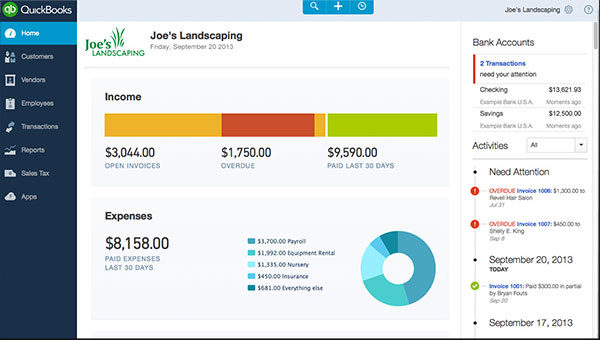 QuickBooks Online is a recommended accounting app for small businesses and freelancers. They can utilize this integrated software solution to simplify small business accounting. This app offers full capabilities to up to five users and limited features to an unlimited number of users. It is used mainly by solopreneurs, finance officers, accountants, bookkeepers, and small business owners.
QuickBooks Online automatically syncs the complete finance profile of your business to a single dashboard where multiple users can view detailed reports of your company's performance. This application creates profit and loss and trade sheets as well as invoice and billing solutions, all of which are print friendly and mobile compatible. Plus, you can create your own custom feeds and reports from within the dashboard.
The QuickBooks Online dashboard enables you to edit permissions, add users, and track sales history, invoice details, and payments. Plus, the app integrates seamlessly with Intuit GoPayment and QuickBooks Online Payroll. You can use the 30-day free trial to check out the system's features free of cost before you invest your money. The vendor offers two paid plans: the Essentials plan which costs $18/month for the first six months and the Plus plan which is priced at $24/month for the first six months. Finally, you can count on reliable support over phone to get your queries answered.
3. Wave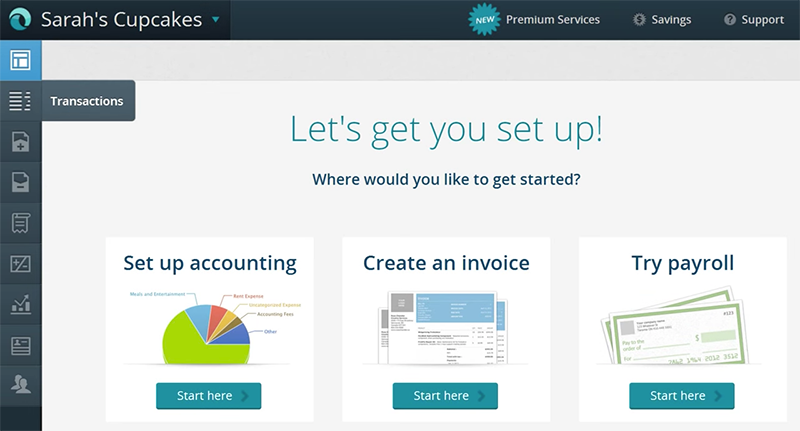 The best part about Wave is it is a free app. It combines accounting, receipt scanning, and invoicing into a single compact package. This solution is an ideal option for small businesses with less than 10 employees as well as for consultants, freelancers, and entrepreneurs.
Wave is simple to set up and use. It comes with an easily navigable dashboard that offers everything you need to view about your company's financial status. The system simplifies invoicing and accounting processes and makes it easy to monitor invoices, chase payments, and manage taxes and employees. You can use it to create and send out professional receipts, estimates, and invoices quickly. Plus, you can utilize its tracking features to closely monitor your financial processes.
Top features of Wave include tax calculations and deductions, direct credit card payments, direct deposits, yearly record keeping, and payroll. As mentioned earlier, Wave is a completely free app. However, for payroll and credit card processing services in select countries, the vendor offers a pay-as-you-go payment scheme for enterprises. Finally, you can get help via phone, email, and tickets to resolve any concerns.
4. Zoho Books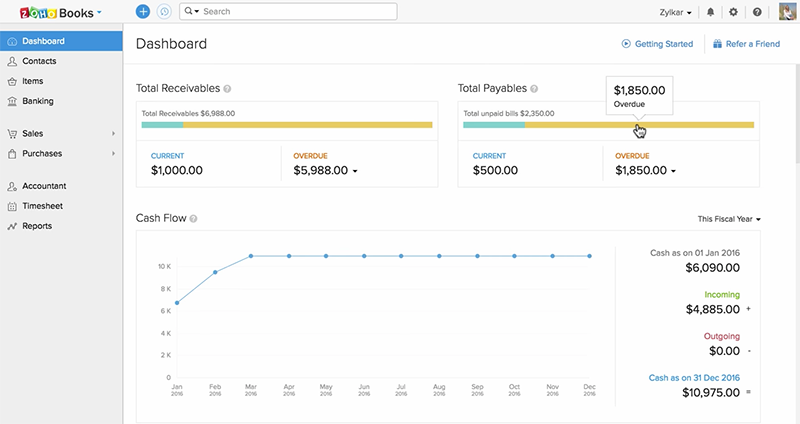 Zoho Books is a leading accounting software solution designed for growing companies. It is an intuitive system that can be utilized by small businesses to manage their finances and to control their cash flow. The app is simple and easy to use and helps you make smart, data-based decisions. It is part of the Zoho suite of quality products, which means you don't have to worry about security, uptime, or support.
You can use Zoho Books to send professional-looking invoices to customers and receive online payments from them. The system is convenient, robust, and fast, and helps you to control your company's finances and save money too. This is facilitated by features such as balance sheets, profit and loss, and cash flow statements.
What makes Zoho Books stand out is its intelligent design as the features are arranged in a simple manner to facilitate easy operation. As with other Zoho products, the navigation is a no-brainer and you can easily move around and look at screens filled with information. The dashboard provides quick overviews and visual graphs of your financial data, and you can access the other features in the tabs of the vertical navigation toolbar.
The vendor offers a 14-day free trial as well as three pricing packages: the Basic plan costs $9/organization/month, the Standard plan costs $19/organization/month, and the Professional plan costs $29/organization/month. Finally, the vendor provides training to new users as well support via phone, email, and tickets.
5. Xero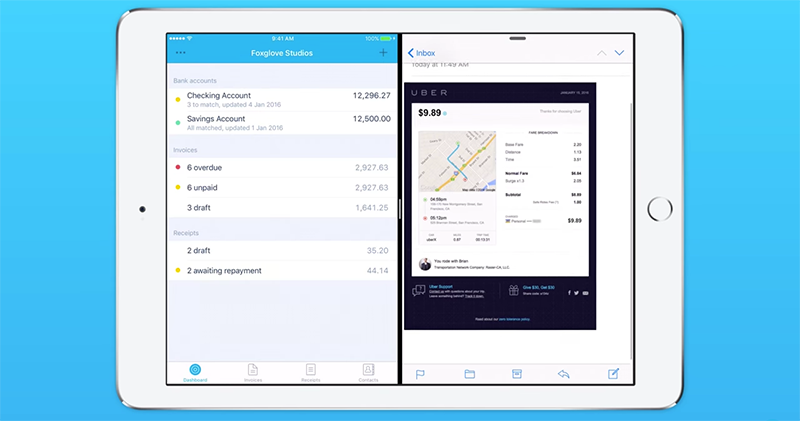 Xero is a market leader in the accounting software category. This solution is designed to meet the needs of small businesses in multiple industries. Many accountants have termed it the 'handiest asset for managing financial activities'. Our own experts have found this platform to be user-friendly with smart features to close accounting gaps.
Sole proprietors as well as companies find that Xero offers the exact features they need. Even lay users with little accounting knowledge can find this app easy to use as it simplifies even complex financial concepts such as double bookkeeping. There is no doubt that Xero owes its popular position in the market to its easy usability. If needed, you can take the help of the vendor's certified advisors regarding difficult bookkeeping and accounting concepts and processes.
Top features of Xero include inventory, free unlimited email support, financial reporting, expense claims, purchase orders, and mobile apps for Android and iPhone/iPad. The vendor offers a 30-day free trial and three pricing packages: Starter plan ($25/month), Standard plan ($50/month), and Premium plan ($60/month). Finally, you can get training as well as dependable support via phone, email, and tickets.