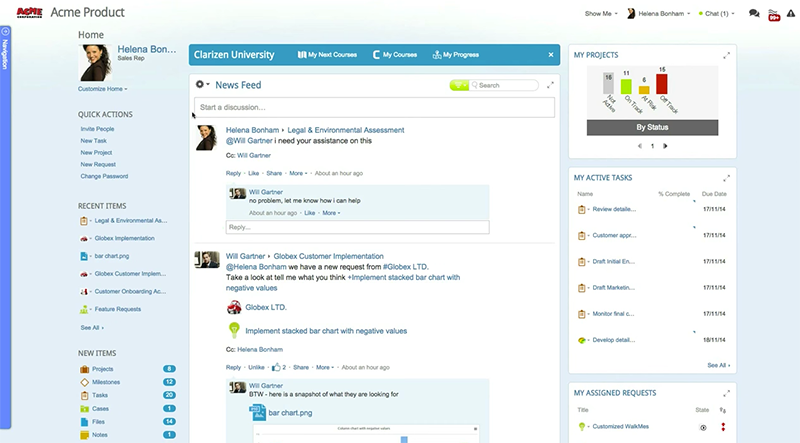 User-friendly interface
You will enjoy using the engaging social interface of Clarizen. It is simple to configure and personalize which is sure to make your working hours more effective and productive. Plus, you get the required transparency to drive profitability and boost business growth. With this app, project managers can ensure all tasks are delivered on time and within budget.
Effective collaboration
The one thing that we cite about this software in our Clarizen reviews is that the software is one of the best apps when it comes to enterprise-class project management and collaboration features. It harnesses the power of the cloud to enable you to complete work efficiently and with better results. Additionally, you can use its enterprise collaboration features to link social context with projects and tasks which can lead to improved productivity and profitability.
Project dashboards give a comprehensive view
Clarizen's collaborative work management collects all your work in one place including your unique workflows, files and reports, collaboration with partners and colleagues, and planned and unplanned activities. The app offers a unique combination of purposeful collaboration, flexible workflow automation, and cross-organizational project management. You can use these features to unite the work of your team members, minimize needless communication, and get full visibility at all levels of the company. With Clarizen, you and your team members can work more efficiently, achieve their goals, and deliver the desired results.
Mobile compatibility
The latest version of the program offers an advanced list of mobile and conditional formatting options, as well as enhanced data-analysis updates that you need not pay for. There is also a range of new profitability reports that add value to the list of project management benefits.
Easy administration
It is simple to do administrative work in Clarizen because of the clean interface. The app shows all modules on a single navigation bar, and you can choose from six views and a range of project templates. Plus, you can add notes and search for them easily. This feature comes handy when you import info from Microsoft Projects. In short, you can deploy and implement Clarizen in minutes without the need for extensive preparation and training. In this Clarizen review you will find more details on what the software has to offer.