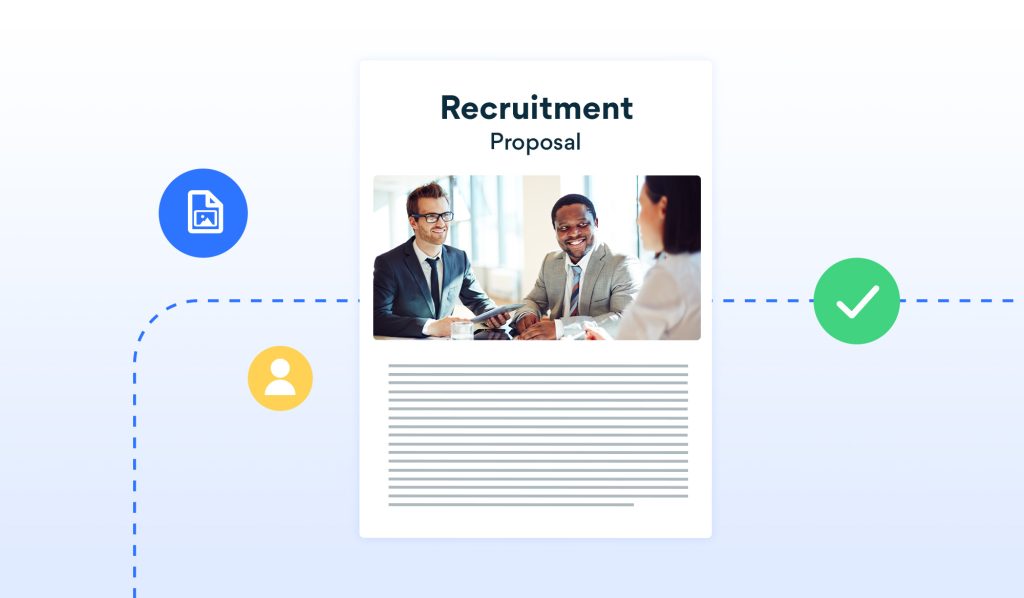 Did you know that 67% of America's workforce agrees that the application experience would make or break their decision on whether to take a job? Or that 59% of job seekers have abandoned an online application because there were issues in the process?
With so much focus being out on the recruiting process having a successful recruitment agency in your corner is essential. However, do you know how to present the true value of your services to potential clients?
Explaining your services might be difficult. Clients may think that you have an infinite pool of potential candidates you can pick for any position.
But this couldn't be farther from the truth. With so much competition out there, you're put in a tough position. 
You need to make the job posting, figure out the best channels to promote it on, read resumes, set up interviews and so much more. 
In order to present your services in a nice and digestible way, you have to create a recruitment proposal. We'll explain how to create one and give you all the needed tools, tips and tricks. 
What is a recruitment proposal?
A recruitment proposal is a document that explains your process to the potential client. It outlines your services, details the process, provides payment details and more. 
This type of proposal is necessary in order to help you win new clients because you need a sales document that describes exactly what your terms and conditions are. 
Think of your recruitment proposal as a contract, the more details they have on your business process, the better. 
How to write a recruitment proposal?
Luckily, the process of writing a recruitment proposal is simple, especially if you're using the right tools. For this article, we chose Better Proposals, a proposal writing tool that comes with prewritten templates you can easily customize to your needs. 
Once you choose the right template for your recruitment proposal, start customizing it. 
Start with a proposal introduction, otherwise known as an executive summary. In it, you should speak directly to the client and explain how your process will help them reach their goals. 
Explain the true value of your work. Outline the specific benefits you can provide – like saving them time and money while providing high-quality talent. However, you should also dig deeper. 
If you want to create a loyal partnership with your client, explain the value they get from having a reliable recruitment agency in their corner. Not only are you finding people that fit the job description, but you're also making sure they are a great culture fit, meaning they won't quit after a month. 
Also, if there ever arises a need to quickly fill a job position because of sickens or else, you can work quickly because you already know the company, their needs and values. 
After your introduction, go straight into the process.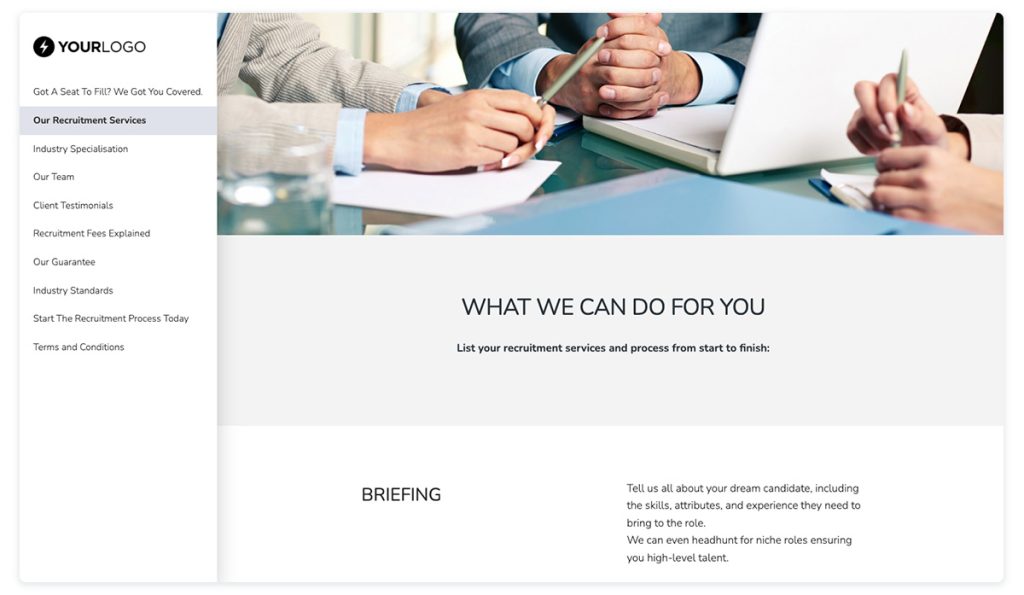 Explain every step you're going to take and how long the whole process will be. Remember, your clients don't have the same level of technical knowledge you have, so make sure you're not using industry jargon throughout your proposal. 
Now, before you showcase your price, sweeten the deal with client testimonials.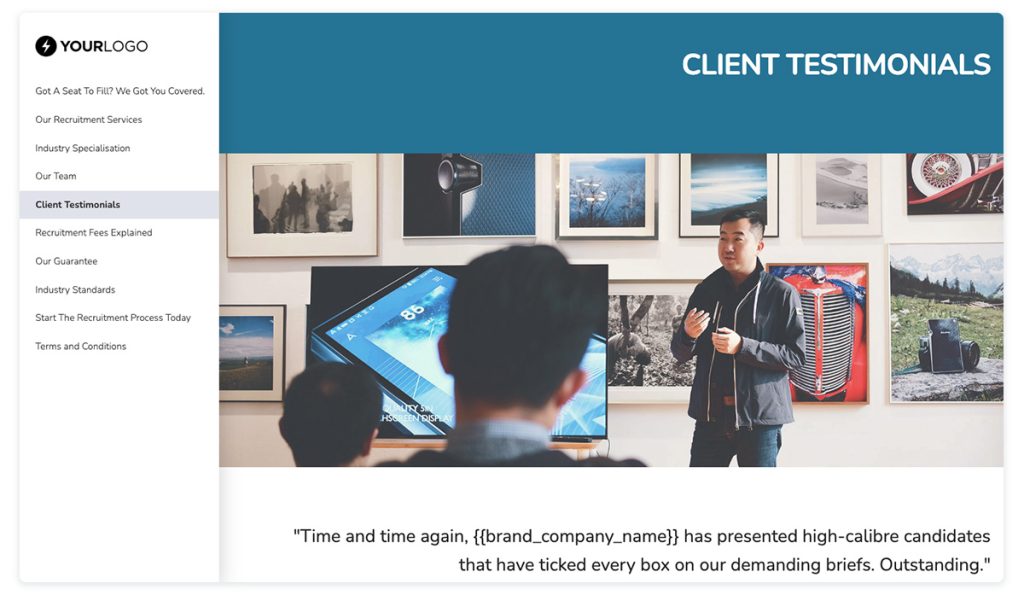 This way, your recruitment proposal has more value, because you're showing that you helped others that we're in your client's position. 
Make sure to use pictures of your previous clients and provide a bit of context to make it easy to relate to them. 
Let's talk about money
After you've won your client over with your process and client testimonials, it's time to present your price.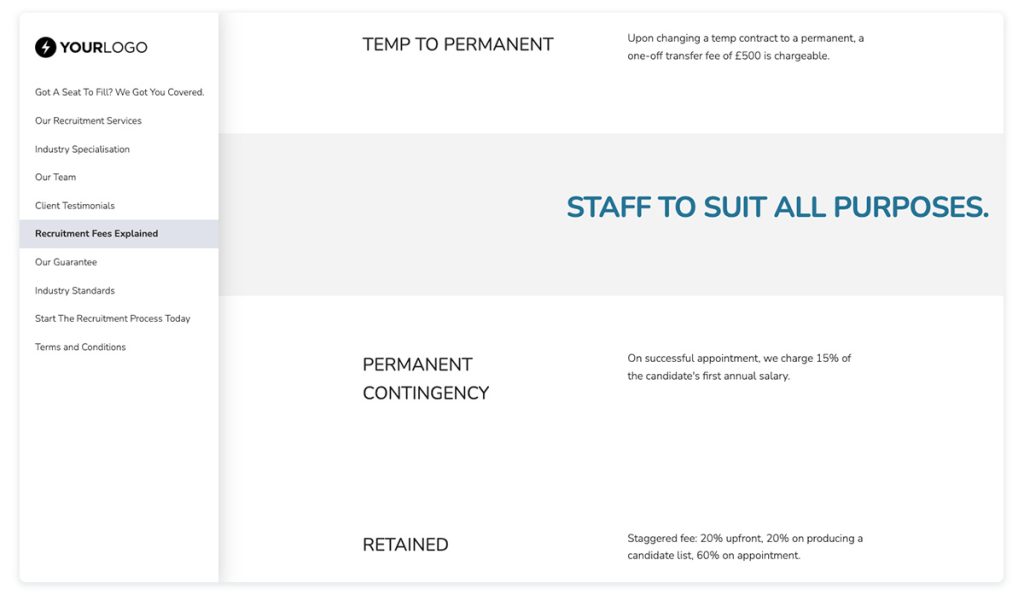 Make sure it's easy to understand and follows the industry standard. If you opt for Better Proposals, the tool will help you calculate the tax and any other options automatically. 
In order to make your deal better and speed up the agreement process, you should include a guarantee. It will put your client at ease and make their legal team happy. 
Once you've outlined everything in your proposal, it's important to outline the next steps. Don't end your proposal without specifically explaining to the client exactly what they need to do next. 
If you're using proposal software, it usually means that the client can agree to your terms by signing the proposal itself, without the need for creating a separate document.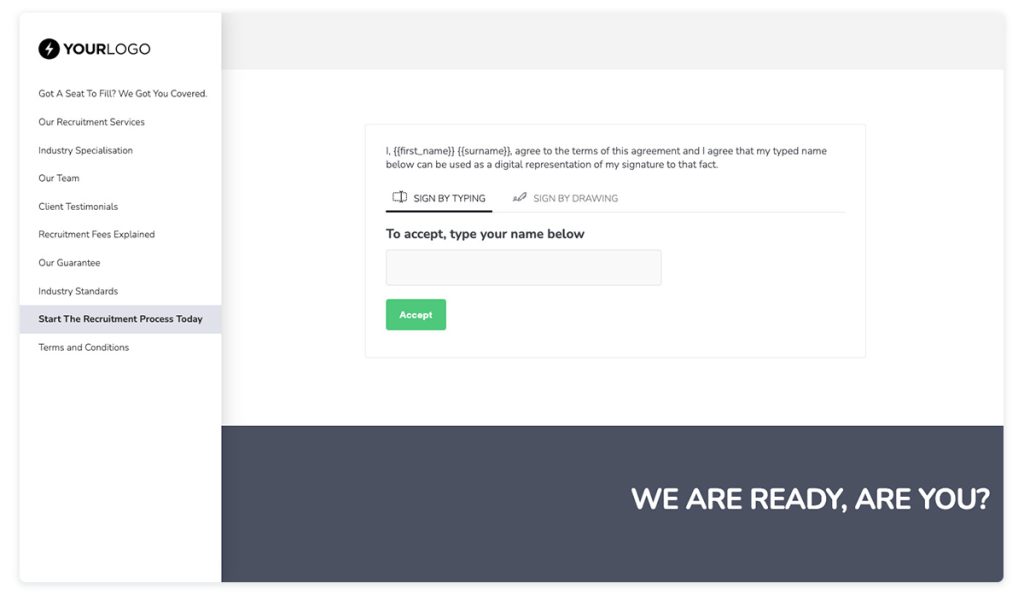 Moreover, the fee can be paid through the proposal itself, with popular payment gateways. These steps in the process significantly speed up the sales process and help you win deals quicker. 
Bonus tips and tricks
Don't wait for your client to ask for your accreditations. Include them in the proposal and speed up the agreement process by providing all the necessary information upfront. 
However, don't go overboard with unnecessary text. Your recruitment proposal should be short enough so that it's easy to get through. 
Although it might feel natural to write about your company at great length in the proposal, we strongly advise against it. This will turn your readers off because they are interested in the specific benefits they can receive, not your passion for the business. 
Think about it this way, if you reach out to an Internet provider asking for a quote, you're not interested in reading about the company's history, its team and so on. You're interested in what they can do for you. 
Make sure that all of your recruitment proposals are personalized towards the client. 
Also, if you thought that sending a PDF recruitment proposal was the way to do it, think again. PDF documents are stagnant and don't have any real benefits to them. 
The better way to create and send your proposals is by utilizing proposal software which lets you create web-based proposals. 
This means that you can track your proposals, see exactly when they were opened, forwarded and so on.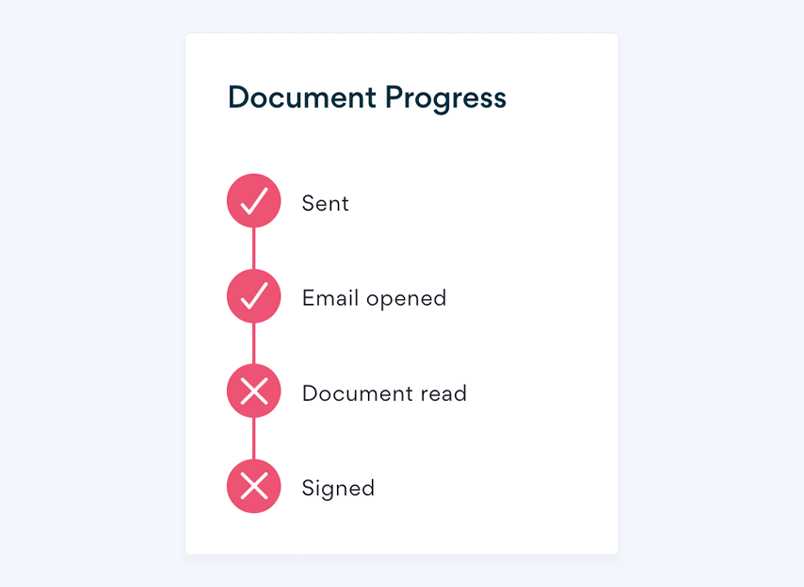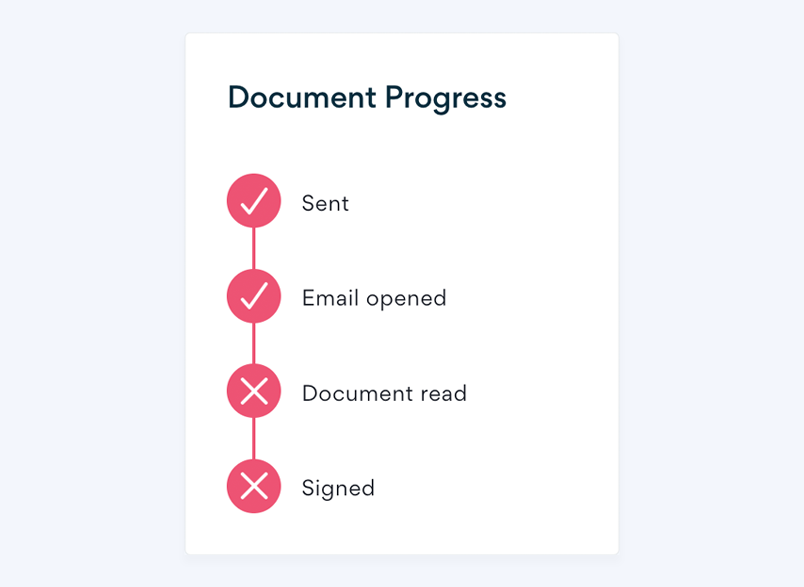 This is especially important in the follow-up process because it helps you understand when to reach out to the client and how to shape your email. 
If you reach out with a discount before the client even opened your proposal, you're undermining your business. Knowing when the client read the proposal is valuable information that can help you win more deals. 
Furthermore, you can track your proposals and team members in the reporting statistics. 


Lastly, make sure you're sending your proposals at the begging of the week. If you send them on Fridays, you'll have to wait for the response a bit longer. A better day to send your proposal would be a Tuesday or Wednesday. 
To wrap up 
Creating a recruitment proposal doesn't need to be a hard and long process. Especially if you're not making your proposals from scratch. You can speed up the entire process, while still creating a high-quality document with the use of the right tool. 
Once you have your tool and proposal template picked out, you can easily fill it in with your content, prices, terms and conditions, client testimonials and more. 
Make sure that you send it with a nicely written email that has a personalized message. 
Now that you have all the tools needed, get started on the recruitment proposals that will help you win more deals in record time.