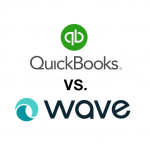 Wave and QuickBooks Online are two of the most popular accounting apps for small business today. Both are cloud solutions and, thus, accessible across devices. Both have its own pros and cons, but, overall, they meet the basic needs of an entrepreneur with limited accounting background.
QuickBooks Online leverages its branding power from the vendor that popularized accounting software since the early eighties. QuickBooks is historically the first accounting solution of many small businesses migrating from spreadsheet. But QuickBooks, largely an on-premise suite, falls behind newer apps that leverage cloud and mobile technologies. This is where Wave comes in.
It is noticeably more streamlined and with less features than QuickBooks Online, which is both a plus and minus. A plus because, in many cases, an entrepreneur only requires the basics in accounting; a minus, because the app cannot scale to the more sophisticated features. That said, Wave serves its market well, the independent small business owner. In fact, it is designed in response to the pain points faced by its market, mainly, the high learning curve imposed by traditional accounting solutions.
So, which one is better?
You be the judge because the answer depends on your priorities. We'll try to give you a reliable Wave vs QuickBooks comparison though. QuickBooks Online is comprehensive but cumbersome compared to Wave. Wave is streamlined, but meaning you lack other tools. What we can do is help you make the decision.
In this comparison guide, we match both apps' similarities and differences. We advise you focus on the differences as they are likely the deal breaker in your purchase. Let's go.
Wave and QuickBooks Online Differences
Accounting features
Accrual-basis vs. cash-basis.

Let's focus on a core difference first. QuickBooks Online offers both accrual and cash-based accounting, whereas Wave only provides cash-basis. Note that many U.S. small businesses use cash-basis for tax reporting and convenience, even as accrual-basis paints a more accurate financial picture. It factors in all receivables and payables, not just cash in hand.

You can, however, work around Wave's limitation here. Steps are detailed on

how to work around cash-based income statements in Wave

by reducing Accounts Receivable and Accounts Payable. It's clearly a complicated approach than using QuickBooks Online's hybrid capability.

Invoicing templates.

QuickBooks Online also has five invoice templates compared to Wave's three templates. The latter also provides more customization. Both support automatic invoicing for recurring billing.

Reporting.

You get around 100 reports with QuickBooks Online versus 12 in Wave.

Budgeting.

This feature is available in QuickBooks Online Plus. It has a simple function, allowing for single annual budgeting only and doesn't support multiple budgeting, which may be enough for a small business. Wave doesn't support budgeting; you'll need a spreadsheet for this.

Tracking categories.

QuickBooks Online allows you to track the movement of records between categories or accounts. Think of a category as a shoebox where you put a set of records. In your financial closet (Chart of Accounts) you have other shoeboxes for different sets of records, labeled, for instance, as Savings, Checking, Bills, Food, etc. QuickBooks Online can track when you move a record (ex. In Savings) to another account (ex. to pay for food). You can't do this in Wave, which is a big drawback since tracking gives you a sense of control over your finances.

Lending.

Wave curiously offers lending to small businesses with more than $100,000 in annual income. Terms apply.

Personal vs. business expenses

.

Wave allows you to integrate your personal finances and business finances in one platform. Most accounting solutions, including QuickBooks Online, avoid this setup, but Wave thinks like a small business owner, where the business is personal. For instance, many entrepreneurs pay business bills with their personal credit to tide them over to the next receivables. Wave feels it's important to put the two accounts together for better visibility. Wave's setup fits most small business owner's behavior, instead of forcing them to adapt to the rigid structure of traditional accounting solutions.
Pricing
Wave is free forever. There are no hidden fees, feature limits or strings attached. It earns revenues from its payroll service, which integrates with the free app. On the other hand, QuickBooks Online charges from $5 to $35 per month across its plans. Even if you're sold to the comprehensive set of QuickBooks Online, Wave is a good way to walk the business through to get the hang of cloud accounting at no cost.
Users
Wave offers unlimited users, while QuickBooks Online is limited to 1-5 users. It seems QuickBooks Online's approach is intuitive that accounting is limited to a few users to protect financial data, but that prevents your staff from using the platform to upload expenses, estimates and reports unless you pay for more users. The key is to have unlimited users and good user permissions to prevent data breach, and Wave excels in this aspect.
Integration
QuickBooks Online has more integration capabilities. It even works directly with lesser-known third-party systems, such as, smartvault, repairshopr and T-Sheets. Wave can only muster about three direct integrations. However, both solutions connect to Zapier, which in turn connects to around 750 business and productivity apps.
Ease of use
Wave is hands down more simple, not just because it has less features, but the tools are intuitively designed around small business owner's behavior. Wave proves less is more from an independent entrepreneur's perspective.
Mobile apps
Wave received positive reviews for its mobile apps (iOS and Android). It actually has three apps–Receipts by Wave, Invoices by Wave and Payroll by Wave. Receipts by Wave has earned praises for making it convenient to capture expenses on the go. Some users clamor for a single app, but offering them separately is intuitive and less buggy. QuickBooks Online apps are limited compared to the web/desktop version.
Support
Wave support is reliable and generous and more responsive than QuickBooks Online's. Wave's pricing and key messaging, in fact, reflect empathy with small business owners. Meanwhile, QuickBooks Online belongs to a global brand, which is notoriously known to have trouble handling customer queries (they have tons of it daily) as evident in random user reviews.
Wave and QuickBooks Online Similarities
Double-entry accounting
Both accounting solutions offer double-entry bookkeeping. Wave, in fact, is accrual-based only, while QuickBooks Online is both accrual- and cash-based. Transactions like check writing, payments and collectibles need double-entry accounting to balance the General Ledger.
Tax support
Both Wave and QuickBooks Online have flexible tax support. Both manages estimated, state and federal  taxes including income and sales. Both solutions also let you control tax rates to adapt to regulatory changes.
Inventory tracking
Wave and QuicBooks Online feature inventory tracking. In Wave you need to create two accounts, Inventory asset and Cost of Goods Sold expense to manage basic inventory. QuickBooks Online takes on a more streamlined approach. Just enable Products and Services and Quantity on Hand and select the right settings and you're set.
Expense tracking
Both accounting solutions support expense tracking. Wave's mobile apps are well regarded for capturing receipt images. It's a fast way to track expenses for, say, business trips and sales meetings. QuickBooks Online has more robust expense tracking. It handles customer, real estate, mileage and employee expenses. It can also track expenses by class.
Estimate-to-invoice
Wave and QuickBooks Online feature estimate-to-invoice conversion. It frees you from manually rewriting and copy/pasting quotes to bill clients. With a few clicks, estimates are turned to invoices in seconds, what used to take an hour, maybe. Both solutions allow you to edit or tweak some elements. More importantly, errors are prevented during the conversion.
Payroll integration
Wave provides a separate payroll service that integrates with its free app. It charges a scalable per-employee rate, for instance, $4 per employee for 10 employees. On the other hand, QuickBooks Online has a separate payroll app, QuickBooks Payroll, starting at $20 per month inclusive of pay by check or direct deposit and payroll tax forms.
Other accounting features
The following features are present in both Wave and QuickBooks Online:
Accounts Payable

Chart of Accounts

Bank reconciliation

Contact management

Sales tax

Time tracking

importing/exporting

Reports

Multi-currency
Takeaway
QuickBooks Online is more robust and, for someone looking for a comprehensive feature set, it is a logical choice. But a caution–you might not need all these features, which, in that instance, Wave is the cost-effective option (it's free).