CRM software solutions offer a host of benefits to enterprises. In particular, cloud-based CRM systems are favored by most companies as they offer numerous advantages. In fact, 87% of businesses today use cloud-based solutions, as a result cloud-based revenue accounted for the about 50% of the $31 billion CRM industry in 2016.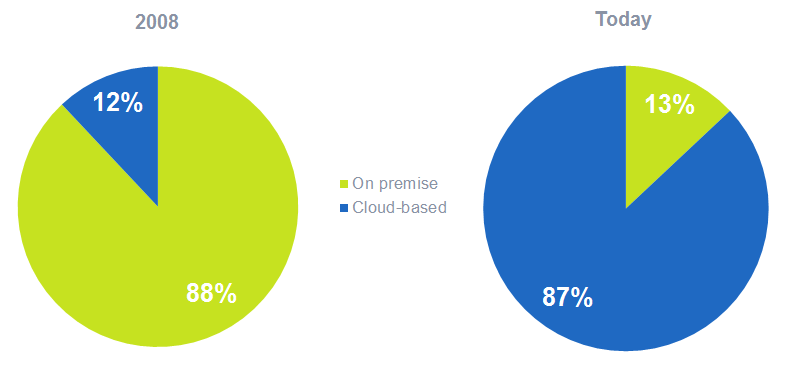 Learning about current trends in CRM software for enterprises can help you apply and use the system of your choice more effectively. 2017 trends include:
Splitting of verticals by industry with specific CRMs being created for sectors such as eCommerce, real estate, field service etc.

Increasing usage of predictive analytics

Growing popularity of mobile CRMs

Greater automation with increasing use of customer service chatbots

Legal tangles with big data as governments are trying to streamline how businesses collect and use citizens' personal information
Now that you have some background info on CRM stats and trends, it is time to select a suitable solution for your specific business needs. To help you, we provide detailed reviews of 7 top CRM software for enterprises. We analyze their main features and inform you the benefits you can gain by subscribing to each service.
1. bpm'online CRM
Bpm'online CRM is a process-driven CRM that you can use to coordinate your sales, marketing, and customer service support efforts by merging customer data with business process management tools. This platform is an ideal CRM software for enterprises as it highly scalable and can grow with their increasing demands.
The product is designed around the BPM platform and helps you to design and automate processes to improve your customer relationships. In addition, drag and drop tools make customization simple with solutions for both cloud and on-premise infrastructure.
The bpm'online CRM mobile version maintains its look and feel across different table and phone platforms. Plus, the app works smoothly with leading productivity tools such as MS Word, MS Outlook, and Google Calendar. You can also integrate it with your own applications in different ways such as .Net managed assemblies, web services, and COM or DLL.
As for pricing, the vendor offers separate sales, marketing, and service modules. You can also integrate the three modules into a single bundle and get an estimate for it. There is a handy free trial you can use to try out the various features before you invest your money. Finally, you can avail prompt support anytime through phone, email, and ticket channels.
2. Salesforce CRM
Salesforce CRM is part of Salesforce's stable of products. It is used by more than 100,000 companies around the world. You can utilize this system to track all customer interactions and information in a single location to track more leads. Plus, you can leverage its partner management, sales data, marketing automation, and lead management functionalities to nurture leads and convert them into deals.
The mobile apps for Android and iOS display real-time data from dashboards and custom reports. They also include a Feed First feature that shows you the most important information based on your settings. On top of that, you can add more functions and tools from the AppExchange store. You can get insights from varied, real-time customer data. Plus, you can create territory models, sales forecasts, and critical reports.
To give you more flexibility, Salesforce CRM integrates seamlessly with leading business applications such as: Zendesk, Zuora, Ambassador, FinancialForce ERP, LeadExec, TeamSupport, and Desk.com as well as with other top accounting, sales, and CRM solutions.
The vendor offers five enterprise pricing packages ranging from $5/user/month for the basic Contact Manager plan to $300 for the premium Performance plan. You can avail support through phone and email, and training for new users.
3. Oracle Sales Cloud
Oracle Sales Cloud is a CRM solution that offers the features enterprises need to grow through accelerated sales and improve customer engagement. Your sales reps can derive actionable insights from the software that they can use to sell more.
Oracle Sales Cloud is also ideal for pipeline building as it empowers you to utilize all available channels to deliver an excellent customer experience. The application bridges all individuals and units involved in the sales process, and helps to address their customer data challenges. This enables them to improve their work and deliver positive experiences with marketing, sales, and service.
Top features include: sales force automation, customer data management, partner relationship management, sales performance management, and service request analytics. Your sales team can use these features to qualify more leads, be more collaborative and productive, and close more deals smoothly and easily. Managers can utilize this app to get accurate and updated information which allows them to make forecasts based on actual data.
The vendor offers four enterprise pricing packages starting from the basic Professional Edition (from $65/user/month) to the Premium Edition (from $300/user/month). Finally, your sales reps can make use of productivity-driven apps and their mobile capabilities to complete tasks quickly and efficiently.
4. Zoho CRM
Zoho CRM is leading web-based CRM platform that you can use to attract, retain, and satisfy customers to grow your business. Its core functionality includes lead and contact management, purchase control, and sales pipeline management. You can maximize the potential of these features from the app's easy-to-use interface. The home screen displays 10 different components and the main module navigation is placed on top for effortless searching. You can always customize the dashboard for your specific business needs.
Zoho CRM is ideal for small businesses as well as large enterprises. You can leverage its functionality to automate daily activities, track sales, and interact with customers on different platforms. Plus, its mobile platform enables you to take the CRM on location and get updates fast and in real-time.
On top of that, you can extend the CRM's functionality by integrating it with leading applications   including Zoho productivity tools and also with Google Apps, ConstantConnect, QuickBooks, MailChimp, and Microsoft Outlook as well as with cloud-based connectors like CloudWork and OneSaas.
Top features include: sales forecasting, document library, mass email, social CRM, and territory management. The vendor offers four enterprise pricing packages starting from the basic Standard plan ($12/user/month billed annually) to the premium Ultimate plan which costs $100/user/month.
5. NetSuite CRM
NetSuite CRM is a robust solution that provides companies a complete 360-degree view of their customers in real time. You can get a continuous stream of information from all touch points and throughout the customer lifecycle. With this app, you can deliver a top notch customer experience from lead management to fulfillment and post-sales support.
Why does NetSuite CRM stand above the competition? The main reason is it offers more than standard CRM features. Its advanced functionalities include customer service management, sales force automation, marketing automation, campaign management, sales forecasting, and opportunity management.
NetSuite CRM empowers you to track all activities of visitors on your website and imports all their data into the system. The app records all cyber paths they take including the links they click and the pages they view. It then delivers all this data to your sales team who can use it for sales forecasts, lead generation, and effective marketing campaigns.
Another big benefit is the software allows organizations to monitor the productivity of their employees by tracking their workflow, progress reports, and task-completion ratio. On top of that, it includes a group calendar where all employees can monitor their to-do lists as well as display their top achievements. Pricing is quote-based and you need to contact the vendor for a customized quote for your business needs.  
6. Microsoft Dynamics CRM
Microsoft Dynamics CRM is a platform designed to provide companies with tools to market intelligently, sell effectively and productively, and care everywhere. The app offers a range of features including business intelligence, social insights, account and contact management, lead and opportunity management, data extraction and cleansing, and analytics and reporting. You can opt for cloud, on- premise, or hybrid deployment.
What benefits can you expect by subscribing to Microsoft Dynamics CRM? Top advantages include: offline access to the system, seamless integration with Microsoft products, multiple dashboards, vast integration with third-party systems, and integrated marketing and automation tools.
The vendor offers four different license levels ranging from the Basic License for $30 to the Enterprise License which costs $200/user/month. On top of that, the vendor provides prompt and reliable customer support through multiple channels as well as training to help new users get up to speed with the software.  
7. SAP CRM
SAP CRM is an integrated customer relationship management software designed for the needs of midsize as well as large enterprises in all industries and sectors. The parent company SAP acquired Hybris in 2013 and their strategy in the CRM software space is aimed at tackling the market leader Salesforce.com which is a cloud based solution. To become more competitive and future focused, SAP is now offering cloud-based CRM solutions rather than conventional on-premise CRM.
With SAP CRM, you can develop closer relationships with your customers by engaging them at every touch point throughout their journey. The platform offers you the latest technologies to redefine customer engagements. Key features include: dynamic customer profiling, loyalty management, marketing lead management, marketing analytics, and marketing resource management.
You can use SAP CRM to empower your employees to deliver a seamless and consistent omnichannel experience. Numerous companies leverage this robust CRM solution and benefit from its effective features including top brands such as Pirelli, Purchasing Power, and Royal Cup.