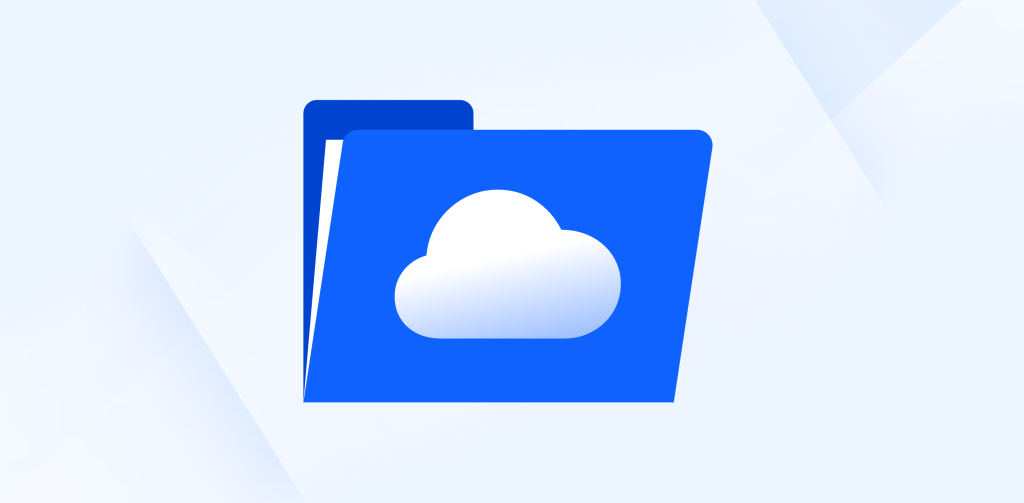 Remote work is undoubtedly the greatest thing since sliced bread, but that doesn't mean it doesn't have its downsides.
Staying in sync with fellow coworkers and keeping all team members on the same page can be a bit of a hassle. A lot can get lost in translation over the phone (or messenger), and explaining complex concepts and working together effectively on tasks requires a powerful file-sharing tool. Speed and ease of use are paramount to keeping remote workflow flowing. 
Why Do Remote Teams Need Cloud File Storage?
No matter what type of online or from-home work you and your team do, you're going to need a cloud storage service built for collaboration. 
Remote teams rely on cloud file storage to keep their operations running smoothly. Without it, their ability to collaborate and communicate effectively is greatly diminished. Cloud storage allows remote teams to store and share files quickly and securely. It also gives them access to their files from any device, meaning they can work from anywhere, anytime. Plus, cloud storage services provide extra layers of security, ensuring that only authorized personnel can access valuable company data. 
For remote teams, cloud storage is a must. It ensures groups are always connected, and that data is always accessible and secure. 
Cloud storage is an indispensable tool for companies looking to improve collaboration and communication. With the right cloud storage service, teams can stay connected and work more efficiently, no matter where they are.
Which cloud storage service is best for remote teams? Below is a list of our favorite file storage and sharing services that are sure to keep everyone in the loop:
5 Best Cloud File Storage Services for Collaboration
Internxt
Internxt is an open-source, end-to-end encrypted cloud storage service built to protect users' right to privacy. 
Unlike other cloud services on this list, any files stored and shared stay completely private. No first or third-party access ever! When it comes to collaboration, Internxt exceeds in the secure file transfer department. Their new service Internxt Send allows users (and remote workers) to encrypt and send large sensitive or confidential files safely.
Send joins Internxt Drive and Internxt Photos to create a well-rounded and capable cloud storage ecosystem. The young company's commitment to putting privacy first and the implementation of various zero-knowledge technologies makes Internxt a standout for any remote teams who prioritize security and want to virtually eradicate any risk of data breaches. 
Internxt is a fantastic platform that allows businesses to collaborate with remote teams and securely store their data on the cloud. It's a game-changer for companies who need to share sensitive data and collaborate with remote teams, as it provides an easy-to-use and secure platform for doing so. 
With Internxt, businesses can quickly and easily store and access data from any device without requiring complex IT installations. It also provides a secure, encrypted connection for data transfers to keep all data safe from prying eyes.
Internxt is an excellent platform for businesses that need to securely store and share all kinds of sensitive data (such as company documentation, personally identifiable information, etc) and collaborate with remote teams. It's an invaluable tool that can help businesses stay connected and productive, no matter where their team is based.
Google Drive
Google is a powerhouse in the cloud world, and though the company leaves a lot to be desired when it comes to privacy, there's no question about its strength in collaboration. Google Drive and Workspace pack a lot of functionality into an easy-to-use package. 
The fact that it's mostly free (up to 15GB) and used by pretty much everyone makes it an obvious choice for most remote teams. However, it's best to commit to the rest of the Google ecosystem to get the most out of Google Drive. 
Google Drive is a potent tool for dedicated remote teams and businesses. It provides cloud storage that can be accessed from anywhere with an internet connection. Plus, it makes it easier for teams to collaborate on documents and projects. 
You can create and share documents, spreadsheets, presentations, and more in real time with Google Drive. Any changes made are automatically updated, so everyone is always on the same page. You can even access and edit files from your phone, so you don't have to be stuck at your desk to get work done. 
Google Drive is famous for a reason and can be an invaluable tool for teams that need to stay connected at all times, no matter where they are. It's cost-effective and makes collaboration more straightforward than ever.
Dropbox
Another big name in cloud storage and collaboration, Dropbox has been around forever and has a ton of features to help remote workers be more efficient. While dropbox makes sending files back and forth easy, they have a pretty poor track record on privacy. 
Like Google, Dropbox has a document editor allowing team members to co-edit on the fly. Dropbox has great integration with many third-party apps so that it can fit in almost any workflow, but that comes with a tradeoff in security, as the service doesn't offer end-to-end encryption. Dropbox plans, especially their business plans, and on the higher end of the price spectrum, which makes it not a very attractive option for smaller companies and freelancers
Dropbox is one of the most popular cloud storage services on the market. It offers moderately secure storage for files and documents and lets people access their data from different devices. Dropbox also provides easy sharing options, so you can quickly and securely share files with anyone. And with its intuitive user interface, you can set up your account and start using Dropbox in minutes. 
Dropbox also offers plenty of features for businesses, such as advanced collaboration tools and administrative controls. So if you're looking for an easy way to share and store files, Dropbox is the old, tried, and true option.
Box
Built specifically for collaboration, Box is a business-orientated cloud content management system. With over 1,500 integrations, including essentials like Zoom, Slack, Microsoft 365, and Google Workspace, Box does an amazing job of bringing all your remote team's many tools under one simple-to-manage roof. 
Box is a cloud storage and collaboration platform designed specifically to help remote teams work smarter and more efficiently. With Box, you can store and share videos, documents, photos, and other files in the cloud. This allows team members to access files whenever and wherever they need them.
Box also lets you collaborate on documents in real time, assign tasks and deadlines, and comment on files. It's like having an office but without ever having to be in the same room. This makes it perfect for teams spread out geographically or projects involving a lot of collaboration. 
So whether you're a large enterprise or a small business, Box can be the perfect solution for keeping your teams connected and productive.
Microsoft OneDrive
The closest service to Google Drive without being Google, Microsoft OneDrive has all the benefits of Microsoft Office with included cloud storage. Microsoft, being the massive company it is, gives remote workers a lot of features and compatibility. 
OneDrive is polished and capable of doing everything you likely need, from content creation and collaboration. It is widely used and comes mostly standard on all PCs running Windows. Again though, being a large cooperation, Microsoft collects a lot of data. Also, combining OneDrive with other products and services can be a bit of a hassle outside of its own ecosystem.
That said, OneDrive is a sturdy tool for remote teams who use Windows products, providing a super-compatible and reliable way to store and share files. With OneDrive, teams can collaborate on documents, presentations, and spreadsheets in real time, no matter where they are. And since it's cloud-based, all changes are automatically updated and backed up.
Finally, OneDrive is incredibly user-friendly. With its intuitive interface and easy-to-use tools, you'll be up and running in no time. So if you're looking for a way to make collaboration easier for your remote team and you're big on Microsoft Office, OneDrive is definitely worth considering.
Cloud File Storage Boosts Collaboration for Remote Teams
If you're looking for a cloud storage service that offers end-to-end encryption and total privacy, then Internxt provides the most tailored solution. But if you're looking for something with more integrations and sharing features (and privacy doesn't matter to you in the slightest), then Google Drive is your best bet. 
When it comes to cloud storage and collaboration apps, there are a lot of options out there. Some of them do a great job, and others are a little hit or miss. What makes a great collaboration tool is that it doesn't have any glaring weaknesses and is easy to use and learn.  
The truth is that there is no one-size-fits-all solution for remote teams and team collaboration. Depending on your team size, business type, and industry, you should choose the right tool for you. The best file storage and collaboration suite isn't a single solution but a combination of different tools from different providers. And please, whatever you do, take privacy and security into account!