The global accounting software market topped $3.06 billion in sales last year and is predicted to grow to $4.10 billion by the year 2021. While small businesses can make do with a basic package that has simple features, large enterprises need an integrated accounting solution that gives all stakeholders access to important business data and coordinates activities across units, cities, sites, and countries. This type of system can help your corporation unify under a single information framework.
For large organizations, there is no one-size-fits-all system. They need a platform that can be configured to their specific requirements with private cloud, onsite hosting, or a hybrid combination. Another essential feature is real-time integrations which means stakeholders no longer need to wait for the annual report to get an overview of the company's finances.
Accounting software for enterprises delivers real-time data to your personal dashboard. Plus, they provide you actionable insights that you can utilize to make intelligent decisions and move fast to capitalize on opportunities.
Top rate products enable your employees to collaborate effectively with important stakeholders such as customers, banks, executives, vendors and others. They link all your business units to a single integrated data source that provides accurate info to stakeholders. Your employees can effortlessly perform their tasks using integrated, relevant, and real-time business knowledge.
You can keep up with the latest trends in the accounting industry to select a suitable enterprise solution that offers advanced features. In this article, we help you out the by detailing the key features as well as unique benefits offered by 5 leading accounting software for business enterprises that are designed for the greater needs of large businesses.
Top 5 Accounting Software Solutions for Enterprises
1. Intacct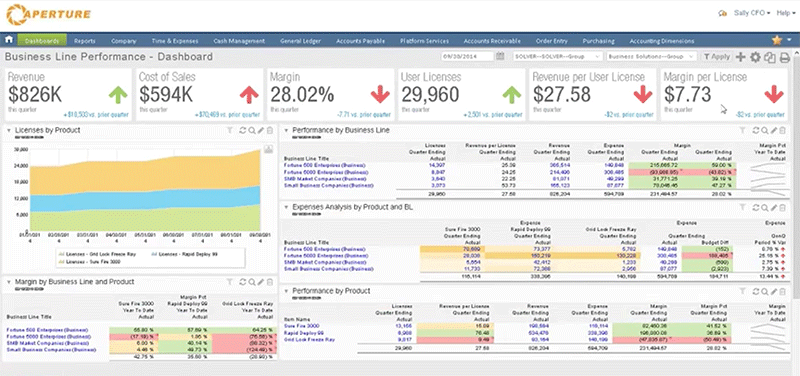 Intacct is a popular accounting software system that offers scalable features for large corporations. It is a well-planned and reliable suite that offers plenty of useful features. For this reason, the AICPA has recognized this vendor as a leading provider of finance-related applications to CPAs. This partnership empowers finance professionals to make smarter decisions based on crucial metrics and stats. Large corporations in a wide range of industries including retail, wholesale distribution, and healthcare can benefit from this software. An important functionality is its seamless integrations with widely used systems such as Salesforce, Development Sandbox, Clarizen, and Paychex.
Intacct offers a mobile-based browser for popular mobile devices. Large enterprises that have outgrown mid-market solutions such as Oracle, Deltek, and Sage can use the big business functionalites offered by Intacct. These features include inventory management, multi-currency support, auto-tax calculator, bank reconciliation, and automated journal entries.
What is unique about Intacct?
Simple and clean interface

: The default dashboard has a standard interface and it can be customized to create shortcuts for common functions. You can use only needed features and eliminate others to save time and enhance productivity. Plus, you can easily view multiple features simultaneously and move from one tool to another effortlessly.

Reputable vendor background

: As mentioned earlier, the AICPA has selected Intacct as a top provider of financial apps to CPAs.

Scalable cost and system requirements

: Pricing starts at an affordable $400. You can pay extra to get optional features installed. The app can be installed on Linux, Mac (OSX), and Windows.

Wide range of core accounting functionalities

: General ledger makes data entry effortless and minimizes manual mistakes. Multicurrency management tools help you to easily compute currency differences for transactions. Sales tax automation helps to streamline compliance with laws and jurisdictions.

Built-in and customizable reports

: You get built-in report templates as well as charts, dashboards, and graphs for your financial reports. Plus, you can set and customize calculations for commissions, KPIs, and returns to be computed directly in the system, which saves you the work of manually computing them in Microsoft Excel.

Fast and secure processing

: The software meticulously processes bills and credit card transactions, and provides a secure platform to streamline financial processes.

Security and user limitations

: You can control access to features and actions, and grant permissions based on user role. The app's reliable database system ensures your information is safe from viruses and hackers.
2. Microsoft Dynamics GP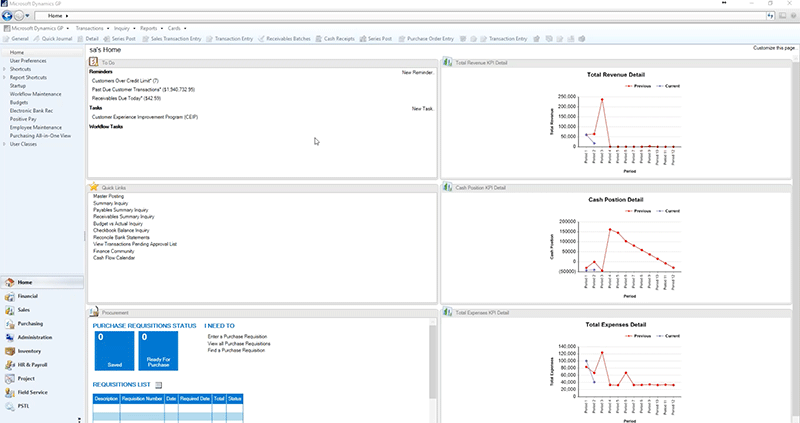 How can enterprises benefit by investing in Microsoft Dynamics GP? This suite offers core functionalities for financial management, IT management, compliance, collaboration, business intelligence, field service, supply chain management, planning, manufacturing, and human resources management. On top of that, you can buy a la carte modules separately. If you have extra needs, you can add to the system hundreds of third-party apps from independent software vendors (ISVs).
Dynamics GP uses Microsoft's Windows and .NET frameworks. The platform can be deployed on-site or hosted for a monthly subscription. The vendor and its partners provide online training as well as timely support.
What is unique about Microsoft Dynamics GP?
Financial management and accounting

: The app offers built-in analytics and account-level security to help you manage your banking, budgets, asset, and cash effortlessly.

Inventory management and operations

: You can track and manage your production, orders, inventory, returns, and vendors.

Sales and service

: Manage your sales, field resources, and service contracts.

Business intelligence and reporting:  

You get real-time analytics and visibility to derive operable insights on performance.

Human resources and payroll

: Hire, train, and manage your employees using complete staff profiles and evaluation tools.
3. NetSuite ERP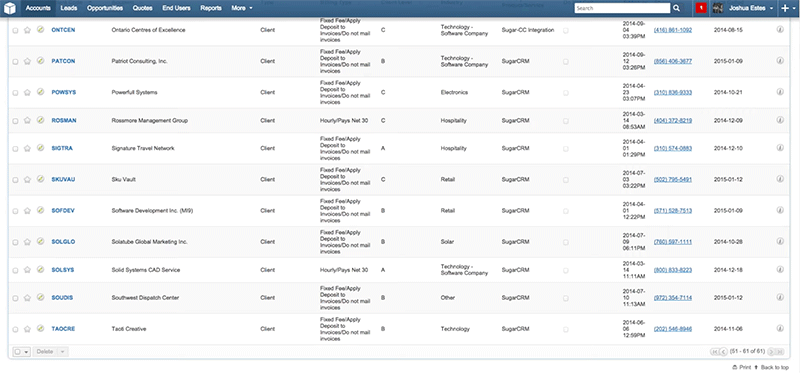 NetSuite ERP is a scalable cloud ERP system that is ideal for fast-growing businesses as well as large enterprises. It automates core business processes such as financial management, billing, order management, fixed assets, and revenue management. The highlight of this app is it empowers all employees in the company hierarchy from top management to clerical staff by providing them a customizable view of reports and key performance indicators for their work.
Main features of NetSuite ERP include tax management, fraud prevention, flexible payment processing, inventory control, and cost management. The pricing scheme is flexible and can be customized based on modules, number of users per month, and add-ons. Plus, the vendor offers prompt support over phone and email as well as training for new users.
What is unique about NetSuite ERP?
Full visibility of your supply chain

: Make your supply chain more efficient by using features for manufacturing, purchasing, and inventory management. The platform also offers self-service capabilities for partners and improves collaboration between vendors and customers throughout the supply network.

Fast track quote-to-payment process

: The order and billing management module integrates your sales, finance, and fulfillment processes. The result is better quote accuracy, fewer billing errors, robust revenue recognition processes, and efficient fulfillment flow.

Streamlined fulfillment flow

: NetSuite ERP centralizes customer, invoice, order, and shipping info, and minimizes fulfillment mistakes and the cost of reconciling shipping information. It integrates with top leading shipping carriers such as UPS and FedEx to help you manage your shipping requirements.

Accurate revenue recognition management

: Use this module to comply with

accounting regulations and generate timely financial reports.

Financial planning to help you achieve goals

: This module helps you stick to the company objectives while providing the flexibility to enable to tackle industry changes to ensure you make profits.

Improve your employees' capabilities

: The Human Capital Management (HCM) module helps you to enhance your employees' productivity, while minimizing staff management costs.
4. FinancialForce Accounting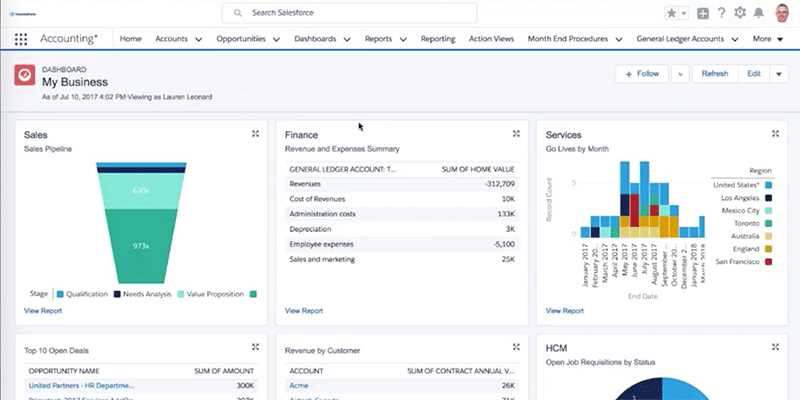 FinancialForce Accounting for Salesforce is simple to learn and use. Large enterprises can use this robust cloud accounting product to make their operations and processes more efficient.
Why should big companies prefer FinancialForce Accounting? One of the main reasons is it leverages the flexibility and power of the Force.com cloud platform to give you a comprehensive suite that can be used for more complex tasks than just basic transaction processing and bookkeeping. Plus, it enables large teams to use a single record system for greater efficiency and consistency.
Another advantage is the flexible pricing scheme. Small businesses can choose from multiple financial productivity modules, while large corporations can combine them into an accounting bundle. The vendor charges customized prices depending on the option you choose.
What is unique about FinancialForce Accounting?
Efficient and flexible General Ledger:

The app offers

flexible, multi-dimensional charts of accounts, plus it enables you to handle multi-currency and multi-company transactions.

Streamlined Accounts Payable with controlled invoice-to-pay processing

: It automates invoice and expense approvals using authorization workflow, ands set credit terms and credit limits by vendor account. The software also helps you avoid paying for duplicate invoices and set your own check print formats.

Streamlined Accounts Receivable with seamless opportunity-to-cash processing

: You can create invoices from Salesforce opportunities using a single click, or set credit terms both globally and by customer account.

Optimize your working capital and cash flow with Cash Management

: You can easily predict cash flows and currency needs, and set up multiple bank accounts in different currencies.

Eliminate complex integrations and manual processes with Ordering and Billing:

You can create an order from a Salesforce opportunity, custom object, or quote with a single click, or create orders automatically in batch for "no-touch" order processing.

Effortless billing:

The service enables you to

raise an invoice directly from any activity in Salesforce CRM (standard or custom objects), or create a single invoice with multiple installment payment-due dates.
5. QuickBooks Online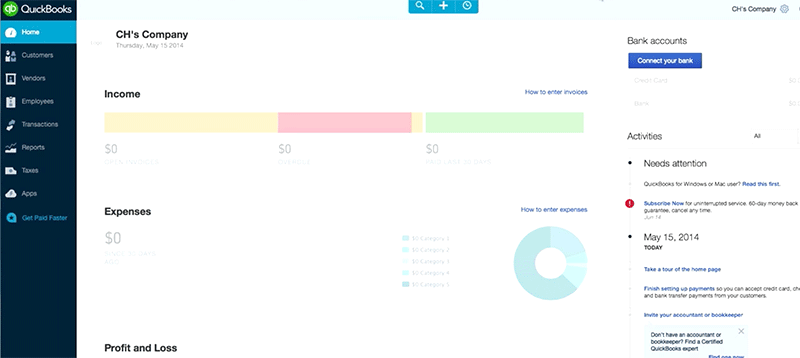 QuickBooks Online is a recommended accounting software program for large businesses. This system can simplify even complex accounting processes, and offers functionalities for an unlimited number of users. It automatically syncs your complete business finance profile to a single dashboard where multiple users can view detailed reports of your company.
How can your company benefit by subscribing to QuickBooks Online? To start, this platform creates trade and profit and loss sheets, as well as invoice and billing solutions that are all print friendly and mobile compatible. Users can create their feeds and custom reports from within the dashboard.
You can utilize the QuickBooks Online dashboard to track invoice details, sales history, and payments, add users, and edit permissions. This product integrates with Intuit GoPayment and QuickBooks Online Payroll. You can make good use of the 30-day free trial offer to check out the features free of cost before deciding whether it is worth it to shell out your money for the pricing packages.
What is unique about QuickBooks Online?
Accounts management

: You get easy access to your complete accounting data and you can create, edit, duplicate, and share information with employees, associates, consultants, and partners.

Interface and dashboard

: You simply need internet access to use this app and there is no need to download any software. Plus, you can use the interface and dashboard to create customizable feeds and charts.

Security and backups

: The vendor securely backs up all data to the cloud and you can export data to Excel spreadsheets. The platform tracks customer payments and sends you alerts if there any errors in processing.

Subscriptions and pricing

: All packages include support, from initial startup to ongoing support enquiries. Plus upgrades and updates are automatically done with all pricing plans.

Multi-platform transparency

: The system auto-syncs all your connected devices and the multiple users of your package. You can create permissions for each user and allow them access based on their role.