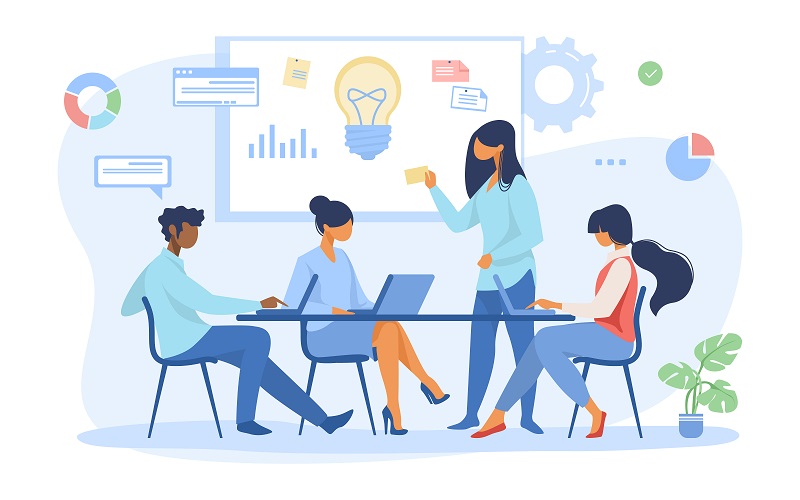 Since 2020, more small businesses have been founded per year than ever before, according to data from the US Census Bureau. While 2022 has seen the birth of fewer new SMBs than 2020 or 2021, when many entrepreneurs opened up shop amid the pressures of the pandemic, we're still seeing small business birth rates that are at least 25% higher than the decade prior.
However, the small business landscape is hardly all sunshine and lollipops, and there are plenty of challenges that keep Main Street entrepreneurs up at night. For instance, standing out amid tough competition, keeping the business afloat during recession and through inflation, and securing cash flow for expansion. 
Such challenges lead to shutting shop for many. Statistics show that the small business survival rate ten years after founding is just 33.6%.
Fortunately, businesses that consistently innovate to deliver great experiences to their customers remain competitive. Unsurprisingly, some of those innovations are widely adopted and can be observed across industries as trends.
In this article, let's look at five such trends that will give your budding business a well-deserved boost in 2023.
1. Increased efforts for delivering memorably delightful CX 
Your marketing messages and value proposition attract your audience, but it's a remarkable customer experience (CX) that keeps them returning. Not just that, but 77% of customers will recommend your brand to a friend after a great experience.
One great way to deliver such an experience is by giving your customers the freedom to interact with your business in whatever way they want, without compromising the flow of conversation. With the right resources in place, you can even empower them to find their own answers and handle their own transactions without waiting on your customer-facing teams.
Giving your customers complete control over how they decide to leverage your services will help you deliver them a more personalized experience. This will also have a lower margin of error since they will be making the choices.
The self-service client portal offered by small business management platform vcita equips you to provide just that. With it, your clients can book appointments, make payments, send you direct messages, download shared files, and track everything through a friendly dashboard. The portal syncs with your calendar, CRM and billing system, so that all of these communications and transactions are automatically integrated into your workflows.
Apart from making this business interaction customer-driven, you can also reduce your operational costs. For instance, you will receive fewer customer support tickets, since people now know where to find answers.
2. Adoption of subscription-based service models
A subscription-based service model will allow you to charge your customers a recurring fee at regular intervals. This model has the following advantages:
You will attract more customers, because $20/month seems a more reasonable commitment as compared to a one-time payment of $240.

You can predict your monthly and annual revenues more accurately based on your customer acquisition and retention rates.

It is easy to upsell and cross-sell to your customers to increase the purchase value. The image below explains the difference between both.

You can offer your target audience more bundle options to choose from based on their needs, instead of trying to push a one-size fits all solution.
Recurly's robust solution will help you deliver a customized subscriber experience to your audience. You can create your unique tiered pricing plans, test your theories, and make decisions based on data.
If you need limited functionalities, you can start with SubscriptionFlow's subscription management software, which is a bit more budget-friendly with lots of integrations that make its adoption easier.
3. Accelerated small business digital transformation 
Data helps you gain visibility on all aspects of your business. You can gauge your overall performance, identify areas of improvement, and find new opportunities for growth. Marketing, clients, bookings, and staff are some of the areas of your business whose performance can be tracked and improved through data.
Essentially, monitoring various performance metrics takes the guesswork out of determining the appropriate growth strategies. Being data-based instead of knowledge-based minimizes risk while trying new things such as adding more products or services to your catalog.
These advantages have encouraged businesses to digitize various aspects of their company as it makes the monitoring of those processes and tracking data easier.
For example, vcita's reporting solution generates various kinds of reports automatically, equipping you to make data-backed decisions. You can track data in real-time and visualize them, in a format you are comfortable with, to draw actionable insights.
4. A stronger focus on sustainable business practices
Today, sustainability is a must-have ingredient for the long-term success of any business.
The basic principle behind establishing sustainable business practices is to build processes that generate the same or better value without draining the planet's resources. Also, sustainable brands are preferred by consumers.
Brands are changing their workflows, company vision, and growth strategies to ensure they are sustainable. Here are some handy tools that will help you identify areas of improvement within your business in terms of sustainability:
The Impact Canvas

: It helps designers to optimize the positive and negative impacts of your business activities on three levels — technology, application, and systems.



Sustainable Business Model Canvas

: It includes several new fields related to end-of-life and subsidization to facilitate the creation of sustainable business processes.



The Digital Product Ethics Canvas

: It helps product managers and UX designers to evaluate whether a digital product or service has an overall positive societal impact.



The Sustainability SWOT Analysis

: It considers the environmental and cultural impact of a business to facilitate the generation of new ideas.



The Sustainability Balance Scorecard

: It is a management tool that induces sustainable thinking in critical areas such as production processes and customer success.
5. Increased investments in short-form video marketing
Some 85% of marketers agree that short-form video content is the most effective format to relay your brand's message on social media. The current generation prefers short videos that are funny, educational, and reflect the brand's values.
Relatively newer social media platforms or features of existing ones such as TikTok, Instagram Reels, YouTube Shorts, etc., are helping brands engage their audiences with bite-sized videos.
Growing businesses are investing in various tools to create and market such content with ease. Here are three popular tools you can consider:
InShot

: This mobile app available for both Android and iOS allows you to trim, split, adjust speed, add effects, etc., on your videos on the go.

Veed.io

: A SaaS tool for marketers, it features many templates that will get you started in no time. You can create videos for any platform and in any format.

Vimeo Create

: A platform that offers 2000+ templates to get you started, it further helps you share your content and track its performance from within the platform.
Summing up
Despite the extreme competition, recession, and inflation, emerging technologies are helping entrepreneurs all over the world become their own bosses.
Small businesses are changing the way they work and interact with their audiences to make the most out of their investments while setting trends along the way. The top five trends to watch for in 2023 are:
Giving freedom to the customers to interact with your brand the way they want to through self-service portals.

Adopting the subscription-based pricing model and creating bundles based on customer preferences.

Digitizing various aspects of the company to collect data and generate reports for drawing actionable insights.

Making changes to workflows, vision, and business strategy to make the company sustainable.

Investing more in snackable video content to better engage with the new generations.