SearchBlox Review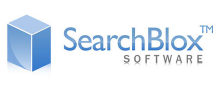 OUR SCORE

71%
What is SearchBlox
Product Quality Score
Main Features
List of Benefits
Technical Specifications
Available Integrations
Customer Support
Pricing Plans
Other Popular Software Reviews
What is SearchBlox?
Departments, businesses, and companies looking to gain actionable and valuable insights into customer actions and behavior using text analysis might find that SearchBlox is the tool for them. As text analytics, sentiment analysis, and enterprise search solution, it is an affordable, flexible, and easy to use. It can be used to content and information from varied infrastructures and sources. From there, customers/clients or employees can easily access information on the services and products being pushed. Users looking for a Google Search Appliance alternative will have a good tool in SearchBlox. Deploying it can be done in the cloud or on-premises, and users can be confident that it is done securely and quickly, with private and public searches both supported. With SearchBlox, the process of searching for content, data, and information from custom-generated content, portals, wikis, cloud environments, databases, files, and websites is simplified. With the SearchBlox crawler program, up-to-date content and information can be indexed and search results that are valid can be delivered. This is because the crawler goes to websites and various sources to collect, read, and scan information. Users who opt for the enterprise version of SearchBlox will get capabilities like being able to search for documents, emails, and files for eDiscovery and early case assessment (ECA), visualize indexed content and data, make Salesforce data available to be searched externally, allow for a search that is faceted within Salesforce, federated searches, deduplication of documents, activate time-based and location-based searches on eCommerce sites, have their search results pages customized, as well as handle queries no matter how high the volume. Knowing how customers think and feel when it comes to services and products is easy to do with SearchBlox. Words that are being used to describe services and products can be tracked and processed by SearchBlox, thanks to the tools the solution has for text analytics and sentiment analysis. Sources such as social media, emails, reviews, and surveys can be utilized for the collection of text-based information, which can then be used for the generation of insights. Employee behavior and feedback can also be evaluated using these tools.
SearchBlox features
Main features of SearchBlox are:
eCommerce Search
Cloud Search
Sentiment Analysis
Unified and Federated Search
Intranet Search
Multilingual Stemming
Concept Search
Enterprise Search
Results Templates
Early Case Assessment
Rendering of Search Results
Search Network Folders
Visualizations of Indexed Information
Search Large Volumes of Content
Flexible Crawler
Featured Results
Faceted Search Results
Text Analytics
Hosted Search
Document Deduplication
Site Search
Crawl Websites, File Systems Sources
Databases, and Other Sources
Salesforce Data Searchable Externally
Email Viewer and PDF Export
Metadata Indexing
Set Up Collections
Document Highlighting
Search Results UI Customization
Pinpoint Trends within Text Data
Discover Emotions
Indexing API
Faceted Searching of CRM Data
PST Indexing
Time/Date-Base Search
Geolocation Search
Fast and Advanced Searches
Turn Corpus of Texts into Rich Insights
SearchBlox Benefits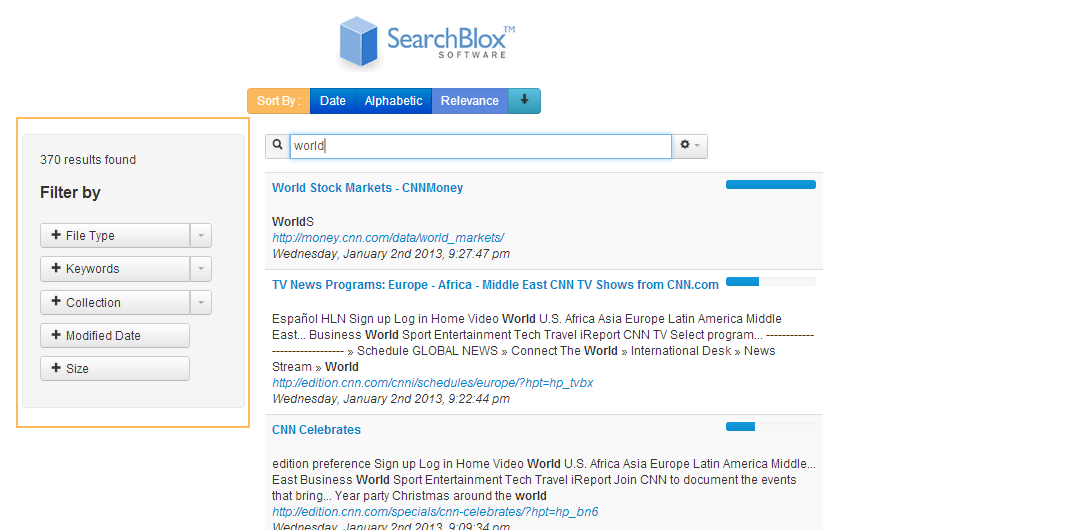 The main benefits of SearchBlox are its crawler, eCommerce search, and document deduplication. Here are more details:
With the use of a crawler — a bot utilized by websites and search engines that can collect, read, and browse information in a systematic way — SearchBlox takes processes such as updating, indexing, and capturing information and innovates it. The SearchBlox crawler is flexible since it crawls for content and information from a variety of sources, such as cloud environments, file systems, databases, and websites. Even infrastructures that are protected and the public can be browsed by the SearchBlox crawler and information gathered from it.
Both incremental and full crawling is supported by SearchBlox. Full crawling involves the indexing and processing of the source's content items, whether those items have been updated or changed. Incremental crawling, meanwhile, only requires that content that has been updated or changed since the last crawl be processed and indexed.
When sets of content and data are indexed, it is called a collection, and these content and data is the first thing crawlers look for the moment it visits a source. The content and data found in the collection are checked against the content and data found in the source. SearchBlox users can build a collection that reflects the needs of their business, picking content and data such as workflow-based data or CRM. Organizational departments can also have their own specific index, which can also be combined with those of other departments, enabling the conducting of a search that is company-wide.
Users of SearchBlox enterprise version can use a feature called federate search. With it, they can simultaneously search for content and information from different indices, as well as generate an aggregated search result in a format that is unified. Blog, wikis, databases, protected websites and public websites are some of the sources of the data that are contained in these indices.
With SearchBlox capability for eCommerce search, users can find out information that can help them make buying decisions, on top of making it easy for them to find the services or products that they require.
Another feature sure to be appreciated by users is the geolocation search, which simply means the user location helps the software tailor the results the users get. Landmarks, zip code, and addresses can be used when localizing results, which translates to real estate listings, classified ads, and deals related only to the specified landmarks, zip code, and addresses.
Date histograms, date ranges, and time frames can also be used by SearchBlox users when performing their searches. Searches can then be narrowed down to their preferred dates and times.
Private searches, as well as accessing information from intranet networks, can also be done with SearchBlox. Custom applications, internal systems, employee portals, wikis, shared drives, and network file servers are also covered by this. Best of all, users only need to perform a single search query to scan files, documents, and information throughout the intranet network.
SearchBlox users can also be confident that they will not get duplicate copies in their search results. This is because SeachBlox implements document deduplication, which means multiple document copies are eliminated, with just one copy indexed.
Salesforce can be infused with robust search functionalities thanks to SearchBlox and the Salesforce app it provides. This allows them to take CRM data from external sources and Salesforce and index them. Once indexed, this CRM data can then be searched from within Salesforce. Essentially, Salesforce users can make their CRM data and CRM data from other sources searchable even to those outside of Salesforce, while at the same time be able to access and search CRM data that come from both Salesforce and external sources. Users can also make use of faceted searching when performing CRM data searches in Salesforce.
SearchBlox makes the retrieval of documents, emails, and files when it comes to legal requests easy. All documents and information stored electronically can be quickly found and accessed, whether as a response to an Early Case Assessment or with regards to the gathering of evidence for a legal case (eDiscovery).
Even when dealing with data amounting to terabytes, SeachBlox can easily search for content and information for eDiscovery and Early Case Assessment. It doesn't even matter whether the data comes from cloud infrastructures or on-premise infrastructures. It only takes literal milliseconds for SearchBlox to index records and documents numbering in the millions, even if they come from varied sources.
The enterprise version of SearchBlox also keeps a record of searches made by its users, which is incredibly helpful for businesses and companies looking to find some insight into what their organization is searching for, as well as what outside their organization is searching for. Even better, users can analyze the words and text used by people when they talk about the service, product, or organization, allowing them to discover the sentiments and emotions underneath.
Users of SearchBlox also only need to look at a single dashboard when looking at the results of their text analytics, even if the data comes from such varied sources such as customer reviews, feedback responses, product surveys, emails, social media, and websites.
SearchBlox shows the emotions underneath text-based data through treemaps and word clouds, letting users seeing the range of sentiments from neutral, negative, and positive. This also helps them to spot trends and pinpoint common themes. In turn, sentiment analysis can be done with ease, allowing them to see how employees feel about an activity or an event or what customers think of a certain service or product.
Once text-based data has been analyzed and explored, insights that are actionable can be derived from them. In turn, users can then come up with strategies for issue resolution that can then improve the engagements of employees as well as the experience of customers. Text-based data can also be deep filtered and trends identified in real-time.
Technical Specifications
Devices Supported
Web-based
iOS
Android
Desktop
Customer types
Small business
Medium business
Enterprise
SearchBlox Integrations
The following SearchBlox integrations are currently offered by the vendor:
Box
Twitter
FileNet
Salesforce
Google BigQuery
Twilio
ServiceNow
Eloqua
Excel & Excel Services
DropBox
OData
Oracle
MySQL
Azure (Blob Storage, Table)
Drupal
DynamoDB
Active Directory
GitHub
Xero
Office 365
Cassandra
Gmail
Elasticsearch
SharePoint (2013, Online)
MongoDB
Magento
SAP
AWS S3
OpenStack
Filesystem
HubSpot
WordPress
SugarCRM
YouTube
Zoho CRM
Facebook
QuickBooks (Online, POS)
Google (AdWords, Analytics, Apps, Cloud, Drive, Sheets, Sites)
Pricing Plans
SearchBlox pricing is available in the following plans:
Enterprise Search Edition
$5,000/server/yr.
Text Analytics Edition
$12,500/server/yr.
Search-As-A-Service Starter
$499/mo.
Search-As-A-Service Growth
$749/mo.
Search-As-A-Service Pro
$999/mo.
Premium Support
$3,000/server/yr.
Platinum Support
Contact vendor
Other popular software reviews