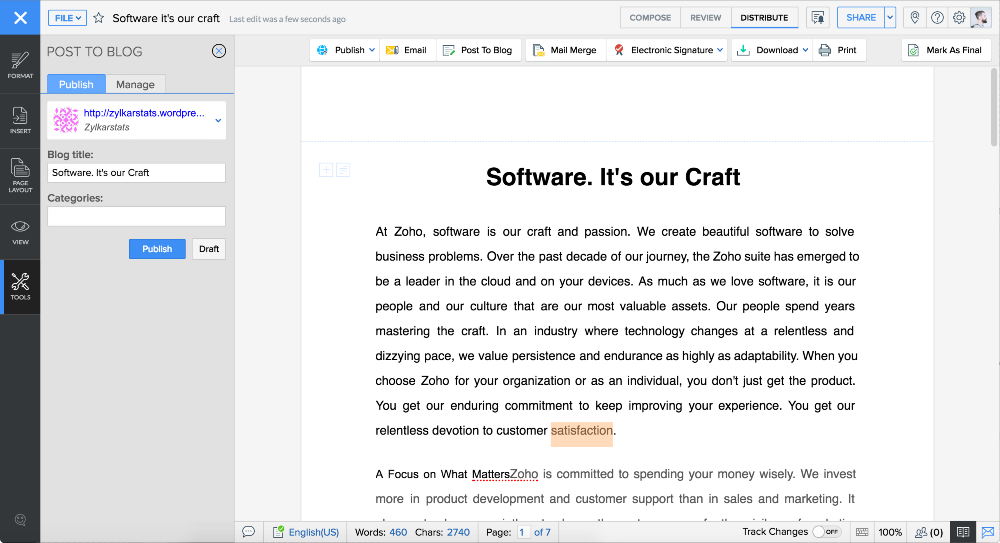 The main benefits of Zoho Writer are its cloud library, its security features, and its built-in themes.
With Zoho Writer's numerous functions, writers do not just create, edit, and publish content online, they also are able to collaborate with other groups and share content, whatever format it may be. Communication expenses and time spent on work are reduced by Zoho Writer.
A document that's already been created or added to the well-organized library in the cloud can be quickly searched and retrieved, ensuring that valuable information is not lost. Documents can also be locked with passwords for extra security. Potential misuse of corporate information is minimized by the data protection standards of the Zoho Docs family.
Financial calculation spreadsheets can be easily drafted with the software, and remote broadcasting, as well as eye-catching themes, can be used in presentations that could impress clients. Zoho Writer also allows for the simultaneous sharing of content on social media.
Progress and activities can be tracked and followed, and groups and individuals can be assigned specific tasks. The software's security policies also ensure that role permission are enforced.