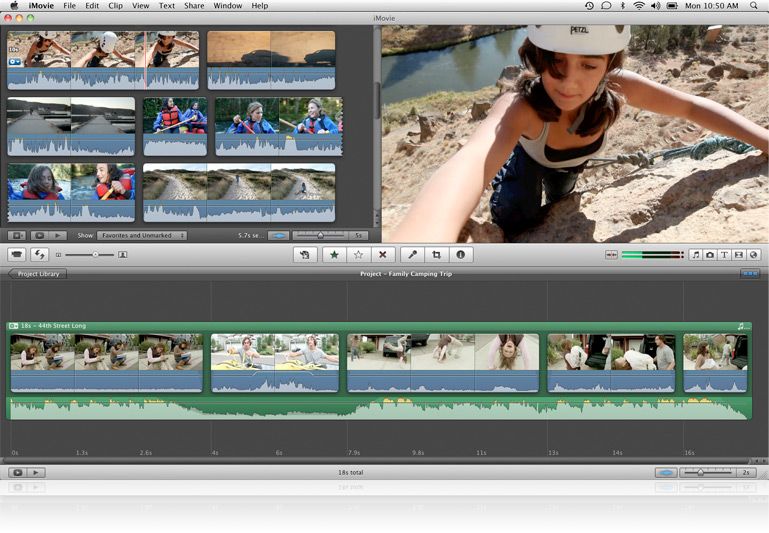 The main benefits of iMove are its user-friendly interface, customizations, built-in special effects and video enhancement features, and easy sharing. Here are more details on its benefits:
User-friendly interface
Apple understands that not everyone who makes videos are professional video editors or tech-savvy. Some have zero experience and knowledge and others have only got the very basics down. For that reason, iMovie is a video editing tool that can be utilized by ordinary users and can still produce high-quality films. A movie can either be made from the ground up or the user can choose from several available themes and templates and then customize them to suit their tastes and needs. All the tools for creating great videos are in the system and can easily be identified and used.
Custom elements
iMovie makes the production of cinema-like trailers and movies possible. Users can also add custom cast names, credit rolls and studio logos to the project they are making. They can also choose from available templates suitable for a variety of genres that will suit their video's mood. This allows the creation of a video that matches the user's taste.
Effects & Enhancements
Users of iMovie can further improve their video by using the system's built-in special effects and video enhancement features. This includes ten filters to choose from, eight themes together with music and sound effects. Users also have the option to add any song they want from their music collection. Another feature of iMovie is that it allows the user to add voice-overs if they want to narrate in some parts of their video.
Easy sharing
Because movies need not only be viewed on one device, iMovie makes it easy for its users to showcase their skills and share their moments with other people. Users can use the iCloud Drive, AirDrop, video sharing platforms, and social media to share the videos they produced with their friends and family and to a wider audience.