It is important to know your market before you start your business. However, many businesses fail not because they don't have a market for their products but because they forgot to establish one crucial thing: customer loyalty.
There are countless ways to improve the loyalty of your customers. The most basic thing any business can do is by providing excellent customer service. People love it when brands close pay attention to their needs. Providing great customer service can be achieved in many ways: for one, you can train your staff to be more attentive and courteous when dealing with customers. However, the customer experience doesn't end there. Most consumers prefer a more personalized interaction with brands. Additionally, brands reaching out to their market even after the transaction are statistically proven to enjoy better retention rates.
To give you an overview of the complex world of customer loyalty, we have gathered up-to-date and relevant statistics to guide you on the next steps for your business.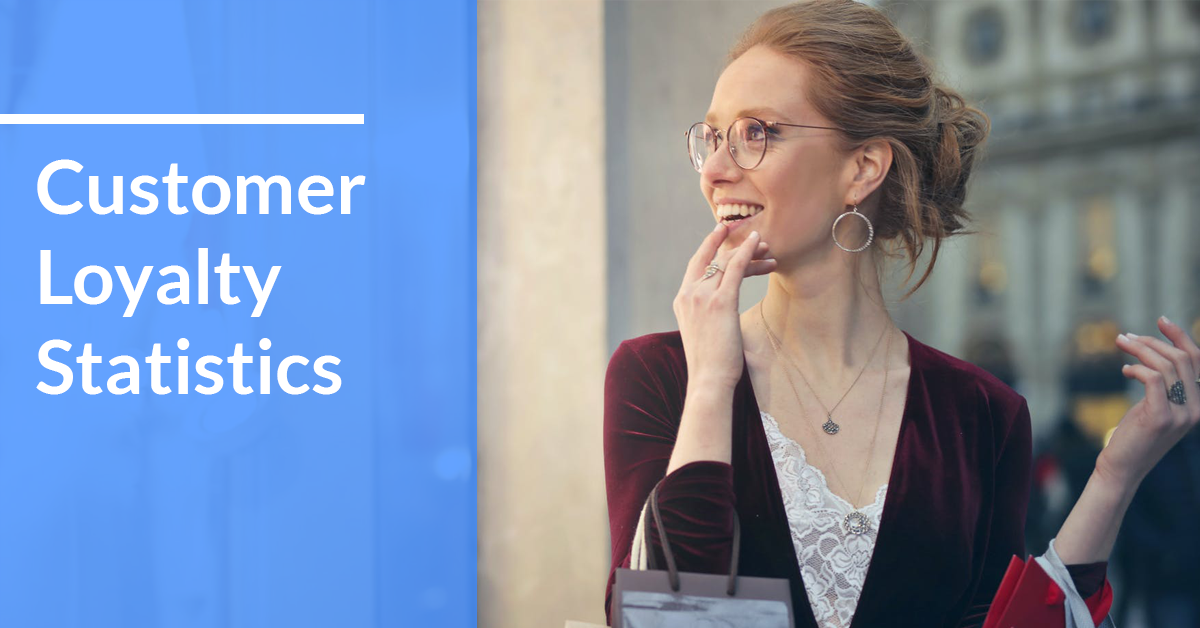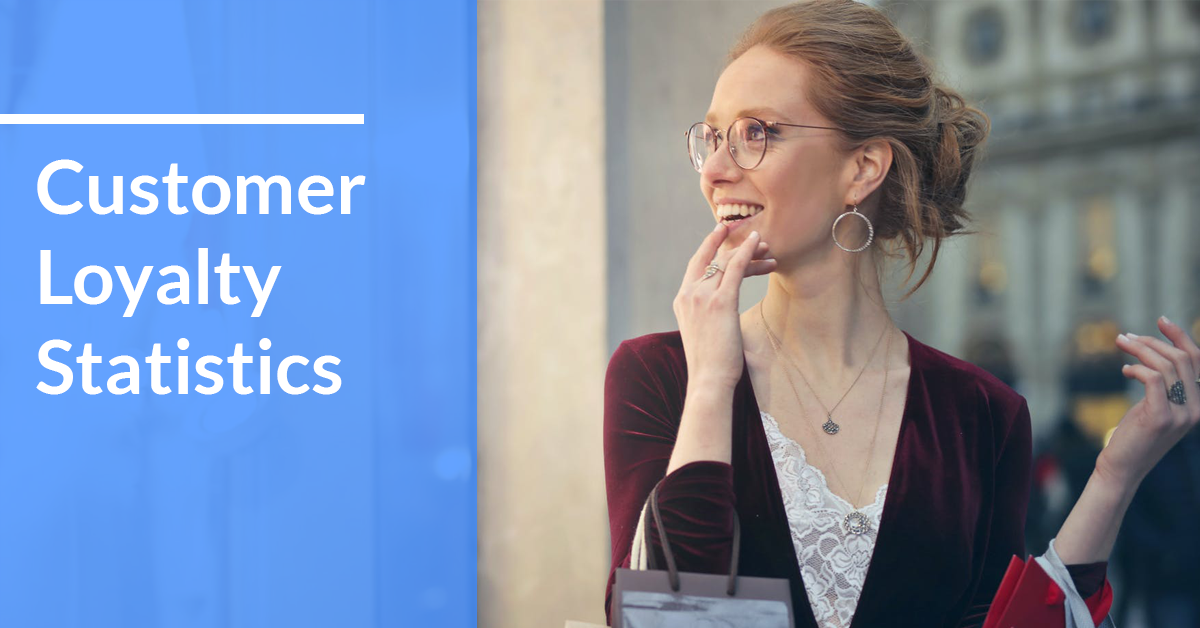 Customer Loyalty Statistics Table of Contents
General Customer Loyalty Statistics
A lot of businesses are constantly looking for ways to expand their market. It's not only practical but prudent to do so. However, as companies expand their market, they must also create programs to retain existing customers.
These programs help the company in establishing a foothold in the cutthroat world of business. One example of such a program would be a form of membership, where subscribers are given exclusive discounts and freebies. Through the use of technology it is possible to personalize the shopping experience of each individual who visits your store. There are software and AI programs specializing in this area.
Implementing these kinds of programs can be risky, on the other hand, if it's successful, the payoff is huge.
Successfully selling to an existing customer is between 60 and 70%.
80% of profits come from just 20% of customers according to the Pareto Principle.
Over 70% of consumers are more likely to recommend a brand if it has a good loyalty program.
60% of contents from brands are failing to deliver results.
77% of consumers have stayed loyal to specific brands for 10 years or more.
67% of consumers feel like customer service is improving around the world.
Amazon, Google, and Apple were the top three brands in customer loyalty in 2018.
Businesses lost $75 billion in revenue due to poor customer service in 2018.
A typical American household has 19 to 29 different loyalty programs but only uses 12 of them.
Brand Perception Statistics
For a brand to be considered successful, it must have established a loyal following. The first step is to change how the general public perceives your company.
Nowadays, a lot of consumers are becoming more conscious of how brands affect them and their surroundings. People are more likely to patronize companies that they deem to be an advocate for the greater good. It was only in the late 2010s when brand activism became prominent. Things such as sustainability and equality are among the things people look for in a brand. Aside from that, companies also need to be more personable when interacting with customers. For this reason, we are expecting to see a spike in the usage of AI chatbots and other programs that can assist customers.
No one would care even if 77% of brands disappear.
In 2017, 81% of Americans said brands are meeting or exceeding their expectations for service.
Brands outperform the stock market by 134% if they are deemed as making the world better.
According to 75% of consumers, they expect their favorite brands to make more contribution to their well-being and quality of life.
Almost 50% of American consumers in 2019 said brands don't meet their expectations.
In 2018, 54% of consumers say they've had at least one bad customer service experience in the last month.
National brands are preferred by 90% of US consumers.
According to 37% of consumers, they need to at least purchase 5 times to consider themselves loyal to a brand.
Consumer Behavior Statistics
Gone are the days where only companies can dictate the actions of consumers. With the help of technology, consumers are given more power on how they want brands to interact with them. The increasing number of competition is also a bane for these companies. One bad customer service experience and your customers are out the door and into someone else's.
To come out on top, listening to what the people want is crucial. The statistics below will give you insight on what consumers want and how to make them stay.
72% of Americans belong to at least one loyalty program.
57% of consumers are more likely to interact with their loyalty programs via mobile devices.
Social media is an effective channel for customer service according to 65% of customers between 18 and 34.
Earning points and loyalty rewards is one of the most valued parts of the shopping experience according to 58.7% of internet users.
87% of consumers in the US are willing to give brands the various details of their activity in exchange for more personalized rewards.
38% of consumers are loyal to brands because they highly trust it.
According to 95% of loyalty program members, they want to engage with their brand's program through new and emerging technologies.
56% of American consumers are skeptical if brands have their best interests in mind when handling their personal data.
54% of customers switched service providers due to bad customer service.
Customer service is important to nurture loyalty according to 69% of US consumers.
In the US, satisfied customers are more likely to share their positive experiences with 11 different people.
In 2018, 90.2% of American consumers said that they feel equally or more loyal to a brand than they were the previous year.
Loyalty to a brand is because 55.3% of consumers love its product.
Poor customer service will make 74% of millennials switch to a different retailer.
Bad customer service caused more than 50% of Americans to cancel their purchase.
In 2018, 50% of US consumers have been reported to have left a brand they were loyal to for a competitor that better met their needs.
Specialized or personalized treatment is expected by 48% of people expect for being a good customer.
An emotional connection with a customer service agent would make 86% of customers continue to do business with a brand.
42% quit doing business with brands after a bad sales experience.
Two-thirds of consumers believe that participating in social media uproars influence the action of companies.
Consumer Expectations of Retailer Loyalty Programs in the US in 2018
Consumer Expectations of Retailer Loyalty Programs in the US in 2018
Instant rewards/discounts: 63
Instant rewards/discounts
%
Consumer Expectations of Retailer Loyalty Programs in the US in 2018
Surprise rewards/discounts: 52
Surprise rewards/discounts
%
Consumer Expectations of Retailer Loyalty Programs in the US in 2018
Ability to choose rewards: 52
Ability to choose rewards
%
Consumer Expectations of Retailer Loyalty Programs in the US in 2018
Personalized rewards: 39
Personalized rewards
%
Consumer Expectations of Retailer Loyalty Programs in the US in 2018
Chances to win large prices: 35
Chances to win large prices
%
Source: HelloWorld; Merkle
Created by CompareCamp.com
Loyalty Marketing Statistics
Communicating with your customers is a must for loyalty marketers. However, sending out a barrage of company content without piquing the interest of your market isn't enough. Nowadays, people are more responsive to rewards and perks.
There are a lot of ways to kick-start your company's loyalty programs. Prioritizing your investment in Customer Relationship Management software is first on the list. This kind of software can help you navigate the complexities of customer support, lead management, and retention. Just take a look at the benefits represented by the statistics below.
Email marketing is still the go-to option for 80% of businesses looking to increase their client retention rate.
Game mechanics are widely used at about 56% on loyalty programs.
Technology has made it harder for 69% of American marketers to offer customers personalized experiences.
69% of Americans are skeptical of advertisements.
Almost 60% of hotel guests aren't subscribed to any loyalty programs.
The most important way for a brand to interact with its customers is through surprise gifts and offers according to 61% of consumers.
Programs related to customer loyalty have since declined in usage since 2010.
Benefits of Customer Loyalty
Companies that have successfully established a loyal customer population are continuously reaping the rewards. From increased sales and revenue to excellent brand awareness, these are only a few of the things enjoyed by companies such as Apple and Google. These companies employ the best strategies and programs to nurture their customers' loyalty.
Prioritizing customer service raises the revenue of businesses by 4 to 8% above their market.
Attracting new customers is five times more costly than it does to retain an existing customer.
By increasing the quality of customer service, a billion-dollar company will earn $775 million over three years.
Loyal customers spend 67% more than new ones.
Excellent customer service convinces 93% of consumers to make repeat purchases.
Performance Benefits from the Use of Customer Analytics in the US in 2018
Performance Benefits from the Use of Customer Analytics in the US in 2018
Customer retention/loyalty: 58
Customer retention/loyalty
%
Performance Benefits from the Use of Customer Analytics in the US in 2018
Undestanding/strength of the customer journey: 51
Undestanding/strength of the customer journey
%
Performance Benefits from the Use of Customer Analytics in the US in 2018
Growth/revenue generation: 44
Growth/revenue generation
%
Performance Benefits from the Use of Customer Analytics in the US in 2018
Customer lifetime value: 33
Customer lifetime value
%
Performance Benefits from the Use of Customer Analytics in the US in 2018
Ability to quantify marketing ROI: 29
Ability to quantify marketing ROI
%
Performance Benefits from the Use of Customer Analytics in the US in 2018
Profitability: 26
Profitability
%
Performance Benefits from the Use of Customer Analytics in the US in 2018
Employee satisfaction/engagement: 25
Employee satisfaction/engagement
%
Source: Forbes; Harvard Business Review
Created by CompareCamp.com
Customer Loyalty: Retention VS Expansion
One thing's for sure: gaining your customers' loyalty is a must.
A lot of companies are prioritizing expanding their market while forgetting the value of repeat customers. In fact, increasing old customers' loyalty is more cost-effective than expanding, according to one study. There are various schemes and programs you can try to boost customer retention. Additionally, technology allows for faster and more efficient methods.
The statistics above are meant to inform you of the status-quo so that you can make better choices when starting your company's own loyalty program. There is also a lot of CRM software to choose from, however, not all will fit your company's needs. You need to consider your strategy first before engaging. Moreover, it's a must that you must get to know its features and price points. Hopefully the above statistics and insights can set you on your way to a stronger relationship with your customers.
---
References:
Meaningful Brands 2017

Earning (and Destroying) Customer Loyalty: Retail CX Trends You Need to Know

2017 State of Global Customer Service Report

Brand Keys Customer Loyalty Leaders List 2018

Cloud Contact Center Software Solutions | Vonage

Can Blockchain Help Loyalty Programs?

Meaningful Brands 2019 Press Release

#WellActually, Americans Say Customer Service is Better Than Ever |

Acquia Survey Finds Customer Loyalty Lasting

Live Chat Exposes a Fatal Flaw in Your Go-to-Market

ICSC Releases Brand-Loyalty Survey | ICSC: International Council of

How Many Purchases Does it Take to Create Brand Loyalty? | Yotpo

How Consumers Really Feel About Loyalty Programs

THE 2016 BOND LOYALTY REPORT

Millennials and Gen Zers Are Less Inclined to Participate in Loyalty

The Power of Brand Purpose | Accenture

The State of Customer Loyalty in 2018 | Yotpo

What Makes Consumers Loyal to a Brand? | Yotpo

Low Prices Raise Customer Loyalty | Business Wire

PUT YOUR TRUST IN HYPER-RELEVANCE

Adapting to the pace of omnichannel commerce | Emarsys

The Loyalty Report 2019 Registration

The Hard Truth About Acquisition Costs (and How Your Customers Can Save You)

New Research Report: What Do Consumers Want from a Hotel Loyalty Program? –

Are you experienced? | Bain & Company

The Ultimate Guide to Customer Loyalty in 2017

Report: ROI of Customer Experience, 2018