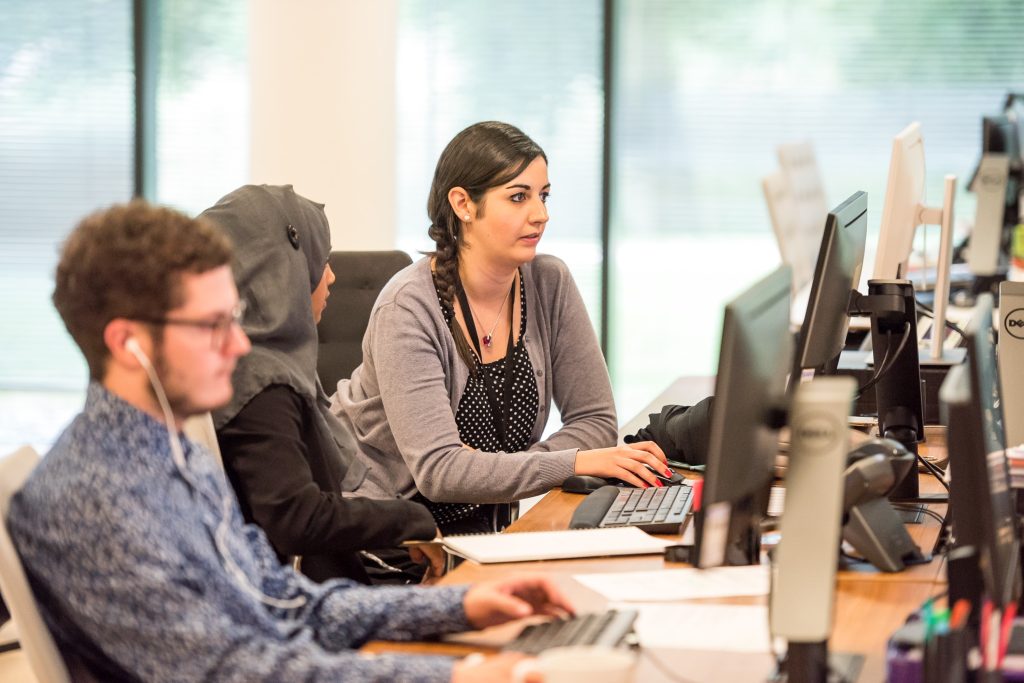 Gone are the days when products used to be the centre of attention. Companies have realized that survival is dependent on customers, primarily. While customer acquisition is still very important, customer retention is now considered to be the new growth. There is no point in acquiring new customers if the present ones do not want to continue. 
Customer Retention and its benefits
All the strategies and activities that the companies engage in to keep their current customers engaged refer to customer retention. This is also known as customer relationship management. It is centred around customer loyalty. Strategies viz. personalizing products and experiences for customers, creating loyalty programs, engaging customers who are at-risk, etc. come under the purview of CRM. According to B2B website CompareCamp, companies can use software like Insightly that helps them manage different vendors, leads, partners and even contacts.
Companies have been giving prominence to customer retention management lately. CRM revolves around data and numbers. It often becomes a base for marketing strategies.  This helps brands in knowing how their products are faring in the competition. The growing importance of CRM is due to the fact that it has proved to be beneficial. 
Customer retention is much more cost-effective as opposed to new customer acquisition. Acquiring new customers is not only expensive but also time-consuming.

Loyal customers understand the company and its thought process. They might even let go of some goof-ups as well. As opposed to this, it is difficult to establish a strong relationship with new customers. 
Most Effective Customer Retention Strategies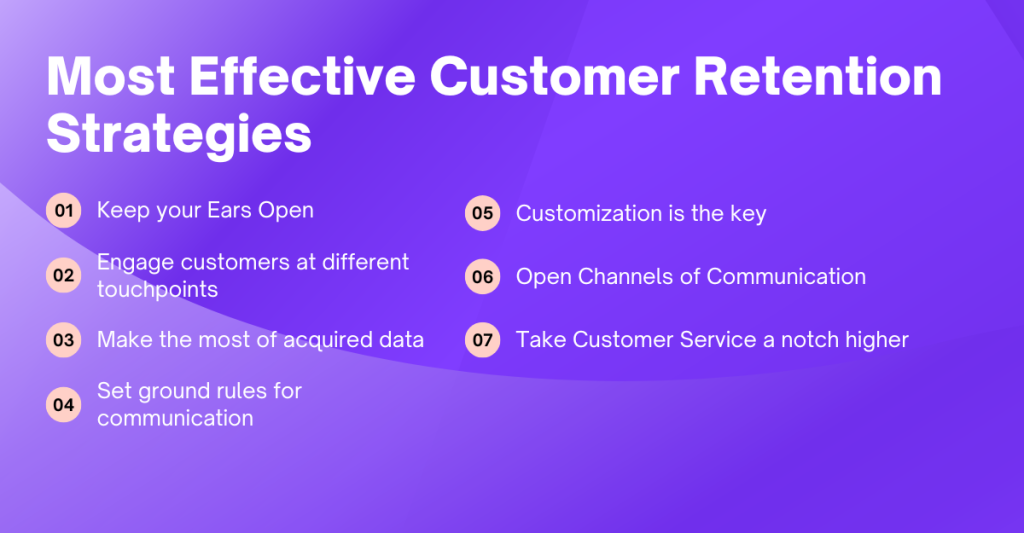 Many companies are actively engaged in retaining their current customers. However, not many have a fool-proof plan that helps them re-engage at-risk customers. CRM is a thoughtfully mapped-out plan that involves strategies to build customer loyalty. 
1. Keep your Ears Open
Listening is the primary requirement to build solid relationships. Brands need to listen to what their customers say and what they do not. For this, companies need to ask the right questions. In order to tap the customers, brands can make use of polls and surveys to understand the customers. Feedback plays a very important role. 
It helps organizations know about the feelings of the customers. Instead of assuming what customers want, taking solid feedback really helps. Brands should understand that the needs and requirements of customers keep on changing. Taking feedback at regular intervals helps understand these changing requirements. This feedback, then, should be used constructively to boost CRM.
2. Engage customers at different touchpoints
Brands should build a journey for the customer. Right from the time they first interacted with the brand to the time they used the product, companies should be on their toes. Developing a customer journey helps companies gauge whether the customers are achieving their goals. Companies should know the reason customers selected the brand. This helps them keep delivering their best. 
When brands help solve the problems of the customers through their products, they are given preference. Optimizing various touchpoints through which customers interact with the brand is a major benefit. This helps enhance the customer experience and ultimately spreads positive word of mouth. Companies should keep tweaking their products and services to meet evolving needs of the customers.   
3. Make the most of acquired data
It has become easier for companies to acquire data through various means. Customer behaviour can be understood through social media platforms. Their changing needs and futuristic demands are available to customers through surveys and polls. However, the problem is what should be the next step.
All the accumulated data should be segregated judiciously and stored for further use. Brands can hire freelancers to extract data and insights.  This helps companies in taking informed decisions based on the insights derived from data. Information from customers should be utilized effectively to devise CRM strategies. 
4. Set ground rules for communication
The absence of communication between customers and the brand can go wrong in many ways. When customers do not interact or engage with the brand, they are not able to relate to the brand. In order to skip confusion, brands need to lay some ground rules for communication.
The easy way for this is to communicate the service level agreement to the customers. This way, customers always know how to get in touch with the brand if required. In a service-level agreement, brands can provide methods of communication to customers in different situations. When organizations have customers' interests in mind, they fare better in customer retention. 
For instance, ussiglobal.com mentions the elevated SLA or service level agreement by Samsung Electronics. Such agreements help reduce downtime and eventually enhance the customer service experience. Earlier customers were wary of online shopping as there was no customer support available. However, as brands are present on multiple social media platforms, customers do not panic in events of discomfort. 
5. Customization is the key
What are customers? They are entities that buy products or services for their benefit. However, there is another point of view that expands the definition of customers. For many organizations, customers are a part of their extended families. Many brands treat their customers like their employees at times. Customers get the benefit of discounts as well when the companies are making a good profit.
Customers can be easily retained through exceptional personal experiences. When customers get the benefit of customization, either in products or services, they are most likely to become brand loyal. When customers feel desired by the brand, it results in word-of-mouth marketing. Sending personalized wishes on birthdays, giving them customized packages and discounts, and personal experiences, all help build a robust CRM strategy. 
6. Open Channels of Communication
Brands do not need to build a fort around them. Customers should feel that the brand is one among them. When required, customers should be able to communicate with the brand without much effort. Loyal customers are not a blessing from heaven. In fact, loyal customers are fruits of labour and communication. 
Brands need to be present for costumes if and when they require to communicate. Building relationships with customers is not rocket science. Communication should not be complicated. However, organizations should also take care that they do not become an annoyance or a nuisance to customers by becoming over-available. 
7. Take Customer Service a notch higher
Which customer does not wish to be treated differently?! Customers desire and at times, deserve superior treatment. A bad service experience is a downer for people. When customer service representatives do not respond, are rude, or treat customers badly, then it results in negative word of mouth for products or services. 
Happy customers are the key to customer relationship management. Friendly service, supportive staff, and recognising customers by their name, are small acts that go a long way in building brands. A little act of care and listening to the grievances of the customers goes a long way for brands. 
The final word
Some companies treat their customers as non-living things. Such companies do not realize that customers can easily move towards competition in a single event of discomfort. These companies face difficulties in retaining customers in extreme conditions. To achieve the objective of customer retention, companies now make use of CRM software. There are CRM platforms that help companies execute the strategy of customer retention. This is how companies can get an edge in the industry and beat the competition successfully.