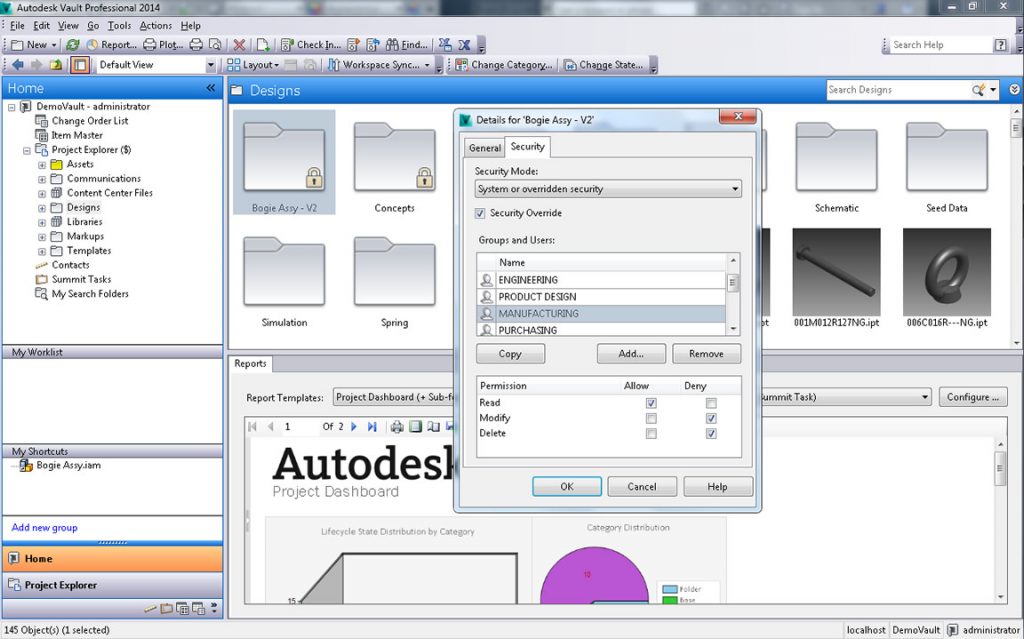 The main benefits of Autodesk Vault are providing better work transparency, empowering design processes, and improving work monitoring.
Autodesk Vault is a great tool for design teams to monitor and control their work. They can track the entire product development cycle and make constructive revisions as they go along. With all the information handy, errors can be minimized. Furthermore, Autodesk offers a cloud-hosting service through subscription or one-time licensing with maintenance fees.
Vault Professional offers users unique logins. This prioritizes transparency through tracking changes in file histories accurately. This comes with an excellent search function that uses file content indexing. This allows users to search inside documents of different file types like DGWs and Microsoft files. For inventors, this is very handy. This is because all parts contain links and their assemblies are getting updated through every change. Autodesk Vault's history tracking is very extensive and accurate. All changes made to files are saved in the file history. Team members can thus double check or triple check the changes. This is also useful when users want to revisit past versions for future reference.
Autodesk Vault makes the Bill of Materials (BOM) accessible through a feature called the Item Manager. Items, apart from CAD files, can be entered in the BOM. These could include grease, fuel, miscellaneous expenses, lunch, maintenance, labor, and just about whatever your project required.
Collaboration and communication are made easier using Autodesk Vault. Users required to respond to change orders are automatically notified by the system. But this is not all. The CAD files pertinent to the change order are also automatically forwarded. Just like any thoughtful collaborative platform, users can also leave comments in files to better guide colleagues or post questions and answers.
Furthermore, Vault Professional offers three levels of security. The first is the users' logins. The second is a layer over files and folders. Thirdly, it provides lifecycle security that thwarts various security threats.