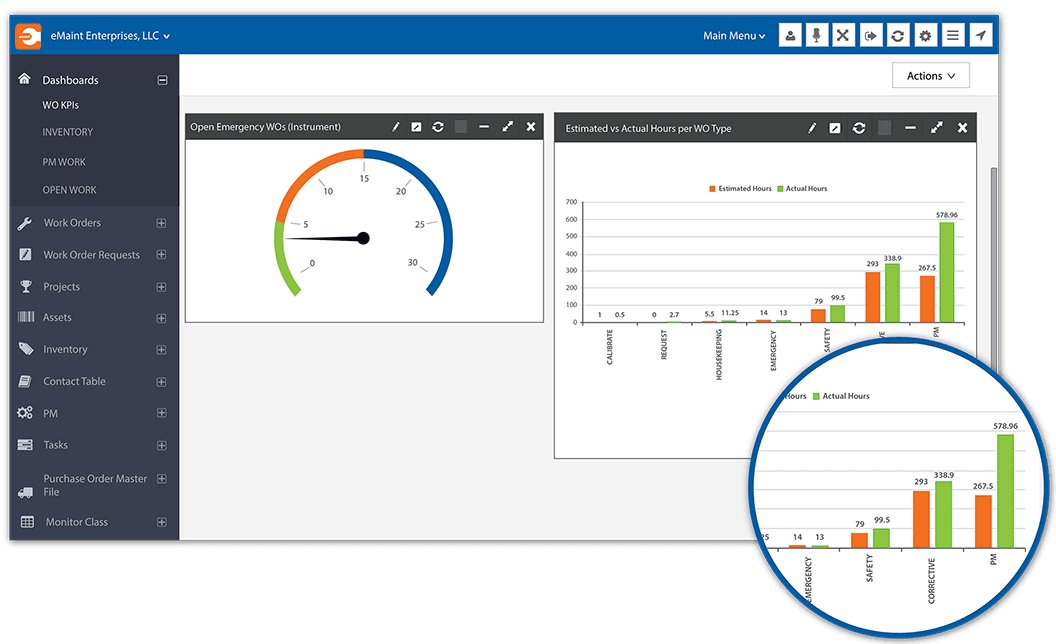 The main benefits of eMaint are its top-notch customer support, comprehensive feature set, valuable multi-location support, and flexible and configurable platform. Here are more details:
Top-Notch Support
eMaint is commended by many customers for its top-notch customer support. The vendor deploys a customer support staff who is well-trained and adept when it comes to maintenance and can provide immediate answers and solutions to your queries and concerns.
Broad Array of Features
eMaint CMMS comes with an extensive set of features, which includes integrated inventory and asset management capabilities. Other core functionalities include tools for supporting regulatory compliance, work schedules and assignments, tracking, managing and controlling work orders as well as spare parts, and equipment condition monitoring. The application is also configurable so it can be tailored to fit the ever-changing needs of businesses.
Multiple Location Support
The platform offers a consolidation and master account option which permits users to access data across several different locations. The consolidation account option serves as an account for accessing data across numerous different location and for enterprise-level reporting. This option lets users compare performance on a global, national, divisional, and regional level. The master account, on the other hand, allows users to create, assign, and even modify global work orders, parts and tasks, and push them out into several locations across the globe. There is also advanced multi-location inventory support that permits users to track their inventory by location so they can maximize their resources.
Flexible and Configurable Platform
This CMMS Solution is designed to satisfy the specific needs of clients. It offers different subscription packages intended to suit varying maintenance management software needs and budget of a company. It is also designed to work and behave the way you want and can grow with your business needs and size.