Apple has certainly come a long way since its humble beginnings in the Jobs' home in California. Forty-three years after its founding, the company has become one of the most valuable brands in the world, having made its mark on culture and society. Moreover, the brand has inspired such loyalty in its consumers that they are known to line up as early as 3:00 AM to be the first to own the newest iPhone.
In this article, we've compiled the latest Apple statistics and its products. These numbers can provide a more accurate picture of the company's recent performance and make it easier to spot potential trends in Apple's future.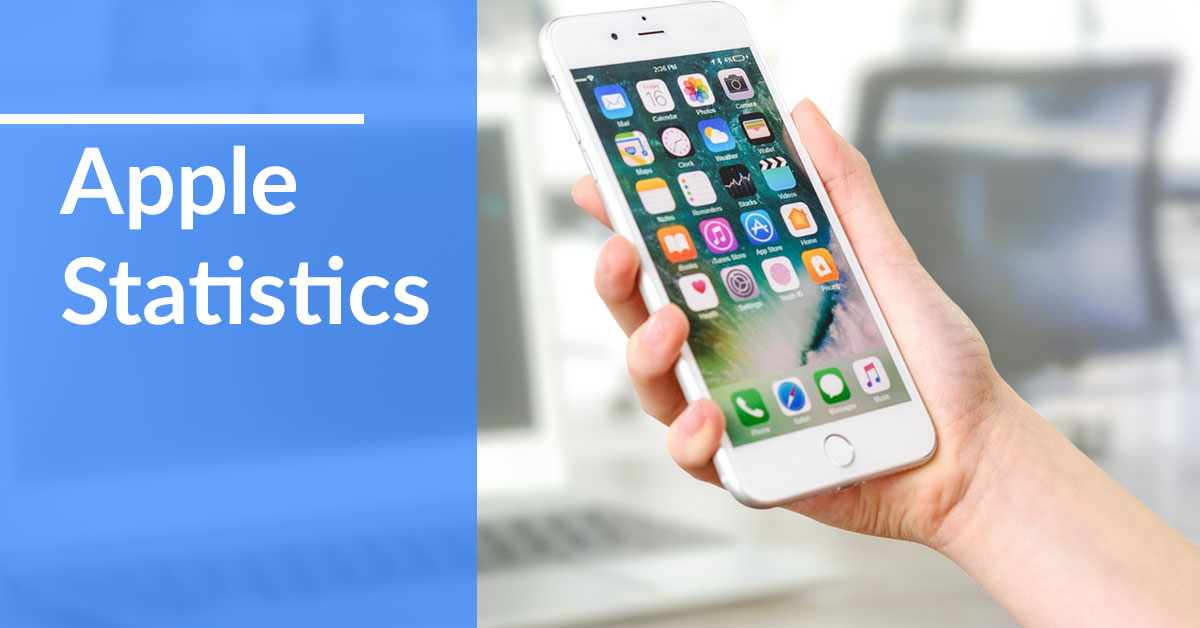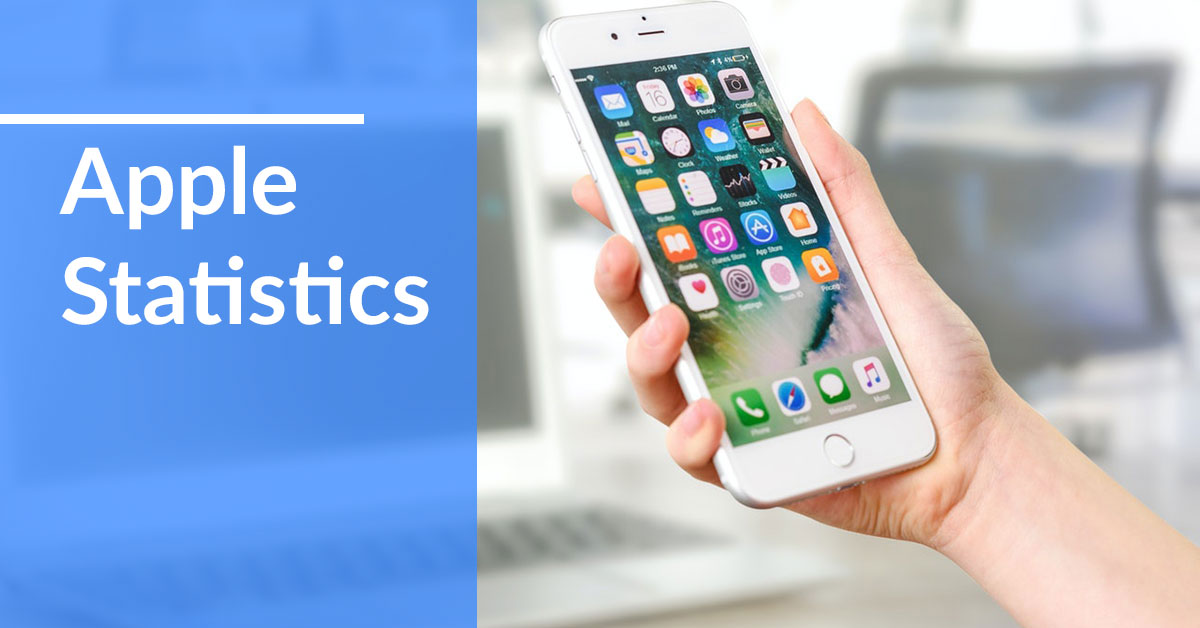 Apple Statistics Table of Contents
General Company Statistics
Apple Inc. started as the Apple Computer Company, founded on April 1, 1976, by Steve Jobs, Steve Wozniak, and Ronald Wayne. Officially incorporated in 1977, the company experienced exponential revenue growth in its first five years. For instance, between 1977 and 1980, the company had an average annual growth rate of 533%. In those three years, Apple's yearly sales grew from a little over $775,000 to $118 million.
Apple Inc. continues to be one of the most profitable companies today. Here's a more recent look at the company's financial performance.
Apple announced a worldwide revenue of $260.2 billion in 2019.
The brand's global value in 2019 amounted to $309.5 billion.
In the first fiscal quarter of 2020, Apple had a revenue of $58.3 billion.
The company also had a net profit of $11.25 billion in the same period.
For the first quarter of 2020, the company saw a revenue of $41.4 billion in the Americas, the highest compared to regions worldwide.
As of March 2020, the iPhone is Apple's best-selling product, with a revenue of $28.96 billion.
In 2018, Apple made $2 billion in revenue per employee.
The company ranks as the 6th largest public company in the world, according to Forbes. It's the only tech company ranked in the top 10 of this list.
Moreover, with a value of $959 billion, Apple is the 2nd largest company worldwide in terms of market capitalization.
According to 2019 data, the company operates 510 Apple stores across 24 countries all over the world.
Source: Apple, Google, Microsoft reports
Working at Apple Inc.
Since its founding, Apple has prided itself on its informal work culture, which made it more similar to startups rather than multinational corporations. The company is known for encouraging individuality as well as its culture of intense secrecy, particularly around new products.
In 2019, Apple reported having 137,000 employees.
23 million registered developers in more than 155 countries and regions make up Apple's developer community.
Developers have earned more than $155 billion since the App Store was introduced in 2008.
Males make up 67% of Apple's employees worldwide.
53% of the new hires in Apple's US offices are from underrepresented groups in tech (women and people who identify as Black, Hispanic, Native American, or Native Hawaiian).
In 2018, 38% of Apple's employees were women under 30.
36% of Apple's new hires in 2018 were women.
Under-30 women and underrepresented minorities make up 45% and 17% of Apple's leadership, respectively.
Apple Hardware
Apple's hardware product line started with the Apple I, which was released in 1976 and built entirely by Steve Wozniak. Today, the company has expanded its product line to include mobile devices, such as the iPhone and the iPad, which have seen great commercial success. Moreover, Apple's computers continue to be popular among users as well.
Apple's active installed base of devices has reached 1.5 billion in 2019.
Apple's hardware devices accounted for $213.9 billion of the company's net sales in 2019. This figure includes sales from iPhones, Mac computers, iPads, Apple TV, Apple Watch, AirPods, Beats products, HomePod, iPod touch, and Apple-branded accessories.
iPhone Statistics
First released in 2007, the iPhone revolutionized the mobile phone industry with the introduction of the touch screen and the App Store. These features allowed users to turn phones into more than communications devices. Additionally, the product's success is said to be a major contributing factor to Apple becoming one of the most valuable publicly traded companies in the world.
In the first quarter of 2020, Apple shipped out 36.7 million smartphones worldwide.
iPhone revenue for the first fiscal quarter of 2020 amounted to $55.96 billion.
Apple shipped out a total of 215 million units of the iPhone in 2019, for total sales of $229 billion and a revenue of $28.9 billion.
Additionally, iPhone sales accounted for 49.7% of Apple's total revenue in the same period.
As of March 2019, the iPhone also has an installed base of 193 million units.
Apple iOS also accounts for 47.4% of the subscriber share for smartphone operating systems in the US.
Getting a 5.6% share of the overall smartphone market, the Apple iPhone 7 was the most popular iPhone model in 2019.
The iPhone XR got the largest share of sales–48% of all iPhone models in 2019.
13.9% of smartphones used worldwide are iPhones.
The iPhone is projected to have 110.3 billion users by 2021.
The average Apple iPhone has been active for 18 months.
iPhone user demographics
54% of iPhone users say that their last phone was also an iPhone.
74% of iPhone users are over the age of 25.
In 2018, iPhone users enjoyed a greater spending power compared to Android users, with the former earning an annual average salary of $53,251.
iPhone users were also found to outspend Android users on technology, spending up to $101 per month vs Android users' spending of $40 monthly.
iPad Statistics
The Apple iPad traces its roots to Apple's line of MessagePad PDAs, which were discontinued in 1998. Today, Apple's tablet offerings have evolved to include various models of different sizes and capabilities. For instance, the most recent line of iPads consists of the lightweight third-generation iPad Air, the smaller fifth-generation iPad Mini, and the more powerful fourth-generation iPad Pro.
iPad sales have generated $5.98 billion in revenue as of March 2020.
As of March 2020, iPad revenue makes up 7.5% of Apple's total global income.
iPads accounted for the biggest market share-36.5%-of tablets shipped worldwide for the same period.
Apple sold a total of 41.3 million iPads in 2019, shipping out 15.9 million units in the fourth quarter alone.
Similarly, 13.5% of tablets sold worldwide in 2019 used Apple iOS.
48% of households worldwide owned an Apple tablet.
In 2018, the Apple iPad Air 2 accounted for 14.4% of all tablets in the US.
In the same year, 32% of American adults aged 30 to 44 owned an iPad.
Source: Morning Consult National Tracking Poll #180126
Mac Statistics
Apple's Mac division continues to see strong sales over the years, despite the market domination of other PC vendors such as Lenovo, HP Inc., Dell, and Asus. In 2019, for instance, Apple computers saw net sales amounting to $25.7 billion. The following figures pertain to all Mac computer models, including laptops and desktops.
Apple's global revenue from Mac computer sales for the first quarter of 2020 amounted to $5.4 million.
Mac computers saw a $7.1 billion revenue for the same period.
The company sold 3.6 million Mac computers in the first quarter of 2020, taking a 5.8%% share of personal computer shipments worldwide.
Meanwhile, 5.3 million Mac computers were sold worldwide in the fourth quarter of 2019.
As of April 2020, OS X accounts for 22.7% of the desktop operating systems used in the US.
The majority of Apple computers–52.86%–use macOS 10.15.
In 2018, 31 Mac computers were sold per minute.
71% of college students use or prefer to use a Mac computer.
MacBook, MacBook Air, and MacBook Pro models accounted for 1 in 10 notebooks shipped worldwide in 2017.
Wearables, Home, and Accessories
Apple's Wearables, Home and Accessories division include an extensive selection of products, such as AirPods, Apple TV, Apple Watch, Beats products, HomePod, and the iPod touch. In 2019, this division achieved more net sales than the iPad, thanks to the popularity of AirPods and the Apple Watch.
For the first fiscal quarter of 2020, Apple's Wearables, Home and Accessories division had a revenue of $10 billion.
In 2019, the category had net sales of $24.4 billion and was Apple's fourth most profitable division.
Thanks to higher net sales of AirPods and the Apple Watch, this category saw the most significant year-on-year net sales growth of 41% in 2019.
Apple has shipped a total of 43.4 million units of wearable devices in the fourth quarter of 2019.
The company accounted for a 36.5% market share of worldwide shipments of wearables in the same period.
Apple sold 58.7 million units of AirPods in 2019, generating $6 billion in revenue and a 54.5% market share.
With an expected $15 billion in revenue for 2020, AirPods are projected to become Apple's third-largest product by 2021.
Apple sold 7.6 million units of the Apple Watch in the first quarter of 2020, seeing year-on-year growth of 22.6%.
Apple enjoys a 55% share of the smartwatch market.
70% of Apple Watch buyers are new to the product.
Apple has spent more than $6 billion on new TV shows and movies for Apple TV+.
2019 Worldwide Market Share of Wearables Vendors
by unit shipments
Source: IDC
Created by CompareCamp.com
Software and Services
Apple's Services division includes various platforms where customers can download applications and digital content. The App Store, Apple Music, Apple TV, Apple News, Apple Pay, and AppleCare belong to this category. This division is Apple's second-highest earner in terms of net sales.
Apple's Services division had a $13.4 billion revenue for the second fiscal quarter of 2020.
50% of all Apple devices use iOS 13.
As of January 2020, 17% of desktops in the US use MacOS X.
Apple News now has more than 25 million active users.
Apple Pay had 441 million users worldwide as of September 2019.
48% of iPhone users have enabled Apple Pay.
In 2019, customers spent $54.2 billion on in-app purchases, subscriptions, and premium apps in the App Store.
Last year, the Apple App Store offered 3 million apps and over 903,000 games.
22% of apps in the App Store belong to the Games category.
In January 2020, the Games category of the App Store saw 3 billion downloads, making it the most popular category on the App Store.
In 2018, iCloud users numbered 768 million.
Siri
As a virtual assistant, Siri can be found on a wide variety of Apple devices, including iPhones, Macs, iPads, the Apple Watch, and Apple TV. Siri can answer user questions, provide recommendations, and perform actions.
In 2018, 500 million devices in the world used Siri.
45.7% of mobile phone users use Siri.
Siri helps out 375 million monthly active users in the US.
Siri's search accuracy in 2018 stands at 74.6%.
In 2018, Siri got an average of 10 billion requests per month.
Research and Development
In recent years, Apple has been spending more on research and development, currently allocating the largest proportion of its revenue on R&D since 2003. According to Apple CFO Luca Maestri, the trend of Apple's high R&D spending will continue as the company strives to improve the user experience and differentiate Apple products from competitors.
For the first quarter of 2020, Apple's R&D expenses amounted to $4.6 billion, a 15.6% increase year-over-year.
Apple claimed 2,490 patent grants in the US in 2019, making it one of the most innovative companies in the world.
Apple spent $16.2 billion on research and development in 2019. This amount corresponds to a 13.9% increase from 2018.
In 2018, Apple had 94 patent families in force, with an additional 476 patents pending.
The 2019 WWDC had a view count of 1.4 million.
Source: LexisNexis PatentSight
What to Expect from Apple in 2020
There's plenty to expect from this tech giant in the near future. For instance, Apple fanatics can expect to get some new goodies come fall 2020. The company is set to release the latest versions of the iPhone 12, Apple Watch, and HomePod later this year. We may also see high-end over-ear Bluetooth headphones from the company by late 2020.
Aside from updates in its current products, Apple has also set its sights on achieving new feats in technology. The company is rumored to be working on technology well beyond its bread and butter, such as a fully autonomous Apple Car.
References:
World's Largest Companies 2019

Statista iPhone Dossier

Statista iPad Dossier

Global 2000 – The World's Largest Public companies

Brandz – Top 100 most valuable global brands 2019

IDC's Worldwide Quarterly Mobile Phone Tracker

Most Popular iPhones

Strategy Analytics: Global Smartwatch Shipments Grow 20 Percent to 14 Million in Q1 2020

Consumer Spending In Mobile Apps Grew 17% in 2019 to Exceed $83 Billion Globally

App Store Metrics

Store Intelligence Q1 2020 Data Digest

Retailer Adoption of Apple Pay Quickens

Top 10 Best Mobile Phone Brands in 2020

Mobile Operating System Market Share Worldwide

IP Facts and Figures 2019

2018 Top 50 US Patent Assignees

Apple Reports Record First Quarter Results

Inclusion & Diversity – Apple

PC shipments saw 10-12% decline in Q1 2020 due to coronavirus

Apple's sales grew 150x between 1977-1980

Apple's US job footprint grows to 2.4 million

America loves its Apple. Poll finds that the average household owns more than two Apple products

Survey: iPhone owners spend more, have higher incomes than Android users

Apple Grows iPhone Share in US, Despite Overseas Challenge

Comscore Rankings

Statista Global Consumer Survey 2019

Apple Research and Development Expenses 2006-2020 | AAPL

Apple is spending more than ever on R&D to fulfill the 'Tim Cook doctrine'