More than 60 automobile companies and tech names are scrambling to be first to put a fully automated car on the road faster. Some of these names are well-known, while others may be recognizable only to a select few who have in-depth familiarity of the industry. These are spread across the Americas, Europe, and Asia. Some of these already have working driverless features, like Tesla, though these are not fully autonomous.
But is the foray into driverless vehicles worth it? In a study of vehicle accident reports in California, it was discovered that self-driving cars in autonomous mode caused 38 crashes. In 37 of those cases, humans were the cause. Meanwhile, another study conducted by the University of Michigan Transportation Research Institute concluded that self-driving cars had 9.1 crashes per million miles driven. On the other hand, regular cars had 4.1 crashes at the same rate.
There is more to these numbers, though, and we will learn more about them as we continue below with critical self-driving cars statistics.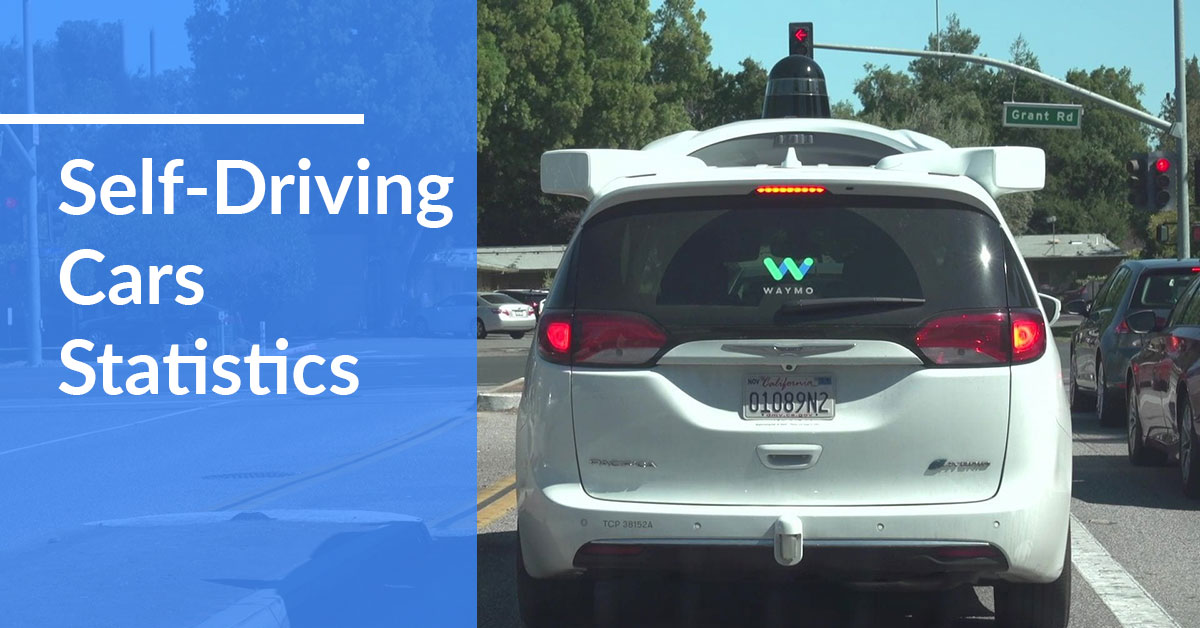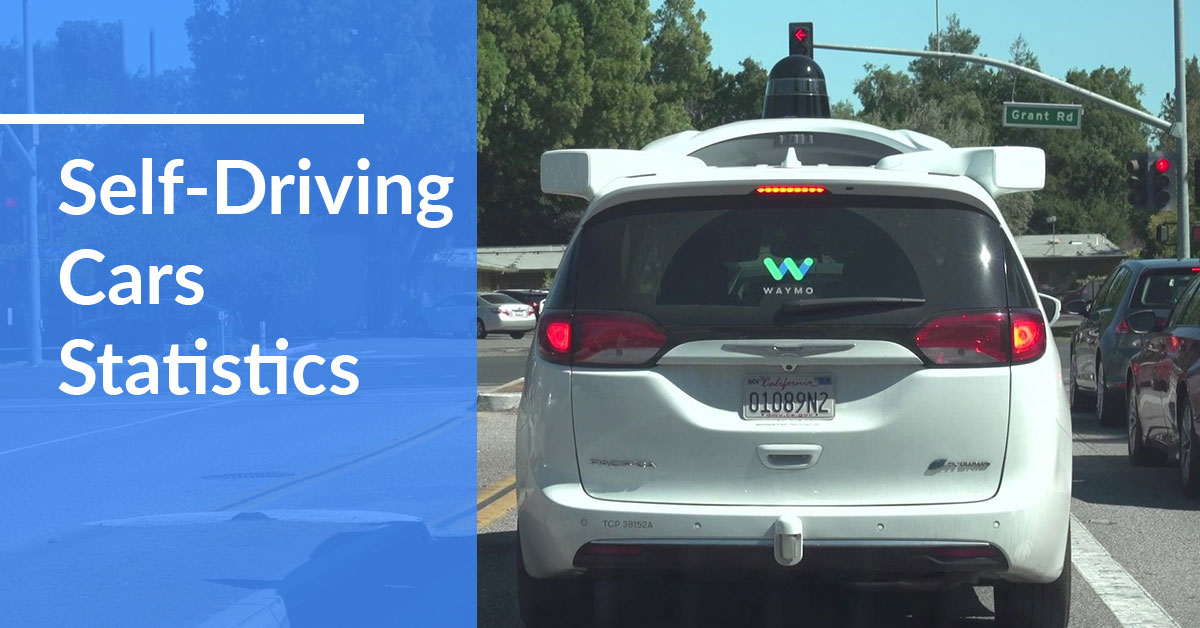 Self-Driving Cars Statistics Table of Contents
Test, Test: What's the Score for Self-Driving Vehicles?
Google's Waymo, GM Cruise, and Argo AI are three companies that are leading the way in autonomous driving development. Others like Tesla, Apple, and NVIDIA are hot at their heals. Each corporation has logged numerous miles and hours in testing their technologies. Here is how they stand individually and as a whole:
Waymo surpassed 20 million autonomous driving miles in November of 2017.
In 2018, Waymo had to be taken over by a driver only once every 11,018 miles. It also logged 1.2 million miles in California that year.
On the other hand, GM Cruise recorded almost 448,000 miles. It had a disengagement rate of 0.19 per 1,000 miles in the challenging streets of San Francisco.
Apple gained 80,000 autonomous miles in 2018. Compared to others, it had 871.65 disengagements per 1,000 miles. It was the highest among the 27 companies that submitted reports.
However, Apple contended that its important disengagements are 0.5 per 1,000 miles, making its performance superior.
GM Cruise increased their miles to 300,000 miles in 2018. It required human intervention 86 times, 5,200 miles in between disengagements. This is a marked improvement in its report in 2017 of 1,230 miles between disengagements.
Zoox drove 30,000 miles, ranking it fifth in the DMV list.
Another contender, Nuro, drove 25,000 autonomous miles.
Aurora reported nearly 33,000 miles with 10.01 disengagements for every 1,000 miles.
Tesla drivers documented 1 billion miles in Autopilot mode.
All companies with autonomous vehicle projects that had permits in California logged 2.88 million miles. This is according to the last reporting period of the Department of Motor Vehicles, which was in February 2020.
Source: The Atlantic, 2018
How Much Have Companies Spent Developing Driverless Cars?
Autonomous miles, disengagement rates, crashes–these are important numbers, yes. But equally important is the amount of dough that companies are putting into the advancement of self-driving car hardware and software. After all, it is what drives more research and development.
$80 billion–the estimated total investment in self-driving car technology from 2016 to 2017.
Around 30 companies spent a combined $16 billion in 2019.
In March 2020, Google raised $2.25 billion from outside investors.
Google shelled out $1.1 billion researching autonomous vehicles before setting up Waymo.
GM Cruise was under budget in 2018. Of the expected $1 billion, it only spent $728 million.
GM Cruise raised another $1.15 billion in investments in 2019.
Uber had been spending $20 million per month on its AV initiative since 2015.
This puts its expenses on driverless cars to over $1 billion.
Tesla has spent over $7 billion in research and development from 2010 to 2019.
Apple shelled out over $16 billion for R&D for projects, including Project Titan.
BMW's R&D bill was between 6.5% to 7% of sales for 2018.
Ford expects to spend $4 billion for AVs come 2023.
Fatalities Related to Self-Driving Vehicles
One of the reasons why automakers and hardware and software developers are pushing the envelope when it comes to autonomous vehicles is fatalities. Makers throw statistics back and forth to convince not just policymakers but the public as well. Here are some numbers that are worth noting when it comes to vehicles in general and self-driving cars:
In the United States, there are four deaths per hour due to regular car accidents.
Meanwhile, there are around 285 injuries caused by regular car crashes per hour.
That puts one death for every 100 million miles that a person drives.
Car crash deaths account for 1.4% of total deaths per year in the US.
94% of fatal regular car accidents are because of human error.
28 times humans are the cause behind robocar crashes, accounting for two-thirds of the incidences.
GM Cruise had 29 collisions in 2018, the most among eight companies with crash reports.
A driverless Uber killed one pedestrian in Tempe, Arizona, in 2018.
Two in every ten Waymo rides required supervisors to do a manual override.
Automated Vehicles Regulations Statistics
Just as with regular cars, self-driving cars have regulations and policies governing them. By the last count in 2019, more than half of the US states already have legislation on the technology. They also cover different aspects of autonomous vehicles, such as commercial use, use in public roads, and operator requirements.
As of 2019, 28 states already have legislation covering autonomous vehicles.
Four states have executive orders regarding self-driving cars.
Six states have both legislation and executive orders.
Nine states have neither legislation nor executive order.
Twenty-two states have rules regarding the commercial use of autonomous cars.
There are zero states with laws covering cybersecurity and vehicle inspection requirements.
Only 14 states so far have enacted legislation covering operation on public roads.
Autonomous Vehicle Laws in the United States 2017–2019
Autonomous Vehicle Laws in the United States 2017–2019
Commercial: 22
Commercial
Autonomous Vehicle Laws in the United States 2017–2019
Definitions: 21
Definitions
Autonomous Vehicle Laws in the United States 2017–2019
Operation on public roads: 14
Operation on public roads
Autonomous Vehicle Laws in the United States 2017–2019
Operator requirements: 11
Operator requirements
Autonomous Vehicle Laws in the United States 2017–2019
Vehicle testing: 10
Vehicle testing
Autonomous Vehicle Laws in the United States 2017–2019
Insurance and liability: 8
Insurance and liability
Autonomous Vehicle Laws in the United States 2017–2019
Infrastructure and connected vehicles: 5
Infrastructure and connected vehicles
Autonomous Vehicle Laws in the United States 2017–2019
Licensing and registration: 3
Licensing and registration
Autonomous Vehicle Laws in the United States 2017–2019
Privacy of collected vehicle data: 1
Privacy of collected vehicle data
Autonomous Vehicle Laws in the United States 2017–2019
Cybersecurity: 0
Cybersecurity
Autonomous Vehicle Laws in the United States 2017–2019
Vehicle inspection requirements: 0
Vehicle inspection requirements
Autonomous Vehicle Laws in the United States 2017–2019
Other: 8
Other
Source: National Conference of State Legislatures
Created by CompareCamp.com
The Public Weighs In on Self-Driving Cars
The success of driverless vehicles still rests on the shoulders of the driving public. Waymo, GM Cruise, Drive.ai, Ford, and other manufacturers have to do their best to convince motorists that autonomous vehicles are safer and are the future. But that is easier said than done because regardless of the millions or billions of miles they have driven, autonomous cars still need to gain public trust.
A January 2019 poll showed that 71% of Americans are afraid of getting in driverless cars.
Meanwhile, 15% of Americans do not believe autonomous vehicles will ever be a market.
And another survey shows that 42% of Americans would never ride a self-driving car.
But 56% of respondents said they would consider it if safety is 100% guaranteed.
And 60% demand that same level of safety before they allow a family member to ride an autonomous vehicle.
In case of injury or death, 34% would trust the legal system to solve the conundrum, and only 8% would trust the developer of the AV's software.
If every fully autonomous car is used for ridesharing, only 6% definitely will use the service, and 20% probably would.
The Moral Dilemma of Self-Driving Cars
One of the bones of contention in the autonomous vehicle industry is the moral dilemmas involved. For example, should the machine intelligence powering a self-driving car choose to kill two passengers over five pedestrians? This question is a difficult one, which challenges the designers of automated cars. But that is only one of the many. And it may take a long while for them to come up with an acceptable answer. Maybe they never will.
A thought experiment, though, may fill in some blanks. The MIT Media Lab came up with the Moral Machine, an online and large-scale version of the trolley problem. To give you an idea of what it entails, British philosopher Philippa Foot once posed this question: if you are driving a trolley and its brakes failed, would you rather divert the streetcar onto a track where it would kill one victim or onto a track where five people would die?
In the Moral Machine, people would answer similar questions. They can even come up with their own scenarios to pose to people who would come across the platform in the future. In 2018, 18 months since the site opened, the scientists behind the Moral Machine garnered almost 40 million decisions from participants across 233 countries.
Overwhelmingly, people would choose to save more lives. And often, they would save pregnant women, babies in strollers, and children.
Should autonomous vehicle makers and software and hardware developers design their inventions to do the same?
---
References:
The Latest Self-Driving-Car Statistics From California

GM Cruise improves self-drive miles between human intervention

Gauging investment in self-driving cars

Waymo Includes Outsiders in $2.25 Billion Investment Round

Google self-driving car investment exceeds $1.1 billion

GM Cruise AV Development Under Budget In 2018

GM's self-driving division Cruise raises another $1.15 billion

Uber's strategy in the AV race: spend lots and lots of money

Uber Has Spent More Than $1 Billion on Driverless Cars

Tesla's R&D costs 2010-2019

Apple R&D spend increases, fulfilling 'Tim Cook doctrine'

BMW increases R&D spending on e-cars, autonomous vehicles

Ford plans to spend $4 billion on autonomous vehicles by 2023

Essential Stats For Justifying And Comparing Self-Driving Cars To Humans At The Wheel

USDOT Releases 2016 Fatal Traffic Crash Data

Humans Just Can't Stop Rear-Ending Self-Driving Cars—Let's Figure Out Why

Self-Driving Uber Car Kills Pedestrian in Arizona, Where Robots Roam

'I'm so done with driving': is the robot car revolution finally near?

Three in Four Americans Remain Afraid of Fully Self-Driving Vehicles

Automated Vehicles and Insurance Pulse Survey

Issues in Autonomous Vehicle Testing and Deployment

Autonomous Vehicles State Bill Tracking Database

The Moral Dilemmas of Self-Driving Cars